Kendal Green, Kendal Green, Kendal Green…yup, this is a station, all right. I think I've exceeded the number of interesting words I can possibly say in this intro…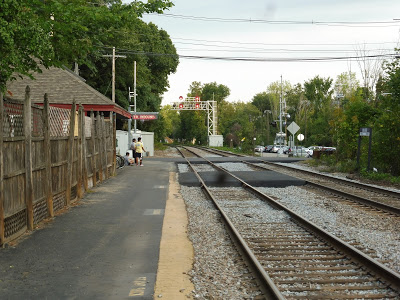 Looking down the platform. By the way, that speck is an unfortunate presence on my camera lens…I really need to get that fixed.
Okay, the first thing to note about Kendal Green is that it's a pretty small station. In fact, when my friend Nathan and I got out here, we were let off in the middle of the grade crossing! Another thing to note about this place is the fact that in order to board inbound trains, you have to cross the outbound track. They have pavement on the tracks to make it easier, but it's certainly not an optimal setup.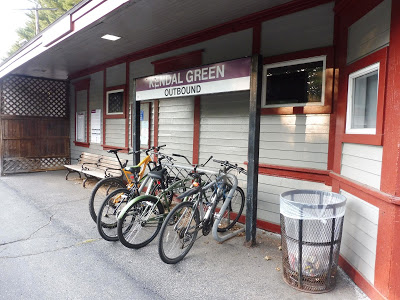 Underneath the shelter.
This station has a rather charming building that provides a bit of shelter. Underneath it is a bench, a wastebasket, a bike rack (very convenient), a schedule, and…polls? Yes, for some reason there were election polls hung up on the wall. Is this really a place where people come to vote?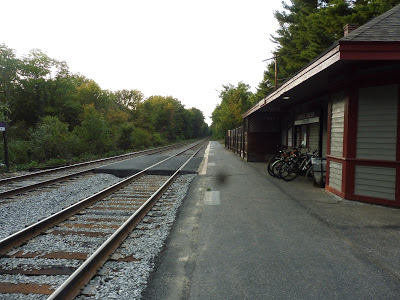 Looking the other way down the platform.
The rest of the tiny platform isn't particularly noteworthy, and thus we move on to parking. Now, I actually didn't know this place had a lot when I was here, so I'm basically relying on Google Street View and the MBTA website for my information. But yes, Kendal Green has a small lot with 57 spaces. It seems like it gets pretty full on weekdays, which could be bad if people can't get in, but at least the parking's free!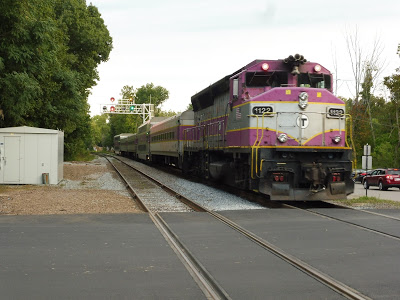 A train heading into Boston.
Station: Kendal Green
Ridership: Oh dear, not much at all…Kendal Green only gets 162 inbound riders per weekday. It's the fourth least-used station on the Fitchburg Line.
Pros: This station definitely has charm to it, especially with that building. Its amenities are fine considering its ridership, and the free parking is nice, as well as the bike rack. Finally, I like the way this station is scheduled – outside of the peak, it's always a flag stop. This is a good way of letting people get on if they're there, but not having to hinder other passengers on the train if the platform is empty.
Cons: It's just a very basic station. The platform is tiny, and there isn't even one on the inbound side! That being said, I guess it does match the ridership.
Nearby and Noteworthy: No, the surrounding area is basically all houses. It's only a mile to the closest 70 stop, though!
Final Verdict: 5/10
I dunno, it's just…Kendal Green. I certainly see its charm, and it has a good amount of it, but the lack of an inbound platform is really bad. Even then, giving this a 6 would mean it's better than Concord, which it most certainly isn't. Kendal Green does its job fine, but it definitely has its fare share of problems.
Latest MBTA News: Service Updates