This is a bus I've been wanting to take for a while. An incredibly circuitous route, the 554 is an express from Belmont to Boston. Wow, that must be great for Belmont commuters! Oh, wait, it goes via Watertown, Waltham, and Newton first. Yeah, not too many people take the 554 from beginning to end…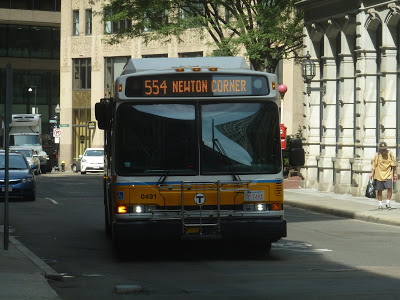 The bus coming down Otis Street.
My friend Chloé and I had to get on at Otis and Summer Streets to make sure we would catch the bus. There were a few people on board already who had come from Federal and Franklin, and we were off. We headed down Kingston Street, then turned onto Essex Street, and then Surface Road. A few more people got on at Chinatown, and then we were off onto the highway.
This express trip was relatively traffic-free, as we zoomed past apartment buildings. We went through the Copley Square tunnel, then passed Fenway Park soon after. The highway went elevated, then came back to ground level, going by the Boston Landing development. Eventually, we reached Newton Corner and took the exit.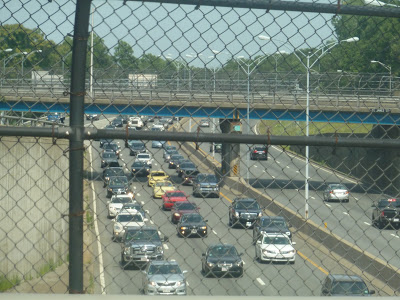 A view of the highway at Newton Corner. Looks like we dodged a bullet there for traffic…
Annoyingly, we looped around Newton Corner, actually doubling back on ourselves and serving the same stop twice. We then headed down Washington Street, leaving behind the businesses of Newton Corner. The retail did come back, though, with big stores and parking lots to go with them. There were some nicer-looking businesses at Newtonville.
After that, there was a short residential section, then Washington Street got industrial. It became retail near West Newton Station, where we turned onto Elm Street. Turning onto River Street, this was a nice residential neighborhood. We then turned onto Lexington Street, joining other buses into Waltham.
Lexington Street became Moody Street, and it was lined with businesses. These continued for quite a while, then we crossed over the Charles River, with a view of a dam. From there, we turned onto Carter Street, going by Waltham Station, as well as a rare 170.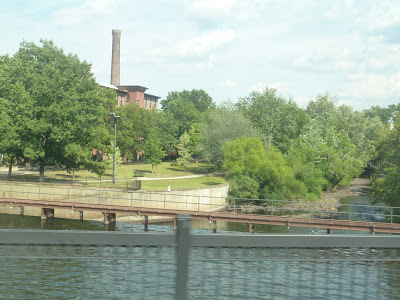 The view of the river.
We turned onto Elm Street, looping around Waltham Common and going by more businesses. Continuing up what was now called Church Street, we turned onto School Street, then Lexington Street. It got industrial for a little while as the 554 entered its solo portion.
Turning onto Beaver Street, the surroundings got much more suburban, with a mixture of small houses and…woods. Going around a rotary, we entered the grounds of Bentley University. This section of Beaver Street felt much more lived-in, with big college buildings and a pedestrian overpass over the road.
After going by some farmland, (I don't think we're in Kansas anymore…) there was an industrial section as we crossed over the Commuter Rail tracks. From there, it turned to relatively dense houses, which continued as we turned onto Warren Street. This became Belmont Street when we entered Watertown, passing a cemetery and a small high school.
That was about the extent of the Watertown section, as we turned onto Lexington Street, entering Belmont. This section was mostly residential, until we reached Waverley Square. Here, we turned onto Trapelo Road, going over the Commuter Rail tracks and reaching the last stop. The bus looped around, dodging a multitude of 73's in order to get back to Boston.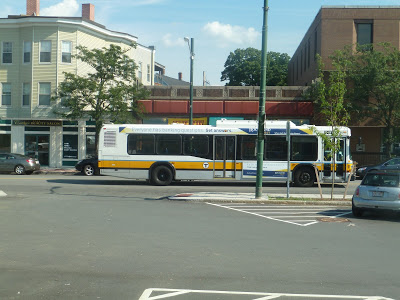 Hey! Turn your destination board on!
Route: 554 (Waverley Square – Downtown Boston via Newton Corner and Central Square, Waltham)
Ridership: My ride ended up having almost 30 people who rode in total. Interestingly, about half of them were local riders, including two people who rode from Bentley to Waverley! The route's ridership overall isn't too high, though – only about 650 riders per weekday.
Pros: This route does twofold: it serves as an express to Newton and Waltham, and it provides a local connection between Waltham and Belmont. The fact that it serves Bentley is great, and it seems like at least a few students take advantage of the Belmont connection.
Cons: Every hour on weekdays seems passable, but what about Saturday service? Saturday service from Waverley to Newton Corner seems like it would attract some local riders, though it seems Bentley has its own shuttle system – 554 Saturday service might not serve too many people, then.
Nearby and Noteworthy: There were definitely lots of businesses along the route, but I have nothing specific as usual. I would like to point out, however, that we saw no less than four castles or castle-esque structures on our ride. Interesting…
Final Verdict: 8/10
I think the 554 runs in the most efficient manner it can. If it were to run more often, buses would probably be less busy, and I'm not sure how many people would utilize a Saturday service. 30 people on a ride is a healthy amount, and I think it can stay that way.
Latest MBTA News: Service Updates