This is probably the most "urban" station on the MHSL that's not Mattapan or Ashmont. Plus, it's below grade. That's right, there's none of that level crossing stuff here. So let's head down to the Lower Mills for a look at Milton Station.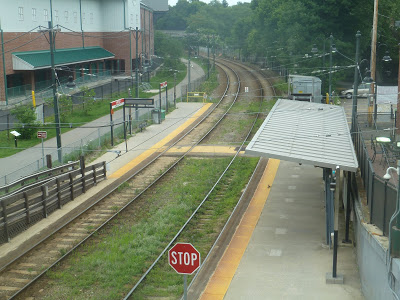 The station…viewed from above.
The platforms are standard for the MHSL. Luckily the shelter on the inbound side has a bench under it this time, unlike Central Ave. The outbound platform also gets a bench, and both of them have wastebaskets and wheelchair ramps.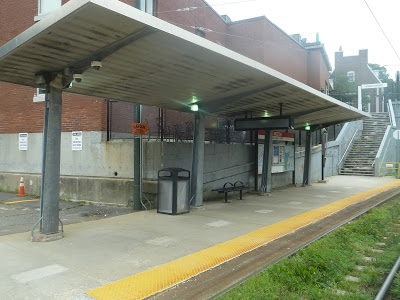 The inbound platform. Also in view are the stairs to Adams Street.
One of the entrances is a simple set of stairs leading from the inbound platform to Adams Street. This one obviously isn't accessible, but it's a direct way of getting up to the street, so that's good. There's also an accessible entrance that leads to the pedestrian Neponset Trail, as well as the parking lot. That's right, this station offers a whole 41 spaces! Yet that's still a higher amount than what's actually needed.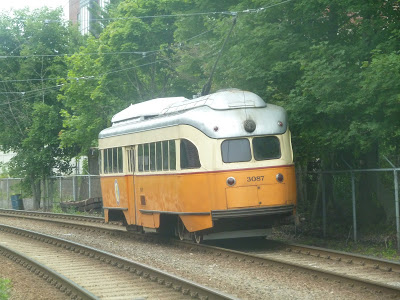 A train leaving the station.
Station: Milton
Ridership: Hmm…well, this is the third most-used station on the MHSL. That said, it's only got 240 riders per day. I suppose the MHSL isn't the busiest of lines…
Pros: This station is right in the heart of the Dorchester-Milton Lower Mills historic district, which is a…historic district. From what I've seen of it, though, it's quite nice. As for the station itself, it's standard for the MHSL, which means it's pretty good. Plus, it offers a bit of parking!
Cons: Well, the shelter on the inbound side is bland, just like the rest of the MHSL. I mean, that's all I can come up with. This is a nice little station.
Nearby and Noteworthy: There are lots of businesses and old-style architecture in the Lower Mills district. Do I have anything specific? Nope.
Final Verdict: 9/10
Only a few posts ago, I said that MHSL stations can't get 9's, because "it just doesn't happen." But there just isn't much wrong with Milton. I mean, there's even a parking lot here! Yeah, I'm breaking my rule, but this is a great station.
Latest MBTA News: Service Updates