This is the second time the "heights" (or "highlands", in this case) Commuter Rail station has the most ridership in a town! Unlike Needham Heights, however, which gets very good ridership, Melrose Highlands' is very low. But also unlike Needham Heights, Melrose Highlands is actually good.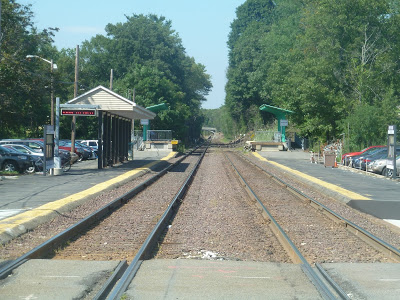 Both platforms.
Melrose Highlands is next to a level crossing with Franklin Street, meaning there might be long periods of waiting for cars while trains stop at the station. The outbound platform is a simple slab of concrete with wastebaskets on it. It does has a high-level boarding platform with a bench (hooray), and the walk to it isn't that bad.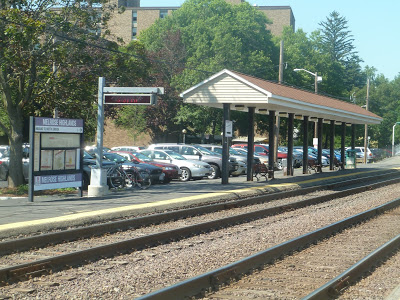 The inbound platform.
As you would expect, the inbound platform has more amenities. For one thing, it has a screen that lets you know how close the next train is, if it happens to be close. It also has a simple shelter with a few benches underneath. It's pretty close to the boarding area, so I can imagine people waiting here if the former is too crowded.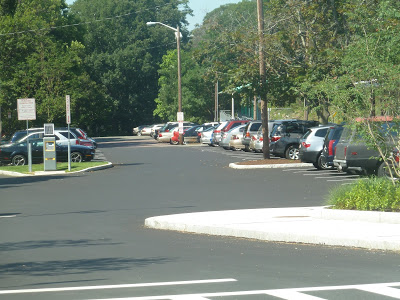 Parking!
Melrose Highlands has a small parking lot, with 77 spaces. The parking rate is only 2 bucks, though, so that's a plus. The station is also served directly by the 131, and the 136/137 is a short walk away. Well, by short, I mean about 8 minutes. Better than 9 minutes, am I right?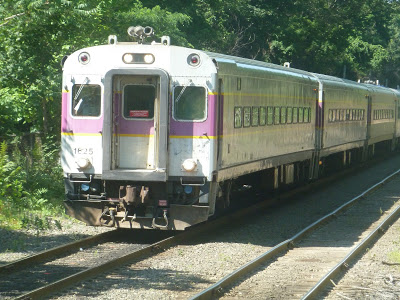 A train coming in…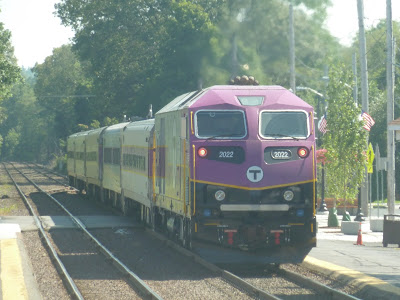 …and leaving.
Station: Melrose Highlands
Ridership: Well, I did mention it has the highest ridership in Melrose. But by "highest ridership in Melrose", I meant only about 300 per day. Most of these are locals, with very few people coming from buses, I'd imagine.
Pros: This is the only wheelchair-accessible station in both Melrose and Wakefield, which is good for Melrose Highlands, but bad for all those other stations in the towns. It's a nice station overall, with good boarding areas and a shelter on the inbound side.
Cons: Melrose Highlands could stand to have some more parking, seeing as it's the busiest station in Melrose, and the only wheelchair-accessible one.
Nearby and Noteworthy: The surroundings are mostly residential, but there are some businesses on Franklin Street and more if you walk to Main Street.
Final Verdict: 8/10
I think the beefed-up score is mostly because of that accessibility. But since this is the only accessible station in Melrose and Wakefield, I feel like it ought to have a bigger parking lot. I only wish the MBTA had the "weekday availability" stats on its website, which could help to see if the lot actually needs to be expanded. Oh well…
Latest MBTA News: Service Updates