I've been to a few Commuter Rail stations so far with old station buildings. They always look very nice, but have relatively boring uses functionally. I mean, we've seen old buildings used as a club, a barbershop, and a closed visitor's center – nothing too interesting. Needham Junction, on the other hand, decided to turn its old building into an ice cream parlor! That's what I'm talkin' about!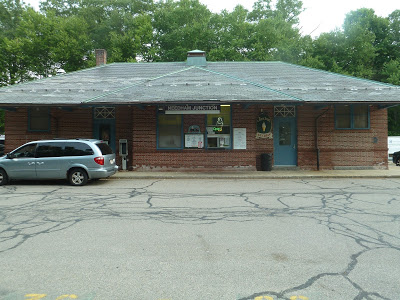 The old building.
Unlike Needham Center and Needham Heights, which both feel somewhat "downtowney", Needham Junction is out of the way and pretty tranquil. Whereas Needham Center and Needham Heights are along the main drag of Needham, Needham Junction is off on a residential street. However, there is a T logo on Chestnut Street (the aforementioned main drag), so people still know there's a station around.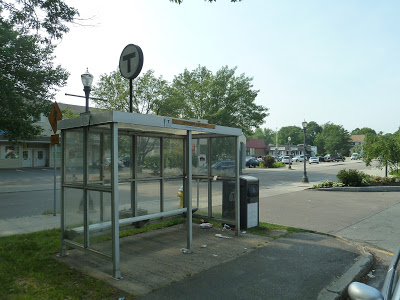 The station's bus shelter.
Needham Junction is served by one bus,
the 59
to Watertown Square. It has a convenient shelter in the station's parking lot – perhaps not a nice shelter, but a convenient one. As for parking, Needham Junction has 175 spaces, spread out along Junction Street and in a small lot. This is more than enough spaces for the ridership the station gets.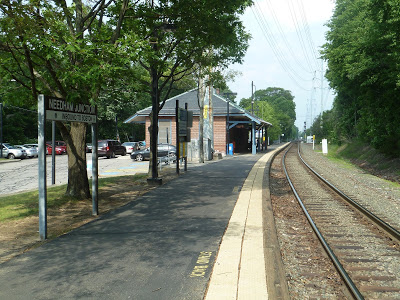 The platform, with the sheltered building in the background.
There are some benches and newspaper boxes underneath the shelter of the station building. The station also has an old Commuter Rail map, still showing service to Gardner. In addition, although the high-level boarding area isn't in the same place as where the benches are, the walk between the two really isn't that bad here. It's probably the shortest one out of the four Needham Line stations I've been to so far. That alone makes this station great.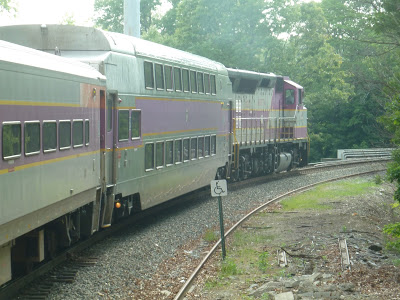 A train going around the curve after the station.
Station: Needham Junction
Ridership: This is the least-used station of the Needham Line's Needham stations, including Hersey. Needham Junction only gets about 400 riders per weekday, which isn't much at all.
Pros: There's quite a lot to like about Needham Junction. There's plentiful parking, a convenient off-street bus shelter, a great old station building, and a short walk from the waiting area to the boarding area. Plus, there's the ice cream parlor! Can't beat that.
Cons: The bus shelter's a bit dingy, but nothing much other than that.
Nearby and Noteworthy: Aside from the ice cream parlor, there are some businesses along Chestnut Street. There doesn't seem to be much of note down here, though, and Needham Center has much more to offer.
Final Verdict: 9/10
Man, I love this station. I don't know if it's because of its tranquility, its amenities, or just the fact that they converted the old building to an ice cream parlor, but Needham Junction is just great. Parts of it are on the dingy side, but other than that, this is probably my favorite Needham Line station I've been to.
Latest MBTA News: Service Updates