One of the most annoying things about taking buses from beginning to end is when you get kicked out at the last stop. This is especially annoying if the driver is really mad at you for just wanting to take the route to the end (cough, cough, the 8). But that problem doesn't exist with the 26, because it's a loop! Hooray! Seriously, I had no reason for wanting to take the 26 except for the fact that it's a loop that both starts and ends at Ashmont. I believe this is the only remaining MBTA bus that runs like this ever since the 48 was eliminated back in 2012. But unlike the 48, the 26 actually gets ridership.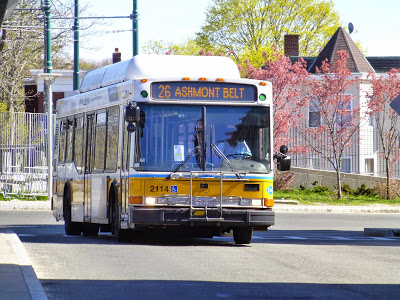 The bus in the Ashmont busway.
The 26 is basically meant to serve the neighborhoods in between Talbot Ave and Gallivan Boulevard. It used to operate as two separate routes, one on Norfolk Street and the other on Washington Street, but in 1981 they were merged into a loop. Makes sense to me.
We left Ashmont with a bunch of people on board and headed up Dorchester Ave. Right after, we swung around onto Talbot Ave, which was almost entirely residential. The dense houses continued until Codman Square, where there was lots of retail. We continued a little further down Talbot Ave before turning onto Norfolk Street, which was once again residential.
But soon after, the street became lined with businesses again. After that, it was residential again. and we crossed over the Fairmount Line tracks. There was more retail when we turned onto Morton Street, joining
the 21
. We crossed over the Fairmount Line again, going by Morton Street Station, then went by some more businesses.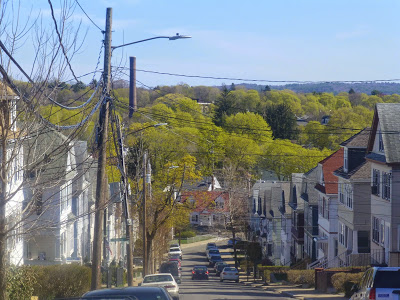 That industrial spire sticking up there is in Milton's Lower Mills. I thought this was a cool view.
It then went back to houses, and we turned onto Gallivan Boulevard. There were a few gas stations at the intersection with Washington Street, which we turned onto, leaving the 21. Washington Street was mostly residential, with the occasional business block. We went by a nice little library, then it became all businesses again as we came back into Codman Square. From there, we turned onto Talbot Ave and headed on back to Ashmont.
The bus heading up Dorchester Ave back in Ashmont.
Route: 26 (Ashmont Station – Norfolk and Morton Belt Line)
Ridership: I rode this bus on a Saturday, and yet there were still about 50 people who got on! And it's interesting because it felt like everyone knew each other. I've never been on such a local route that's also really busy. The 26 gets really good ridership on weekdays (2,139 people) and on Saturdays (1,157 people), yet on Sundays it's in the bottom 15 for ridership (only 336 people).
Pros: It serves neighborhoods that clearly need this bus, based on its ridership. Also, the fact that it's a loop means that it's able to serve more. Plus, the 26 has a great schedule most of the time, running every 15 minutes rush hour and every 30 minutes weekdays and Saturdays.
Cons: Every 70 minutes at night and every hour on Sundays isn't very good. Also, the fact that it's a loop means that it's a one-way service around, so some people may have to go around a large portion of the loop before they get to their destination. During rush hour this is rectified by running every other bus the other way around the loop, but for some reason this doesn't happen other times.
Nearby and Noteworthy: The little library looked nice, and there were plenty of small businesses along the route.
Final Verdict: 7/10
This route definitely serves a lot, and has the ridership to show for it. The fact that it's a loop is one of its greatest assets but also its most annoying problem. I think it should alternate directions at more times, at least weekdays and Saturdays – that means every hour clockwise and every hour counterclockwise. On Sundays, it makes more sense to keep things the way they are, unless they make the route run more frequently.