You may remember the 31. It was the only bus on this blog (as of yet) to score a perfect 10. Running from Mattapan to Forest Hills, its amazing speed combined with an amazing schedule (every five minutes and it's not even a Key Bus Route!) made it the near-perfect bus. The 21 is the 31's Ashmont cousin, and unfortunately it's not nearly as good.
One thing that is good about it is the ridership. The bus was packed leaving Ashmont, and I was lucky to get a seat. We started out heading down Dorchester Ave with most of the other Ashmont buses. We soon turned onto Gallivan Boulevard, running with a short stretch before getting joined by the 26 route (which operates as a loop via Gallivan).
Unfortunately, the traffic previously seen when riding the 215 was back in full force. We were moving very slowly and all I could do was look at a bunch of houses that looked the same. Soon Gallivan Boulevard merged into Morton Street and the traffic got a little better. There were some businesses as we went over the elusive Morton Street station, where of course no one was waiting.
Right after that, the 26 went away but we were joined by the 31 a few blocks later at Blue Hill Ave. Traffic started up again here, unfortunately. Houses became apartments, but soon we were crawling through Franklin Park. Someone got off at the Shattuck Hospital, then we turned off to avoid the overpass, and pulled into the Forest Hills busway. What was scheduled to take 15 minutes ended up being double that.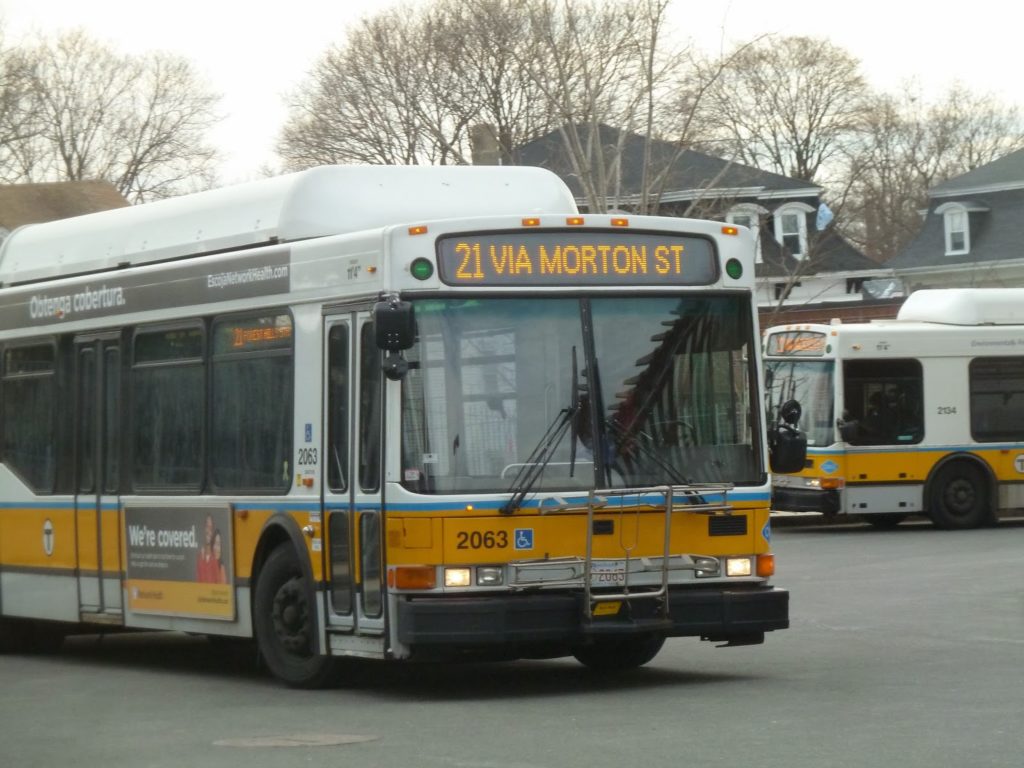 Another bus is peeking in, but I can't tell what number it is.
Route: 21 (Ashmont Station – Forest Hills Station via Morton Street)
Ridership: As I said before, this bus was absolutely packed. I counted about 50 people who rode in total. However, I was surprised at the number of people who got off along the route. I was expecting almost the entire crowd at Ashmont to go to Forest Hills like what happened on the 31, but that wasn't the case (although that said, some people did go from beginning to end). I suppose it's because whereas the 21 serves a large residential area along its route, the majority of the 31 is in Franklin Park (and its section on Blue Hill Ave is shared by two other buses, one of which is a Key Bus Route).
Pros: It's nice to have a Forest Hills link from Ashmont, too. Although it runs with the 26 for most of the residential portion, it serves as a nice supplement. Plus, the ridership was fantastic.
Cons: Let's talk about the 31's schedule for a minute: it runs insanely frequently, something many MBTA buses don't. Although it runs about every 10 minutes rush hour and every 20 minutes during the day (which isn't too bad), it runs every 70 minutes nights, every 45 minutes Saturdays, and every hour Sundays. Have you see the Saturday ridership, MBTA? 50 people rode on my bus. The fact that it runs every 45 minutes with this many passengers is unacceptable, and I'm sure there's similar ridership on Sundays.
Nearby and Noteworthy: Again, mostly residential and then Franklin Park. The few businesses around Morton Street Station didn't seem too enticing.
Final Verdict: 3/10
Okay, so it's a supposedly fast link between the Red Line and the Orange Line (but not when there's traffic), but frankly, I really hate this schedule. You rarely see this much ridership on any MBTA bus, let alone one that runs every 45 minutes. If you're going to Forest Hills from Ashmont during the weekend and you miss a 21, just take the trolley to Mattapan and use the much more reliable 31. It's quicker, and it runs so much more often.
Latest MBTA News: Something I forgot to mention in the last post is that the MBTA is installing sophisticated security cameras in its buses (the link has a good video about it). I think this is probably a good thing, and hopefully there will be less…occurrences, shall we say, on buses. The part that interests me is the fact that they will actually have flat screens in the buses for passengers to see what's going on.