"There was a massive crash on 93 – the traffic's horrible," said my father over the phone. "Just wanted to let you know if you end up over there." I didn't think I'd end up over there, as there are no buses that go on 93 from Quincy Center. But little did I know as I boarded the 215 that the bus would end up paralleling the highway. Yeah – there was a lot of traffic on my ride.
The 215 is the primary link between the two branches of the Red Line. There are three in total, doing completely different routes but all serving East Milton Square. The other two are the 245 to Mattapan, which runs weekdays only, and the 217, also to Ashmont, which was actually on the chopping block and has a terrible schedule. At least the 215 runs seven days a week!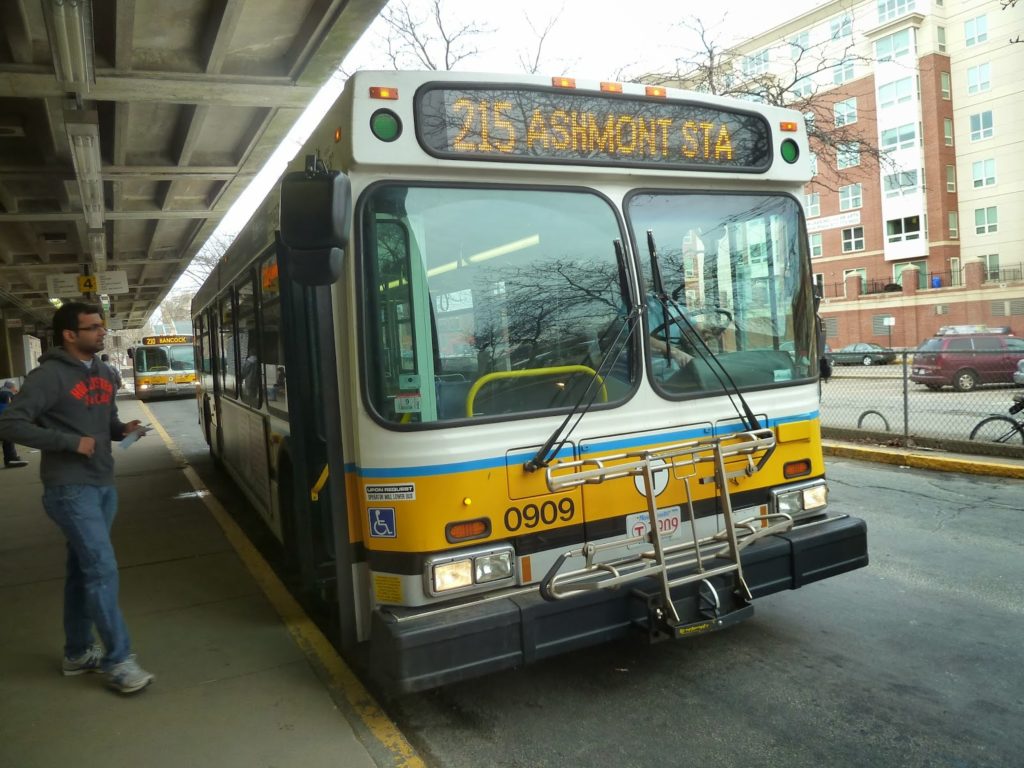 The 215 at Quincy Center.
The 215 started out heading down Hancock Street in urban Quincy Center, along with four other routes. It soon turned onto School Street, heading over the Red Line tracks, and soon turned again onto Pleasant Street. As the bus turned onto Water Street, leaving the other routes behind, it was pretty much entirely residential. It soon went by a school, where the only car in the large parking lot was a cop car, for some reason.
Small businesses started cropping up once Water Street became Copeland Street. The bus turned onto Willard Street right next to I-93, and it did indeed have a lot of traffic. Willard Street headed away from the highway, and it was chock full of gas stations and auto parts stores. And barbed wire fences. The bus soon turned onto Robertson Street (through a residential area), and then again onto Adams Street. This is the point where the 215, 217, and 245 converge in the middle of their routes, but being a Saturday, our bus was the only one serving the area. East Milton Square had some more…refined businesses, and a nice park over the short I-93 tunnel.
Our bus turned onto Granite Ave, paralleling the highway. This was a nice residential area. At Squantum Street, a variant of the 215 that runs once a day at 5 in the morning to North Quincy breaks off. Our bus continued down Granite Ave, running through an area with swampland on the left and a golf course to the right. Soon after an interchange with I-93, we went over a bridge with a surprisingly decent view. This was also where the traffic started.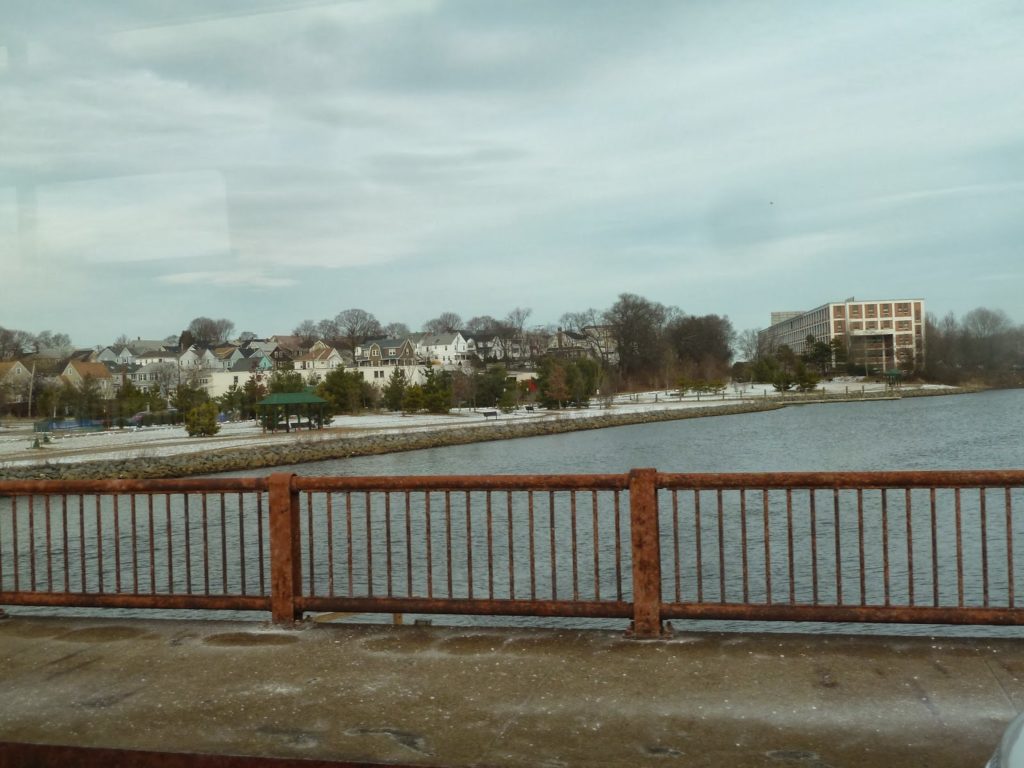 I wouldn't have gotten this picture had it not been for the traffic.
Houses and businesses started coming up again after the bridge, but our bus was moving painfully slow in the gridlock. We turned onto Gallivan Boulevard, and it got a little less trafficked. At one point, there was a very short but oh-so-sweet view into the Red Line yard just after Ashmont. Soon after, the bus turned onto Dot Ave, joining up with the multitude of other bus routes to Ashmont. Then we pulled into the Ashmont busway, and the ride was over.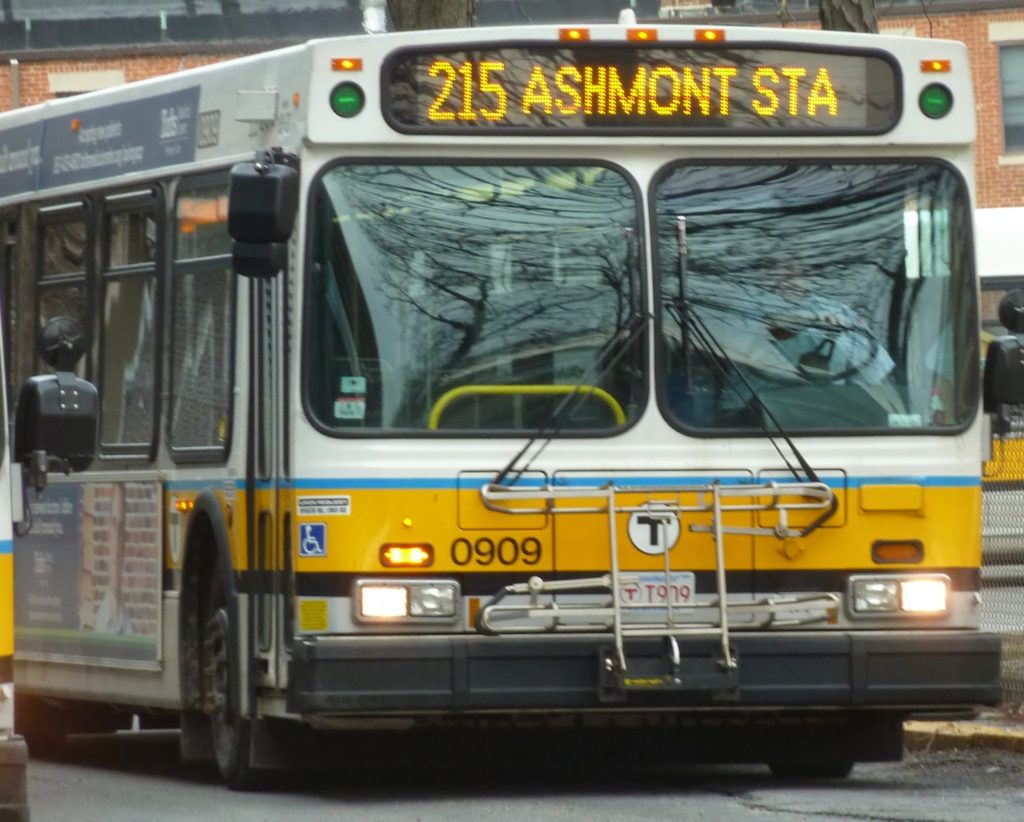 This is at Ashmont, but the destination board says "Ashmont."
Route: 215 (Quincy Center Station – Ashmont Station via West Quincy and East Milton Square)
Ridership: I counted about 30 people in total which, for a Quincy Center bus on a Saturday, is pretty darn good. Not too many people rode from beginning to end, however, which surprised me. Of course, Ashmont and Quincy are very different areas, so most people probably just use this bus to get to their houses.
Pros: It's the most frequently running link between the two Red Line branches, and its ridership seems to reflect that. Also, the trip is projected to take a half hour (although of course that can take a little longer, as I found out), which is faster than the train could do.
Cons: Of course, by "frequently running," I mean every 25 minutes rush hour, every 35 minutes midday, every hour at night, every 40 minutes Saturdays, and every hour Sundays. Not too great, especially with the ridership I saw on Saturday. And that traffic was brutal, though there's not much they can do about that. I wish there were a more direct route from Quincy Center to Ashmont, as the 215 takes a rather inefficient one.
Nearby and Noteworthy: Mostly houses, but East Milton Square seemed nice.
Final Verdict: 7/10
In short, not bad but not good. Although it's the only link between the two Red Line branches to run on weekends, its schedule is still terrible. Although it's scheduled to take a half hour, the traffic made it take much longer. And although it's faster than the train, the curvy route it takes means it doesn't save you that much time.
Latest MBTA News: Government Center's closure is rapidly approaching: March 22. Its renovation is much-needed, but it will be closed for two years! Click here for more information.