Four trips per day in each direction, huh? Well, I guess I can see why this one was on the chopping block. The 217 is one of three routes that connect Quincy Center to the Ashmont/Mattapan Lines, via East Milton Square (the 215 and 245 being the others). The 217 is also by far the least frequent, plus it was on the chopping block in 2012! What could be wrong with this route? Let's find out.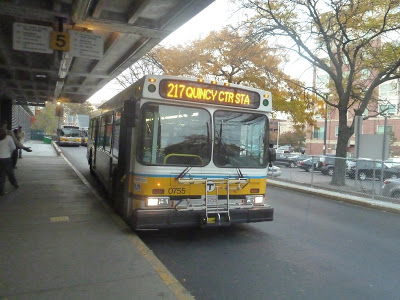 The bus in the Quincy Center busway.
It was the height of the rush hour, yet my bus was almost empty. With only a few people on board, we left Quincy Center, bypassing the main business area by heading north on Hancock Street. We then merged onto Adams Street, which crossed over the Red Line tracks, from which we turned onto Newport Ave.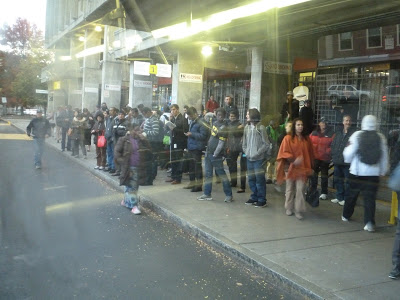 Anyone for the 217? Anyone? Come on…
The street had houses on one side and the Red Line/Commuter Rail tracks on the other. The street started to rise to a higher level than the tracks, reaching an intersection with Beale Street. We were about a block away from Wollaston, but we turned onto Beale Street instead.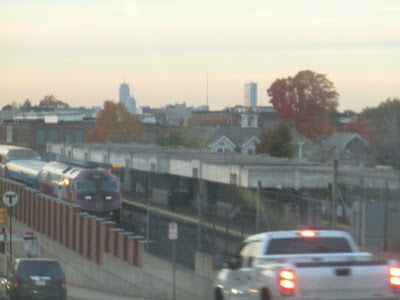 Wollaston! A Commuter Rail train! The Boston skyline! But it's all blurry…
Beale Street was mostly residential, with the very occasional business. The 211 turned onto Highland Ave, leaving us alone on the street. The road curved south, then we turned onto Adams Street, joining the 215 and 245. There were more houses for a while, but at East Milton Square, we reached some traffic.
Here, the street was lined with businesses, and it was also where I became the only one on the bus. We turned onto Granite Ave, looping around I-93, then came back down to Adams Street. Heading out of the square, it was residential once more.
And by residential, I mean mansions. I'm not even playing this up, all the houses along this street were huge mansions hidden behind trees and blind driveways. Sure, there was a small college at one point, but it was mostly just these massive houses. And we were just speeding through all this, me being the only person on the bus, and the whole time I'm thinking "Who thought it was a good idea to put a bus route through here?"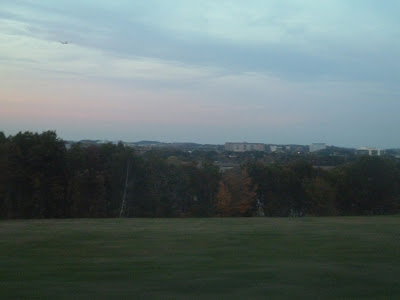 Not the best picture I could've gotten, but it was dark out and we were moving quickly.
At one point we passed a field that offered a skyline view, but we were moving so quickly that there wasn't much time to appreciate it. Adams Street started to curve north, and then all of a sudden it was lined with the businesses of the Lower Mills. Really, it was kind of jarring how quickly the transition happened.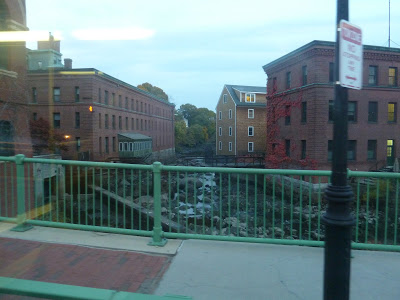 Crossing over the quite dry-looking Neponset River.
We crossed over the Mattapan High Speed Line at Milton Station, then went over the Neponset River, entering Dorchester. The street became Dorchester Ave, and it was shared with a few other routes. This was also when people started boarding the bus.
Leaving behind the brick buildings of the Lower Mills, the street was lined with businesses for a bit longer, then it got residential. We passed a huge hospital at one point, but the surroundings were mostly dense houses. It pretty much stayed that way right up until we pulled into the Ashmont busway, dropping off the people we had picked up along the Dorchester Ave stretch of the route.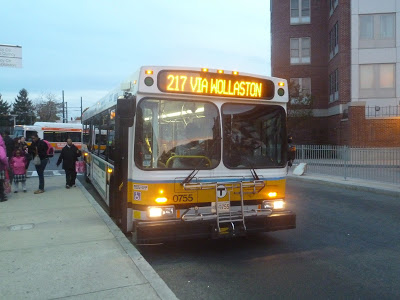 The bus at Ashmont.
Route: 217 (Quincy Center Station – Ashmont Station via Beale Street, Wollaston, and East Milton Square)
Ridership: Oh, it's incredibly high! In fact, this the 152nd busiest route on the MBTA! Wow! Of course, it's also the 13th least busiest route, but…hm. Okay, yeah, hardly anyone uses this bus. It gets an average of 239 riders per weekday, many of whom, I'd imagine, could use a different route to get where they're going. I mean, I was the only person that stayed on for the independent section of the 217! There were people on the eastern shared portion and people on the western shared portion, but no one was there for the part in the middle.
Pros: I will say that this is the fastest link between Quincy and Ashmont when it takes its normal route (there's an alternative via North Quincy). So yeah…good for you, 217.
Cons: But…whyyyyy? This route seems like it's meant to be a supplemental service, but four times a day? It seems like the only time people rely specifically on the 217 is with the one school trip it runs. Other than that, people could just use other buses to get where they're going. I mean, there's a short independent portion on Beale Street with some dense houses, but the long stretch with the mansions? It doesn't look like any of those people would use the bus. And the bit on Beale Street is in walking distance of other routes, anyway.
Nearby and Noteworthy: East Milton Square seems like an interesting place. There are some businesses and restaurants there that could be worth checking out. But I recommend using a more frequent route to get there, i.e. not the 217.
Final Verdict: 3/10
This is one of those routes that I feel could just be gotten rid of. Honestly, it just seems to be an incredibly infrequent supplement for streets already served by other routes. And even though the 217 is fast, it's only because it really doesn't serve much. I'm sure people wouldn't let this route be eliminated, but it is one of the most expensive routes for the MBTA to run. As in third most expensive, at $7.19 per passenger. That cost ain't cheap…
Latest MBTA News: Service Updates
Please pray for those in Paris, which was struck by a series of coordinated terrorist attacks yesterday.