Orient Heights Station was a mess. It wasn't accessible, and it was literally falling apart. Finally, in 2013, the MBTA gave it a much-needed renovation. But does that mean the aesthetics are good? Well, let's find out.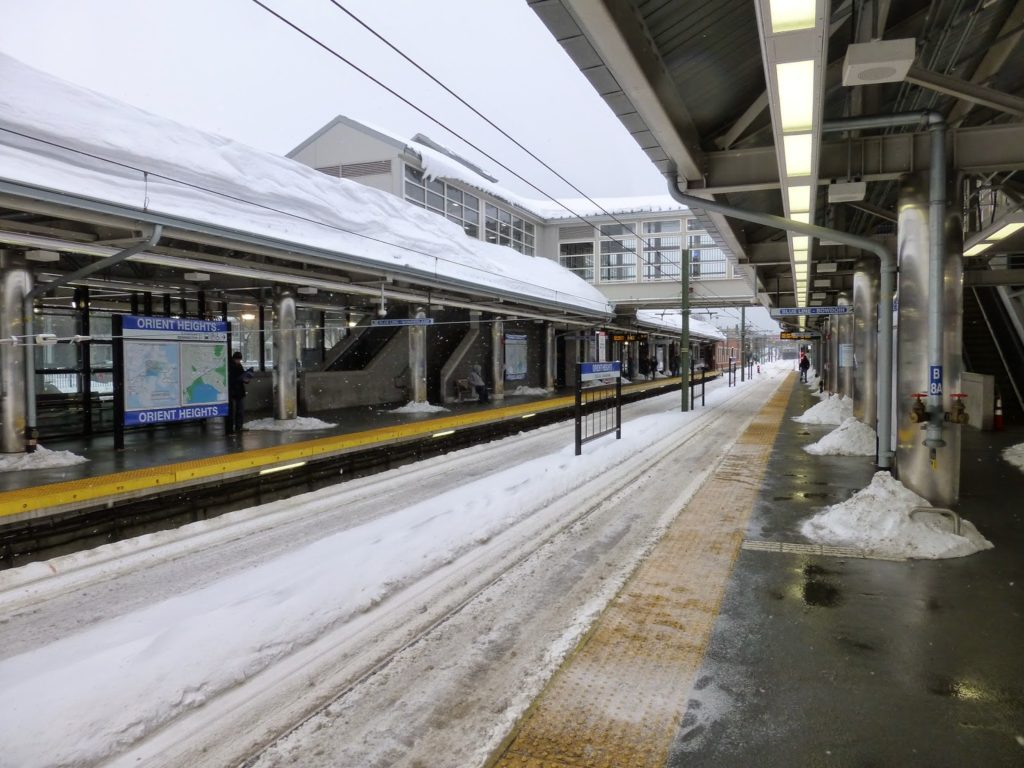 The platform.
Okay, so I have to say, I wasn't a fan of this station's aesthetics when I visited. But having just reviewed Wood Island, Orient Heights looks pretty good in comparison! So I could be a bit influenced by that in this review. We'll see…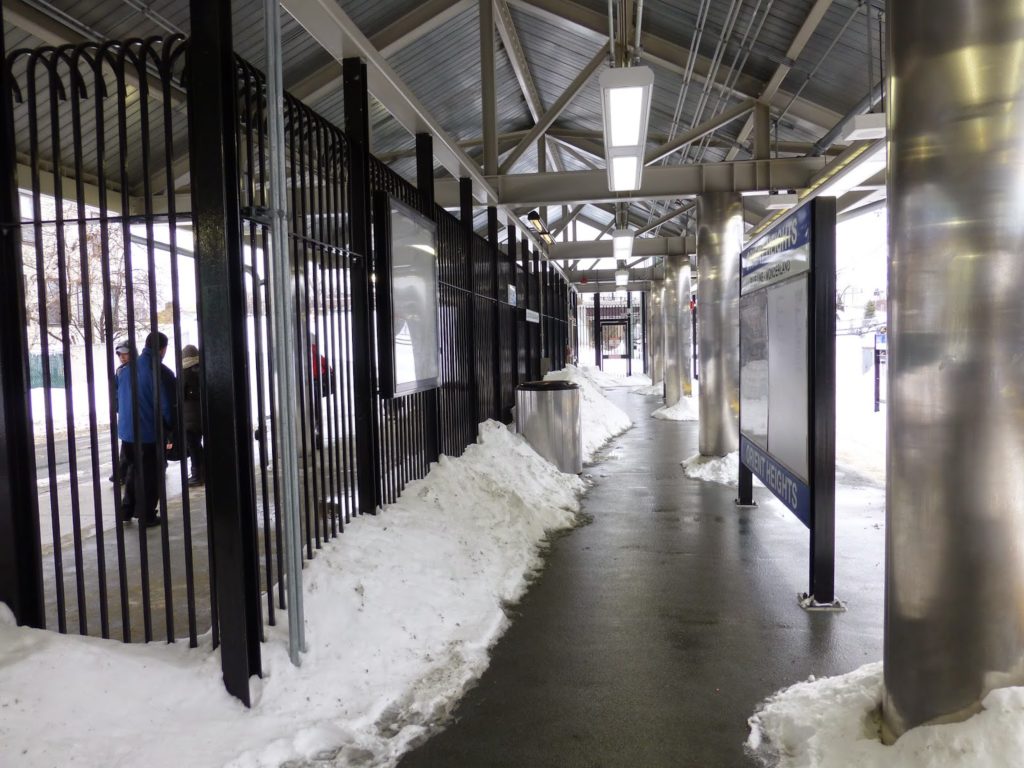 And under the platform's shelter.
I think the platform itself is kind of a mixed bag. I like the reflective pillars, and the whole platform is sheltered. But the steel shelters are ugly, and those stupid Suffolk Downs fences are ever-present on the outbound side. Also, there are a few emergency exits along the platform. That's certainly a good thing, but what's really annoying is that it seems like they're very popular for fare dodgers, since they lead right onto the platform.
Another shot of the platform.
On the inbound side of the platform, the fences get replaced by some nice glass panels. This station also has some of those pointless bench shelters! They're the ones where the benches are already sheltered by the station, yet they get their own little room, anyway. I think this might be the only station on the Blue Line that has these.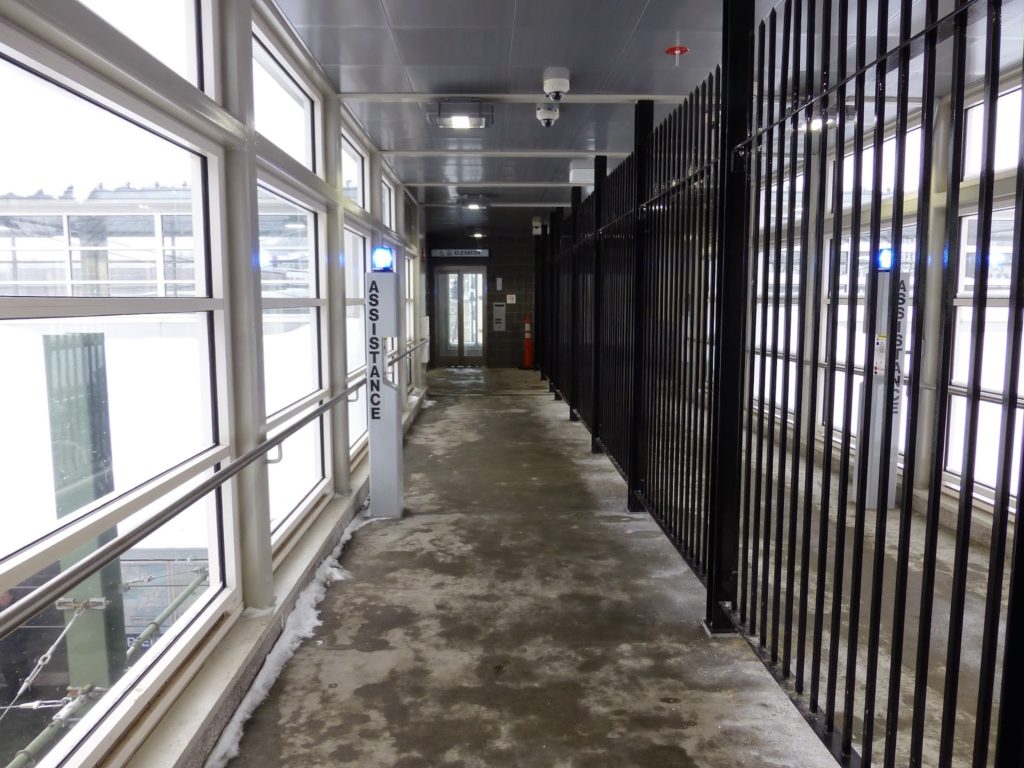 The station's footbridge.
To get between sides of the station, there are two footbridges. Well, they're enclosed in the same structure, but separated by a fence – one is within fare control and the other is outside. With this footbridge, they use actual windows, so you can see the trains coming in from up there!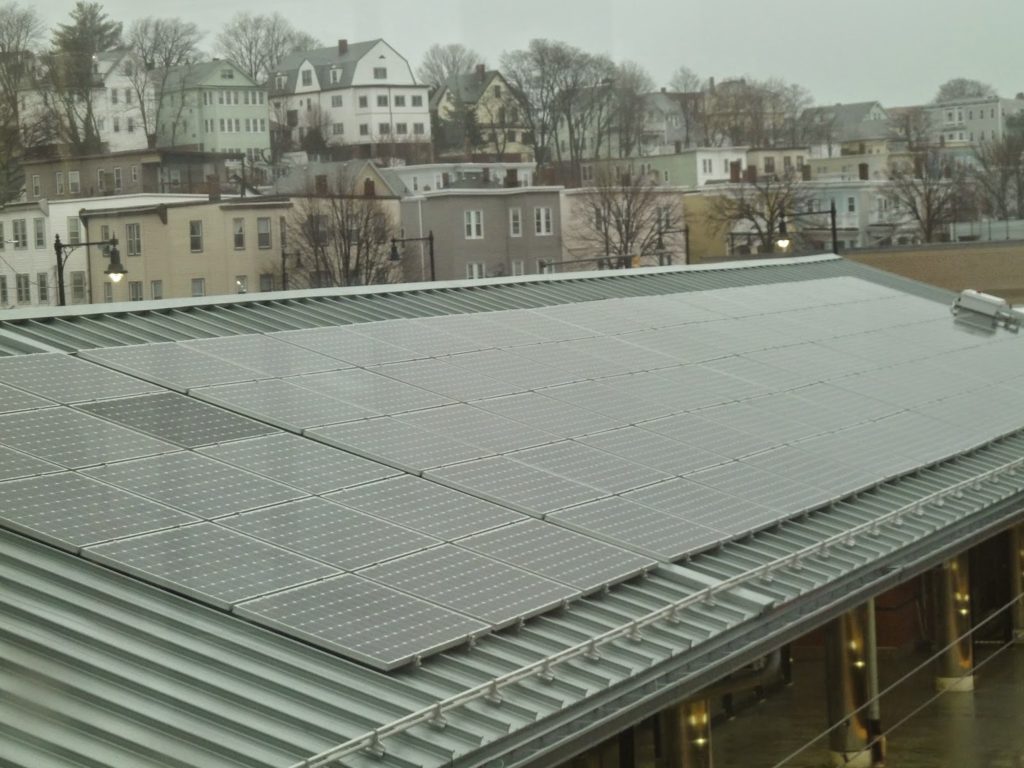 This one was taken about a year ago. But look at all those solar panels!
From the footbridge, you can also see the station's solar panels. 20% of the station's power needs are provided by these bad boys, which produce 100 kilowatts of energy. Apparently Orient Heights is a really energy-efficient station as a whole, so says this informative, albeit kinda pretentious PDF. And in the PDF, they spelled "sustainable" as "sustainabile", which is hilarious.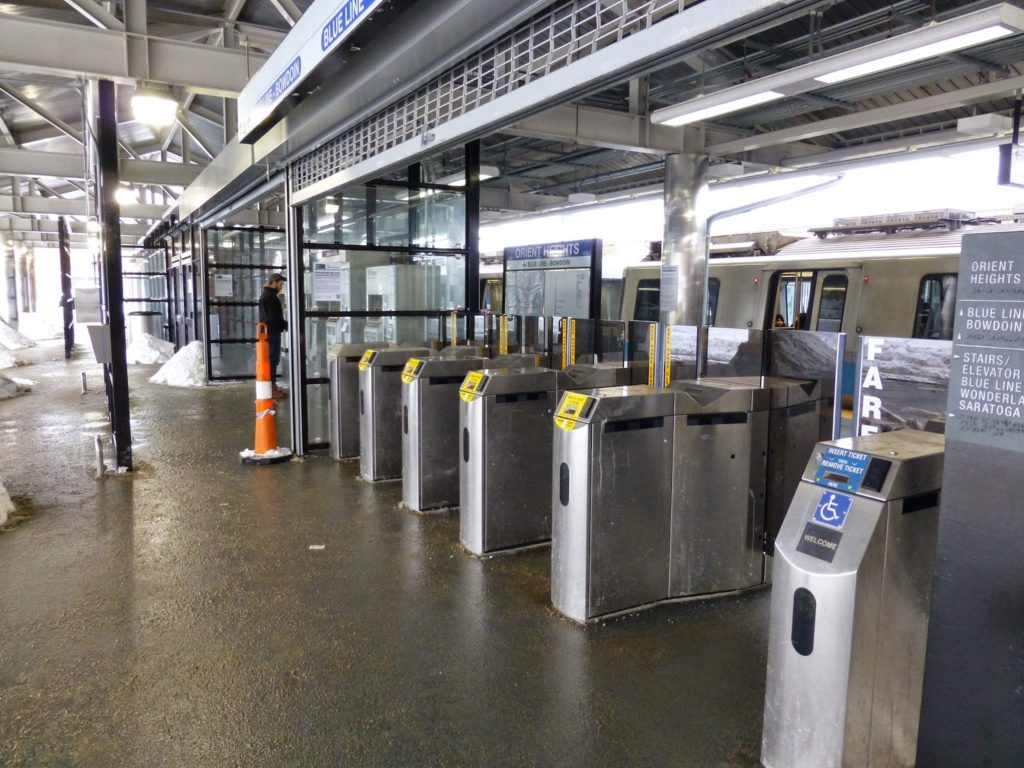 Looks like one of that train's doors is broken.
Another interesting thing about this station is that it doesn't have any mezzanines. There's a busway on the Bennington Street side, and from it are fare gates that lead right into the platform. I think this sort of layout is unique to Orient Heights, which makes it all the more interesting. Of course, that also makes this a "screw you" station, where you can see the train waiting there as you enter the station, but there's not much you can do about that.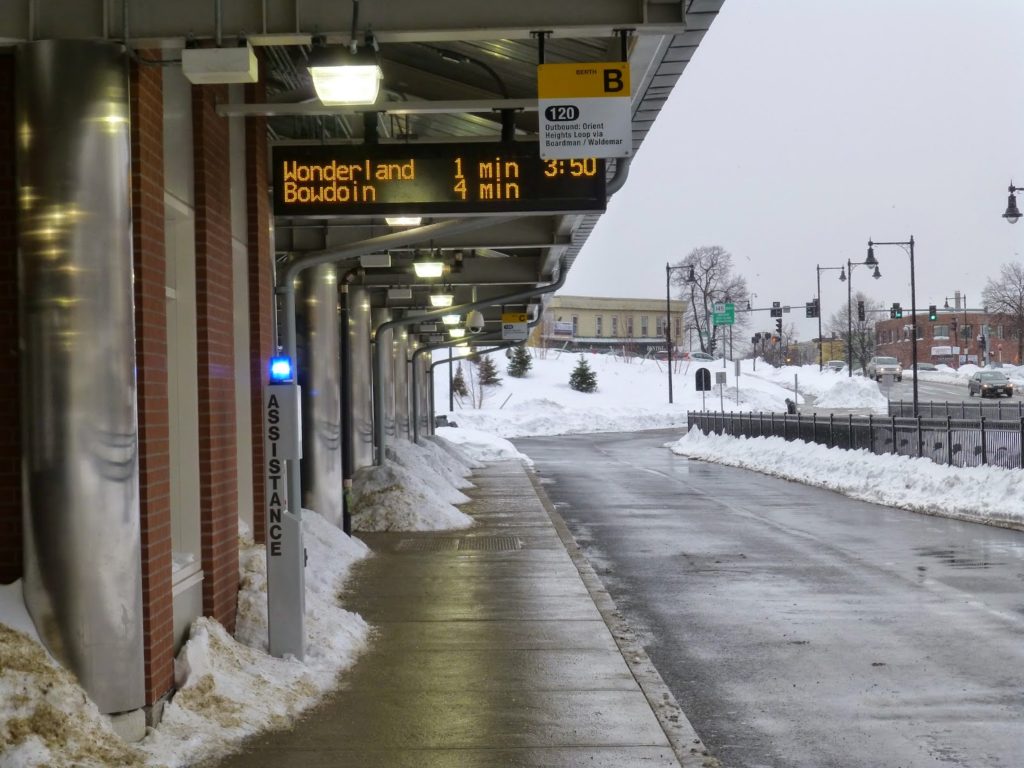 The Bennington Street busway.
The Bennington Street busway is served by the 120, which is the only true MBTA bus that serves this station. It's a nice busway, a simple road paralleling Bennington Street. It has another bench shelter, as well as countdown clocks for Blue Line trains! I love when there are countdown clocks in busways!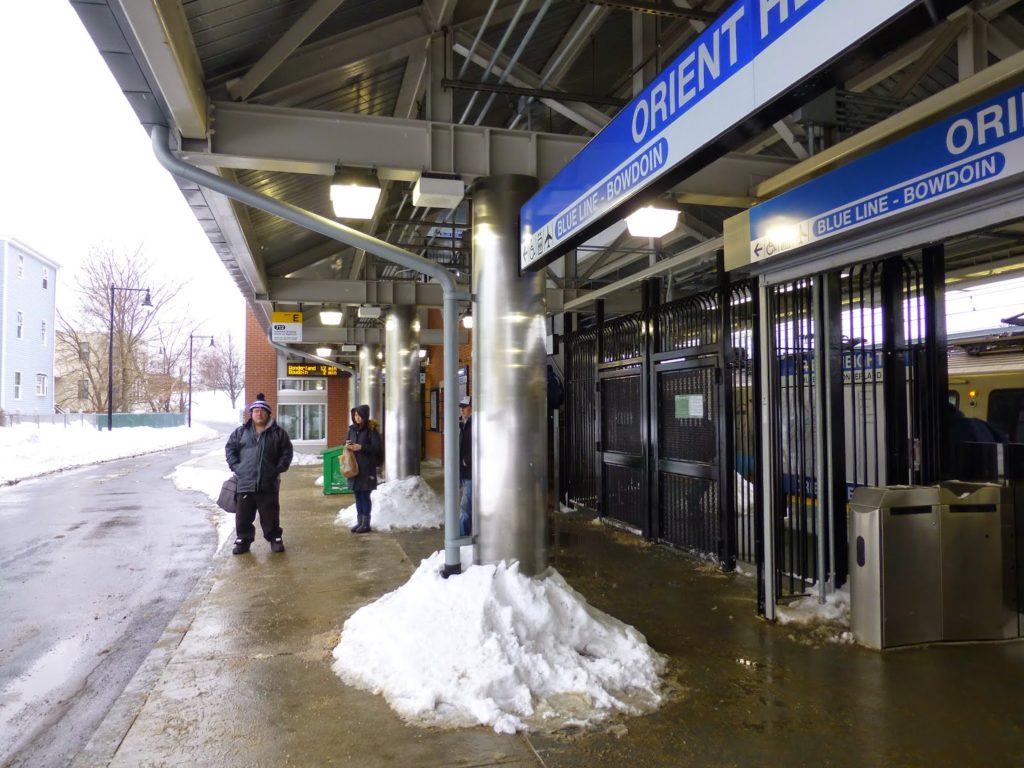 The Saratoga Street busway.
On the other side of the station is the Saratoga Street busway. This is where the 712/713 contracted buses to Winthrop stop. It's scaled down from the Bennington Street one, including with the number of fare gates, but it's still fine. Now, something I didn't realize when I visited Orient Heights is that it actually has a pretty large parking lot. The lot is right next to the Blue Line yard (there's a big train yard here), and has 434 spaces! I can't believe I didn't notice this before!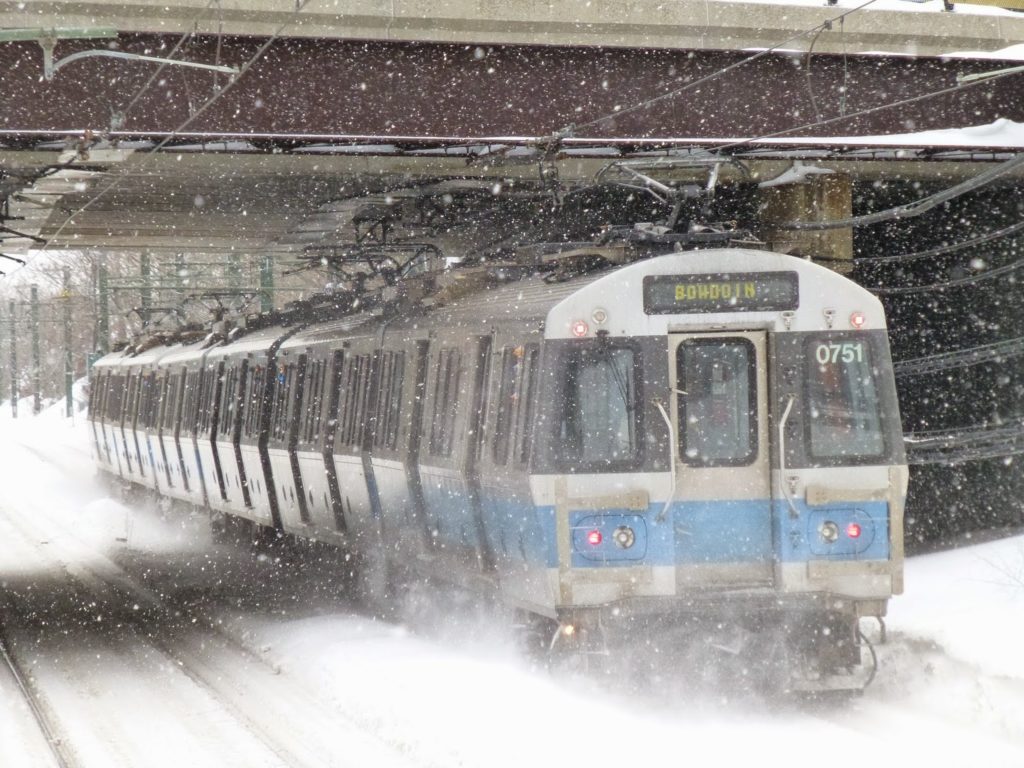 Snowy…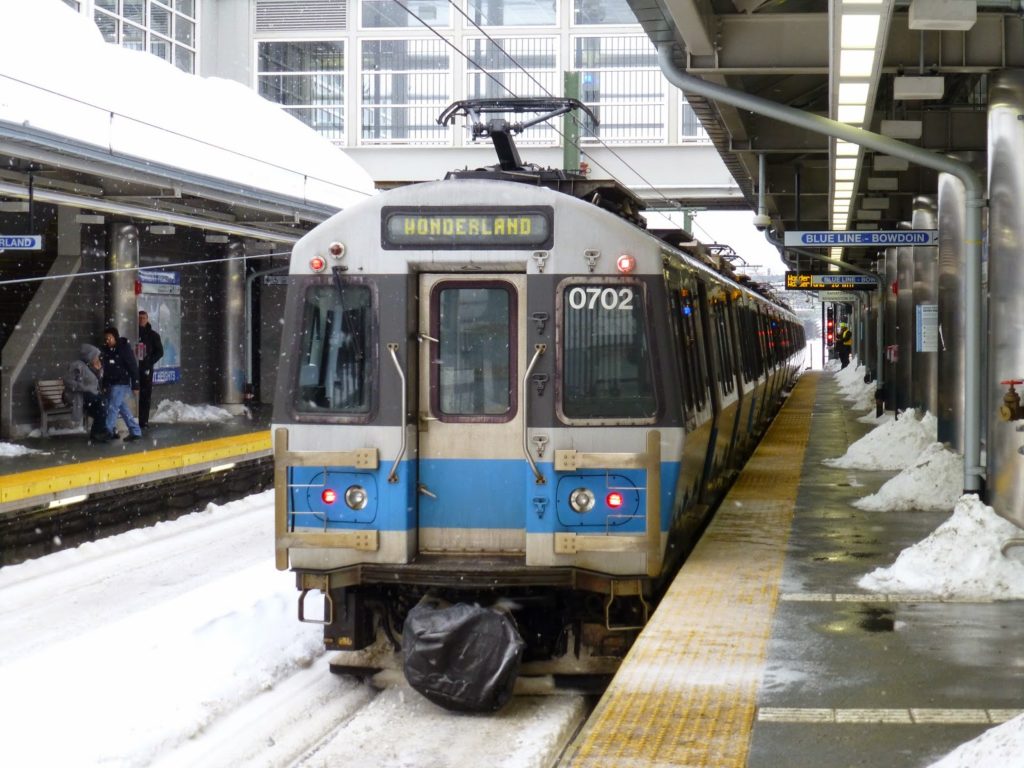 I'm honestly not sure if the snowy picture above is at Orient Heights or not, so here's another one that I know was taken at the station.


Station: Orient Heights
Ridership: I was really expecting this to be higher. The station gets 2,833 riders per weekday, which makes it the third-worst station on the above-ground section of the Blue Line in terms of ridership. I mean, this station is the "gateway" station into Winthrop, and has a sizeable residential area around it! I was really expecting more riders.
Pros: Okay, so this station is actually pretty nice. And I'm gonna be honest, it's pretty good aesthetically. It's also really energy efficient, and has a really big parking lot considering its ridership. For a Blue Line station, the bus connections are plenty.
Cons: The emergency exits on the platforms need to be a little better at keeping people out, since I saw a lot of people coming into the station through them when I was here. Also, I guess there are a few aesthetic decisions I don't really like, but on a whole the station looks nice.
Nearby and Noteworthy: I have a friend that used to live in this area who could probably give a few noteworthy businesses. That said, he doesn't read this blog, and I don't know anything about the area, so…sorry.
Final Verdict: 7/10
Overall, I guess I do like this station! I wasn't expecting it to get an especially high score, but a seven is pretty good. I think my real problem with this station is that it's still generic in terms of looks. There's nothing here that makes it stand out from the crowd (except for the fare gate layout, which isn't that noteworthy). But I guess I do like Orient Heights after all.
Latest MBTA News: Service Updates