There's no denying that the 439 offers a great ride. The fact that you're on a isthmus and surrounded by water makes for great views on both sides of the bus. There are some caveats, though – mainly the fact that the bus only runs five times a day, and that most of the time it leaves from Lynn, where there is no subway connections. This makes the 712/713 a great alternative – mainly, it runs more often than five times a day.
In fact, it actually runs quite often. So often that when my father and I were at Orient Heights on a Saturday, we winged it with the schedule, barely missed a bus, and still didn't have to wait that long for another. That said, it's still two separate routes. The 712 and 713 have fairly similar routes, splitting up in the middle to serve the north and east sides of Winthrop in the 712's case, and the south and west sides of Winthrop for the 713. The routes are coordinated, though, meaning buses run fairly often along the shared portions of the route.
There's a wrinkle to all of this – this route is not operated by the MBTA. The MBTA subsidizes it, but it's actually run by Paul Revere transportation. This means different prices, different bus stops, and even entirely different buses. This post would be considered a service change if it weren't for the fact that the numbering technically makes it part of the MBTA (although this post does have a comparable amount of photos to a service change). My father and I found this out the hard way. I knew that the bus wasn't operated by the MBTA, but I didn't know you can't use CharlieCards on it. We had to purchase a CharlieTicket to be able to board. Luckily the fares are only $1.50.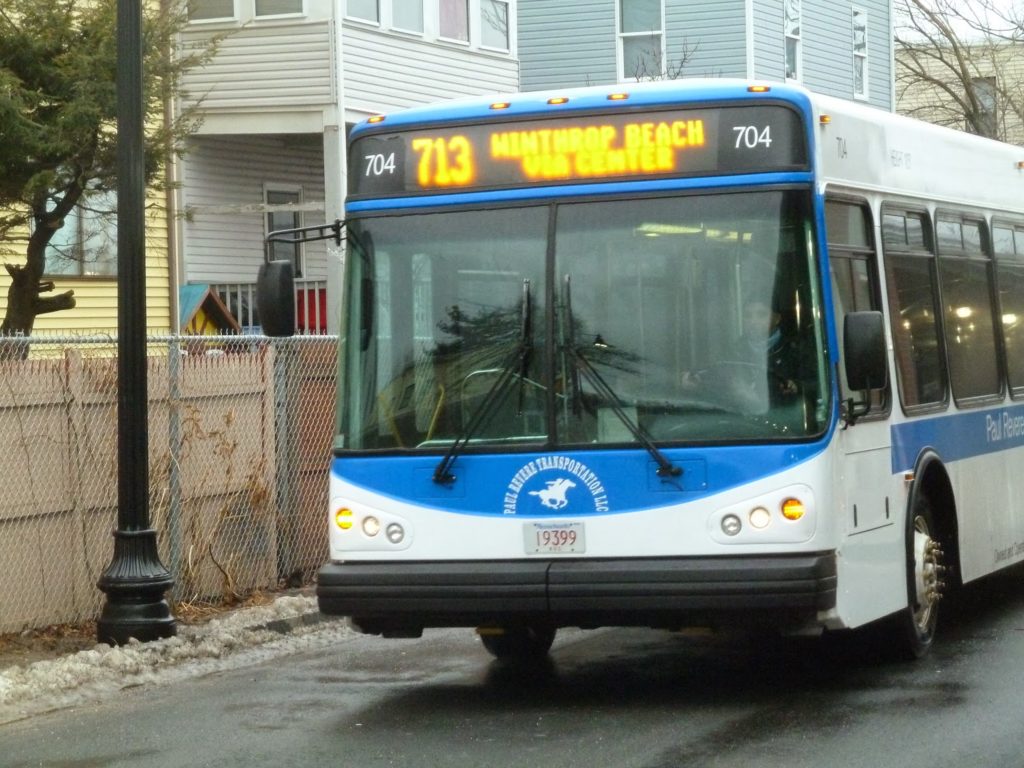 This 713 was about to become a 712 at Orient Heights.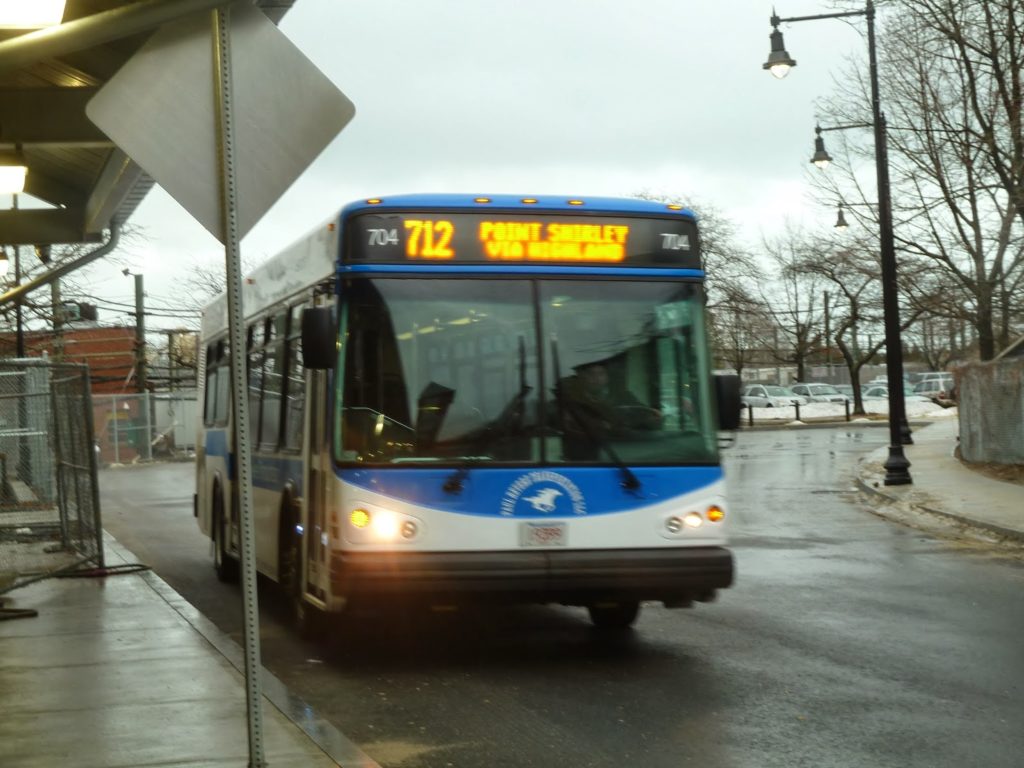 The same bus, only it looped around and changed its number.
The buses operated on the route are painted white and blue and are a little smaller than regular MBTA buses. Inside, they have seats that look comfortable, but actually aren't. There is an electronic screen up front that flashes names of stops, but there are no automatic announcements. There were about 20 other people on the 712 as we left Orient Heights, heading down Saratoga Street. It was a mostly residential neighborhood, with a small plaza just before entering swampland and crossing over a bridge (which would've offered a decent view had it not been so foggy) into Winthrop.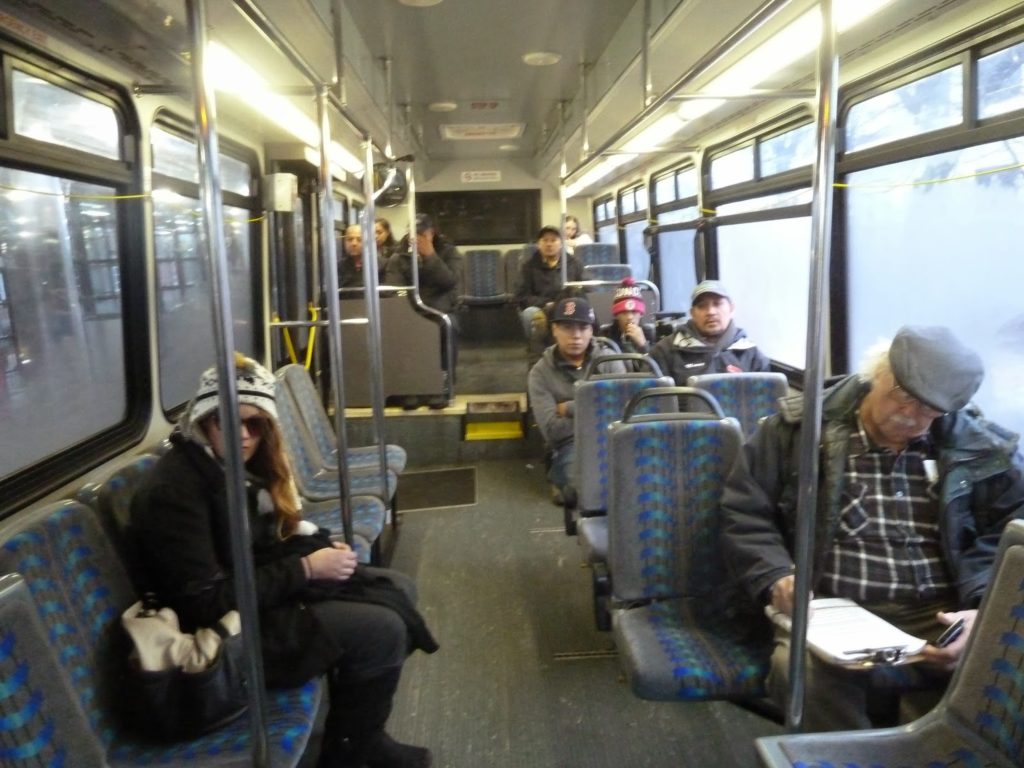 The inside of the bus. Those seats aren't as comfy as they look.
There were a few gas stations and convenience stores before it got residential again. At Harmon Street, the 713 would turn off, while we stayed on Main Street. There were some businesses at the intersection of Main Street and Revere Street, and they continued as the bus turned onto Revere for a stretch. There was a sharp turn onto Crest Avenue, and the bus went by the shore for a short time before heading back inland on Beach Road.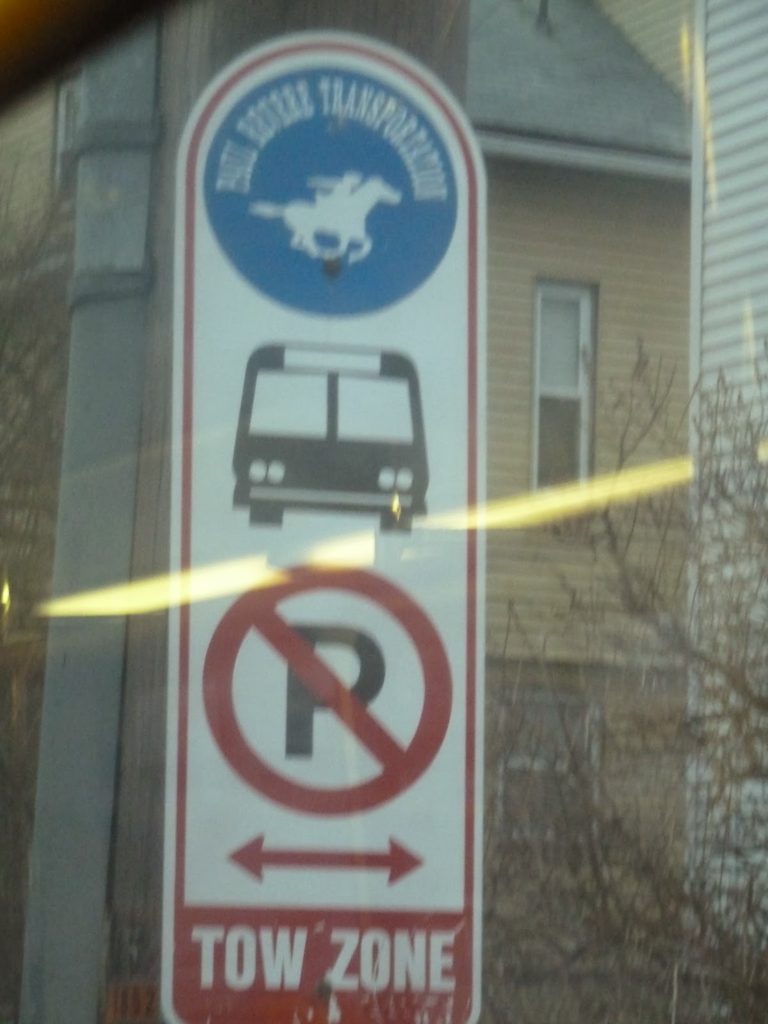 The bus stops along the route are unique.
The route splits at this point, with inbound buses going on Veterans Road and outbound buses on Shirley Street. We were on Shirley, which was mostly residential with the occasional convenience store dotted in. Once the 712 and 713 joined up again, there was a marina with a lot of boats. There were a few points along here with fantastic views, one of which I took a picture of: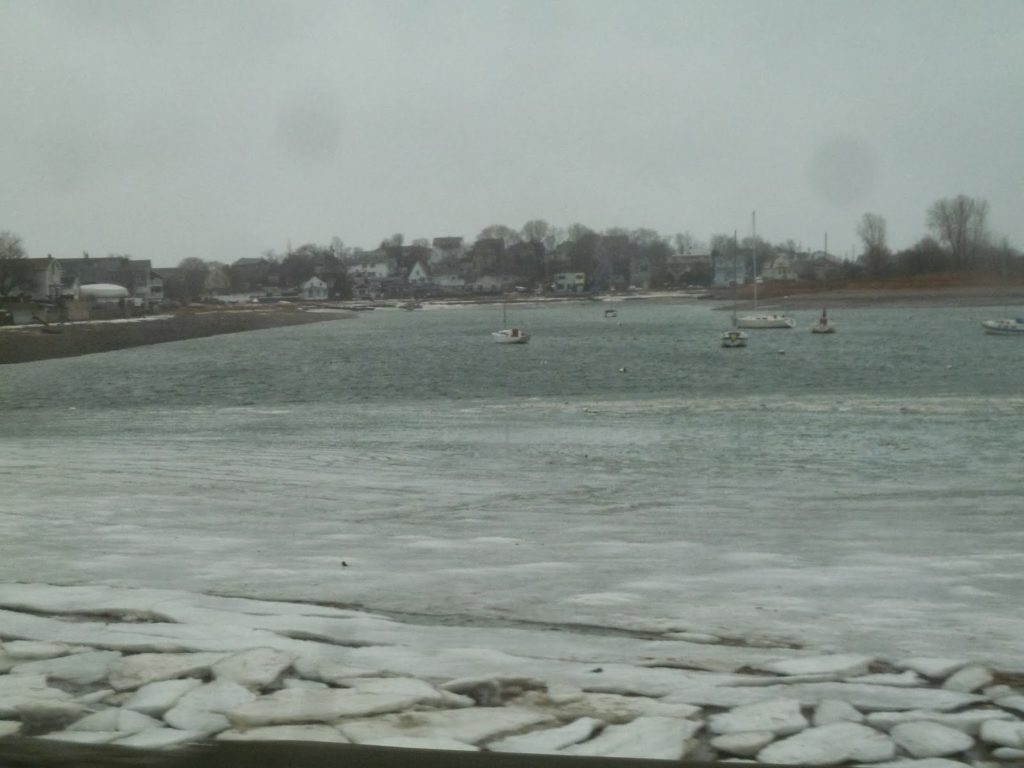 I really like the effect the ice has on the picture.
Shirley Street became a pseudo-isthmus after that, with houses on one side (with water beyond that you can't see from the bus) and a beach on the other, separated from the street by a wall. Soon after there were houses on both sides, and then the isthmus ended. The bus turned onto Tafts Ave, going through a residential area, which eventually turned to a field on one side and another would-be-fantastic-view had it not been so
foggy. On the day we went, it looked rather eerie, and I took a picture of it.
Like I said, eerie.
After that, the bus came to a small parking lot. This is the parking lot for the Deer Island sewage plant, and I was very surprised that 10 people came down to this point – why would you want to go to a sewage plant on a Saturday afternoon? The bus looped around the parking lot, the driver changed the destination board to read "713," and we were off in the other direction. And no one got off.
As we were heading back down Shirley Street, I noticed a strange sort of machine on the coast. It didn't look like it was part of Deer Island, although it was in the same general area. Does anyone know what it is? Leave a comment if you do: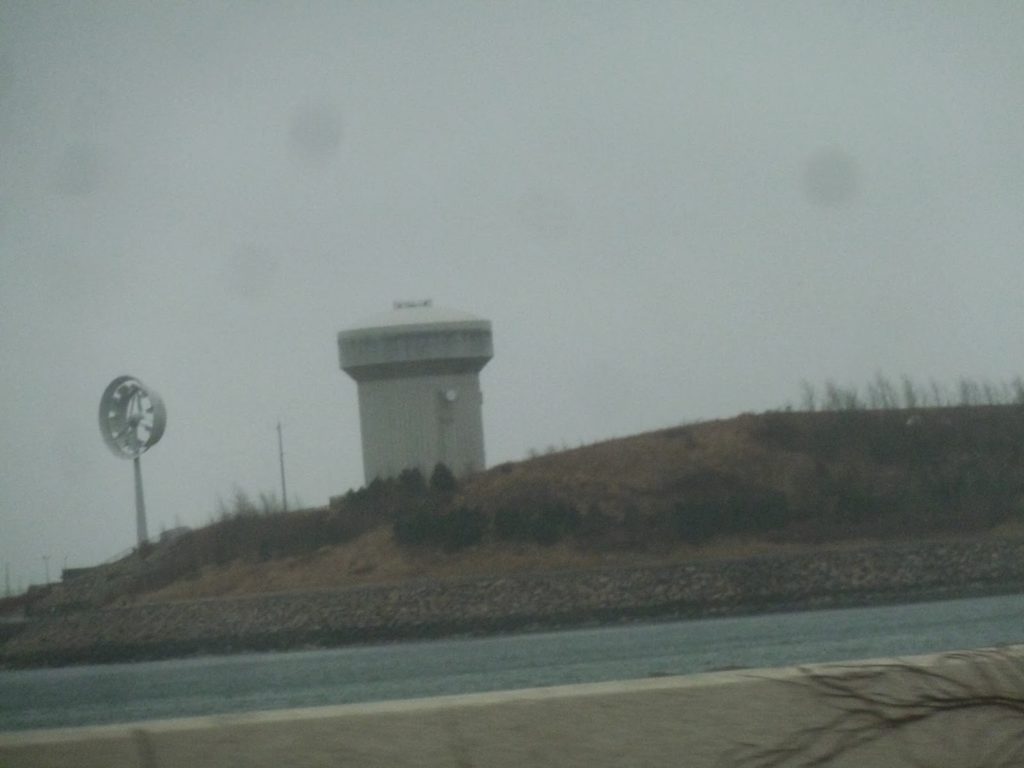 A fairly bad picture, I suppose.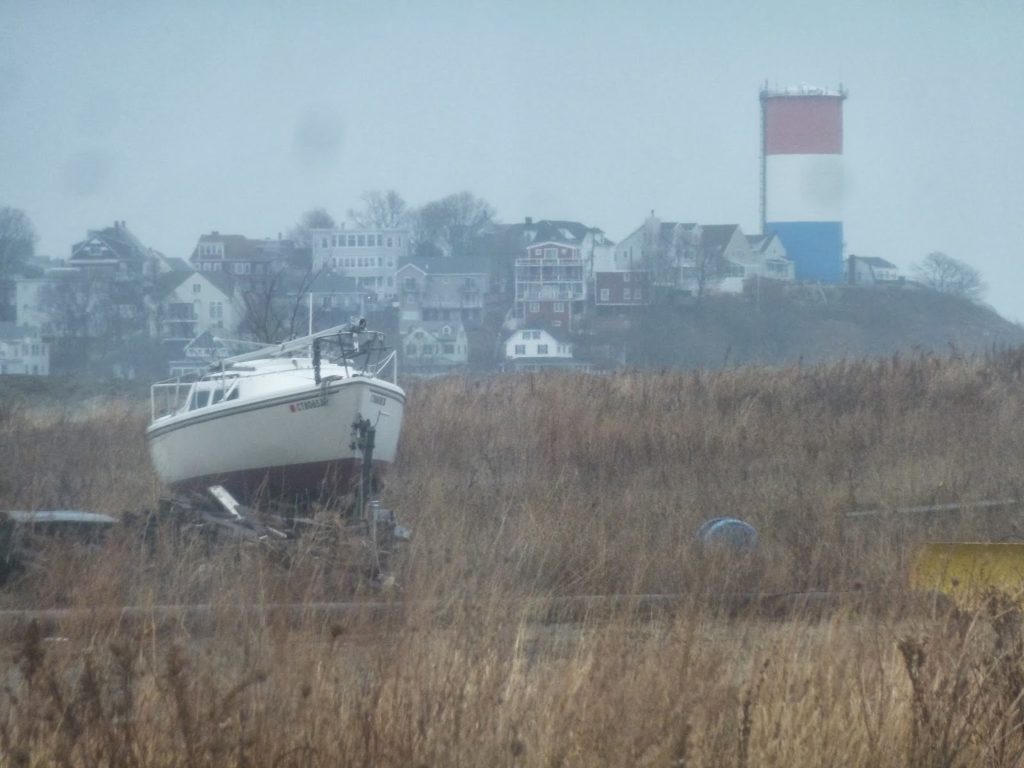 I unfortunately don't remember where along the route I took this, but it just looks really weird!
Before the bus turned onto Washington Ave, it made a strange loop around a single block that didn't seem to have a point. The street went over a bridge with a nice view of a small lake, then it turned residential. It turned into Pleasant Street, but the bus soon turned onto Pauline Street. It entered Winthrop Center, and frankly, I was disappointed. I was expecting some more of the lovely small businesses we had been seeing along the 712, but it turned out to be large stores with big parking lots. The area with the town's municipal buildings was nicer, though. It was here that the bus turned onto Herman Street and the view once again became residential. The bus soon turned onto Main Street, going back into previously charted territory and heading for Orient Heights.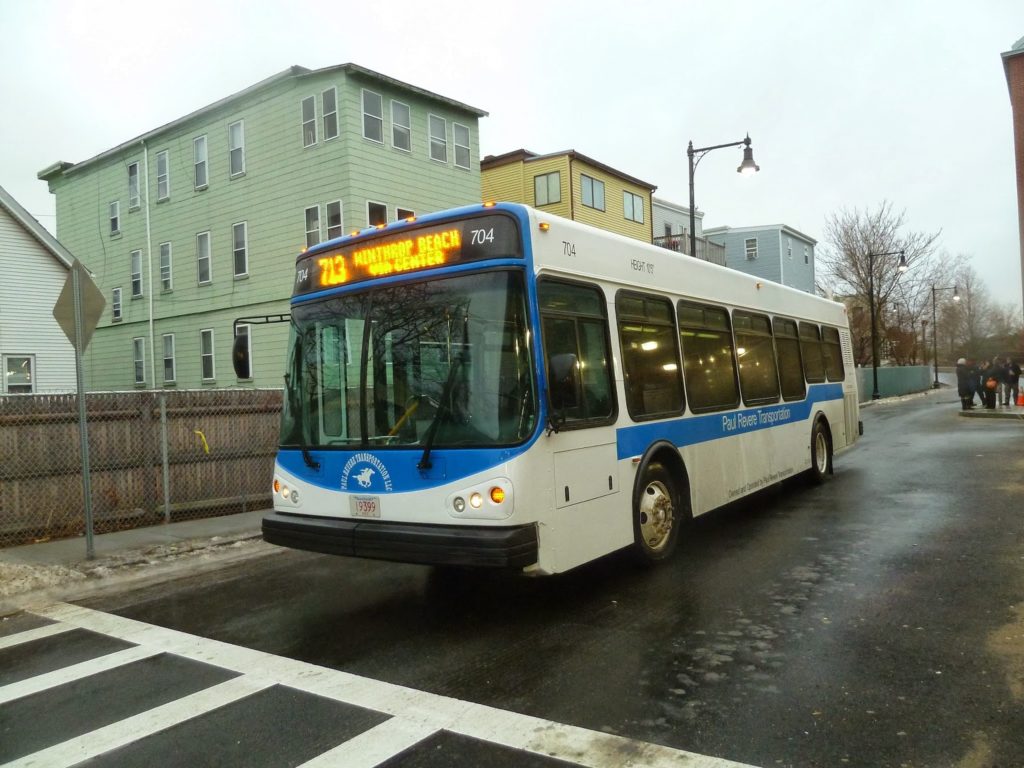 The 713 at Orient Heights.
Route: 712/713 (Point Shirley – Orient Heights Station via Winthrop Highlands or Winthrop Center)
Ridership: With most buses, people get on at the terminus and get off wherever they need to get off, not usually going to the other terminus. There are a few that people do ride from beginning to end – these buses are usually crosstown buses between two train stations. But I have never taken a bus where people get on at one terminus, ride to the end, then go back to the original terminus. Sure, I do that all the time, but I had never seen anyone else do it prior to riding the 712/713. About 10 people went to Deer Island and didn't get off, doing it just for the view. And I know at least one guy rode from Orient Heights back to Orient Heights.
Pros: The only bus (technically buses, I suppose) to serve Winthrop, and it serves it well. The two routes cover a pretty large amount of the town, although that's probably due in part to the fact that it's a small peninsula. This route (routes?) offers fantastic views that, if the day isn't foggy, rival those of the 439. And this one you can actually take for fun, as the schedule is amazing for a suburban bus like this (and for an MBTA bus in general) – it runs about every 7 minutes during rush hour, about every half hour during the day, about every 25 minutes on Saturdays, and about every 40 minutes on Sundays. The Sunday schedule is admittedly a bit tight, but it's pretty good for a bus of this ilk. Plus, the fare's a buck fifty!
Cons: Not much, although I wish you could use a CharlieCard to ride.
Nearby and Noteworthy: We saw a breakfast place called Hi-Tide, that, although we haven't tried it out,
looks pretty good. It's cheap if anything – really, really cheap. Just check out the
website
. We also passed by a seemingly abandoned school, which was quite interesting.
Final Verdict: 9/10
The fact that this bus offers views to rival the 439 is good enough, but the fact that the schedule is decent is fantastic. The fares are cheaper than a regular MBTA bus, as well, although keep in mind that you should have spare change at the ready if you want to ride. It also covers a lot of Winthrop, but actually a third of the people who rode rode it just for fun.
UPDATE:
Now the routes use MBTA buses!
Yay!
UPDATE 2:
And
now
the routes have CharlieCard support! Wow!
Although I'm not really sure how the MBTA parking system worked before,
they are changing it from Parkmobile to PayByPhone technology
. If you use MBTA parking lots, you should probably look at this as it seems pretty important. Also, I got a new computer! This one is much faster and overall better than the one I used before. Having a computer that can actually take pictures right off of an SD card (unlike my late Chromebook) means I'll be able to upload them much faster, although the minor editing I usually do may not be as good – the photo editor on this computer isn't great. Hopefully, though, it should mean more frequent posts, although I can't promise anything.