I've taken the 69 a fair amount of times before writing this review. Most of those times have admittedly just been from the Cambridge Rindge and Latin school to Harvard Station (only a few blocks), because I'm lazy and sometimes miss the 68. However, I also took more than half the route about a week ago to get to a friend's house. But the ride I'm talking about today is the one I took during my awful commute home – beginning to end.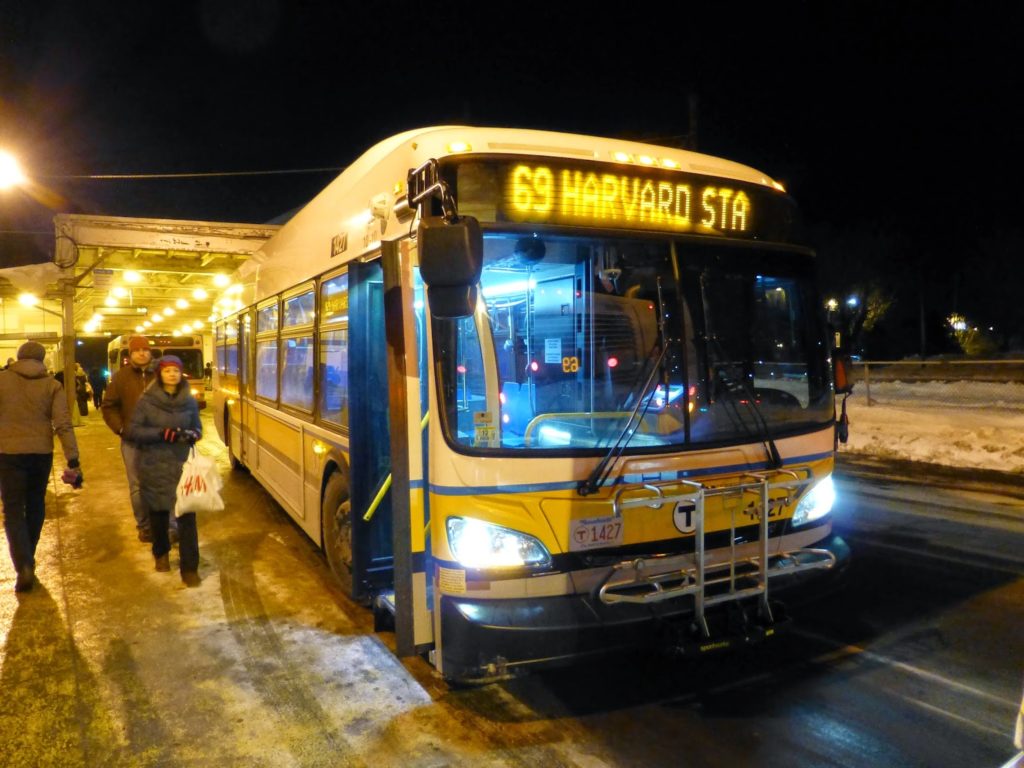 A 1400! Too bad it's nighttime.
There were two 69's that came into the Lechmere busway at the same time (bunching…uh-oh). The front one was a normal New Flyer diesel, while a new 1400 Xcelsior was behind it. I, of course, wanted to ride the new one, but everyone else was heading for the diesel. A few had gotten on that bus when the driver of the 1400 got out. "Hey," he said to the other driver, "I'll take these guys." Yes! We all filed onto the 1400 while the diesel drove off.
We swung around to the Monsignor O'Brien Highway, turned onto Third Street, and took a right onto Cambridge Street. It was a mixture of businesses, houses, and apartments, though the houses were gone after a little while. We crossed over a single railroad track, which I believe the MBTA wants to convert into part of the Indigo Line, and passed the King Open School.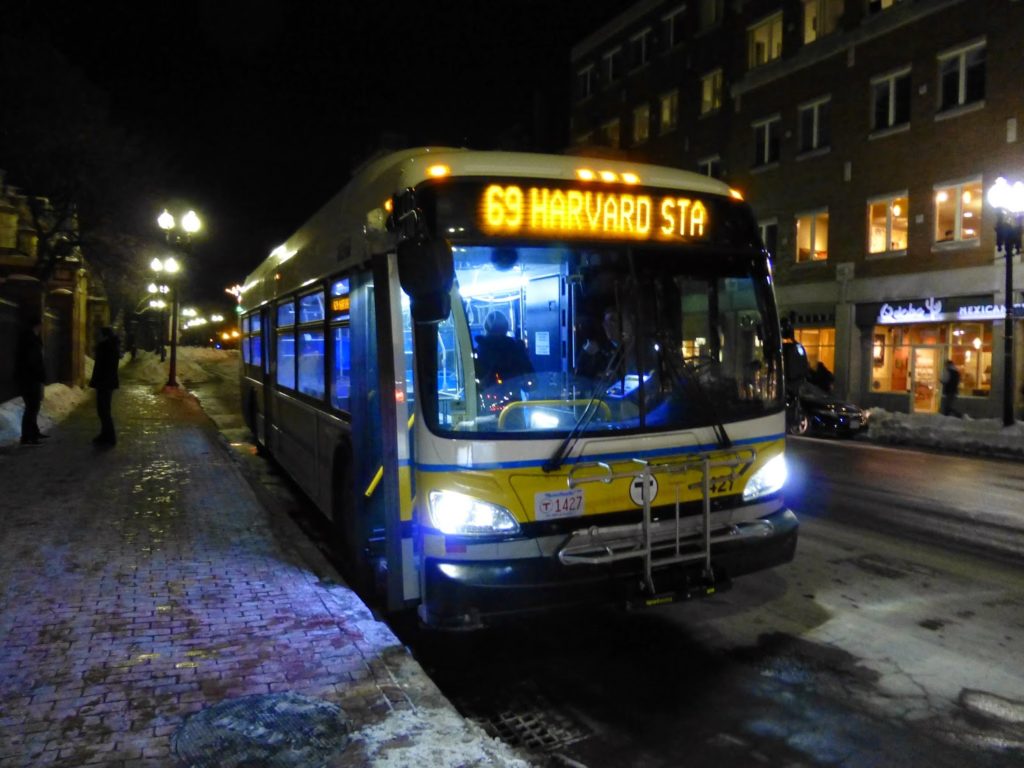 Another blurry nighttime picture, this one at Harvard.
After that, it was mostly businesses with apartments on top, though we also passed a big apartment building. We reached Inman Square soon after, which had a bunch of businesses, as well as a fire station. It turned to houses after that, but there were also two big hospitals.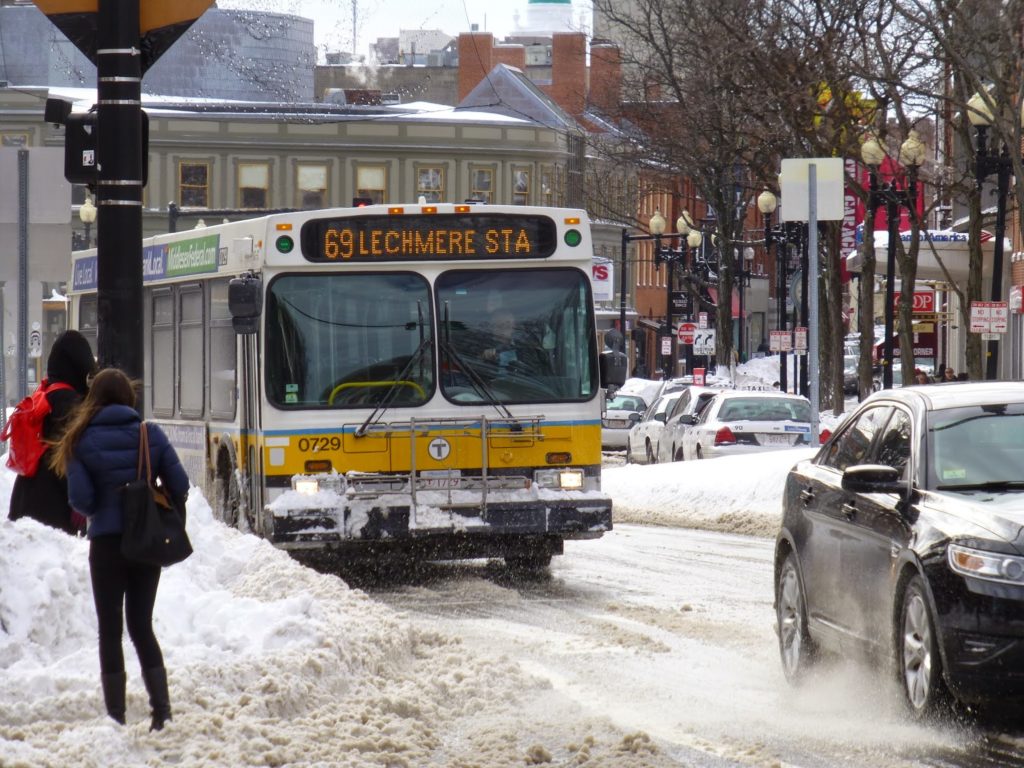 Ah, much better. This was time I took it to my friend's house.
We then passed the massive Rindge and Latin school, where there were also some businesses frequented by students. Unexpectedly, we made a hard left turn onto Felton Street, then onto Broadway, joining the 68. We turned onto Quincy Street, passing Harvard Yard and a bunch of university buildings. Curving around to the south side of the yard, we arrived at Holyoke Gate, and I made the snowy trek to Harvard Station.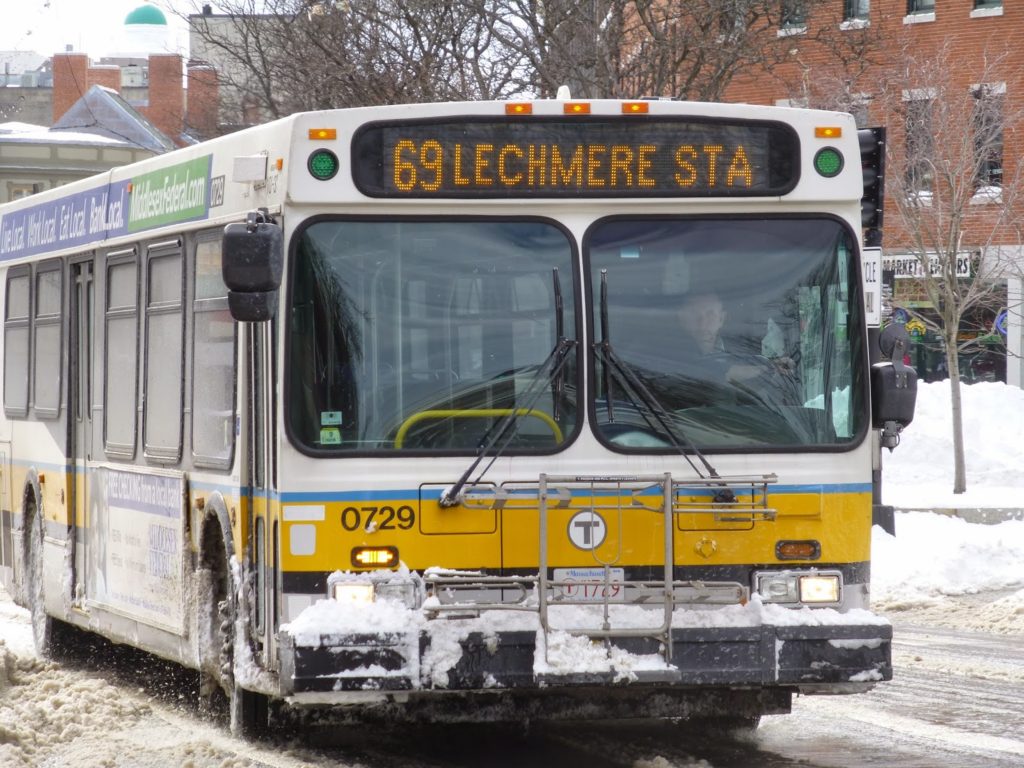 Another one at Harvard.
Route: 69 (Harvard/Holyoke Gate – Lechmere Station via Cambridge Street)
Ridership: This is a pretty heavily-used route – there were about 30 people who rode on my trip, during a Saturday night. Many of them used it for local service along the route, though a few actually took it from beginning to end. It's a great crosstown route, after all.
Pros: As I mentioned, the 69 is a quick link from Harvard to Lechmere, scheduled at 17 minutes. Of course, it often takes longer, but we'll get to that. For such a short route, the 69 serves quite a lot, cutting right through Cambridge on a street of the same name. Its schedule is mostly great, too: every 10 minutes during rush hour, every 20-25 minutes weekdays, and every 20 minutes Saturdays.
Cons: But every 40 minutes nights and Sundays is really bad, especially for a route with levels of ridership like this. Another problem with the 69 is that it has a habit of being late – in fact, it's late so often that it's sort of become infamous within Cambridge. And it evidently bunches, even on Saturday nights…
Nearby and Noteworthy: Here I am thinking I'm familiar with Cambridge Street, but now I can't think of a single business on it! Shoot…
Final Verdict: 6/10
I can think of a few people who would want me to go lower. But ultimately, the 69 is still a route with a decent schedule that serves a lot. It does have some big flaws in terms of lateness and bunching, and that Sunday schedule is awful, but it's still an important route that a lot of people use.
Latest MBTA News: Service Updates