I love small neighborhood stations. I also love modern, recently renovated stations. And I really love elevated stations. Beachmont manages to embody all three of these things. And so, I love it!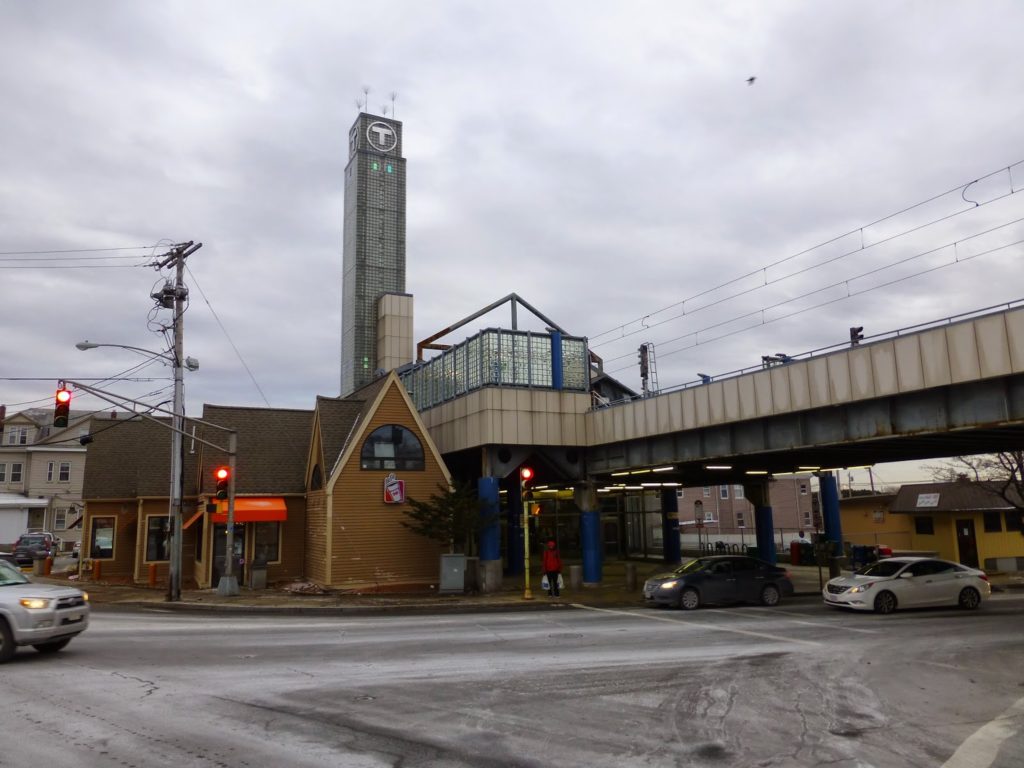 The station from across the street.
Beachmont wants to let everyone know that it's there. You'd think an elevated station is eye catching enough, but the MBTA went one step further. They took one of the elevator shafts and raised it to twice the height of the station itself, then put a T logo and lights on it. I'm not sure why they felt the need to do that, but I really like it.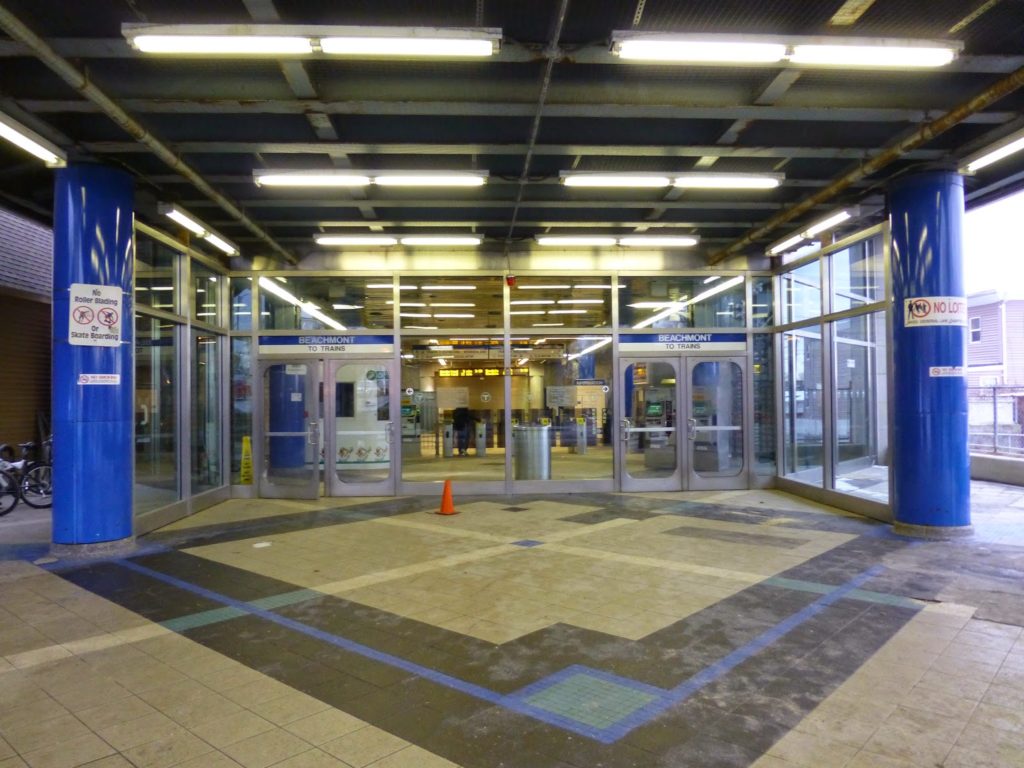 The entrance.
The station's single entrance is under the elevated line. It's well-lit and modern, with a cool floor pattern and bright blue pillars. There are also a few bike spaces here, though I think there are more than the six that the website says it has. Something I didn't realize is that there's even a 430-space parking lot for this station on Winthrop Ave!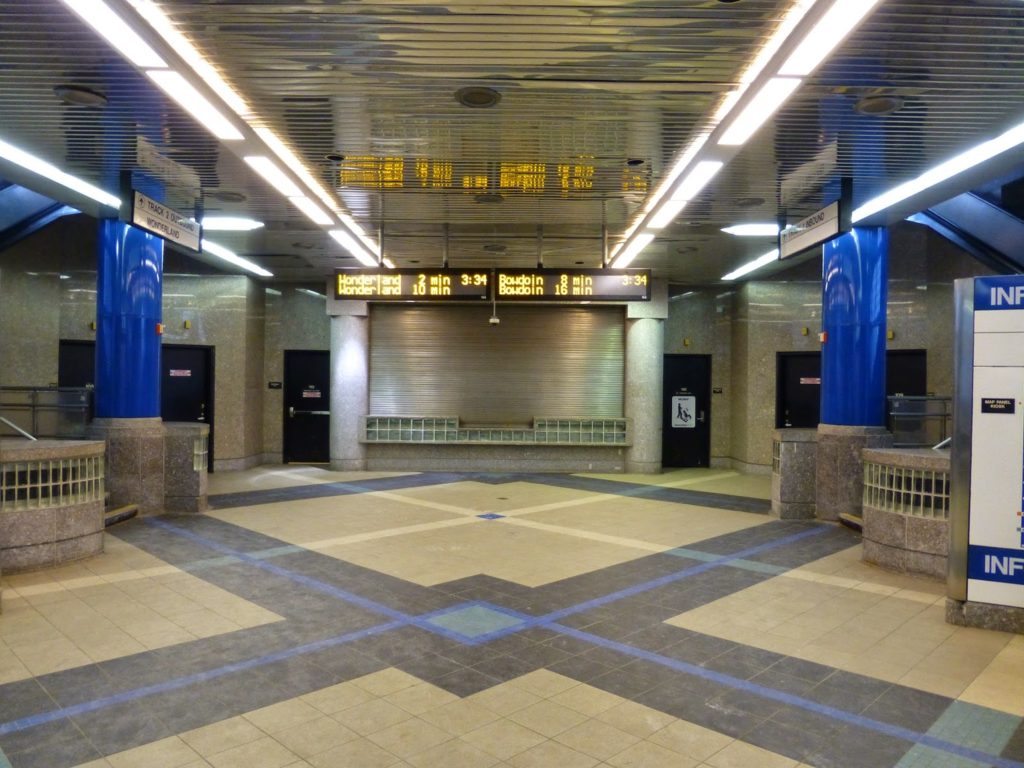 The mezzanine.
The station's mezzanine is beautiful. There's a reflective ceiling, and that cool floor pattern again. It's also very spacious, with lots of fare gates. There are two countdown clocks in here, one for each platform. There's a set of stairs, an escalator, and an elevator each for the two platforms.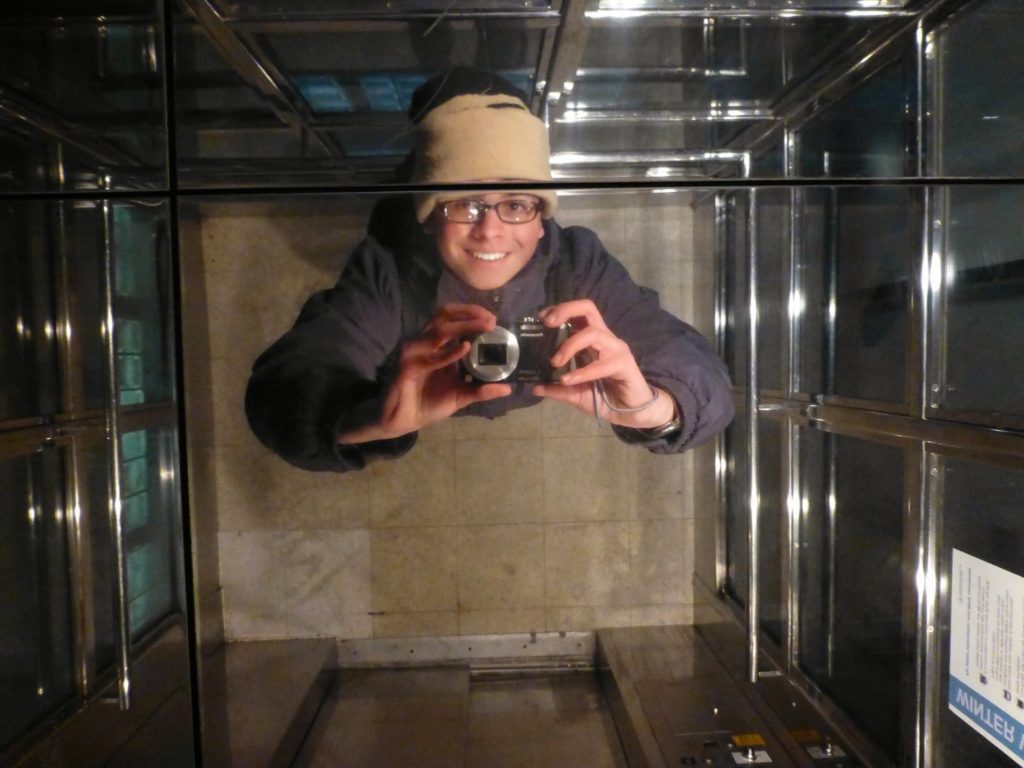 Long-time readers of the blog may remember my weird hat…
This station has the best elevator on the MBTA. It has very shiny glass walls, not that there's much to see. But still, glass elevators are awesome anyway. Beachmont takes that extra step, though, and throws in a mirrored ceiling! It allows you to take pseudo-selfies like the one above. I don't often rave about MBTA elevators, but this one is just fantastic.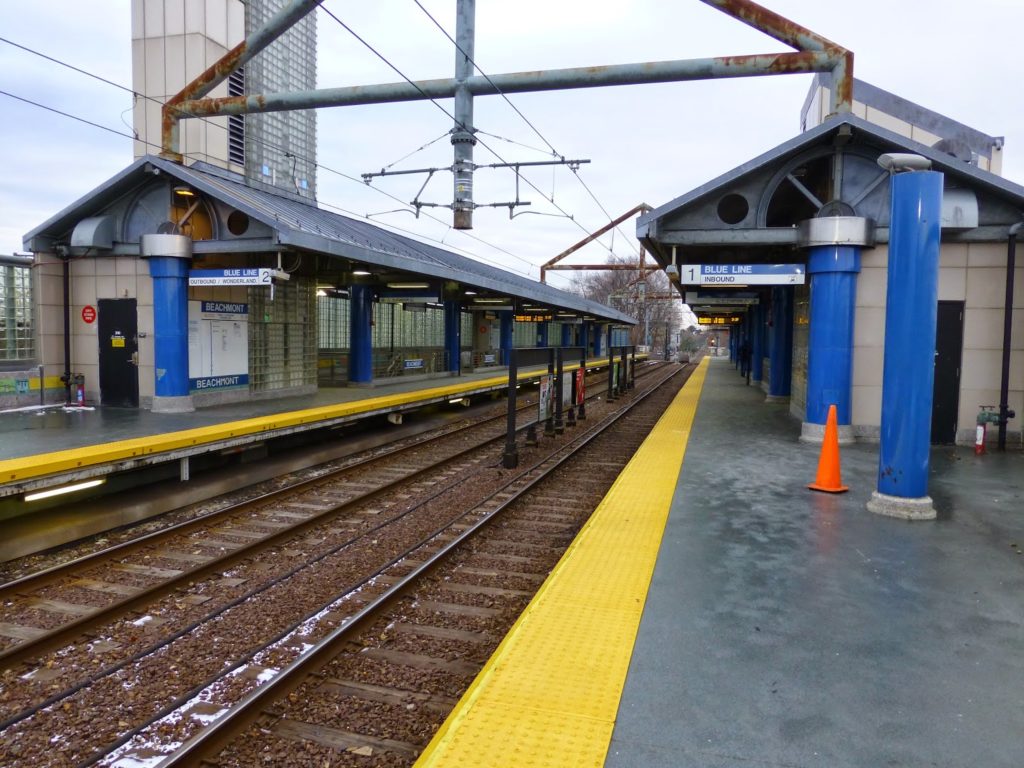 The platform.
The platform is pretty standard, but nice. Most of it is sheltered, with a short open part to the north. There are a few benches, and quite a few wastebaskets, for some reason. Something unique to this station and Revere Beach further north are the tiles lining it. They show the station's name, some abstract landscapes, and images of historic trains. It's all very colorful, and just another awesome thing among many at Beachmont.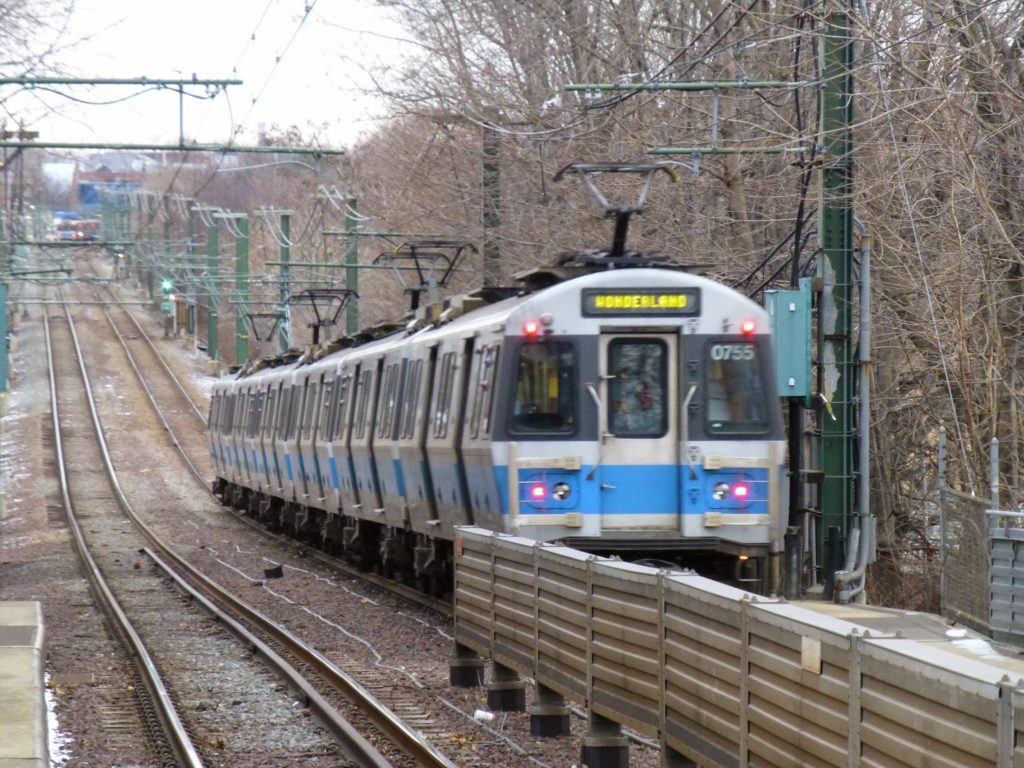 A train leaving the station, with Suffolk Downs visible in the distance.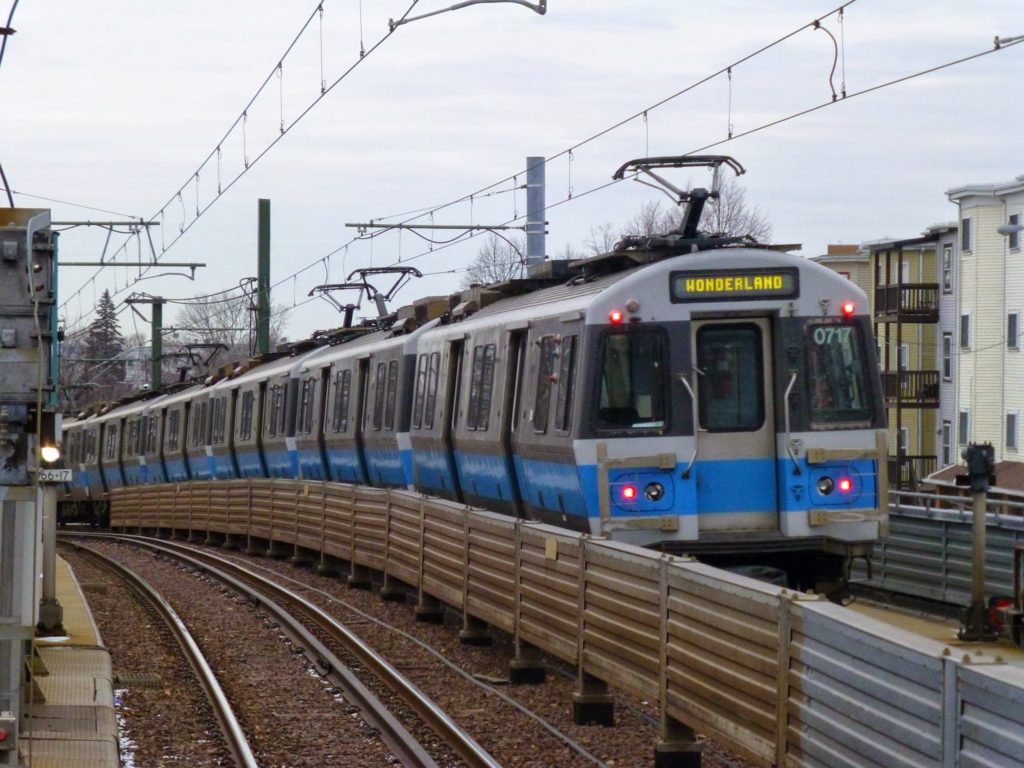 A train going the other way. I like this one more, but felt the need to do both.
Station: Beachmont
Ridership: The station may have fairly low ridership, with only about 3,050 riders per weekday, but that's a fair amount for a local station like this. Aside from the northern part of Suffolk Downs and a few businesses in the general vicinity, the surroundings of this station are entirely residential. I did the math, too, and this station is only slightly lower than the average ridership of the Blue Line north of Airport.
Pros: I love this station. Everything from the awesome "T" spire to the spacious mezzanine to the amazing elevators to the functional platform is great. And it's elevated, which is a rare sight in Boston nowadays. Though there's only one bus connection (the 119), that's all you need for a somewhat geographically isolated station like this.
Cons: Um…gee, I honestly can't think of anything. Oh, what about how the escalator on the outbound side goes downward? That's ridiculous! Wait, it's because most people arrive from Boston and there's no point in going outbound from Beachmont. Okay, then, I got nothing.
Nearby and Noteworthy: There are a few businesses around the station that look pretty nice. Also, grabbing the 119 from here and taking a jaunt around the Beachmont Loop gives you a great view.
Final Verdict: 10/10
I really can't think of anything I don't like about Beachmont! It's a beautiful station, and very functional, with a larger-than-needed parking lot. Plus, it's elevated! Perhaps this isn't my favorite station on the Blue Line (Maverick is very cool), but it has no glaring problems that I can think of. And it's definitely my second-favorite, or perhaps it even gets the number-one spot. Thus, Beachmont gets the elusive 10/10 score.
Latest MBTA News: Service Updates