Well, I was very surprised at the view on this route. Honestly, I never suspected that there would even be one, but it was there, and actually pretty nice. But before we can get to the view, we have to start in pitland, the Northgate Shopping Center. Right when I got off the 429, there was a 119 waiting to head to Beachmont…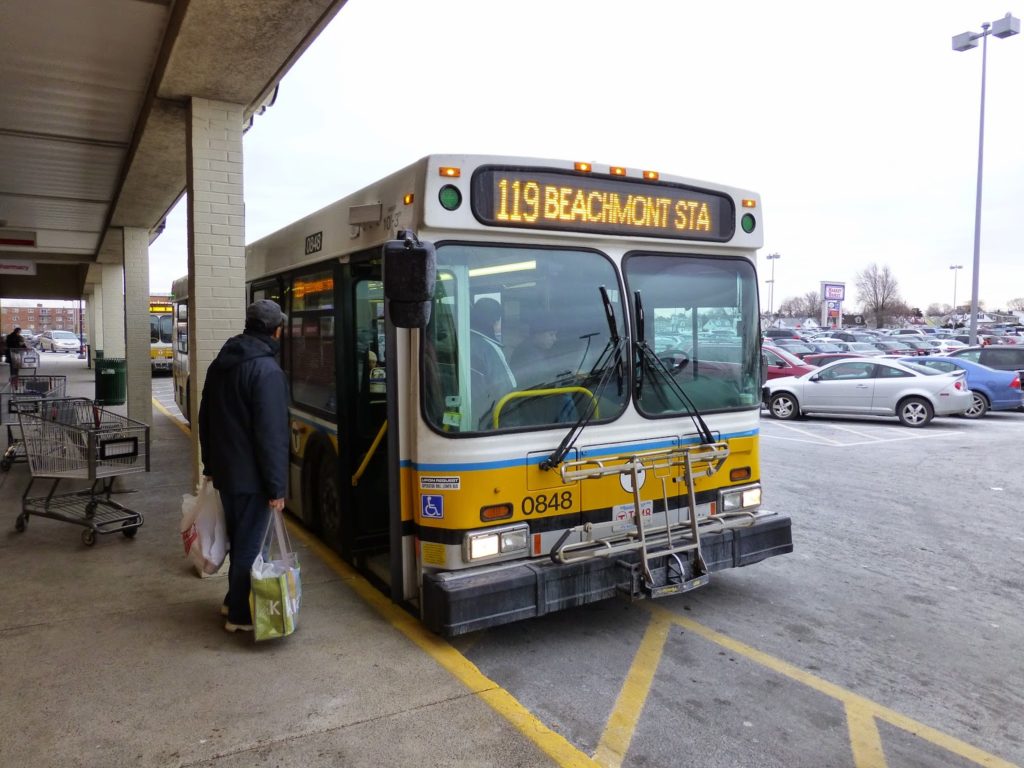 The bus at Northgate.
Leaving Northgate, we went around a big rotary, part of an interchange with Route 1. We then continued down Squire Road, and made a little loop around Linden Square. From there, we headed back in the direction we came, then turned onto Washington Ave.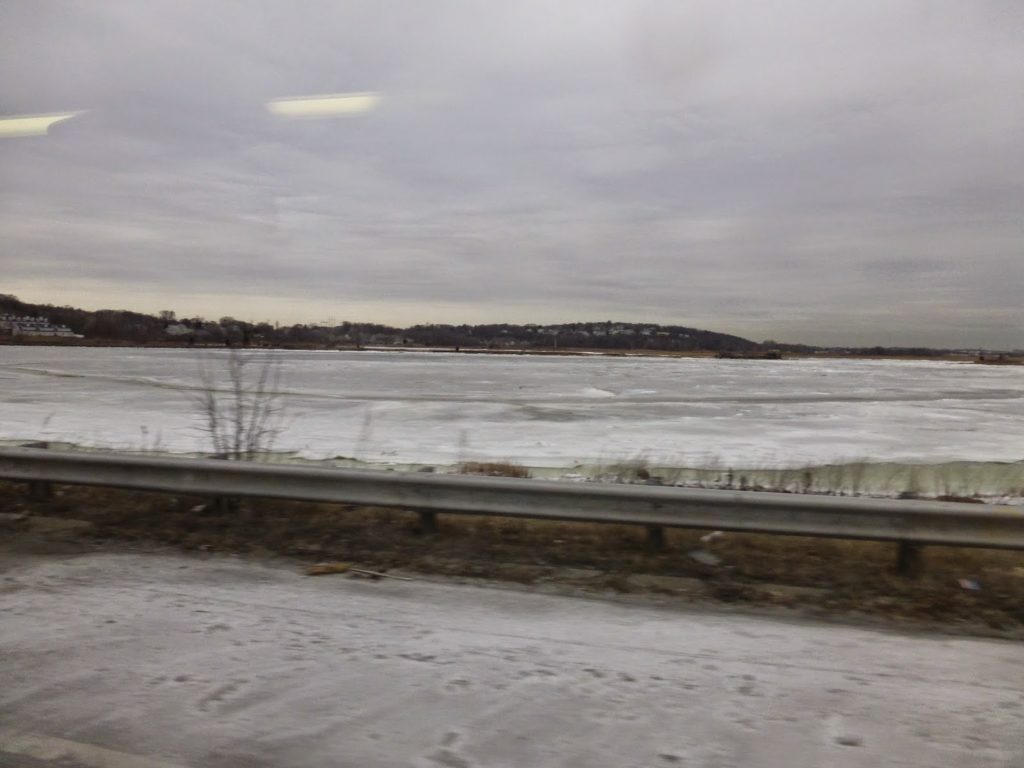 The view from the rotary.
After a few industrial buildings, Washington Ave became more residential, with closely-spaced houses. We then turned onto Malden Street, going under Route 1, Passing a large school, we turned onto Cushman Ave, heading into the Cooledge Housing development, where all the houses were the same. We navigated our way through, via Adams Street, Cooledge Street, and Constitution Ave.
We then turned onto Broadway, joining the 116. This street was mostly businesses, initially with parking lots, then just blocks of them lining the road. After passing Revere City Hall, we turned onto Beach Street, which was once again residential. We then turned onto Winthrop Ave, which, aside from a small school and a park, was all houses.
There was an intersection with Revere Beach Parkway, a bridge over the Commuter Rail tracks (with a skyline view that I couldn't get a picture of), and an underpass under Route 1A. Then the road widened into a parkway, still lined with houses but with a big, grassy median. As we were passing the northern part of Suffolk Downs, the street narrowed back to two lanes.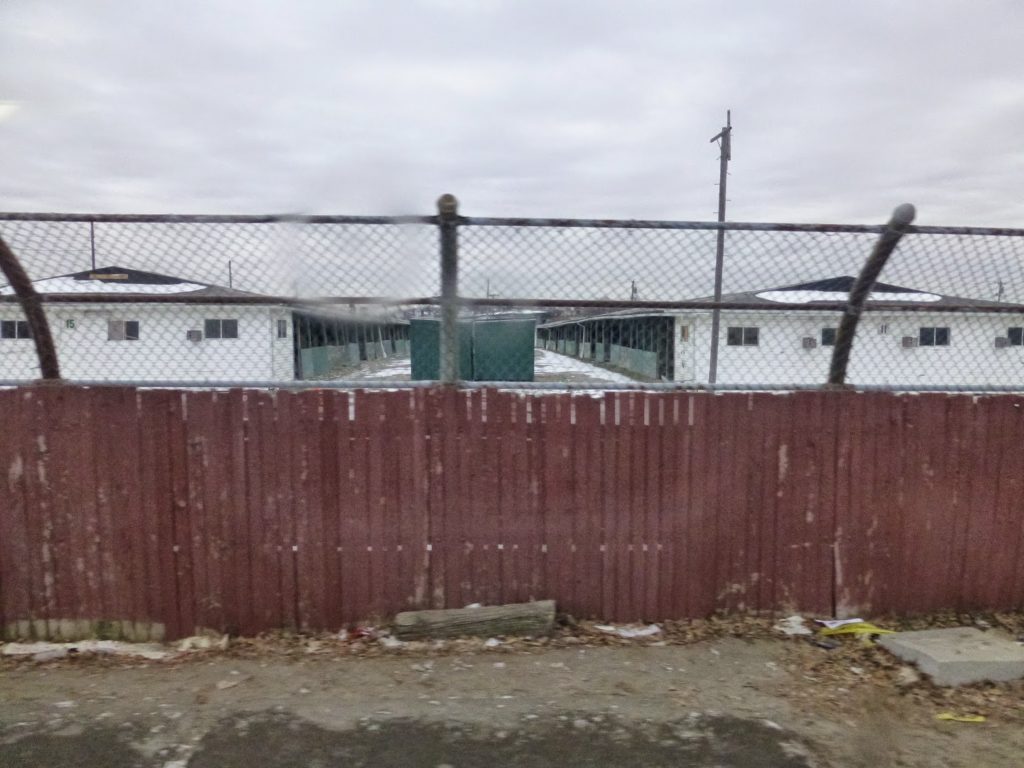 Those stables were really run-down.
At Beachmont Station, almost everyone on the bus got off. From there, we entered the second part of the route, the Beachmont Loop – the most scenic part of the 119. We continued down Winthrop Ave, then turned onto Crescent Ave in a cute little square. Going by lots of nice houses, we descended down to the coast and Winthrop Parkway.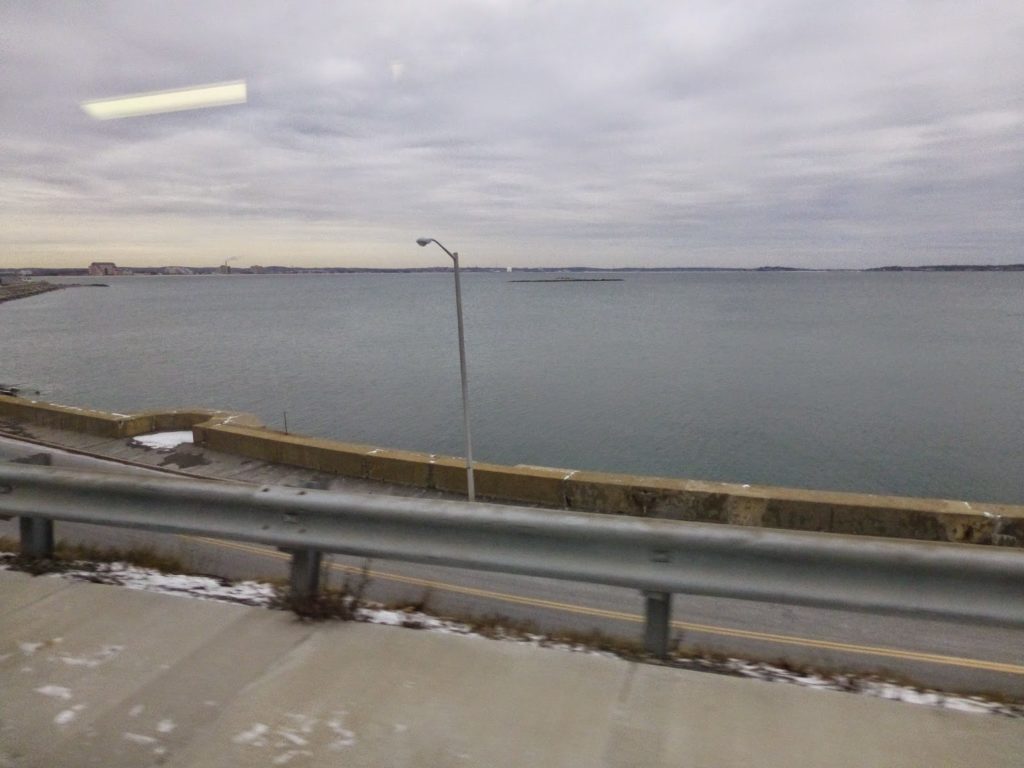 The best picture I could get of the view.
Instead of going onto the parkway, though, we turned onto Endicott Ave, which rose above it. The view only lasted for a few blocks, but it was great. Definitely one of the lesser-known ones on the system. But alas, Endicott curved back inland, we turned onto State Road, and arrived back at Beachmont.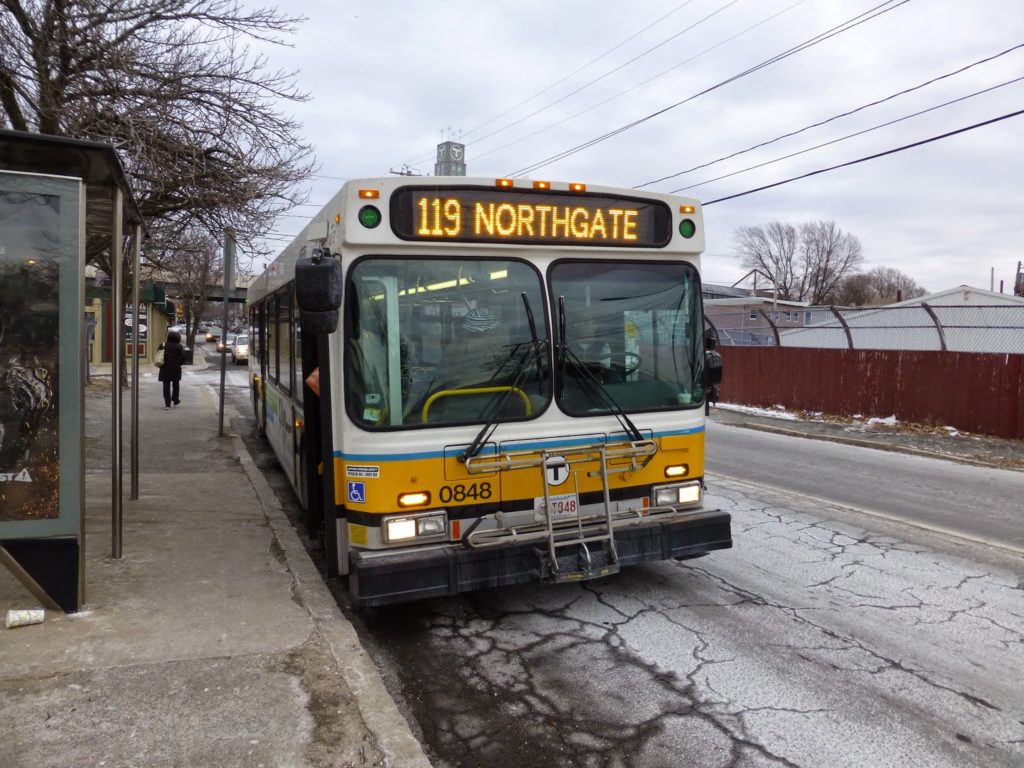 The spire of Beachmont Station is poking up just above the "119" on the destination board.
Route: 119 (Northgate – Beachmont Station via Revere Center and Cooledge Housing)
Ridership: On my trip, there were almost 40 people who rode – on a Sunday! I'm not sure if I rode during some sort of "Sunday rush hour" or something, because this route is worse than the 429 on ridership charts – yet for me it had double the passengers. Many of them came from Northgate, with a few more people getting on at Beachmont for the loop.
Pros: It makes a nice crosstown route through Revere, cutting across lots of north-south buses. Plus, the view from the Beachmont loop is great. The 119 runs about every 30 minutes during rush hour and on weekdays, which is pretty good.
Cons: But then it's every hour all other times. I don't know if my crowded trip was a fluke or not, but if the route's getting that much ridership on Sundays, the schedule should definitely be improved.
Nearby and Noteworthy: The view is fantastic, and that's pretty noteworthy, right?
Final Verdict: 7/10
This seems to be an important route. 40 people on a Sunday is the sort of ridership you see on a Key Bus Route, so the 119 must be doing something right. That said, it also doesn't run often enough if it's getting that much ridership. But you gotta give it credit for that view.
Latest MBTA News: Service Updates