Having a monthly pass is the best. Sure, you could walk from Chinatown to the Aquarium, about 15 minutes, but that requires energy. Why not take the Orange Line two stops to State, then the Blue Line one stop to Aquarium? I already paid for the month, so let's do it! So naturally, this adventure from Chinatown to the waterfront started at Chinatown Station.
The first thing to note about Chinatown is that there are no free crossovers. This is partially due to the fact that the downtown Orange Line stations are built diagonally from each other for no reason. Really, why did they build them like that? It's their fault that we have an endless walkway of death at State, and nobody likes the endless walkway of death! Also, the Chinatown platforms are at different heights, but not on top of each other. Why? What's the point?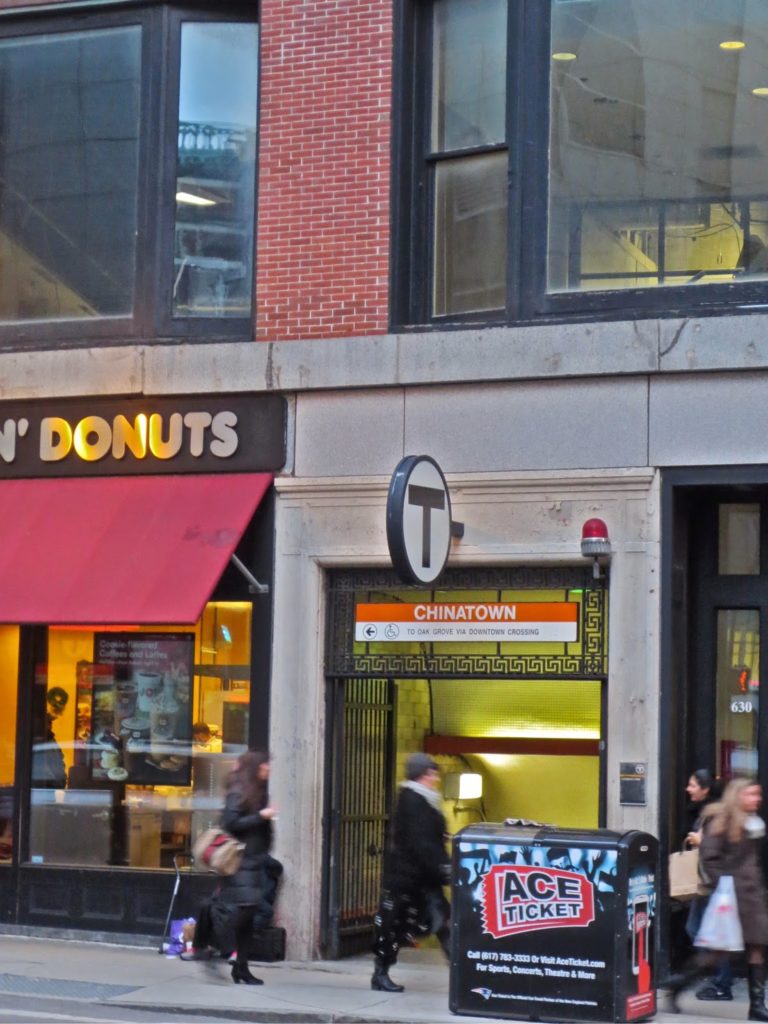 The first entrance. All photo credits, once again, go to my friend Chloé Gilligan.
The entrances, I have to admit, are really well integrated into the city. They're literally integrated into the city, actually, as they're all in building exteriors. Note that I only looked at the two that lead to the inbound platforms, because of those stupid crossovers, or lack thereof. So yeah, the first entrance is pretty standard, with a big T logo sticking out so people know there's a subway station there.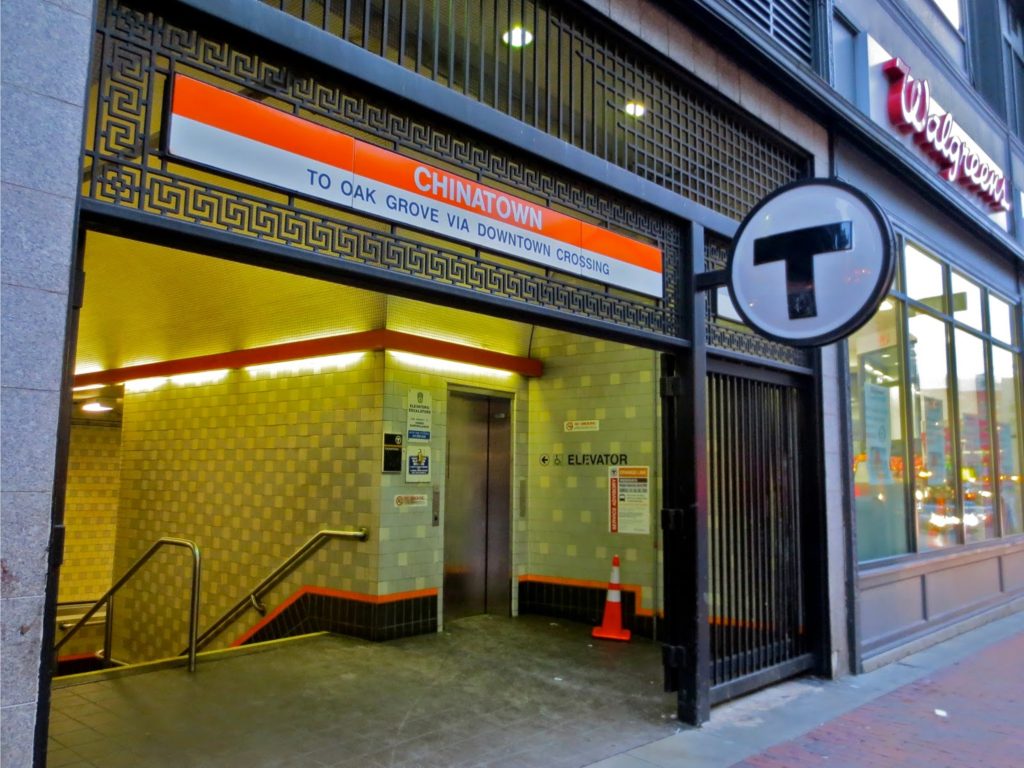 And the second entrance.
The second entrance is a little more ornate. And by ornate, I mean there are some grates that vaguely resemble a pattern surrounding the Chinatown sign. There's another T logo sticking out here, and this one also has an elevator.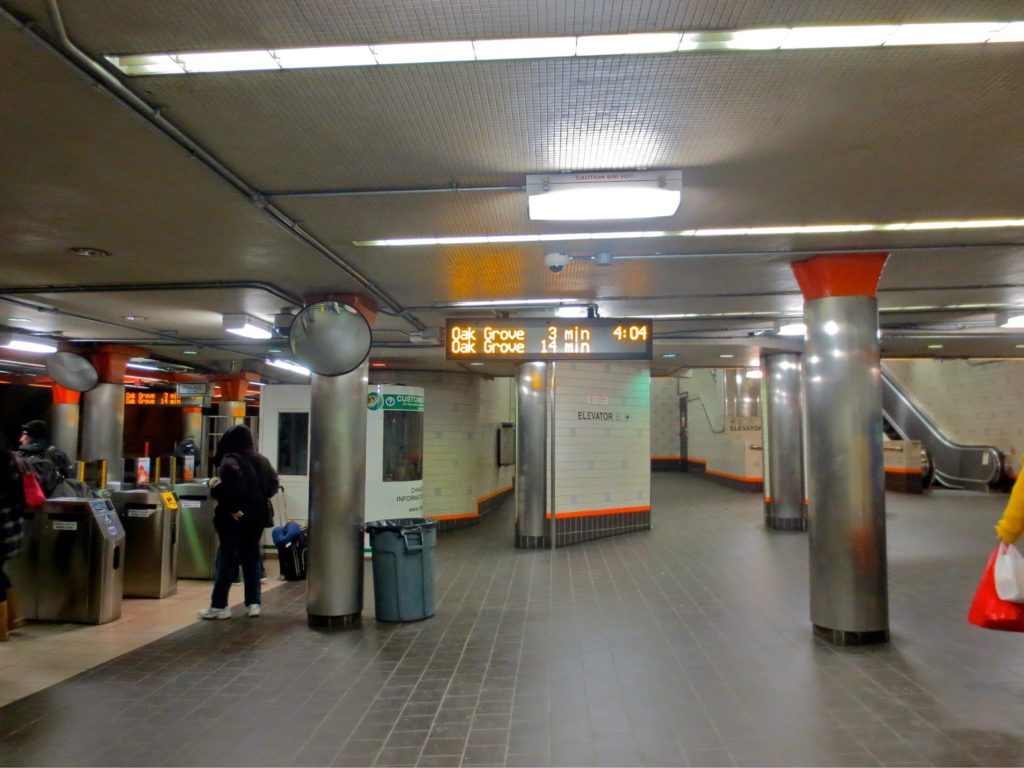 The mezzanine.
Coming into the station, you're greeted by a weird smell that seems to be a mix of urine and fish. Think of the smell at Downtown Crossing, then add fish to that. It's not very pleasant. The mezzanine is also very stark and boring (both entrances lead to the same area). Low ceilings and ugly, metal poles are the main attractions here.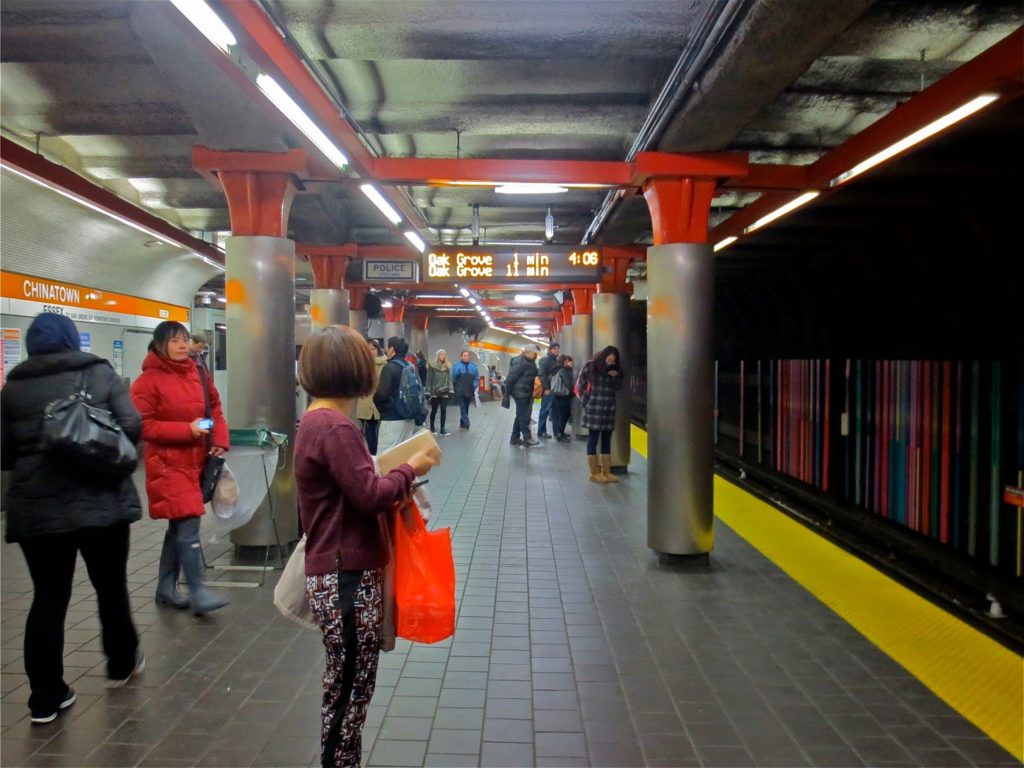 The platform.
Just like the rest of the station, the platform is really ugly. The ceilings are bare rock, and though they lack random pipes, they're still unpleasant. There is an art installation, though – it's basically just a bunch of multicolored poles. Not much, but I guess it's something. I prefer the mural at Prudential more, though. As I said, I haven't been to the outbound platform, but it looks like it's slightly less repulsive according to this Wikipedia picture. This station is still pretty darn repulsive, though.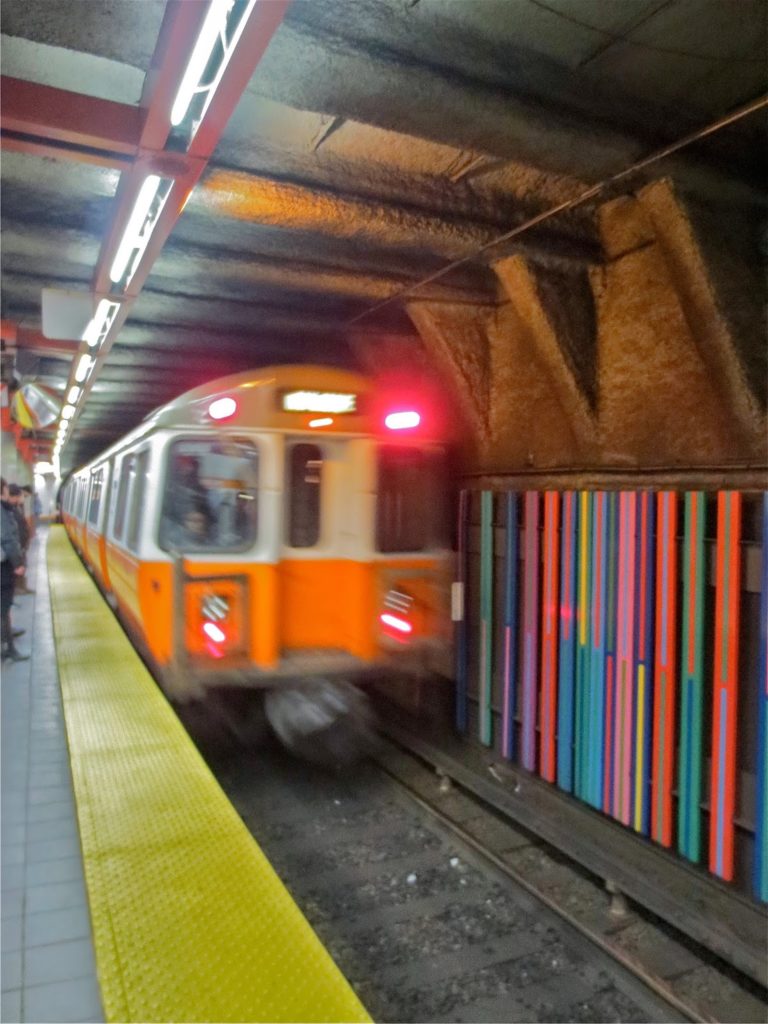 A train speeds into the station.
Station: Chinatown
Ridership: Not bad, but not good. Chinatown gets about 6,500 riders per weekday, making it 33rd on the system. It was reasonably crowded when we were there, and that was a Saturday. I'd imagine this station gets some tourist traffic, though Boston's Chinatown can't be that much of a draw.
Pros: Well, the art tries to spruce things up. And it's nice that the entrances are in buildings.
Cons: For one thing, no free crossovers. That's never fun. Also, the whole station smells like a mixture of pee and seafood – not a good combination. This station is one of those really ugly ones, too, with low ceilings and intrusive metal poles. Something I didn't mention is that there's a bus stop here, serving the SL4, SL5 and 11. But there aren't any shelters, which is one of the key features of bus rapid transit! Come on, Silver Line!
Nearby and Noteworthy: Chinatown probably has some excellent local restaurants, but I know none of them. This station is also a stone's throw (literally a block) away from Boylston and the theater district.
Final Verdict: 3/10
I was originally going to put this station on the same level as Prudential, a 4. They're both ugly, have an art installation that's not very noticeable, and are generally bad stations. Chinatown is actually better-looking than Prudential is, in fact. But then I thought of the smell, the fact that the Silver Line stop doesn't have a shelter, and of course, the lack of free crossovers. Thus, this station scrapes a 3.
Latest MBTA News: Service Updates