Okay, whose bright idea was it to put a subway entrance into the Old State House? Seriously, imagine if the MBTA tried to do that now! I'm sure there'd be a heck of a lot of opposition! But for some reason it was okay back in 1904, and the entrance is still there. On that note, let's take a look at State, the first transfer station to be reviewed on Miles on the MBTA!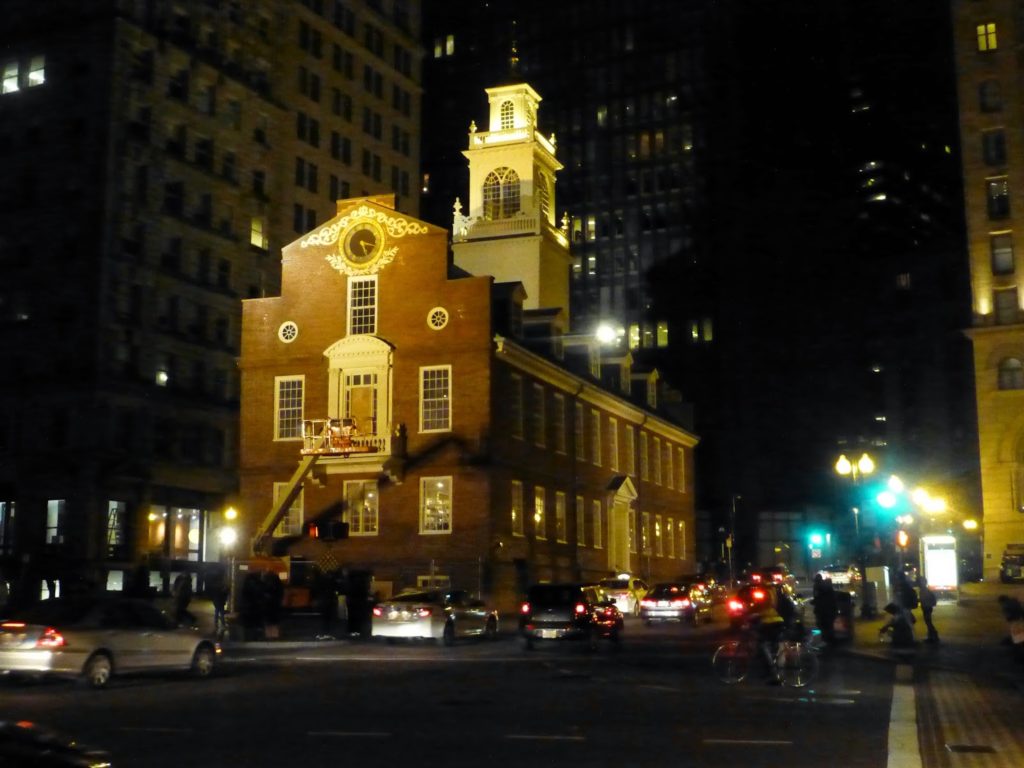 It's not technically the station, but I love this picture.
Annoyingly, the Old State House entrance has no signage at all. There are just some orange doors that lead into a mezzanine. And they're pretty well hidden, too. To a tourist, they just look like random doors, and you'd have to take a good look inside to realize it's a subway station.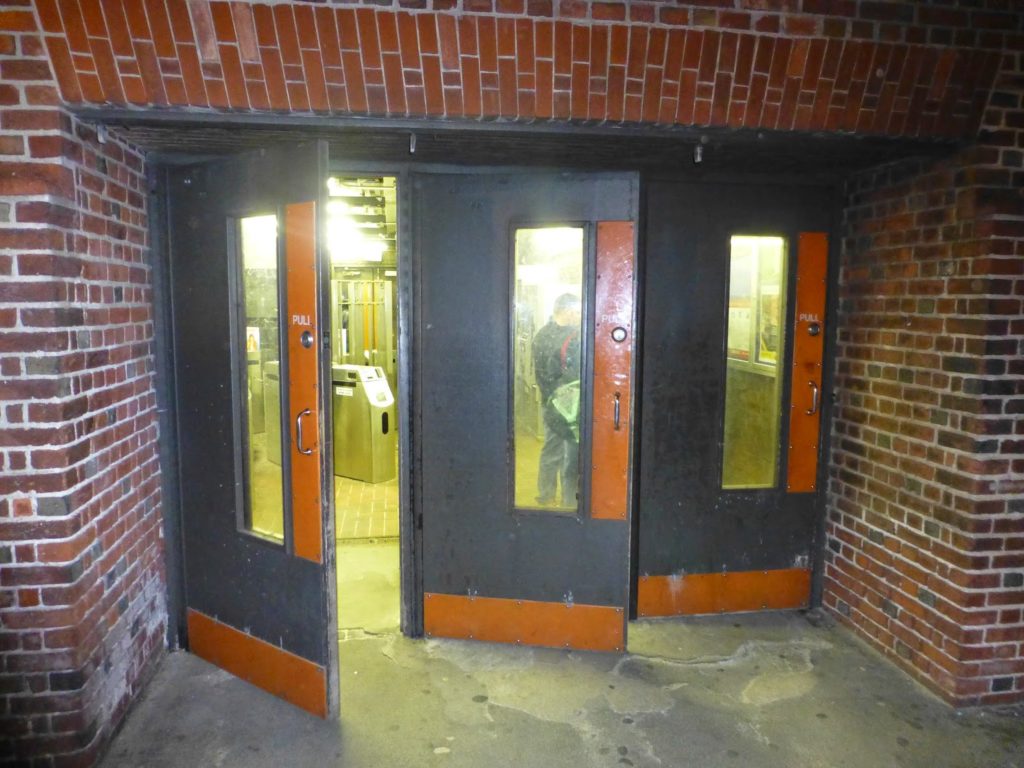 The Old State House Entrance
The mezzanine has character, though it's kind of dingy. There are a few fare machines and a few fare gates, and though it's kind of small it does its job. I like the brick walls, but the ceiling is pretty low and contrasts with the bricks. There are a few random pipes, but it's not as bad as in other stations (cough, Prudential, cough). Annoyingly, there are only countdown clocks for the Blue Line on this level, so if you want to know when your Orange Line train is coming, you're out of luck.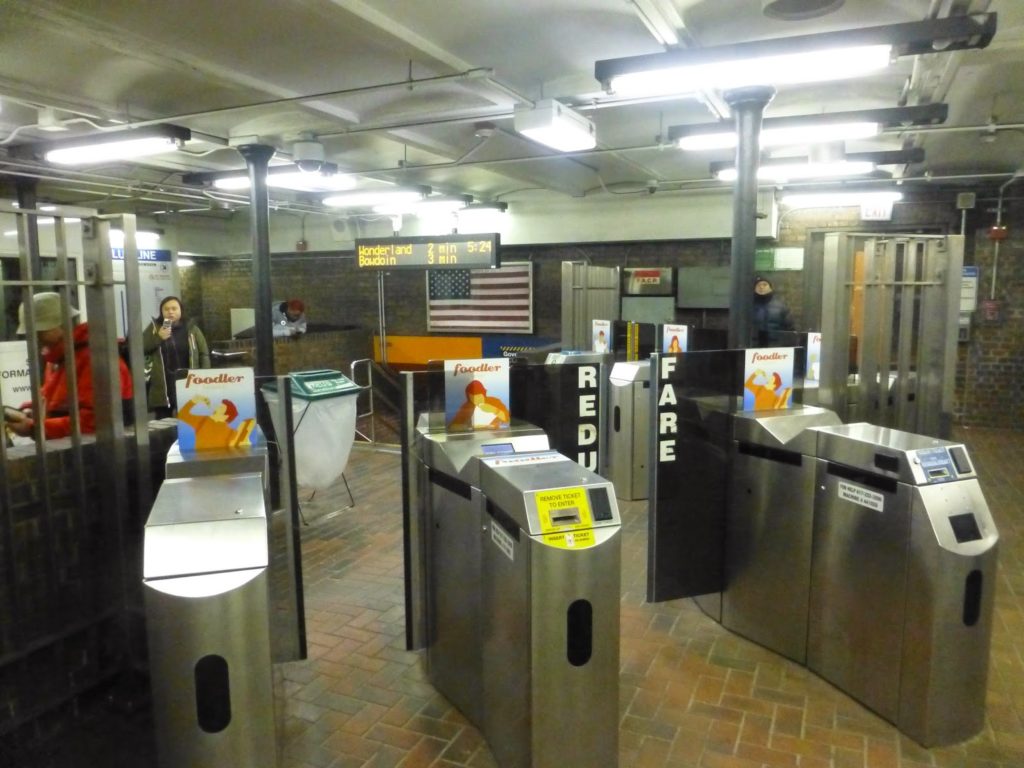 I feel like I can't escape these stupid Foodler ads.
There's also a second entrance, which is more like a standard subway entrance and has much better signage. Right next to a Bank of America, I'd imagine this is the one most people use since there's actually a "State" sign above the doors. How convenient.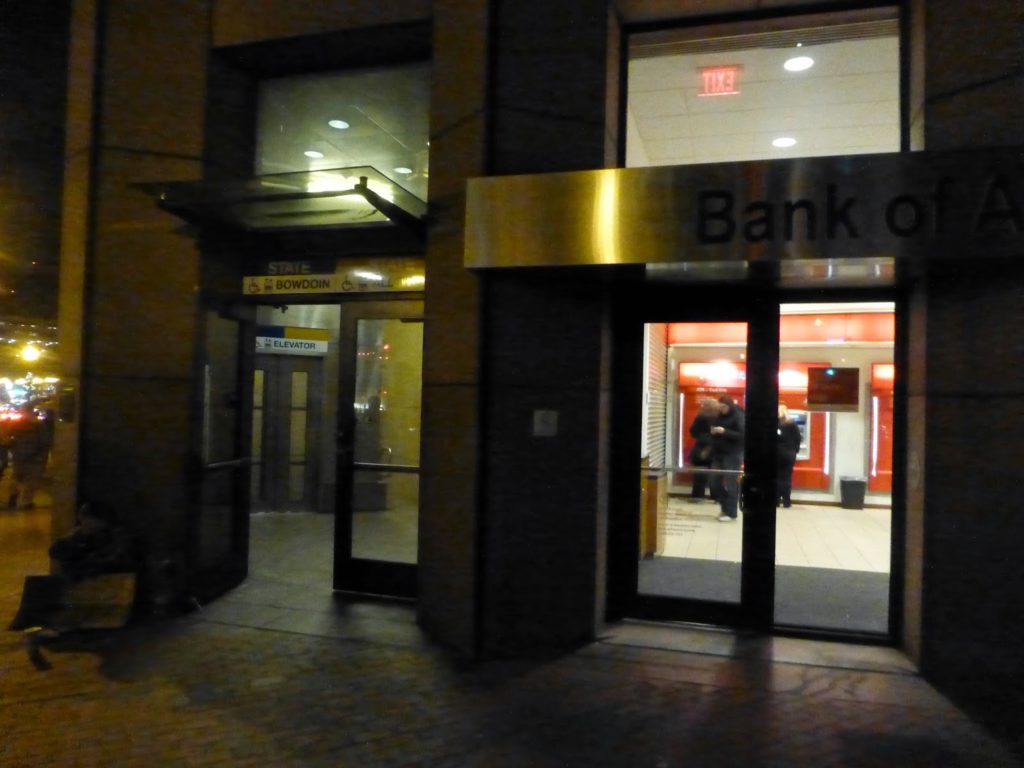 The second entrance, as seen in a terrible picture.
With this entrance, you go underground before paying your fare. This mezzanine was much more modern and sleek. Perhaps it has less character than the other one (and it lacks the novelty of going into the Old State House to take the subway), but it feels much less dingy.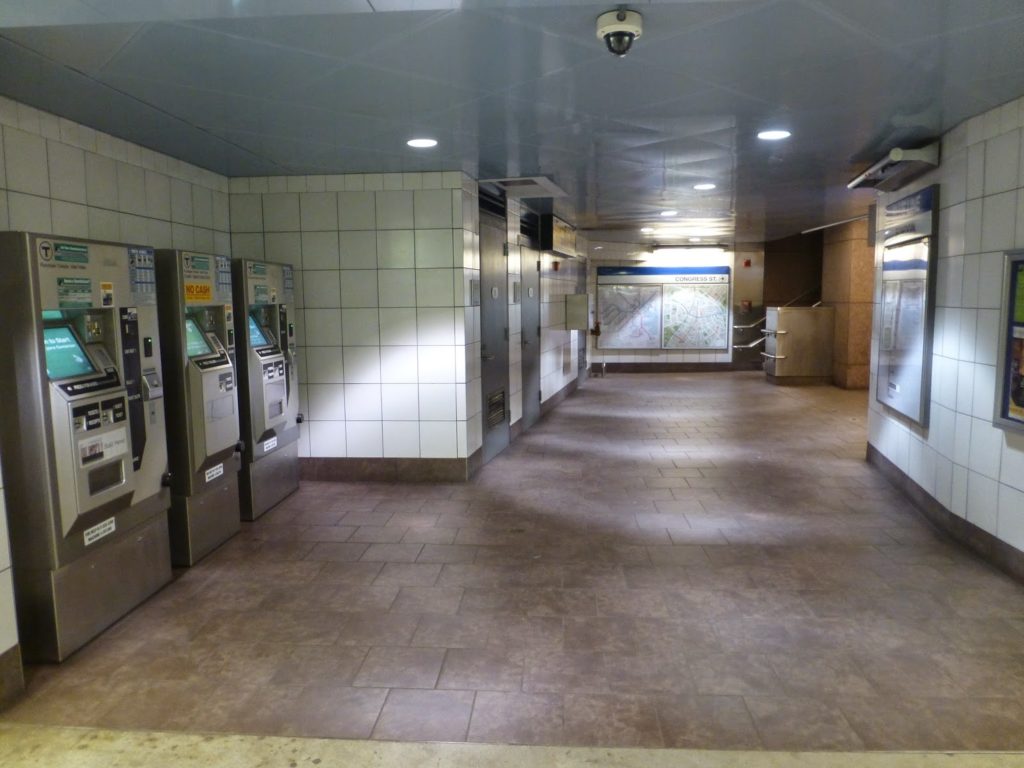 The second mezzanine.
Before talking about the platforms, I just want to mention the bus connections. For downtown, they're not bad. You've got the 4, 92, and 93 stopping on Congress Street and the 352, 354, and (sigh) 608 stopping on State Street. The 92 and 93 actually terminate here now, having previously gone to Park Street. But unfortunately there are no shelters for any of the bus stops.
The Orange Line platforms for this station are…weird. They built the downtown Orange Line stations diagonal to each other, for some reason, but State is the oddest because they're also stacked. This means that to get from one Orange Line platform to the other, you have to climb up some stairs and walk down a big, long walkway. It's especially annoying if you know the train's arriving so you have to run down the walkway. I learned that the hard way. I like how the wall is painted in a whole bunch of different colors as you get further down the walkway.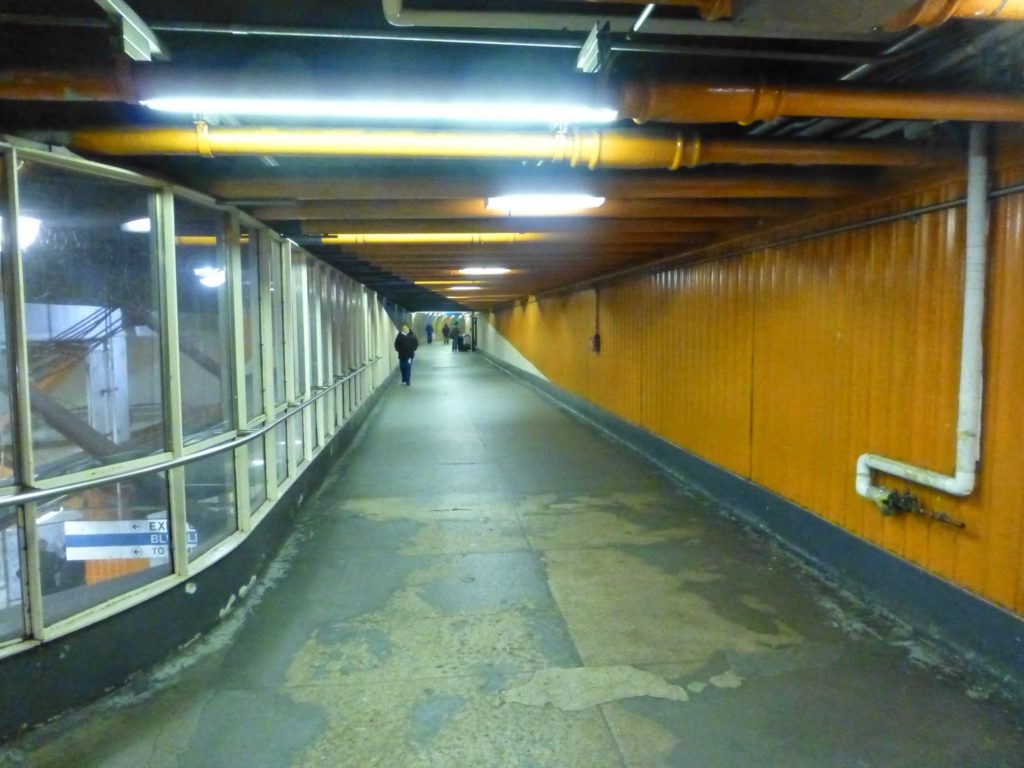 It starts out dingy…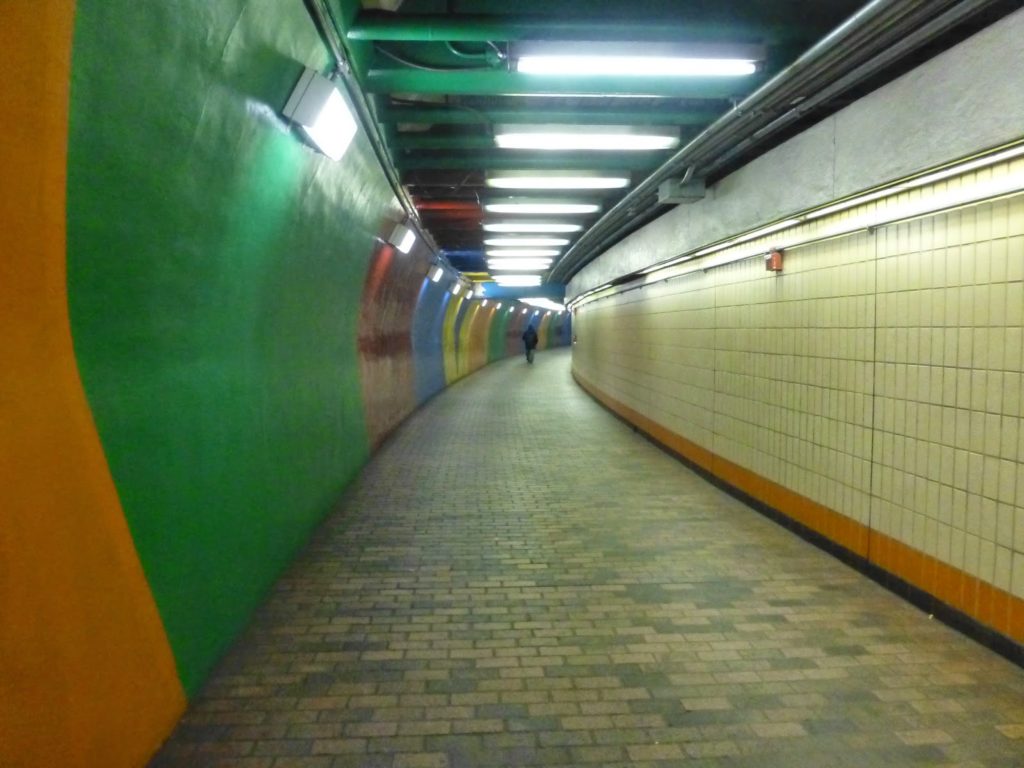 …but gets much nicer.
The Orange Line platforms are really ugly. The walls are really grimy, the ceiling feels very low, and it's overall just not a nice place to wait for a train. And let's not even get started on the woman who was yelling at someone at the phone extremely loudly, causing half the platform to be vacated. Also of note is that when you're waiting at Downtown Crossing for an outbound train, you can look down the tunnel and see it stopped at State. They say it's approaching before it's even left State!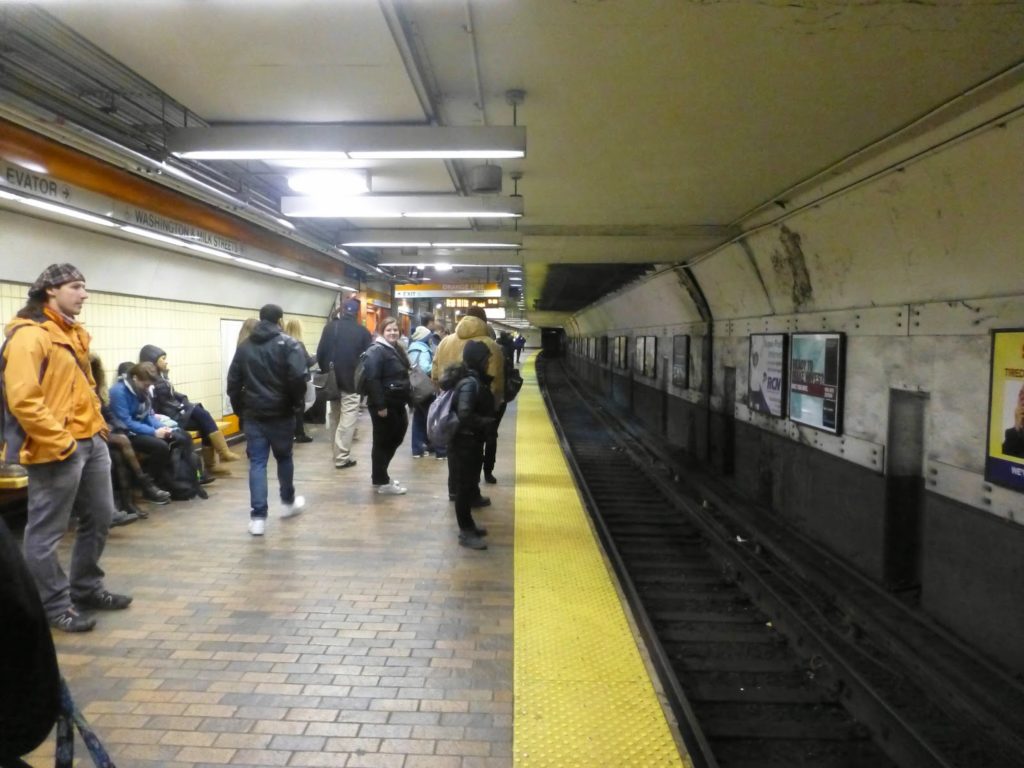 Ew…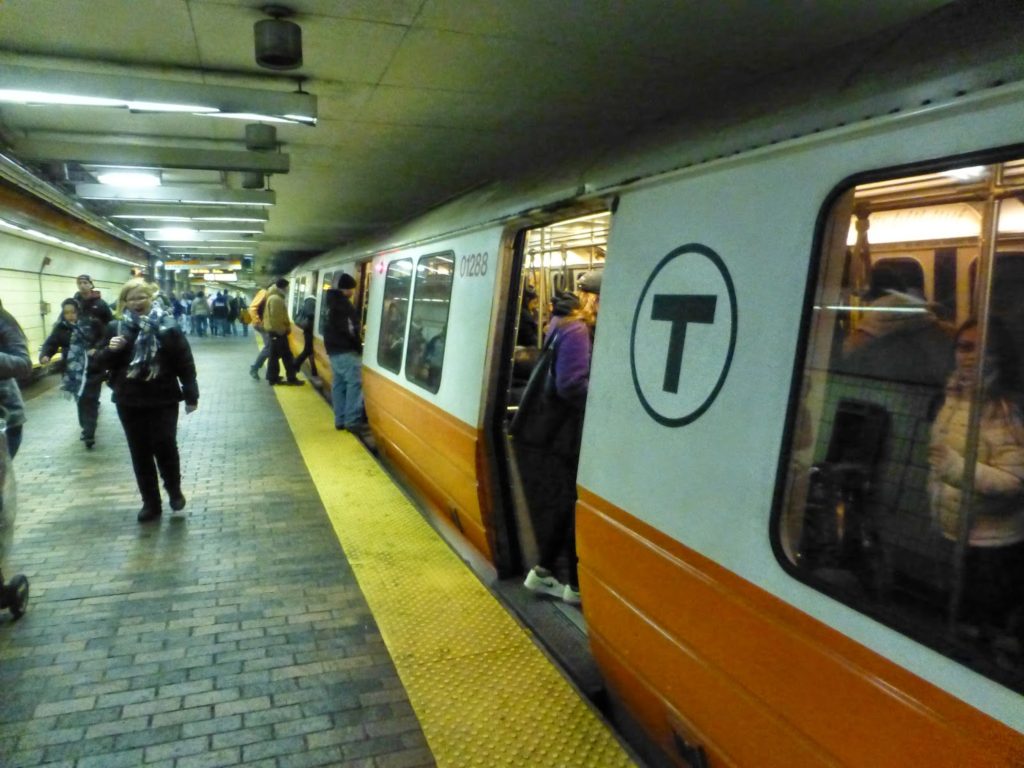 I couldn't get a picture of the train coming in, so this is the best I could do.
The Blue Line platforms, on the other hand, are really, really nice! They're modern, well-lit, and clean. And they're even right next to each other! How convenient…I wonder who thought that up? However, they used to be even more dingy than the Orange Line platforms, but were renovated in 2011. My question, then, is why didn't they also renovate the Orange Line ones during this time? They certainly couldn't do it now, since one closed downtown station is bad enough (Government Center).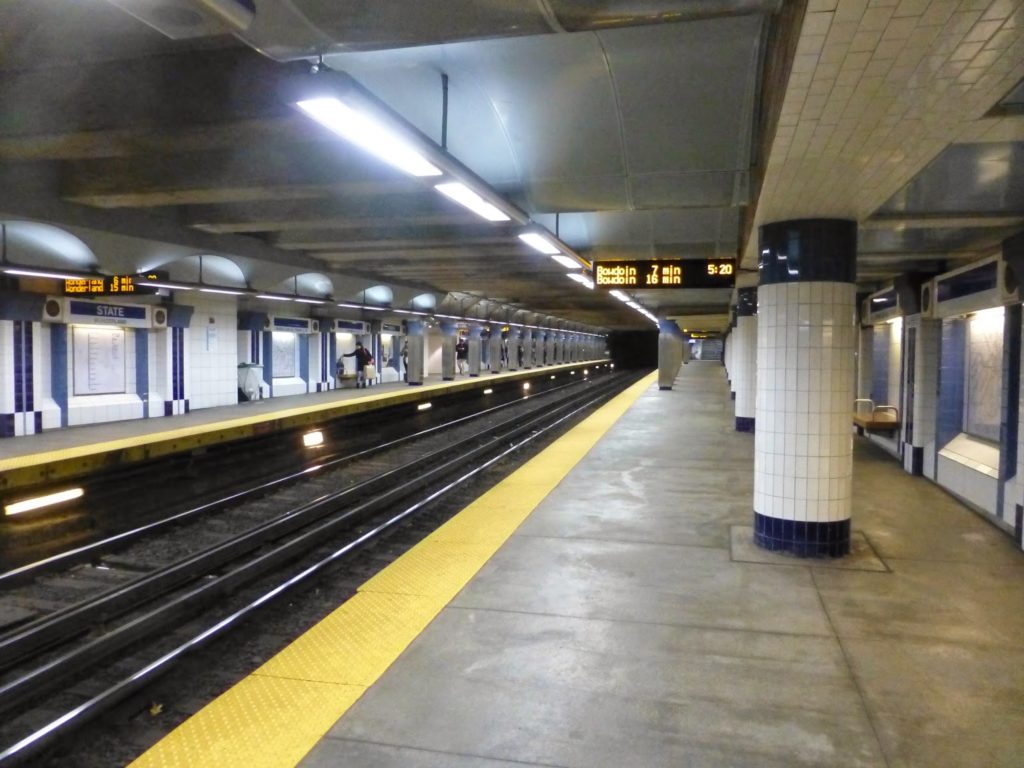 Much better!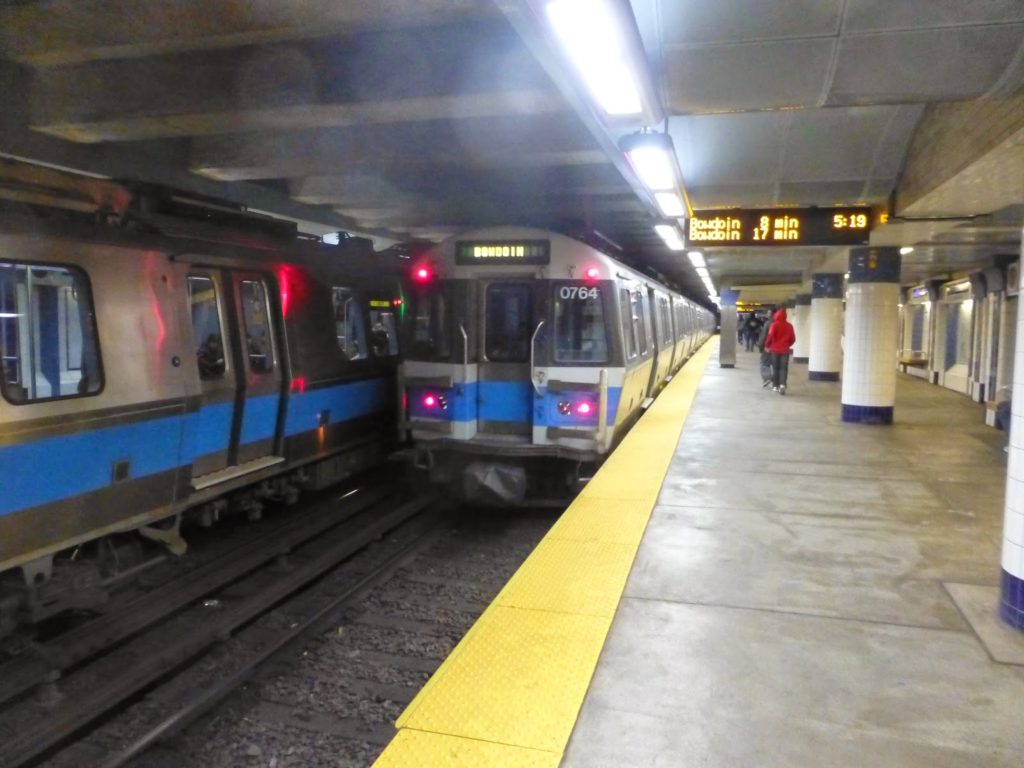 I don't know why there are spots all over the camera…
Station: State
Ridership: Being a transfer station, of course it's going to be busy. It gets about 13,000 passengers per weekday according to the 2014 Blue Book. (I finally got with the times!) I think this station probably gets a lot of ridership from Blue to Red Line passengers, especially with the closure of Government Center.
Pros: For one thing, one of the entrances is in the Old State House! That's worth noting just for the novelty. The mezzanine for the non-Old State House entrance is nice, as is the walkway between Orange Line platforms. And the Blue Line platforms are, as seems to be the norm for the line, really good.
Cons: Well, the mezzanine for the Old State House entrance is kinda dingy, but not terrible. It would be nice if there was a shelter for the 92/93 stop, though I think most of those passengers just use Haymarket. No, the real problem with State is the Orange Line platforms. For one thing, they're so far away from each other, which both makes things confusing and lengthens travel times. And for another, they're just really ugly and dirty.
Nearby and Noteworthy: Um, how about the Old State House? This station is also close to Faneuil Hall, where there's an exhibit I really want to see.
Final Verdict: 7/10
I tried to think about this score as averaging everything out. If we were just talking about the platforms, then the Orange Line ones would drag the score down to a five. But there are also the two entrances, both of which are pretty good overall. So those would bring it back up to an 8. But the lack of a bus shelter or even a bench takes the score down again. So, it's a 7. Seems fair.
Latest MBTA News: Service Updates
The MBTA operations center has gotten a $6 million upgrade! This will improve the "brain" behind the system quite a lot.