Back in Boston! What kind of crazy bus have I got in mind? Maybe an I-90 express bus? How about a really long route going way out into the suburbs? Or perhaps a crazy route with tons of twists and turns? Nope. Today we'll be looking at… the 5. This is a very short route, so this review will be comparatively small. Don't worry: longer stuff will come.
The bus only serves JFK/UMASS on its outbound route for some reason – I'm not sure if it would gain much ridership from people looking to take a one-way trip to City Point. There were quite a few people at the station, which surprised me (the 5 has a very limited schedule). However, a 41 came along and everyone got on that. The driver on that bus looked at me like I was crazy before she drove off.
So then I got a bit nervous – what if the 5 wasn't coming? But finally, I saw it coming down Old Colony Ave. This driver also gave me a funny look as I boarded the bus, occupied by three old ladies. We went up Old Colony with a park on one side and projects on the other…presumably McCormack Housing. We went around a rotary and turned off onto Preble Street, which was residential.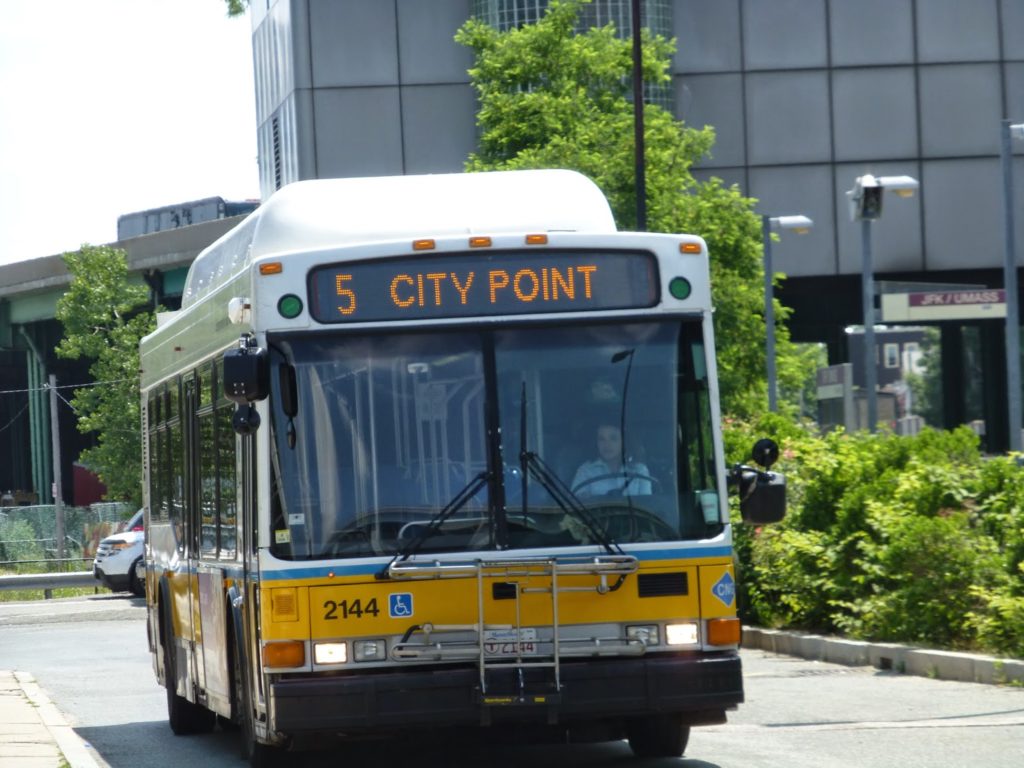 The bus looks completely empty in this picture.
We pulled into the Andrew Station busway with no one getting on or off, and then headed down Dorchester Street, playing Leapfrog with a 10. In fact, the rest of the route is shared with the 10, so this is previously charted territory. Dorchester Street was a good mixture of residences and businesses (with apartments on top of them). We turned onto East Broadway, which was made up of beautiful apartments, and I got off the bus at Farragut Road, right near the beach.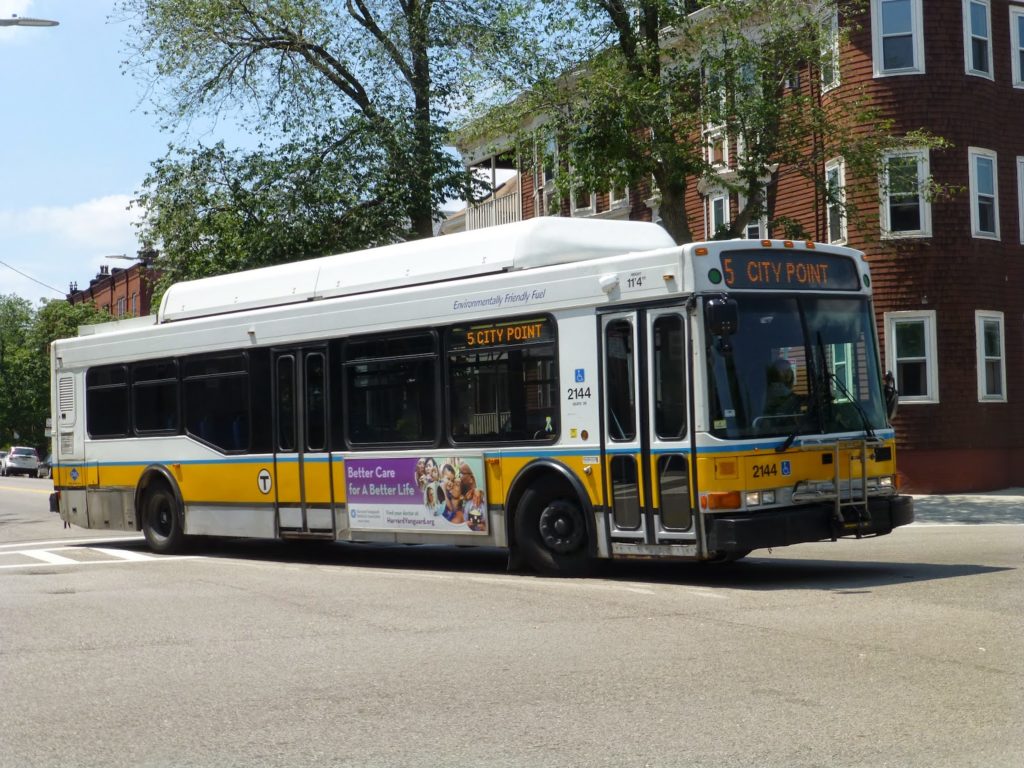 The bus making the turn onto Farragut Road. I was the last one to get off.
There's one last thing to note about this bus. I decided to walk back to P Street to catch a 9 heading back to Boston (I'll be doing a review of the 9 next). The 5 ended up coming back this way with the same driver, to boot! You can never have enough pictures, but when I took one here the driver opened the doors. "You can't take pictures of the buses!" She yelled. I was about to say something, but she cut me off, "No, you can't!" and drove away. It's times like these when I really consider printing out the MBTA photo policy just to flash it at the drivers to prove them wrong. Oh, well…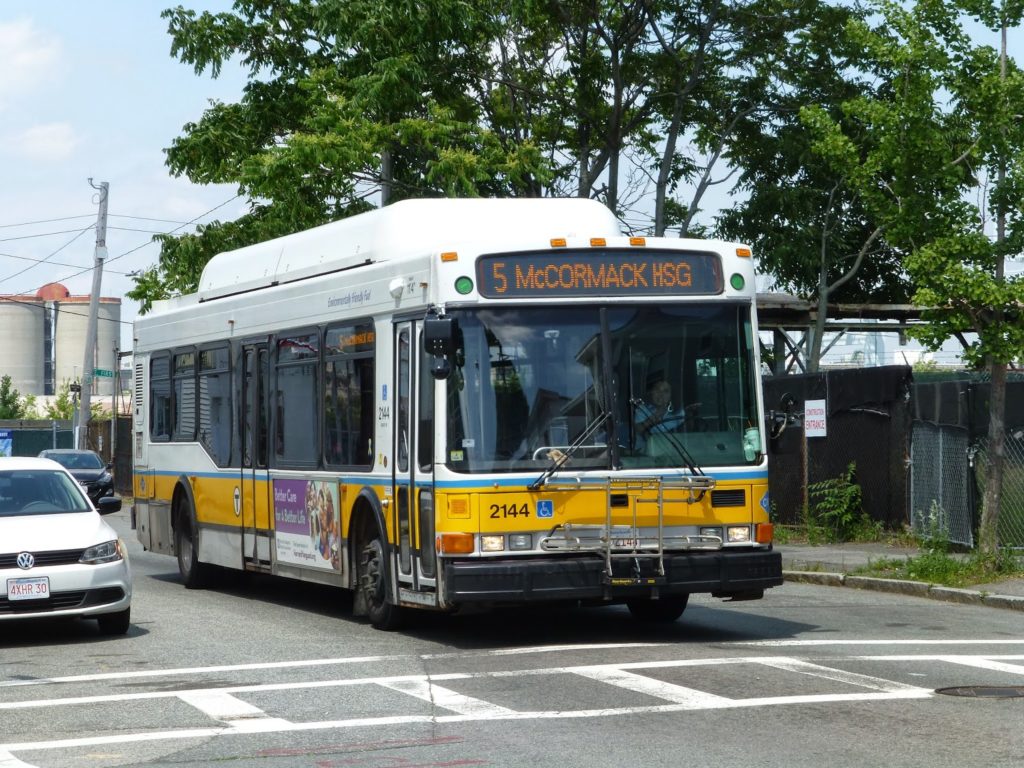 If you look closely you can see the driver yelling at me.
Route: 5 (City Point – McCormack Housing via Andrew Station)
Ridership: There were only seven people that rode, with one of them riding for fun (me, obviously) and three that got on during the Leapfrog game. That's terrible ridership, I'm sorry, but that is terrible. Terrible!
Pros: Frankly, I'm hard-pressed to find any pros here.
Cons: First of all, this bus doesn't really serve anything. It's meant for residents at McCormack Housing to get to City Point – I guess – but you could also just do the 8 minute walk to Andrew and take the 9 or 10. You could even grab a 16 to Andrew if you really wanted to and transfer! And the 16 runs a lot more often than the 5, which brings me to my second point. This route is clearly meant for shopping, as it runs from 9 AM to 3 PM on weekdays and 10 AM to 3 PM on Saturdays (no service on Sundays). It's every hour, though, while the 9 is every 10 minutes on weekdays! Again, walking to Andrew seems like it would be less of a hassle.
Nearby and Noteworthy: The beach, I guess. I've never found the area around JFK/UMASS to be especially appealing. I'm sure there are some nice restaurants somewhere in City Point.
Final Verdict: 2/10
I feel like I'm being really harsh. I've got a voice in the back of my head going "No, don't do it!" But I really can't see why this bus wouldn't get a 2. Perhaps there's more ridership on Saturdays? Well, it's a 2 for now.
UPDATE 9/1/19: This route has now been thankfully eliminated.
Latest MBTA News: Adham Fisher got into the Guinness Book of World Records for doing the New York Subway in record time! Sadly, Boston probably won't get an entry in the Guinness Book.