Another North Adams-based shuttle, although this one is much straighter. Today we're heading to the northwesternmost point of Massachusetts on the 3!
From the Main Street bus stop in North Adams, we looped around the block to the Mohawk Trail, deviating into good ol' Big Y after we rounded the turn. Once back on the Mohawk Trail, we crossed the Hoosic River, effectively leaving downtown North Adams. The houses along the road were pretty close together, but there was very little development anywhere else around us.
Some industry appeared after we crossed the Hoosic River again, and after some houses (and a nice mountain view), we passed the Stop & Shop that can be deviated into by request (no requests today, luckily). More houses led us across the border to Williamstown, where some suburban retail greeted us. There were also a ton of hotels – this place has some tourist demand!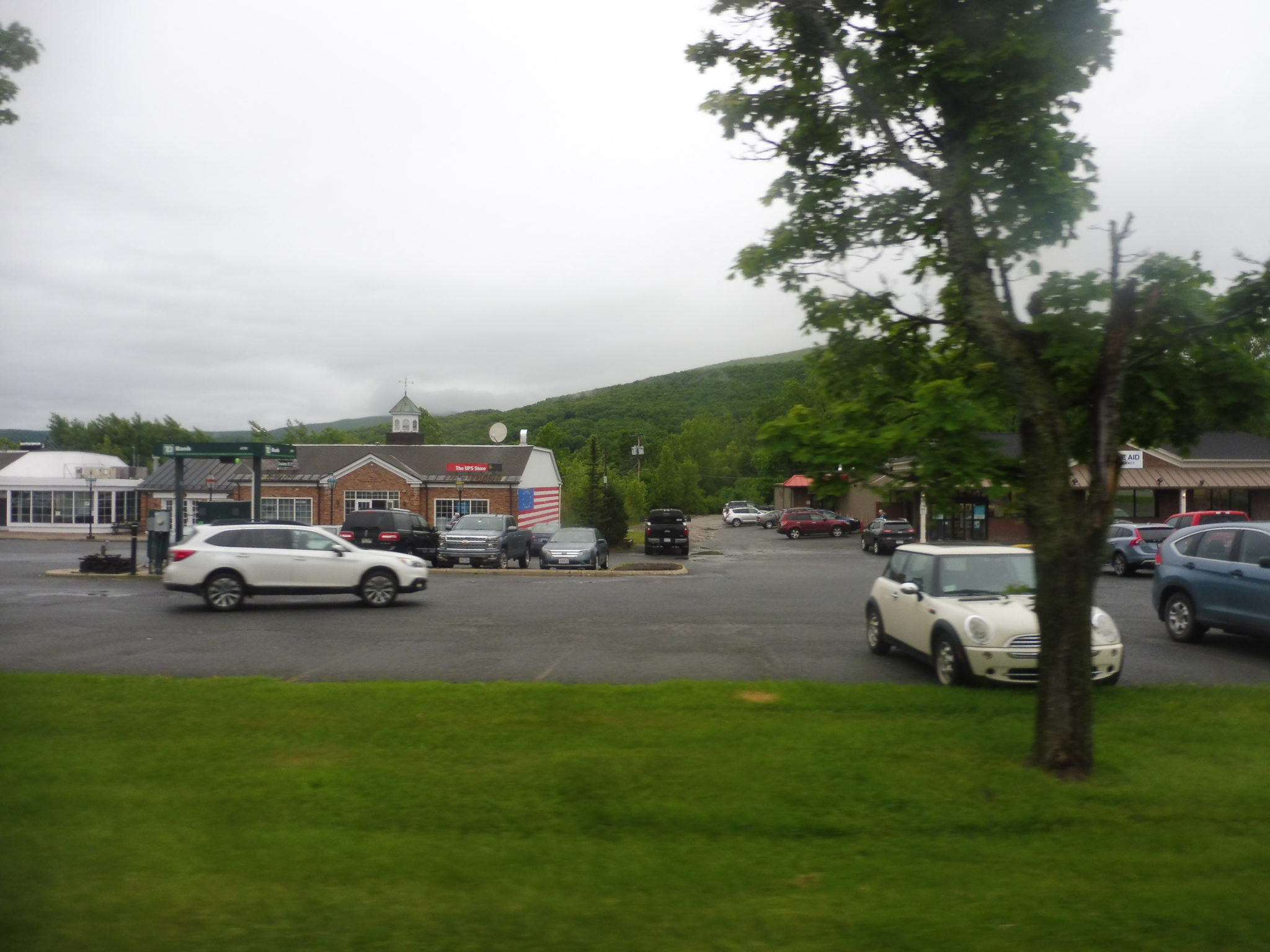 A crossing of the Green River took us onto Williamstown's leafy main street lined with large houses set back from the road, but things were a little less ornate when we turned onto Cole Ave. We took a left onto Church Street, serving the Proprietors Fields apartment complex, then we used Southworth Street to get back to the main drag. It was now dominated by the various buildings of Williams College, and we took it as far as Field Park, just outside of the "Williams Inn" – the 3's last stop.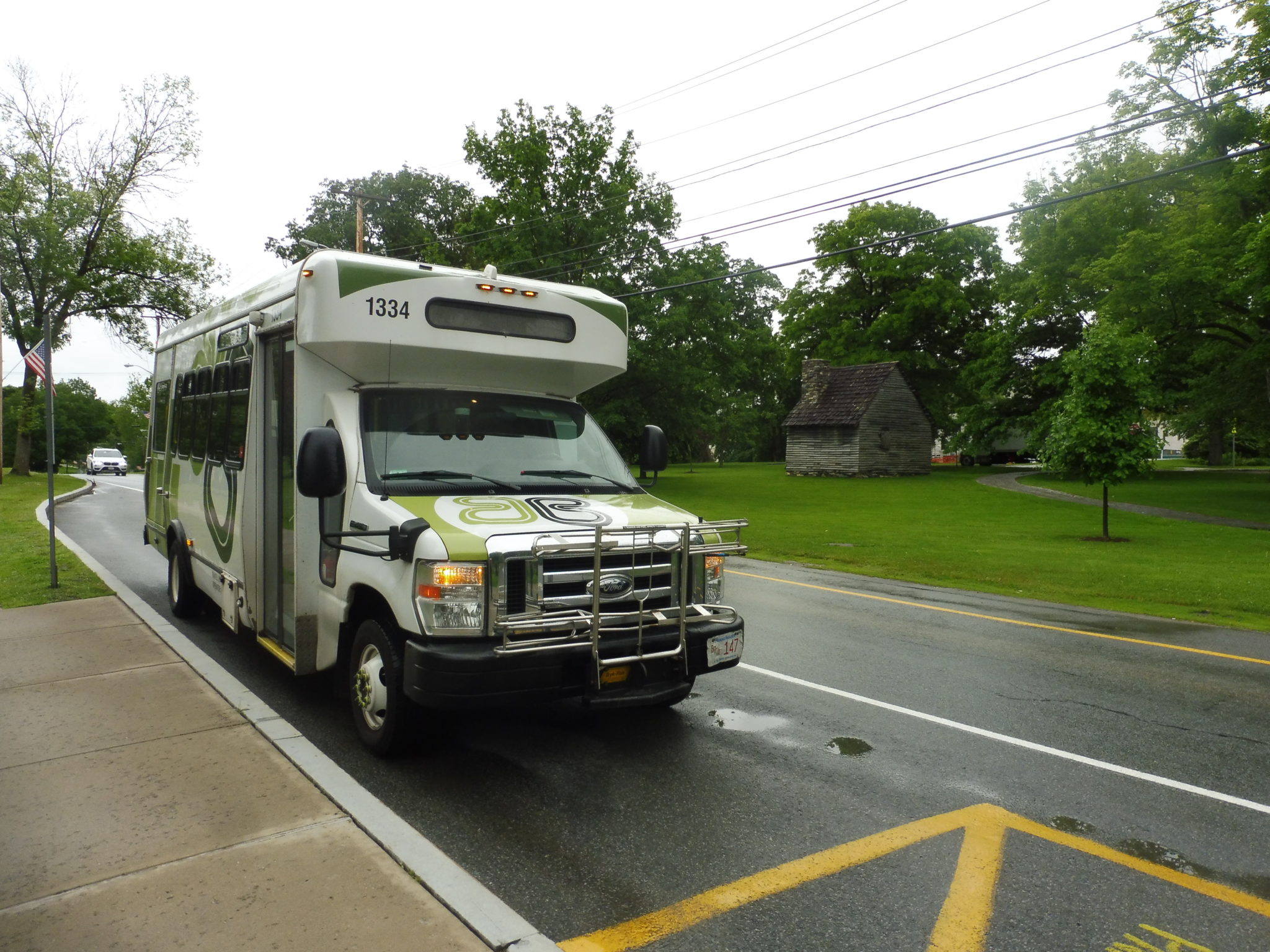 BRTA Route: 3 (Williamstown/North Adams)
Ridership: Okay, I've gotta take this ridership data with a grain of salt: it was taken in August 2017, meaning school wasn't in session at Williams College, where I would imagine a good amount of route 3 ridership comes from. In that month, it got about 111 riders per weekday and 101 per Saturday, although my summer trip seemed to show higher numbers than that – it got 11 riders one way and 5 in the other direction. So I think any way you slice it, this route may get higher ridership than what the numbers suggest.
Pros: This seems like the most sensible way to connect Williamstown up with the rest of the system. A direct route from Pittsfield would just have too long of a middle-of-nowhere segment to make a lot of sense, and this North Adams shuttle solution probably covers most local needs, anyway. The route has a consistent hourly schedule on weekdays and Saturdays, plus there's one weekday trip to Pittsfield for Williams College students. Also, in Williamstown, you can connect to not only Peter Pan, but also the Green Mountain Express, a $1 local bus to Bennington, VT!
Cons: The route have a weird eastbound-only deviation to an apartment complex that's right next to the main road anyway, and it also has an excessive amount of request-only stops. Some are schools, which should really just be added to the schedule in the form of school trips if they actually generate ridership, and others are just weird, like to the Clark Art Institute or to a Goodwill store that would be covered if the 1 was extended to North Adams. It's probably because of these various by-request deviations that the route's schedule has to be tremendously padded: our driver would purposely leave late from each terminus (up to ten minutes!) so he wouldn't have to wait at the stops along the way. Also, the route's GTFS data (used by Google Maps and other transit apps) strangely shows it ending on the eastern end of the Williams College campus.
Nearby and Noteworthy: Williamstown is a real gem of a Berkshires town, with a nice store-lined main street and many cultural activities at Williams College.
Final Verdict: 5/10
Unlike the 34, which was a loopy shuttle that wasn't trying to be anything else, the 3 tries to be useful but falls a bit flat. At its core, it offers a convenient shuttle between Williamstown and North Adams, but the ridiculous padding needed to accommodate request stops that are likely barely used is annoying. I'm sorry, but how can a route where it's necessary to leave ten minutes late just to end up on time by the end of the trip get a better score than this? Plus, it makes it look like a really slow option for potential users – what would be a 12-minute trip by car looks like a 25-minute trip by bus, according to the schedule, when it really only takes about 15!
Latest MBTA News: Service Updates