And here's how you get from the North Adams Walmart end of the 1 to North Adams proper. Is the 34 a direct shuttle route that lessens the pain from having to transfer from the 1 just to get to downtown North Adams? Or is it an all-over-the-place mess? Uh-oh.
We started by turning onto Route 8, the fast-moving road that goes straight into North Adams. Perfect. There wasn't much along it besides woods and mountains, so we were able to speed straight up to…an Ocean State Job Lot deviation. But oh well, we were still well on our way to downtown…wait…why are we heading back the way we came? We're driving all the way back to Walmart? WHAT???
Except we didn't even deviate into Walmart again, we just turned onto Hodges Cross Road, which is right outside of it. This turned into Church Street as it curved its way north, starting take 2 of our trip toward downtown. The street scenery was diverse, including a high school, a cemetery, some houses, and some industrial buildings. We turned onto Ashland Street, which consisted of scattered industry until it went under some train tracks.
It was much more urban beyond the rail bridge, with dense houses as we came within proximity of (but didn't deviate to) the Massachusetts College of Liberal Arts. A few apartment buildings appeared as we came closer to downtown, where we had to turn onto American Legion Drive to get around a depressing shopping center before turning onto Main Street. This road was clearly widened at some point, preserving the historical buildings on the north side while requiring horribly ugly buildings to be built on the other – not a good look. In general, North Adams has had the worst "urban renewal" I've ever seen for a small town.
A small, rainbow bus shelter downtown was the main stop, but the 34 continues. After waiting for three minutes (we were early), we took a left onto Church Street and a right onto Mohawk Trail, passing old, sometimes repurposed factories. It became residential as we climbed a hill, and at the top, we did a loop through the neighborhood, going via the Mohawk Forest apartments.
Once again we were early, so we had to wait here for a few minutes. The way back was the same until we came back downtown: here, we turned onto Canal Street, then Eagle Street, in order to do a deviation to the Berkshire Medical Center. Coming from there, we headed back to the downtown stop via River Street, Marshall Street, and Main Street, passing MASS MoCA and the horrible Mohawk Trail overpass along the way.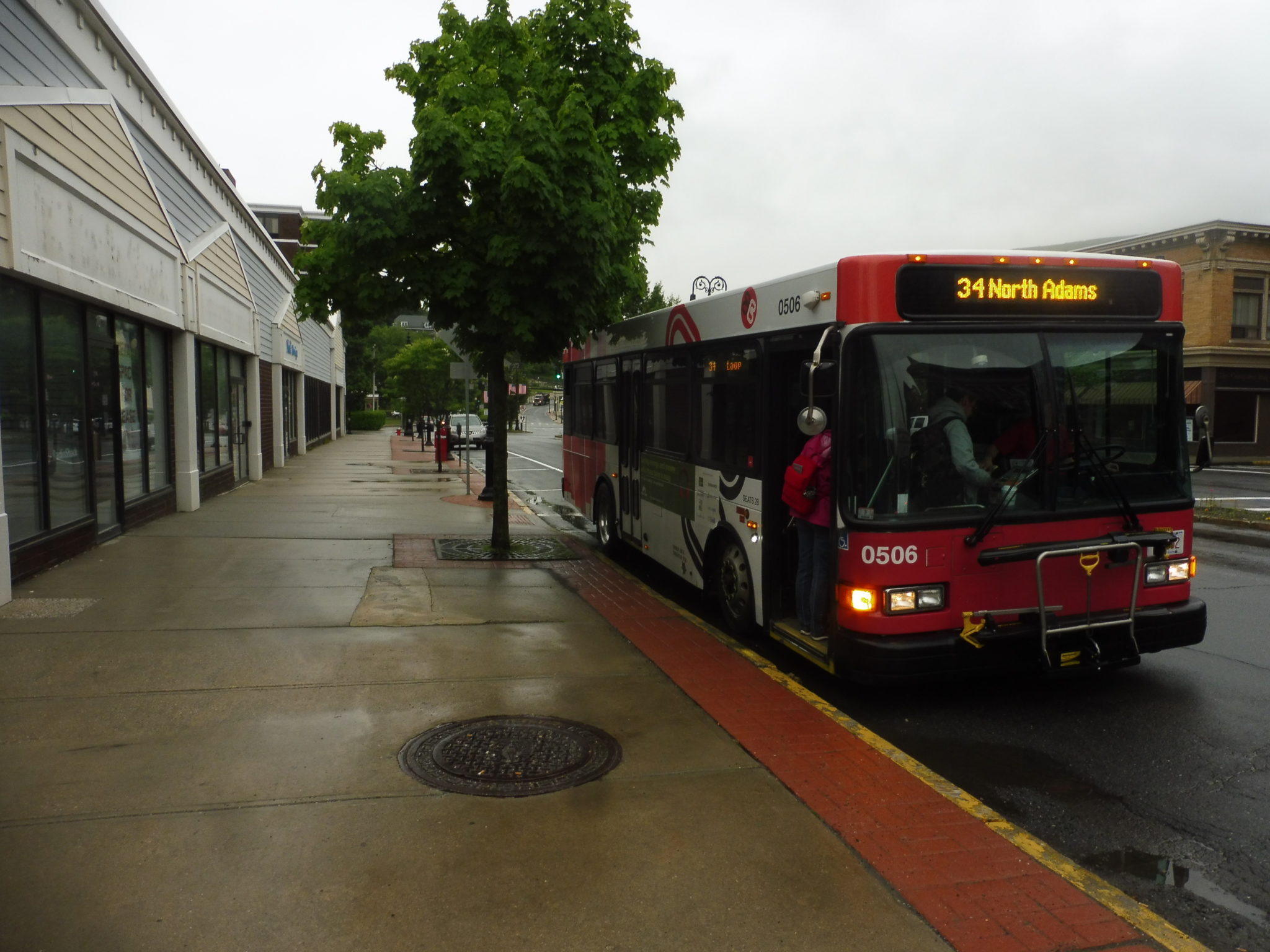 BRTA Route: 34 (North Adams Loop)
Ridership: Given that this is a little deviatory loop, it's amazing to me that this is the third-busiest route on the BRTA, with 240 riders per weekday and 166 per Saturday. I don't think it would be unwise to say that a not-insignificant portion of that number is coming from the 1.
Pros: Taken on its own, it's a competent loop around North Adams. It's definitely meant to take people to various places around town, even if it's not necessarily direct. It runs hourly weekdays and Saturdays, plus there are two additional night trips on weekdays that serve as an extension of the 1's evening trips to North Adams (and actually run direct).
Cons: But the problem is that the 34 is also meant to be the connector from the 1 to North Adams, and it's horrible at that! Granted, it's fairly straight between Walmart and downtown North Adams, aside from…the Ocean State Job Lot deviation. UGH. The route always does it on the northbound, while it's "by request" on the southbound. That diversion adds five minutes or more to what would normally be a pretty quick trip.
Nearby and Noteworthy: Aside from MASS MoCA and the smaller Berkshire Art Museum, North Adams seems pretty sparse. Businesses try to occupy the few remaining buildings with any kind of charm, but it's tough when a town has been so thoroughly deprived of its former density and replaced with overpasses and parking lots. But hey, this route also goes by the west portal for the Hoosac Tunnel, so that's pretty cool!
Final Verdict: 6/10
Why the high-ish score? Because taken on its own, the 34 accomplishes what it's supposed to: it serves a bunch of stuff in North Adams. It's where the necessity to take it if you're coming from Pittsfield comes in that makes it so much worse. I think the onus of this is more on the 1, though: if you extend the 1 to North Adams via Route 8, you can not only bring a one-seat ride from Pittsfield to North Adams, but you can also eliminate the horrible Ocean State Job Lot deviation on this thing.
Latest MBTA News: Service Updates