So…"Man-Mar Drive" in Plainville. Scenery: a bunch of sketchy-looking businesses inside dated shopping plaza buildings with big parking lots out front. Facilities: a faded old "GATRA Bus Stop" sign bolted to a telephone pole. Morale: low, because the 14 is late and I just want to get out of here!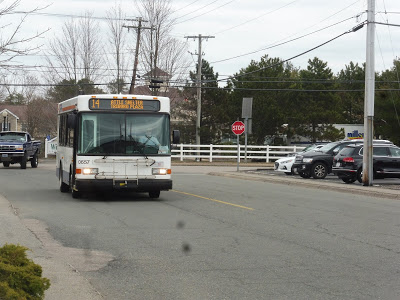 Wow, talk about preemptive door opening!
Just as Sam and I were starting to worry about getting stuck here forever, the bus showed up 7 minutes late, which, granted, isn't that bad. So we went onto East Bacon Street (awesome), which quickly became residential as we left the Man-Mar Drive area. That was in the form of both regular houses and apartment developments.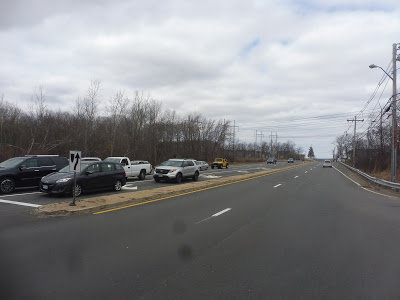 A wide ol' road.
We went under some pylons and crossed the super-wide Route 1. There were more houses on the other side, lasting until some retail at the intersection with South Street. Here, most weekday trips deviate to serve the Plainville Council on Aging, but this was a Saturday, so we just turned directly onto South Street.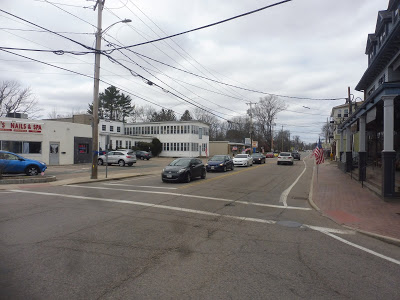 The businesses at South Street.
South Street became residential, then it turned into Park Street when we entered North Attleboro. We came up very close to Route 1, where the road changed again, this time to North Washington Street. We were getting closer to North Attleboro Center, and so the houses started to get denser and denser before BAM! Retail on both sides of the street!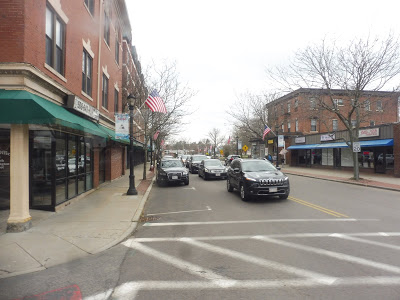 A side street. No one said the retail was interesting…
We turned onto Elm Street, quickly leaving the density of North Attleboro Center. Once we crossed Route 1, it completely shifted over to typical suburban housing, with little spurts of density. The scenery got quite varied eventually, with some retail, offices, parks, schools, churches, houses, and apartment developments…oh my!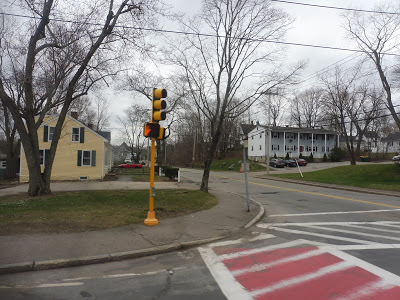 A would-be leafy intersection.
The street name changed to Commonwealth Ave, then Robert F. Toner Boulevard – right around that second name change, we deviated into Triboro Plaza, which has to be GATRA's best deviation: it has a specified stop with a shelter in it. 10/10! 10/10!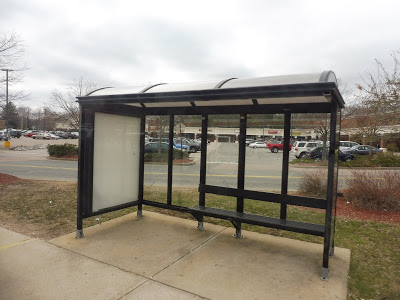 Beautiful!
We returned to Robert F. Toner Boulevard, which went over I-95. The road ended at a big intersection next to a park and a housing development, and here we turned right onto North Main Street. It was mostly houses along here, with a few churches as well. We passed another cemetery, then the scenery got denser as we got closer to downtown – there were now some apartments, offices, and businesses coming in. We came into Attleboro Center (lots of brick buildings with retail), and here, we turned onto South Main Street for our final stretch to the Transit Center.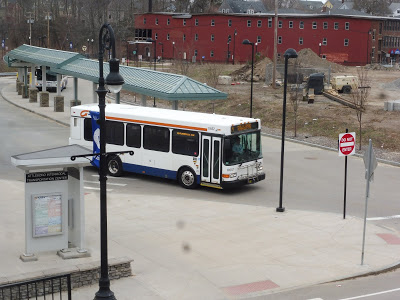 The bus…from above.
GATRA Route:
14 (Attleboro/North Attleboro/Plainville)
Ridership: For GATRA standards, the 14 is a decent route. It gets 147 riders per weekday and 67 on Saturdays, which is about 6-7 riders per trip. Mine only had two other people, but…uh…maybe it was an off day.
Pros: Plainville has just one bus, and that's the 14. It comes at a handy frequency of every hour, Mondays through Saturdays, and it also serves such attractions as Triboro Plaza and North Attleboro Center. Also, the 14 and the 10 combine to provide half-hourly service to both those places, which is a nice use of resources.
Cons: I've realized that this is kind of an Attleboro thing, but the 14 seems to get late far more often than any bus should be. I think this is because of the way they interline routes more than anything, but regardless, it's annoying. Also, in typical GATRA Attleboro fashion, this route doesn't get enough time. On Saturdays, for example, they give it 18 minutes from end to end, a trip that usually takes 24 minutes…by car. So yeah, it's basically guaranteed to be late!
Finally, Man-Mar Drive? That's where we end the route? Just about 7 minutes up Route 152, there's a sizeable shopping plaza with a Target and a Stop & Shop, and more importantly, Plainridge Park Casino. I'm sure those would both be huge ridership draws! Sure, this route doesn't get enough time anyway, but GATRA needs to extend the time of its Attleboro routes anyway. They could use interlining to make things every hour. But that's a project for another day…
Nearby and Noteworthy: As far as the independent section goes, the 14 really doesn't serve that much. All it has are some random shopping plazas around Man-Mar Drive.
Final Verdict: 4/10
I mean, if it's guaranteed to be late, its score can't be all that high, can it? Not only that, but the route in Plainville doesn't really serve any high-ridership places. Extending it to the mall and the casino would likely attract a ton of new people to the route! GATRA's Attleboro schedules would need to be shifted around if that change was made, but truth be told, this isn't the only route that doesn't get enough time.
Latest MBTA News: Service Updates