In preparation for this review, I conducted an "extensive" "interview" with someone at my school who used to live in Shrewsbury. I asked her about the throngs of people that surely use the amazing 15 to get to the booming metropolis of Worcester. "Oh yeah, no one uses the bus," my source said. "I think I rode it once, maybe." Hmm…this may not be as packed of a route as I thought it would be.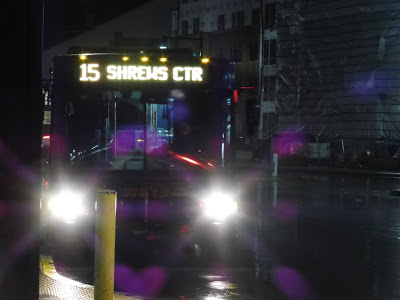 The center of the shrews.
Since we were going to Shrewsbury, what better street to take than Shrewsbury Street? There were a ton of businesses along this wide road leaving the Central Hub, but we also saw a park and some apartments between them (as well as the latter above almost every store). It started to get more suburban, so the businesses got parking lots and the apartments became houses, then we merged onto the eight-lane behemoth of Belmont Street.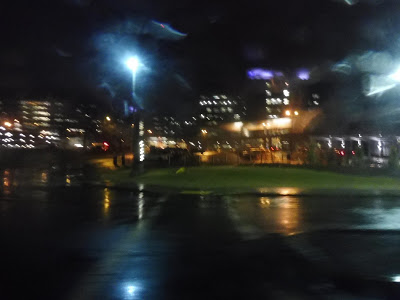 Oh boy, rainy night pictures are the best! This is UMass Medical Center.
We turned onto Plantation Street next, then South Road, taking us into the UMass Medical Center. Leaving the cluster of huge medical buildings, we took Lake Ave down to Belmont Street again, which went on a really nice lit-up bridge over Lake Quinsigamond. This took us into Shrewsbury, which was a mess of random shopping plazas and suburban businesses. And guess what the road was. That's right, Route freakin' 9! OF COURSE!!!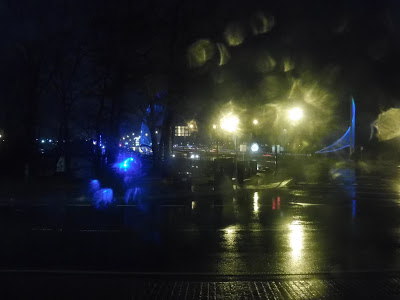 I wish the rain wasn't there so this awesome bridge could be appreciated!
We deviated into the newest plaza there, Lakeway Commons, which seemed to have been built very recently. There were a few more businesses along Route 9, and we went by one last plaza as we merged onto Maple Ave. This plaza, Fairlawn Shopping Center, is the terminus of some weekday trips. You know, because a half-vacant shopping mall with a Hooters in it is a place where everyone wants to go!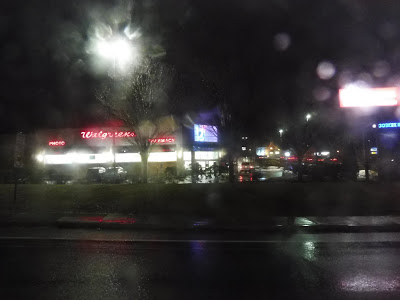 Next to a Walgreens.
Going up a slight hill, we ran past a bunch of suburban houses. They were broken by the intriguing-sounding UMass Medical School Center for Mindfulness and a park right next to it. There was a complex with various Shrewsbury municipal buildings, including town hall, then we ran by suburban businesses on either side of the road that continued as we merged onto Main Street. Oh…this is Shrewsbury Center, huh? Nope, I can't say this is doing it for me.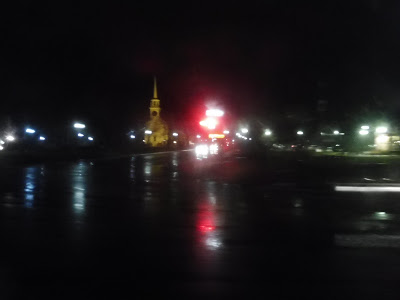 Okay, the church is rather nice.
Main Street turned to houses as the center abruptly ended. We turned onto South Street, then Julio Drive, which took us to "Southgate at Shrewsbury," a retirement community. This apartment development was the last stop on the route, and from here, Nathan and I called up an Uber to take us to Grafton Station.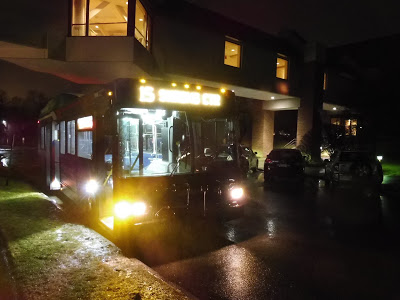 And we never got to see the center of shrews!
WRTA Route: 15 (Union Station Hub – Shrewsbury Center via Shrewsbury Street and Route 9)
Ridership: I wasn't expecting huge numbers for this one, and they didn't disappoint. The 15 gets 334 riders per weekday and 83 per Saturday, which is basically what you would expect for a suburban route like this. We did the last outbound trip of the night at 7:50, and it only had one other person!
Pros: Well, at least some Shrewsbury residents seem to use this thing! It's a direct connection to Worcester, but I could see the 15 getting bidirectional ridership because of the malls it serves. The UMass Medical School is a big destination as well, and this is the most direct route there. Finally, the 15 is every hour, six days a week, which is a fine frequency.
Cons: On weekdays, three trips per day terminate at Fairlawn Plaza, and I'm not sure what the rationale is for making it those specific trips. They just seem random, and since two of them are in the afternoon, Shrewsbury Center only gets a bus every two hours from 1:20 to 5:20. Also, this is obvious, but the route doesn't get very high ridership…
Nearby and Noteworthy: Shrewsbury Street in Worcester seems like an up-and-coming neighborhood, with a ton of great-looking restaurants lined up along it.
Final Verdict: 6/10
The 15 is basically in the same boat as the 2: it doesn't get particularly high ridership, but it's still worth keeping around. It's nothing spectacular, but it gets its job done. Truth be told, I was hovering between a 5 and a 6 – I settled on a 6, since it's no worse than the 2 in any significant ways.
Latest MBTA News: Service Updates