Remember the 80? That free little downtown loop that didn't exist anywhere? Well, the WRTA has scrapped that and replaced it with a larger and not-free loop, the 40. They really pushed this one, going as far as to give it…an actual schedule online. Well, it has to be good, then!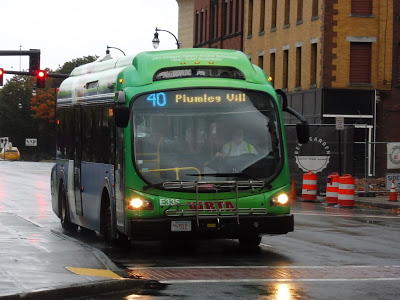 Alright, a Proterra! The same one I got on the 80, actually. Small world.
Nathan and I got on at City Hall, meaning we did miss a slight jog in the route that serves the Worcester Social Security Office, but it's not too substantial. Once we were on board, we headed up Main Street, running through downtown Worcester past lots of businesses in tall buildings. Eventually, we used School Street to get onto the wide Major Taylor Boulevard, which passed what appeared to be more modern constructions.
Gotta love that rear window!
We turned onto Belmont Street quickly, and this was mostly lined with churches and a tall apartment building. After going over I-290, we arrived at the UMass Memorial Hospital and turned onto Edward Street. This was a mostly residential side street, but once we turned onto Laurel Street and went back over I-290, we entered a very extensive apartment development called Plumley Village.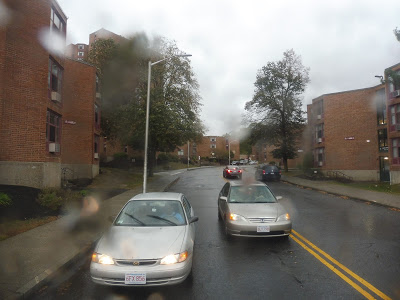 Making a stop in the "village."
Coming out of that development, we turned onto Summer Street, which had a few office buildings flanked by large parking lots. Later on we went by Saint Vincent Hospital and a huge post office, then we went around a rotary onto Grafton Street. Finally, turning onto Franklin Street, we looped around and arrived back at the Central Hub.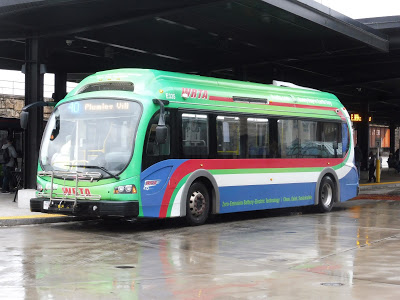 The bus getting ready for another trip.
WRTA Route: 40 (Union Station Hub – Downtown Loop)
Ridership: This is such a new route that there's no ridership data available, but we can probably use the numbers from the 80 to get an approximation. That route got an average of around 250 people per day, and I wouldn't be surprised if the 40 gets even more, since it serves a lot more. Then again, my trip only had two people, so who knows?
Pros: I think this is a much more useful route than the 80 was. That route was meant for tourists to some degree, running only a short distance from the Commuter Rail station to the core of downtown Worcester. The 40, meanwhile, is clearly bent more towards residents, and I think that's a better angle to take. It serves more, and though it runs every 30 minutes instead of every 15 like the 80 did, it's still much more useful overall.
Cons: It seems like ridership might be low, but I seriously doubt it's any lower than what the 80 got. It's too bad it only runs weekdays only, but then again, so did the 80.
Nearby and Noteworthy: Most of what the 40 serves is noteworthy only to local residents, but downtown Worcester is still a bustling place that is slowly becoming a bigger and more interesting attraction to outsiders.
Final Verdict: 8/10
I think this is a better use of the downtown loop concept than what the 80 was doing, and it uses the same amount of resources. And yes, I know the 80 effectively got a 9, but that's because it was free. Even though you do have to pay a fare for the 40, it takes passengers a longer distance, so I think it makes sense. Plus, it allows the WRTA to make at least some of the operating costs back.
Latest MBTA News: Service Updates