This is a bit of a strange one, because this bus doesn't exist. You know, usually I link to a page on the authority's website about the route I'm reviewing, but that can't be done for the WRTA's 80 because it literally doesn't have a schedule page! The only way to find out it exists is by looking at the system map and finding it in the bottom right corner! Indeed, my friend Nathan and I only discovered it by looking at the countdown clocks in the WRTA Central Hub.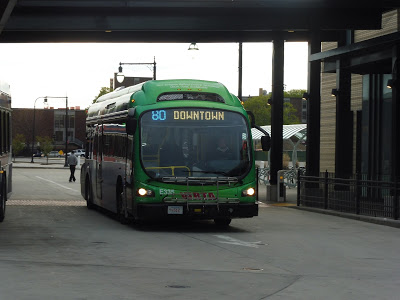 Ooooooooooh.
Oh yes, the 80 was using one of the WRTA's Proterra buses! They're battery-powered, totally electric, and really really cool-looking. In fact, the WRTA apparently has the largest electric bus fleet in North America! These buses are really worth a ride, even if only for a short distance. Actually, the 80 is perfect for a quick ride, especially since it's free! We had no idea this was the case, though, since there's NO INDICATION OF THIS ON THE WEBSITE, but yeah – free downtown shuttle!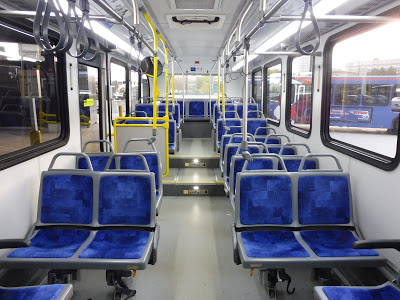 Woah…
The Proterra was amazing inside. It felt super clean and modern with bright lights, fancy seats, and a rear window. There were automatic announcements for major stops, but the bus itself was really quiet. It had a similar sound to trackless trolleys, which would make sense considering that they're both electric.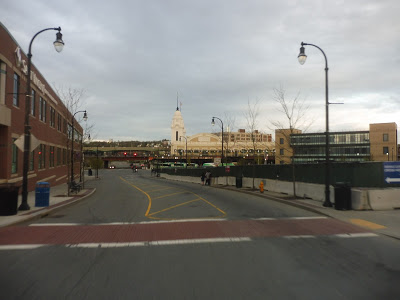 Sitting at the back made for some really fun pictures.
Heading out of the Central Hub, we circled around a rotary outside of the Union Station building, then twisted back to Front Street. We passed along a construction site, then turned onto Church Street, which went alongside Worcester Common. After that, we made a bit of a sharp curve onto Franklin Street, rounding the corner alongside the Common.
That's a tall building…
At Worcester City Hall, we turned onto Main Street. Where there were offices before, this street was now lined with lots of businesses and apartments on top. As they started to dwindle out and get replaced by parking lots, we turned onto Martin Luther King Junior Boulevard, which passed Worcester District Court and led to an intersection with modern buildings.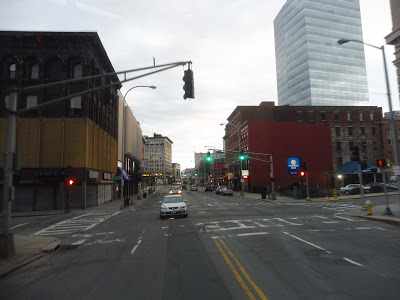 The businesses on Main Street.
Next, we turned onto Major Taylor Boulevard, which was flanked by offices and a hospital. We merged onto the wide Foster Street, which continued around the hospital and past a parking lot. Finally, it led us back to the Central Hub, completing the short little loop.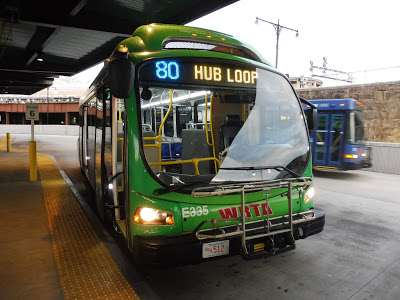 The bus back in the hub.
WRTA Route: 80 (Downtown Hub Loop)
Ridership: On my trip, there were only two other people. One was a woman who went from downtown to the Central Hub, while the other was a talkative old man who loudly discussed how places used to look "before any of these new buildings were even here!" He only went for a few stops. WRTA doesn't publish ridership statistics, unfortunately, but a quick conversation with the driver revealed that the 80 gets good ridership in the morning, but not so much in the afternoon. I'm not sure why that would be, but a driver of the route is a trustworthy source, so I believe it!
Pros: This is a really great little loop! It serves most of Worcester's "downtown" area, and though it only runs on weekdays, it's every 15 minutes since the loop is so short. Oh, and did I mention it's free? There's really only one problem with the route…
Cons: IT DOESN'T EXIST. When I say that, I mean that it gets NO MENTION AT ALL on the WRTA website! And gee, it turns out the shuttle was added three years ago to boost downtown businesses when the WRTA's hub moved to its current location! But this news story says that "only a handful of riders" uses it – wonder how that could be fixed. It's a simple webpage, guys, it's not that hard! Geez, at least the SLOOP got an online schedule! The 80 has literally nothing! You know the schedule information I wrote in the "pros" section? I had to find that out from the driver. This is NOT how you run a bus service!
Nearby and Noteworthy: The 80 serves basically all of downtown Worcester! And sure, none of it is a particularly long walk from the Central Hub, but the bus is free! If you're tired or have heavy bags (or just want to take a ride in an electric bus), you might as well give it a try!
Final Verdict: 5/10 (but the route is a 9)
The 80 is basically in the same boat as the SLOOP, except that this ship has already hit the iceberg. It seems like the shuttle gets decent ridership now (according to the driver, at least), but that's no excuse for not publishing a schedule! And yes, at some point there could be advertising for the fact that Worcester has a free shuttle, marketing to out-of-towners or non-commuters, but an online schedule – heck, an online mention – is needed as soon as possible. This is a really great route, but gosh, guys, give it some dignity!
Latest MBTA News: Service Updates