It turns out that "Essex Town Line" means exactly that: this route starts right at the border between Essex and Gloucester. There's not even a signed stop or a proper loop! The bus literally just bangs a u-turn in the middle of Eastern Ave and comes straight back. Let's flag down the Purple Line, I guess.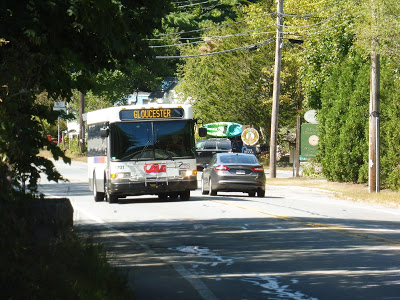 The bus after performing its loop.
Well gosh, the biggest characteristic of the Purple Line is that it is just nonstop speed. We sailed down Essex Ave past woods and sparse houses as fast as was possible on the twisty road! And there really wasn't much else – we passed a church at one point, and there was a self-storage facility just before we went under Route 128, but that was about it for variety.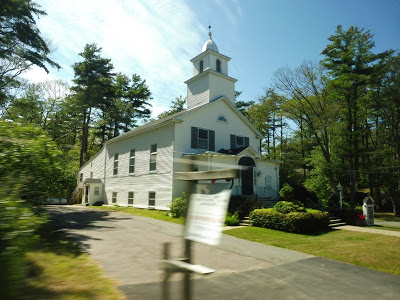 Whizzing by the church.
We just kept on truckin'. There was a short marsh view just before we passed West Gloucester Station, but though the houses got a little denser after that, it still wasn't enough to support even a single passenger. Finally, we passed some businesses amidst a sudden marsh, and we merged with Western Ave. This went along the water, and at this point I got off the bus in order to catch the Stage Fort Park Trolley.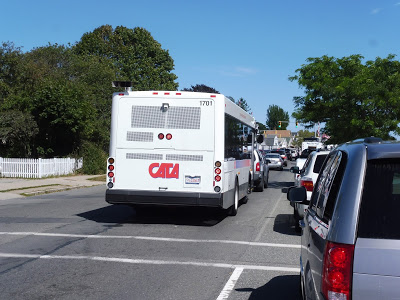 Don't worry, I got off very close to the end of the route.
CATA Route: Purple Line (Gloucester – West Gloucester – Essex Town Line)
Ridership: HA! Yeah, weekday ridership is 24 riders and Saturday ridership is 11. And I'll bet the only reason weekday ridership is so "high" is because of the route's school trips, which do get pretty busy from what I've seen. This is so abysmally low it's amazing to think that CATA's been running this route for years.
Pros: It serves West Gloucester! Not that they really need it…
Cons: Oh come on, why should this route exist outside of school trips? It only runs three times per weekday and four times per Saturday – it's not exactly an easy schedule to plan your day around! What's the deal with the weekday schedule, anyway? One of the three trips is at 5:49 AM and it only runs from Gloucester to West Gloucester Station before turning around. Are people actually using that??? There's not even a return trip in the evening rush – the last one is at 4! Also, just for funsies, did you know that the route has a fare recovery ratio of 3%, and its subsidies are $20.49 and $34.50 per passenger on weekdays and Saturdays, respectively? Wow, CATA is killing themselves by running this thing!
Nearby and Noteworthy: I don't mean this lightly: this route serves absolutely nothing of interest. It's almost all houses.
Final Verdict: 1/10
Okay, even CATA admits that this should be reduced to school trips! That's the only time when it gets any sort of meaningful ridership, and the only time it should run. It could easily be replaced by a call-in service that's open to anyone, because then buses would only need to head out there when they need to. Gosh, this is such a stupid route!
Latest MBTA News: Service Updates
Something bigger and much more important is coming out tomorrow, the blog's fifth anniversary. I wonder what it could be…