For the record, I wanted to take the 7:22 train back to Boston. But nooooo, Michael wanted to walk somewhere. And I suggested West Gloucester, since it's reasonably close to downtown Gloucester, where we were. However, we got lost, and after 2 and a half hours of walking through barren woods and bogs, we finally arrived at the station. It's a strange place at 10 PM…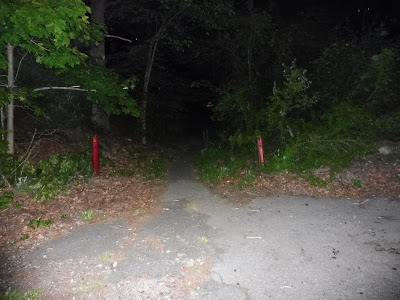 The station's "entrance," as it were.
The entrance we used was this strange pedestrian path from Essex Ave. It had unpaved sections, and was incredibly narrow. It felt like a forest trail or something! There was no signage, so we were using the light of the station as a guidepost. The main entrance is much better signed, with a driveway for cars, further down Essex Ave.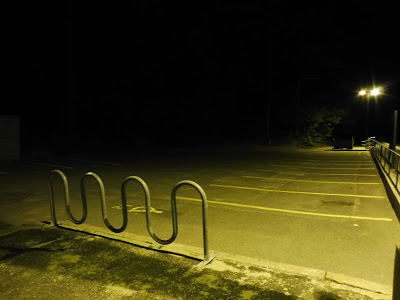 The empty parking lot.
The station has a pretty small parking lot, with 44 spaces. However, this is a perfectly good amount for West Gloucester's ridership – indeed, the lot only gets about 22% full on weekdays. There are also seven bike spaces here, which again seems like a good amount.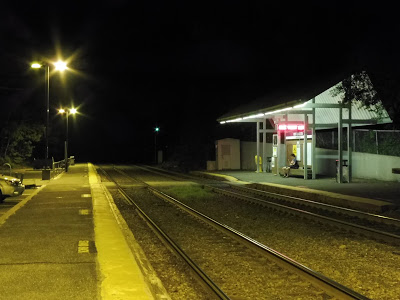 Looking down the platform. There's Michael sitting under the shelter…
Most of the long outbound platform is bare, save for a few wastebaskets, a completely demolished payphone, and a mini-high way far down. The inbound side (which is much smaller) gets a typical 90s Commuter Rail shelter. It's made of metal, with a single bench underneath, as well as some wastebaskets and a newspaper box.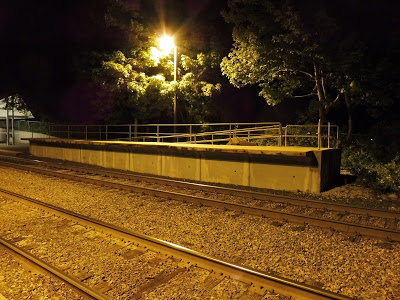 Oh gosh…
West Gloucester features some absolutely horrible mini-high platforms! They're literally just concrete blocks and nothing else. No shelter. No benches. And as a bonus, the inbound side is right across the tracks from an electric substation! Hope you like constant buzzing noises, because you'll be hearing a lot of 'em!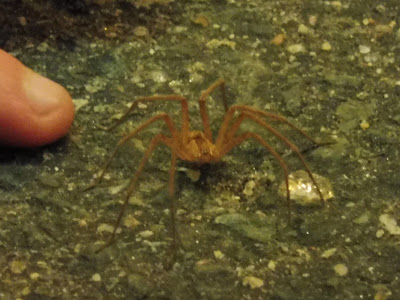 All of my train pictures were terrible, so here's a big spider we found while waiting for the train!
Station: West Gloucester
Ridership: Oh, truly amazing! A whole 94 riders per weekday! That's, like, almost 100! No, this is the third least-used station on the Newburyport/Rockport Line, beaten only by Riverworks and Prides Crossing – the former can only be used by GE employees, and the latter gets three trips per day. Admittedly, if you look at West Gloucester on a map, it is in a very woodsy area with not a lot of stuff around it.
Pros: Well…the presence of parking is nice, and it's certainly enough. And…I guess there's a shelter. That's a good thing. CATA stops here, too…three times a day. Hooray?
Cons: Right, well, for starters, there's the unmarked pedestrian entrance that feels like you have to explore a vast forest just to get into the station! Then there's the fact that the mini-highs are COMPLETELY bare, with not even a solitary bench to cater to the few commuters who use this place. Or how about the electric substation, buzzing away right next to the station for all to hear?
Nearby and Noteworthy: Nope. There's no reason why anyone who doesn't live in or have relations with the surrounding houses should come here.
Final Verdict: 4/10
This station has only the most basic amenities possible, and even that is stretching it (cough, pedestrian entrance, cough). It serves a few very small neighborhoods, and even then, only 94 of its residents use it every day! The spider was a neat find, though…
Latest MBTA News: Service Updates