A mere 0.8 miles away from Prides Crossing, we have a station that actually gets, you know, service. What does Beverly Farms have to offer over its microstation cousin? We'll find out.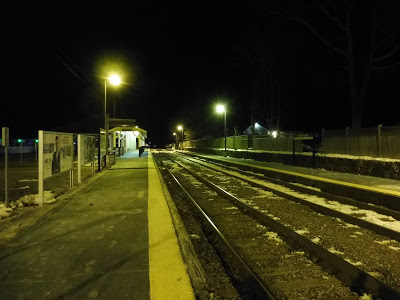 The platform.
Okay, the outbound side of Beverly Farms has basically nothing, so we don't have to talk about it. Meanwhile, the inbound side surprisingly has a lot in common with Prides Crossing. Most of it is bare, but the part that's sheltered is done so by the station building, which is occupied by a private business (Boston Bagel Company) that owns most of the parking! Wow, that's freakishly similar.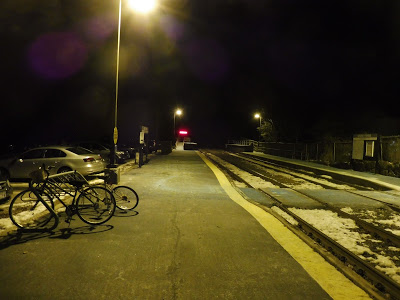 I see those mini-highs! We'll get to those…
Under the shelter there are benches, a wastebasket, and a community board. Moving down the platform, there isn't much until the mini-highs aside from a small bike rack. The mini-high platforms are completely bare, but in their defense, they aren't falling apart! They still suck, though. Finally, though most of the parking is for bagel patrons only, there are apparently 25 spaces reserved for the Commuter Rail, and I'm pretty sure they're free. It's not a lot, but it's something!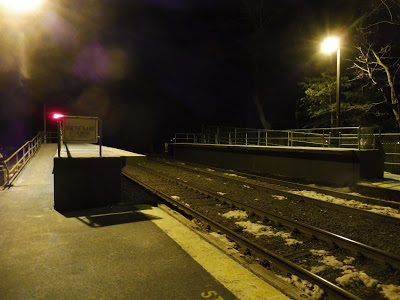 A closer look at the mini-highs (my train picture was awful).
Station: Beverly Farms
Ridership: This station gets low ridership, with only 207 inbound riders per weekday. It's too bad, because the area around here is so nice!
Pros: Honestly, this is kinda like the better version of Prides Crossing. It has two platforms, it has actual mini-highs, there's a bit of station parking for both cars and bikes, and though I have nothing against Prides Crossing Confections, Boston Bagel Company seems like a much better business for morning commuters.
Cons: It's a pretty barebones station, especially with the unsheltered mini-highs with nothing on them – "at least they're not falling apart" is not an argument that helps them out. It also looks to me like there could be more room for commuter parking, but I could be wrong. Regardless, there isn't much of it. Finally, it's weird that Beverly Farms is in Zone 5 when it's in the same town as Zone 4 stations.
Nearby and Noteworthy: Wow, apparently the village of Beverly Farms is awesome! It has such diverse and charming buildings, and there are so many varied small businesses! Heck, even the Dunkin' Donuts had some character, but don't get your coffee there – use its local competitor, Half Baked. Gosh, there's even a book shop!
Final Verdict: 6/10
Despite the awesome town center right next to it, the station of Beverly Farms isn't the best. The mini-highs subtract points, as do the limited parking spaces. It's not lacking in character, but imagine how much more it could have with nice wooden sheltered mini-high platforms! It also doesn't have the Democrat and Republican benches of Prides Crossing, which, let's be real, are more iconic than anything Beverly Farms has to offer.
Latest MBTA News: Service Updates