The 31 is my favorite kind of bus route: short, busy, and frequent. In fact, this is one of the most frequent routes on the RIPTA, and thus it gets a "Key Corridor Route" designation. It is a very well-deserved moniker, as we'll see on my ride…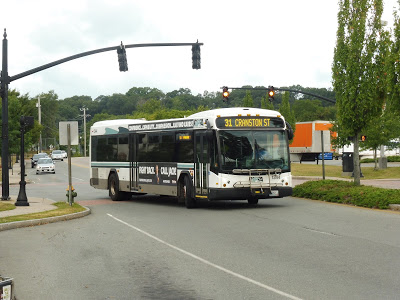 The bus making its u-turn to the first stop.
The route starts at "Brewery Parkade," a lame shopping plaza just over the Cranston border. From there, we headed up Garfield Ave, running alongside the Huntington Expressway and passing a mix of suburban businesses, houses, and office buildings. We turned onto Cranston Street at the end of Garfield Ave, and as we went under the Expressway, we entered Providence.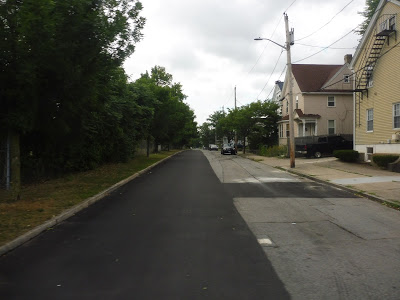 A residential side street.
For the entire length of the 31's independent section, Cranston Street was the same thing: dense houses interspersed with varied businesses. It was entirely that, picking up a few passengers at each stop, until we merged with the 18 next to the huge Cranston Street Armory. The scenery changed a little bit after that, now including some housing developments and a field.
Between two buildings.
We merged with the 17 and the 19 on Westminster Street, and here it started to feel even denser than it was before: there were businesses, apartments, and the ProvidenceClassical High School. After going over I-95, we made our way to Washington Street via Dave Gavitt Way. We were in downtown Providence now, and on either side there were multi-story buildings with businesses, apartments, parking, and more, all the way until we reached Kennedy Plaza.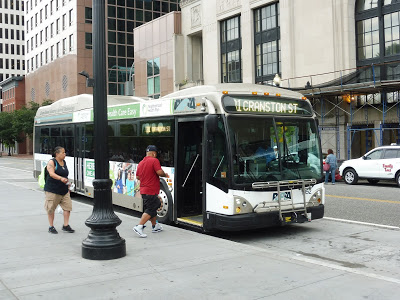 A different bus in Providence.
RIPTA Route: 31 (Cranston Street)
Ridership: The 31 gets great ridership, and back when RIPTA's ridership statistics were public, I remember reading that this was one of the busiest routes on the system. My trip only had about 15 people, but other ones were busier.
Pros: This is a quick ride, but it runs through some very dense and transit-starved neighborhoods. It's also extremely frequent for RIPTA, with service every 15 minutes on weekdays and every 25 minutes nights and weekends!
Cons: From what I observed, it seems like the route uses one bus too many, on weekdays at least, with two buses laying over simultaneously at Brewery Parkade. I guess maybe the on-time performance of the route is sketchy, and I could see why: my ride had enough red lights along the way that I was thinking this would be a good route for transit signal priority.
Nearby and Noteworthy: The route passes lots of businesses, mostly catering to the large Hispanic population it serves.
Final Verdict: 8/10
This is a great little connection from Brewery Parkade and the West End of Providence into downtown. It's frequent, it's well-used, and it runs every day. I think they could probably take away a bus from the route while maintaining the frequency, but maybe it can get late enough that they need another vehicle.
Latest MBTA News: Service Updates
Please send your thoughts and prayers to the victims of the train derailment in Seattle today. Thank you.