What the heck is the 21, MVRTA? Deviations, weird headways, and PVTA Syndrome…oh my!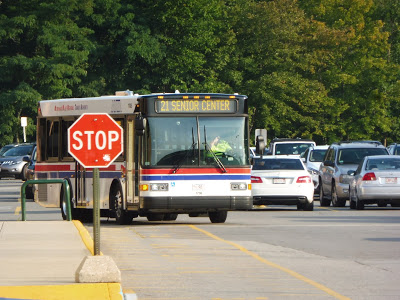 Oh, and it goes to a senior center. Even better!
We left the North Andover Mall onto Winthrop Ave, but we soon turned onto Waverly Road, the first cross street we came across. It's worth noting, though, that the northbound routing goes a slightly different way in order to serve the YMCA. It's only a short spur, as the two directions come back together with our next deviation into "Doctors Park," a small medical center.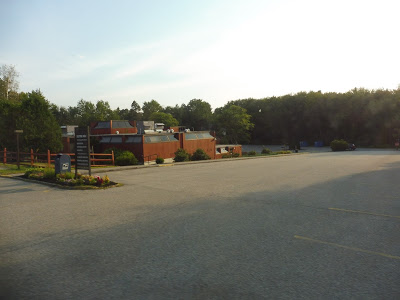 Hanging out in Doctors Park.
There was just one small problem: we were seven minutes early. Alrighty, then, time to wait! With the departure time of 6:16 reached, we headed out onto Haverhill Street, which was lined with houses for a while. After we went under the Commuter Rail tracks, though, there were large suburban office buildings everywhere.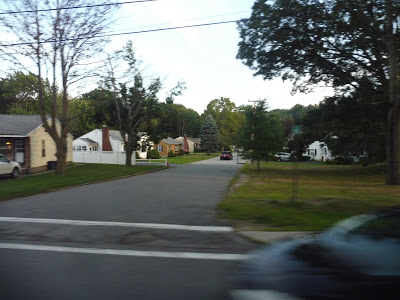 Some houses in the residential section.
We soon turned onto North Main Street, joining up with the 32. We were with it for about 30 seconds before having to make a deviation into Frye Circle, a housing development. It's strange that this small hilly development was chosen for the deviation, rather than – I dunno – the large, not hilly development right across the street.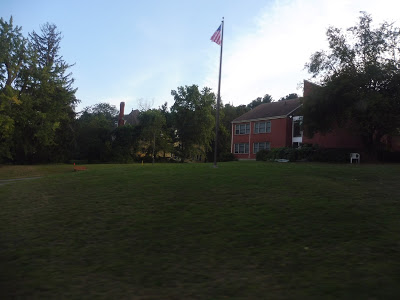 Inside Frye Circle.
We returned to North Main Street and the 32 for another 30 seconds, but then it was time for another deviation! In my 32 review, I expressed delight that the route doesn't have to serve Shawsheen Plaza – well, the 21 does. After looping around its parking lot, we returned to North Main Street.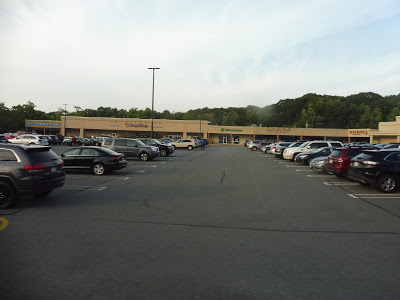 Weeee!
We turned onto Railroad Ave, taking us alongside the Commuter Rail tracks past an apartment building and some businesses. After going by the station, we crossed the tracks onto School Street, which went through a cemetery to Central Street. We took that up to Andover Center, where we turned onto Main Street amidst lots of charming businesses.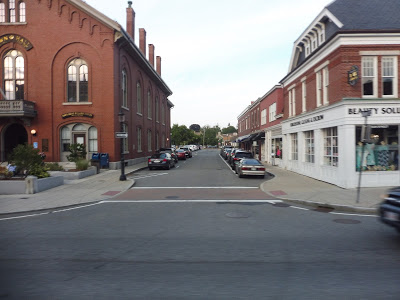 Some of the awesome buildings in Andover Center.
After going through the Center, it was time for a lot of craziness. We turned left onto Punchard Ave, left onto Bartlett Street, right onto Chestnut Street, right onto Whittier Street, and left into the Andover Senior Center. After that it was right on Bartlett Street, right on Chestnut Street, right on Chestnut Court, and…oh, last stop? In this weird housing development? Alright, time to run back to Andover to get the Commuter Rail!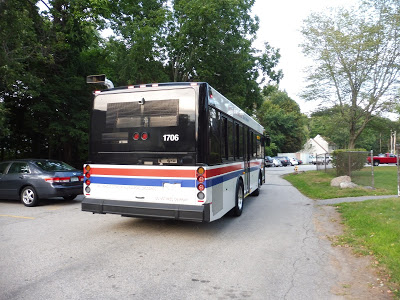 This is a weird terminus…
MVRTA Route: 21 (Andover Shuttle)
Ridership: The 21 received 19,208 riders in 2015, making it the least-used local MVRTA route. Wanna know how many people per day that is? 74! And that means that the 21 gets a grand average of 3-4 riders per trip. Mm-mm, that's bad.
Pros: I see this route as primarily being a link from Andover to the North Andover Mall, both a major transfer point and a popular place to shop. Also, most of the route's deviations make sense, and I like how the MVRTA gave them to this route instead of the 32.
Cons: Still, the deviations have some quirks. Why serve Frye Circle instead of the bigger development across the street? Why serve the Senior Center twice when the route could just do a figure-8 with Chestnut Court. And why give the route so much padding between Doctors Park and the North Andover Mall? Look, right now the 21 runs every 70 minutes, making it completely incapable of timing with other MVRTA routes. If the route was given less unnecessary time to the Andover Mall and if the Senior Center was only served once, this could easily run every hour, which is beneficial in so many ways.
Nearby and Noteworthy: I like the look of Andover Center a lot, but the 32 is the far better choice…or, indeed, the Commuter Rail.
Final Verdict: 3/10
This route has such little ridership that it could probably be eliminated, but I do think it serves at least some purpose. The problem is that the route is done so inefficiently that it's stuck with this infrequent, non-clockface schedule that could be fixed so easily! Cut the padding and simplify the routing in Andover – that's it! Every hour! Boom!
Latest MBTA News: Service Updates