For our final MVRTA trip for now, we're gonna head south of the "River Merrimack" into South Lawrence and Andover! We'll see dense areas! We'll see sparsely-populated areas! We shall delay no longer, for here is the 32!
Leaving Buckley, we headed down Essex Street through the fringes of downtown Lawrence. By the time the area got more industrial, we turned onto Broadway, running past factories and warehouses. After going over the North Canal, we went through a railroad crossing, then we crossed the Merrimack River, offering a really impressive view of a dam.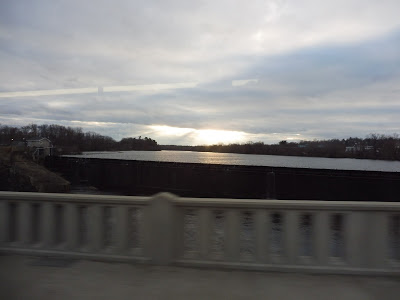 Wow!
The street became South Broadway on the other side of the bridge, running past diverse businesses, industrial buildings, and some apartments. We went over another railroad crossing, then those businesses gained parking lots out front, and there were a few houses in the mix. There was a church and an apartment development, then the street became lined with dense houses.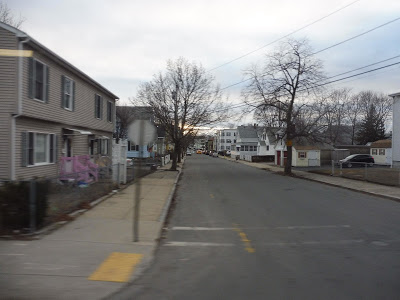 Looking down a side street.
As the street split into two one-way segments, we passed another apartment development and zoomed under I-495. We were in Andover now, and with the road back to being two-way, it was now called North Main Street. There were a few suburban houses, then we passed through Shawsheen Square, which was basically just a few random businesses.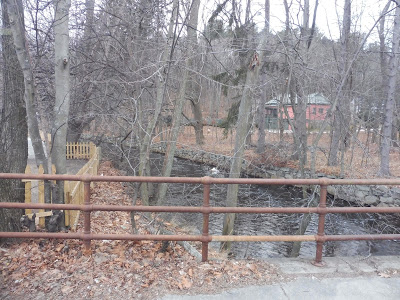 A little river.
It got woodsy past there, with spaced-out suburban housing. We passed some residential developments, then suburban businesses, including a huge shopping plaza – surprisingly, we didn't deviate, despite the fact that the parking lot rendered it pretty far from the road. Beyond that point, we merged onto the smaller Railroad Street, taking us below North Main.
A church.
As the street name suggests, it came right up next to the Commuter Rail tracks and Andover Station. Next, we turned onto Essex Street for only enough time to cross the tracks, then School Street. This took us through a cemetery and past a church, then some rather large houses. After making a sharp turn onto Main Street, we passed some more houses before arriving at Andover Square. Amidst some rather charming businesses, Jordan and I got off the bus and started walking towards the Commuter Rail.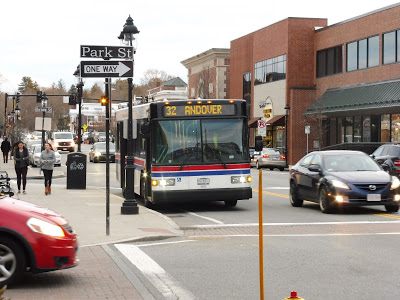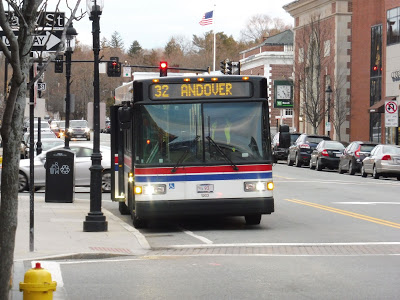 Zoomed out or zoomed in? Take your pick!
MVRTA Route: 32 (Andover)
Ridership: The ridership for the 32 is below average for the MVRTA's Lawrence routes, with 108,986 riders in 2015 – that's about 300 per day. My Saturday trip had pretty low ridership, and interestingly, no one went to Andover; the bus was empty past South Lawrence.
Pros: The route serves a good amount along Broadway and Main Street, and the South Lawrence section definitely needs it (Andover doesn't seem to use it as much, but it's good to have). With the classic MVRTA schedule – every half hour during rush periods and every hour middays and weekends – the route has a decent schedule, too.
Cons: I'm not sure what it's like on other trips, but based on my experience, the Andover section seems to be less used. If the MVRTA wasn't a pulse system, I might suggest short-turning some trips, but the pulse would make that a waste of time.
Nearby and Noteworthy: From my brief exposure to Andover Square, I have to say that it seems like a great downtown. It's not that big, but what's there is some nice businesses in really charming buildings.
Final Verdict: 8/10
Hooray! I think the MVRTA is honestly a decent system, but I seem to have ended up on some of its lesser routes this trip. But I really liked the 32! Sure, the bus may have been empty in Andover, but it could have been that particular trip – short-turning buses would be stupid with the pulse system, anyway. Until next time, MVRTA!
Latest MBTA News: Service Updates