Why just take the 83 back from Salisbury Beach when I could do a different route back? Say, a route that does a bunch of deviations and takes three times as long? Looks like the 54 is right up my alley!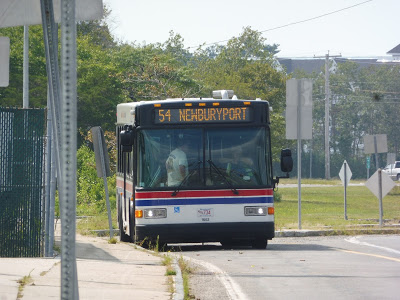 What an odd-looking background.
Because it was summer, the start point at Salisbury Beach got a good amount of people, but the route actually serves it all year! I wonder how many people would take it up there now. Anyway, we looped around onto Beach Road and took it through a marsh, then past houses, businesses, and motels.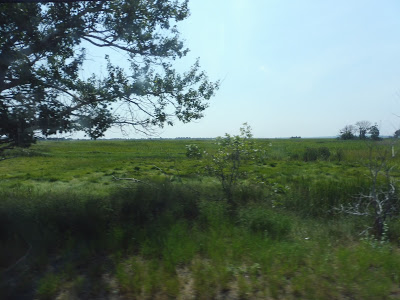 The marsh.
An old cemetery was the indication that we were about to enter Salisbury Center, a collection of random businesses with parking lots sort of centered around a common. It wasn't very exciting. We made our way around the common via Elm and School Streets, then we turned onto Bridge Street. It was a mix of industrial buildings, suburban businesses, and marshland, and we sped past it all.
Some businesses.
Eventually we headed over the street's namesake: a bridge over the Merrimack River with an awesome view. This took us into Newburyport, where we exited the road onto Winter Street. We stayed on that up until High Street, and that took us past a lovely common and a variety of charming historical houses.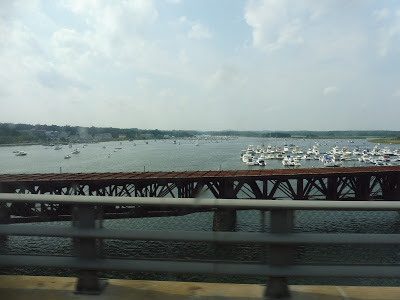 Nice!
The common ended but the houses kept on coming, lined up densely along the road. They continued as we turned onto Bromfield Street, as well as when we headed onto Water Street. Unfortunately its name was incorrect, as we did not go by the water!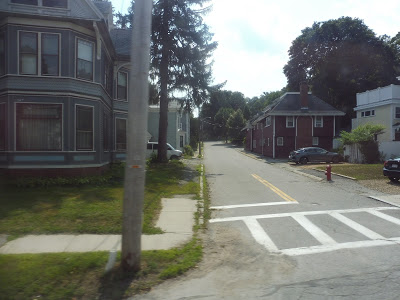 Some houses.
The street made its way into downtown Newburyport, and all of a sudden there were charming brick buildings with businesses everywhere. They were even more prevalent as we continued onto State Street, eventually making a stop outside of the Newburyport Public Library. That was about where the downtown ended, though, and it was mostly houses after that.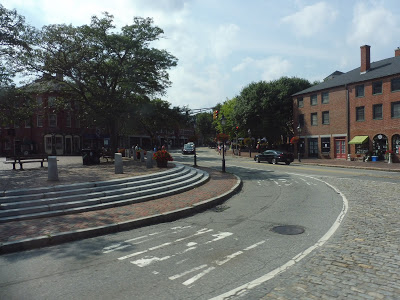 Coming through downtown!
We headed onto Pond Street, which went by that same park from before. Once it became Low Street, everything got a lot more barren, with wide spaces between the buildings. We had to deviate to one of them, an apartment building called Heritage House, then we immediately entered another deviation by going down Graf Road.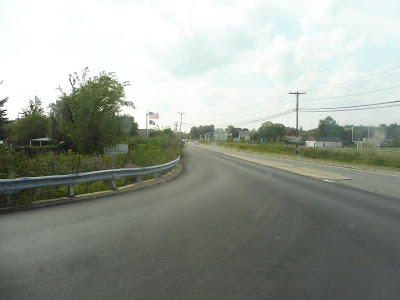 The weird wasteland around Heritage House.
It was industry, industry, industry down Graf Road, Parker Street, and Boston Way. With that, we reached this deviation's destination, Newburyport Station. Of course the route doesn't time with trains, so nobody got on and we headed straight back.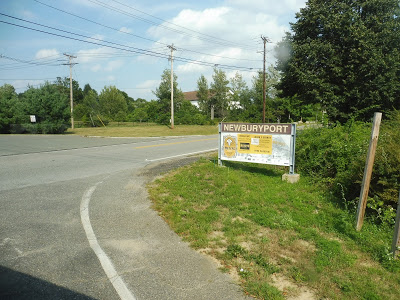 Exiting the station.
There were more industrial buildings as we returned to Low Street, but we also passed a school. Finally, we reached a point where suburban houses lined the road instead of industry, but we turned off it around there to serve Anna Jaques Hospital. This was a productive deviation, though, as it also allowed us to get up to High Street (with a few twists and turns).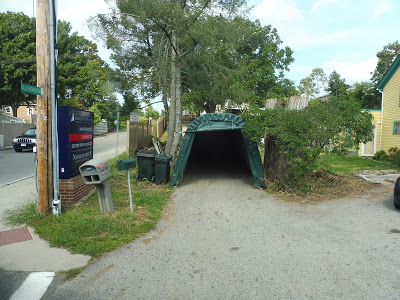 Well, this is just weird!
High Street was lined with fairly dense houses. We passed the Newburyport Senior Center, which supposedly has a deviation, but on the schedule no trips actually serve it. Thus, we sailed right past and merged onto Storey Ave – this took us to an actual deviation for Market Basket Plaza. And right after that, we did another deviation, this time into Port Plaza!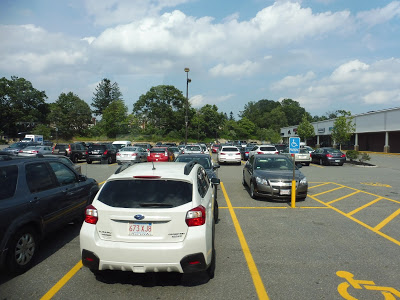 Cars, cars, cars.
We came back onto Storey Ave, which was lined with suburban businesses with parking lots. It didn't last long, though, because we got onto an on-ramp for…I-95? Wow, I wasn't expecting the route to have an express section! We sailed through the woods on the highway before making another crossing of the Merrimack River on John Greenleaf Whittier Bridge (I told you this region was obsessed with him).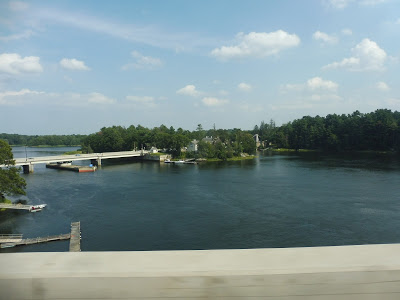 Wow, that's awesome.
Taking the first exit on the other side of the bridge in Amesbury, we celebrated the end of the express bit with…a deviation to Stop & Shop. Hooray. From there, we went up the residential Elm Street, whose houses got denser the further we went along. We were about to enter Amesbury Center, but before we could enter it, we pulled into the Nicholas Costello Transportation Center.
MVRTA Route: 54 (Amesbury – Newburyport – Salisbury)
Ridership: For a relatively new route (it was established in 2011), it's amazing that the 54 has risen up to be the second-busiest MVRTA route based in Haverhill. With 83,123 riders over the course of 2015, that averages out to about 228 people per day – presumably more on weekdays than weekends.
Pros: This is the one bus route for Newburyport and Salisbury, so it serves a very important purpose. The route even connects up to Haverhill – it interlines with the 51, and many riders just stay on for that route. It may make a lot of deviations within Newburyport, but most of them are used. Most of them.
Cons: This route definitely doesn't need the Commuter Rail deviation unless the trip happens to time with a train. It's one of the longest deviations on the trip, too, eating up about 5-6 minutes! Also, the 54 is plagued with unfortunate 70 minute headways. Not only is that infrequent for the ridership (especially compared to the rest of the Haverhill routes), but it's not clockface so it requires people to look at the schedule for each trip.
Nearby and Noteworthy: Since the 83 doesn't run in June, this is still a way to at least get to Salisbury Beach. Sure, it takes a heck of a lot longer, but the route runs all day, so there's greater flexibility. Also, downtown Newburyport is fantastic, but it's easiest to walk there from the Commuter Rail.
Final Verdict: 6/10
The 54 is a very useful connection for some dense and well-populated towns, connecting them as far as Haverhill with a one-seat, one-fare ride. Its biggest issue is that schedule – it's basically uncontrollable because of the route's length, though, and there aren't enough deviations to cut out to shorten it. That being said, the Commuter Rail one could totally be cut unless it times with a train, thank you very much.