It's a little odd to call something a "Transportation Center" when it only serves three routes, one of which has four trips per day only in the summer. This is a legitimate place, though, and it's not to be underestimated. This review took place over the course of about two minutes while my 54/51 was laying over, so it'll be a quickie.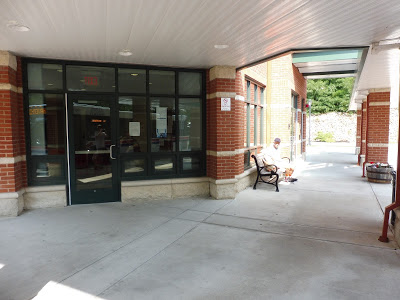 The outdoor area.
The Costello Transportation Center is in the same building as the Amesbury Senior Center, and that's definitely apparent from the outside. It's pretty bare, featuring only a sheltered area around the building with a bench and some potted plants. There's a woodsy path on the other side of the busway, too.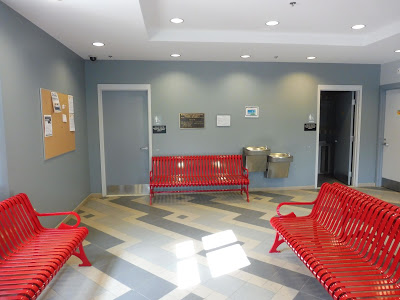 Heyyyyyy, this isn't bad!
I gotta be honest, I wasn't expecting much when I stepped in there, but I was very pleasantly surprised. This is a legitimate transit center, with features like waiting benches, water fountains, and bathrooms. I didn't get to go into the bathroom because my driver was using it, but based on the overall quality of the transit center, I'm sure it was clean. There's even a ticket booth, although it was unstaffed when I was here, and I can't imagine it ever being staffed.
The ticket booth.
MVRTA Station: Costello Transportation Center
Ridership: It seems pretty low. I don't have any actual numbers, but this doesn't seem to be a very busy stop. I mean, the place was empty when I was in here, but three or four people had been waiting for the 51, so there's that.
Pros: It has everything you would want in a transit center! There are benches, bathrooms, and water fountains, and it's all very clean. Most of Amesbury Center is a "no-stop zone," making this the primary Amesbury boarding point, even if it is a little out of the way.
Cons: Well, first of all, I can't see that ticket booth being occupied…ever. Secondly, this place seems to have John W. Olver syndrome – it's overkill for the ridership it gets. Now, I could be wrong, and it might be busier at other times, but this definitely doesn't feel necessary based on the amount of people I saw.
Nearby and Noteworthy: I've said already that Amesbury Center is awesome, and this is more or less the stop for it!
Final Verdict: 8/10
This place definitely has some quirks, such as the fact that it's essentially only serving two bus routes that more or less feel like one, or the fact that it seems to be empty a lot of the time, but there's no denying it's a good transit center. And actually, the emptiness is a little more excusable here, since it's part of the senior center – at least the building is still getting usage somewhere else.
Latest MBTA News: Service Updates