Well, here we are. The last PVTA route. This took way longer than I thought it would, but we've finished the second-busiest RTA in Massachusetts. Our final route is quite possibly the most scenic one on the whole system: the 39, the one Amherst route that doesn't serve UMass.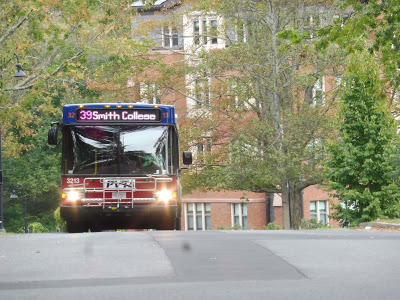 The bus ascending a hill at Mount Holyoke College.
But this is no ordinary 39 review: no, we're going to be looking at the 39's express service. Four trips per weekday run "express" service from Mount Holyoke College to Smith College, and it's a completely different route from the normal "local" service, which we'll be looking at later on. For now, let's start at Mount Holyoke on an express trip!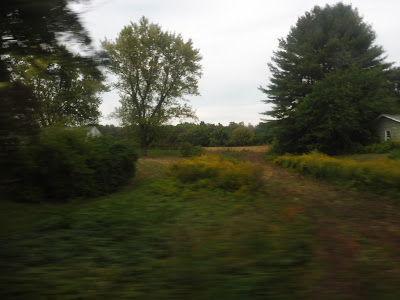 Some foliage and fields.
We headed out of Mount Holyoke and went up College Street for a bit, running through the tiny downtown of South Hadley. We turned onto Hadley Street next, and it quickly turned to houses, which quickly turned to farmland, which quickly turned to woods. We crossed over a small river, and soon after, we were seeing a mixture of houses and farmland.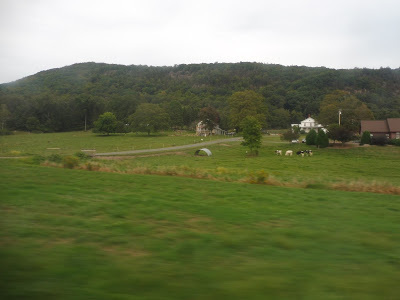 This is AMAZING!
Soon we curved north and entered Hadley, where the street became Hockanum Road. This is where the views got incredible: there was farmland on both sides, with one end running flat towards the Connecticut River and the other side rising up towards mountains. I was sitting on the mountain side, and the views were some of the best I had ever seen on a bus.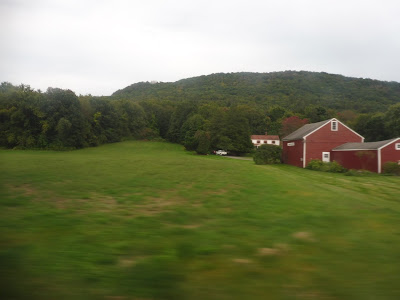 Another one!
We came pretty close to the Connecticut River, but there was a layer of trees blocking the view. We curved away from it pretty quickly, running through woodsy hills before the street turned into Lawrence Plain Road and emptied out into flat fields. We eventually joined up with Bay Road and went over the tiny Fort River.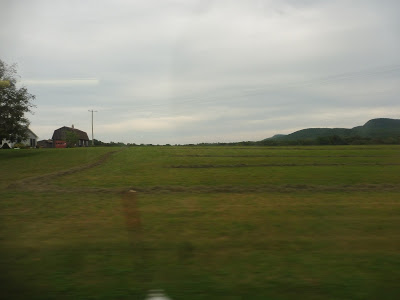 Those mountains still look awesome.
Bay Road was now a mixture of houses and farmland, but once we joined up with Russell Street and the B43, we got a taste of some of the horrible suburban businesses that plague that route. It didn't last for too long, though, as we soon went over the Connecticut River into Northampton.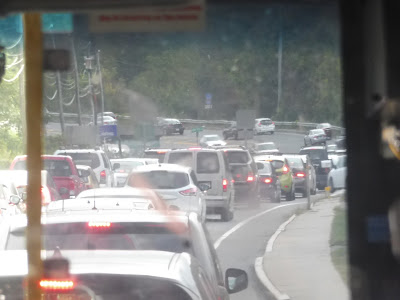 Oh…well, we'll go over the bridge once we get through all this traffic.
We went under I-91, then it was mostly dense houses, aside from the Sheldon Field Park-and-Ride. We passed a cemetery and soon the road curved, taking us past a post office and under the Amtrak tracks. After going through lovely downtown Northampton and all of its charming and wonderful businesses, we turned onto Elm Street and travelled for just a bit more before arriving at Smith College.
The 39 with an articulated B43 bus in the background.
Sam and I waited at Smith about 25 minutes to get the local trip back, which would take us to Hampshire College. Once the bus showed up, we went the same route as the express for a while, going back into Hadley over the bridge and merging onto Bay Road. However, whereas the express heads onto Lawrence Plain Road after the Fort River crossing, the local trips stay on Bay.
So much corn…this is like a mountainous Kansas.
The scenery along Bay Road was awesome, too – it was more farmland and houses, with some great mountain views in the background. The bus window was open and some absolutely wonderful smells were wafting in. Manure, anyone? It was also a really quick trip, and we pulled into the Hampshire College campus in no time. We meandered through it for a bit before ending at the main building where the other Hampshire College buses loop around.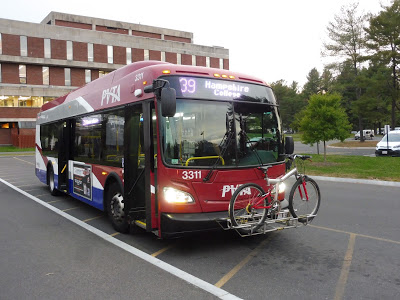 The bus at Hampshire.
PVTA Route: 39 (Smith/Hampshire/Mount Holyoke)
Ridership: The 39's ridership is quite low, getting only about 8 passengers per trip. I'll bet that's averaged out, too – there are probably certain trips that get lots of people and certain trips that are practically empty. Both of my rides were quiet, especially the express trip, which only had three other people on board.
Pros: This is a very very important route, despite the low ridership. It's crucial for connecting up important colleges without forcing people to transfer at UMass, allowing for a direct trip from Smith to Hampshire Colleges. Oh, and the views are incredible.
Cons: I'm not completely convinced this route needs to run all the time. I mean, every half hour on weekdays is probably okay, but does it really need to run on weekends with its anemic 90-minute headways? Correct me if I'm wrong (and I don't have access to data to back me up with this), but it seems to me that weekend service isn't all that necessary. Something that I can complain about definitively, though, is the coordination with the 38. Going towards Mount Holyoke College, the 39 offers a perfectly-timed transfer with the 38 at Hampshire. Heading the other way, though, the 38 arrives five minutes after the 39, meaning Mount Holyoke students can't get to Smith.
Nearby and Noteworthy: Who cares about the colleges? The ride itself is incredible!
Final Verdict: 6/10
The 39 is a very important route to the Five-College Consortium, but it could be run a lot more efficiently. The bad timing with the 38 means that it can only connect with Mount Holyoke College in one direction, and this could easily be fixed by shifting the 39 five minutes ahead. As for the weekend service, maybe the route does get well-used, but the idea of a bus that runs every 90 minutes getting well-used is hard to believe.
Latest MBTA News: Service Updates
Well, I've had an awesome time reviewing the PVTA. This has been a great and unique system, and I had a blast riding all of it. I'm still in the midst of the school musical and I've yet to have time to sit down and start Downtown Crossing, but I promise it will eventually come.