The B43 is one of the backbones of UMass transit…even though it's not actually run by UMass Transit. Providing a crucial connection between Northampton and UMass (plus Smith and Amherst Colleges), this route can get absolutely packed during the school year. During the summer, unfortunately, I'm stuck with the reduced schedule, but the route still gets its fair share of riders.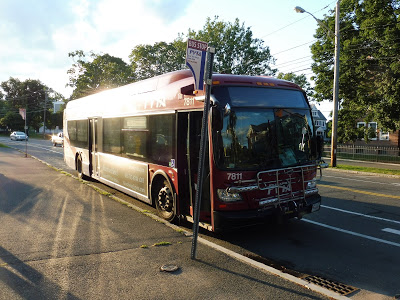 The bus laying over at Smith College.
Most Northampton routes start at the Academy of Music, but the B43 goes just a bit further to Smith College. This does twofold: it provides direct service from Smith to UMass and Amherst College; plus, it means the bus doesn't have to loop around Northampton via Salvo House, which a lot of routes do. After leaving Smith, it was a short ride to downtown Northampton.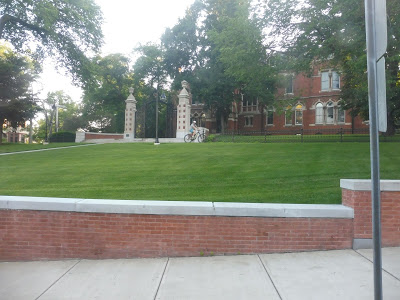 A Smith College building.
We picked people up at the Academy of Music, then proceeded past the many businesses of Northampton. After going under the Amtrak tracks, Main Street became Bridge Street and we passed the Northampton Post Office. There were houses beyond there, as well as a cemetery.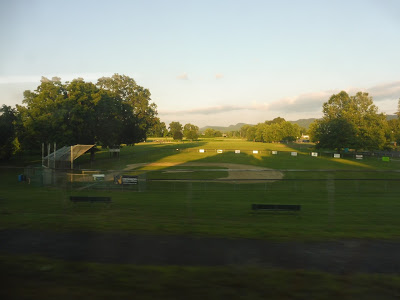 Sheldon Field.
Next up was the Sheldon Field Park and Ride, a small free lot where people can park their cars and take the bus to UMass. It continued to be mostly residential past there, then we went under I-91. After that, we went onto a beautiful bridge over the Connecticut River with an incredible view.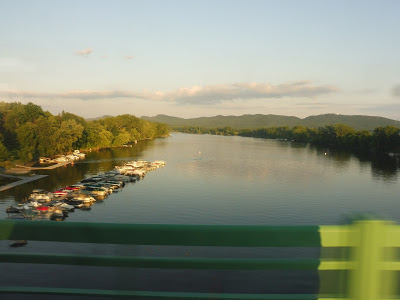 Gosh, I love this river…
We were in Hadley now, and the street was called Russell Street. It was wide, and it went by a multitude of suburban businesses with parking lots…and also farmland. It was a strange mix. We passed West Street, which had a gigantic median, then we entered "Hadley Center," for what it's worth. It was mostly just more generic businesses…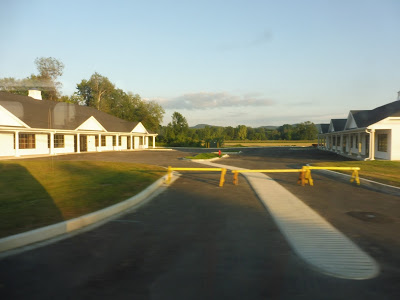 Some sort of developing shopping center?
Gosh, there isn't much else to say about the Hadley section of the route. We went over a rail trail, and the businesses with parking lots just kept on coming. Eventually, we turned off Russell Street in order to serve a Walmart. We continued across Maple Street and made our way around a side lot for the Hampshire Mall, arriving at the shelter.
In the midst of serving Walmart.
It was at this point that I encountered the PVTA's main quirk for the first time: buses are always early. We had arrived at the stop seven minutes ahead of schedule, so we just had to wait for a while before being able to go again. When we could finally leave, we returned to Russell Street and continued past basically the same scenery we had been seeing for a while.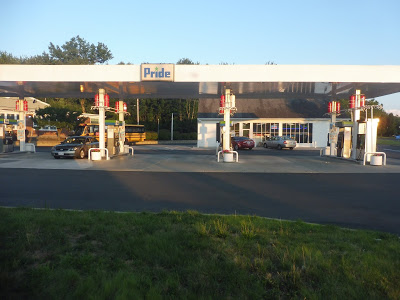 A gas station.
As we entered Amherst, the street became Northampton Road. Next, we turned onto University Drive, going by more businesses, a few clinics, and a post office. Eventually, it became pretty woodsy, but that didn't last long as we entered the UMass campus.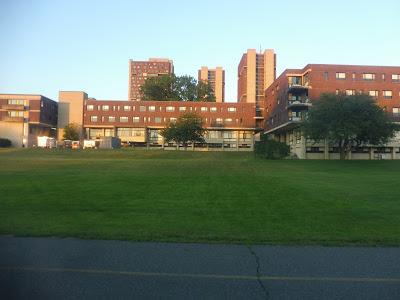 Some UMass buildings.
We turned onto Massachusetts Ave, which gained a huge median, heading right through campus. We made our way into Haigis Mall, the B43's main bus stop for UMass. After stopping there, we returned to Mass Ave, which curved south to become North Pleasant Street.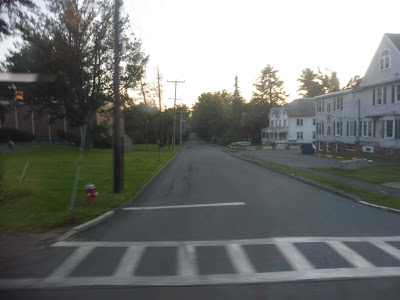 A side street.
There were a few straggling campus buildings, then we made our way around a park and entered Amherst Center. There were businesses everywhere, and they only got denser as we continued south. We continued south of the center, then looped around Amherst Common and arrived at Amherst College, the B43's final stop.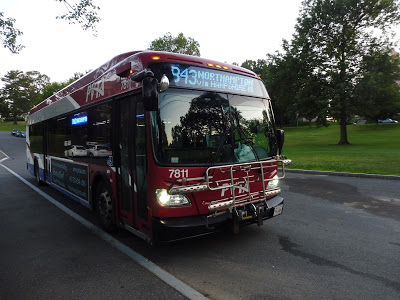 The bus in Amherst.
PVTA Route: B43 (Northampton/Hadley/Amherst)
Ridership: I was actually surprised by how low the ridership of this route is. That's not to say it's bad – 2,226 riders per day is nothing to sneeze at – but based on the crowding this route experiences, I would've thought it would've been higher.


Pros: This is a crucial route connecting three of the five colleges, plus Northampton. In particular, a lot of people use this to get from Northampton to UMass, to the extent that the route uses 60-foot articulated buses during the school year. It has a good schedule, too, running every 20 minutes on weekdays, every half hour on Saturdays, and every hour on Sundays. The "reduced" schedule for vacation periods reduces all those frequencies to hourly, and although it's inconvenient for me, it does make sense based on the lower summer ridership.
Cons: When we had to wait about six minutes at the Hampshire Mall, it seemed like a ridiculous awful calamity. I've been on a lot of PVTA routes since then, and honestly, the B43's wait isn't that bad. Sure, the padding really should be at the end of the route, but it's not terrible in this case. I will say that the crowding for the route can apparently be insane during the school year, and the fact that it boards front-door-only doesn't help that.
Nearby and Noteworthy: This is the easiest way of getting to both the Hampshire Mall and Northampton from UMass. I can't say I like the mall, but Northampton is great!
Final Verdict: 8/10
The B43 is essential to the colleges it serves, but that does result in it getting a lot of passengers. It would be a lot better for boarding if the route used an honor system like the rest of the UMass routes – Five College students and staff are already subsidized to ride for free, and they probably make up most of the ridership, anyway. Still, this is a fast, frequent, important route, and it generally does a good job of fulfilling its functions.
Latest MBTA News: Service Updates