We go from Park Street, one of the busiest and most iconic stations on the entire MBTA, to the PVTA Palmer Village Bus, a stupid minibus route with half a million deviations? Sigh…alright, then…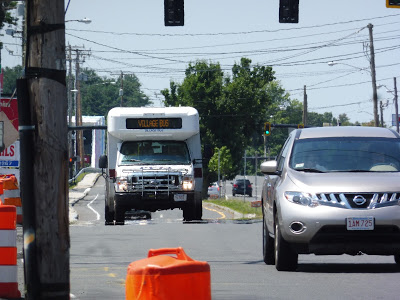 NO!
Having gotten off our R27 just before the Eastfield Mall (the starting point of the PV), we were waiting on the side of the road, desperately hoping this oncoming minibus would stop for the two teenagers waving like ducks. Thankfully the bus did stop, and we were off down Boston Road. It was basically just a lot of suburban businesses that eventually devolved into industrial buildings.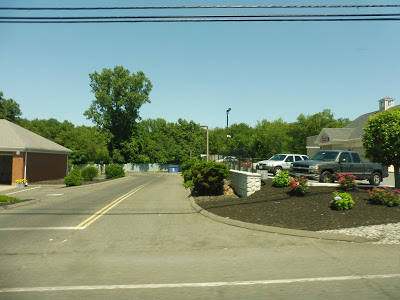 An exemplar for the neighborhood.
We went past two ponds, then outside of the Wilbraham Police and Fire Departments, the R27 left us, and we were on our own. There were a few businesses, then we went through a stretch with woods on one side and the Chicopee River on the other side. After that, there were some houses along the road, then we briefly entered the town of Monson (never heard of it).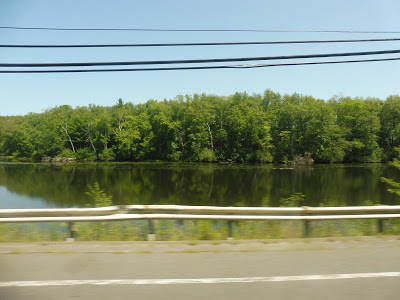 The Chicopee River.
There were some industrial buildings as we entered Palmer. We also passed a gritty K-Mart, and luckily, we didn't have to deviate to it. However, this merciful period of relative speed and directness would soon be over. We went over the Chicopee River, passed a big old factory, and merged onto North Main Street.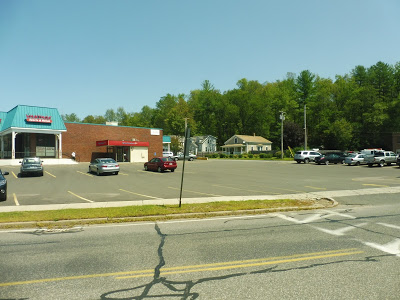 Some scenery along Main Street.
There was a mixture of businesses with parking lots and dense houses along here. Eventually, we came into Palmer Center, and it was a miserable scene. There were some dense retail buildings, but they were in terrible condition and either occupied by sketchy businesses or just completely empty. Outside of an abandoned gas station, we turned onto Thorndike Street.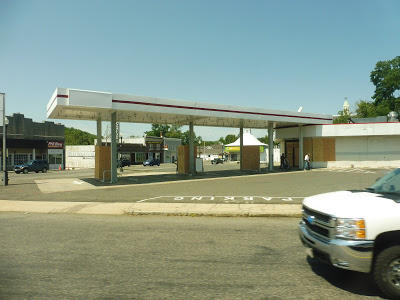 Palmer Center, everyone!
There were a few more businesses and dense houses, but after a cemetery, things got a lot more spread out. We passed some houses for a bit, then a gas station and an interchange with I-90. After a brief woodsy section, we arrived at our first deviation: the Palmer Big Y.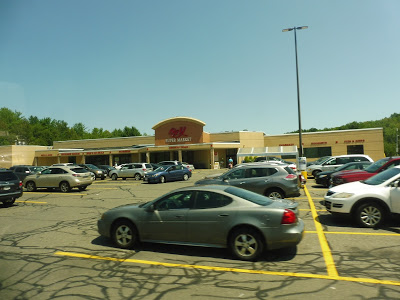 Entering the parking lot.
Now, for some reason, the 12:00 trip from the Eastfield Mall changes the route order. This doesn't sound like a big deal, but oh, it is: on the 12:00 trip, the entire JOURNEY from Palmer Center to the Big Y is a deviation. So we literally had to go all the way back down Thorndike Street to Palmer Center!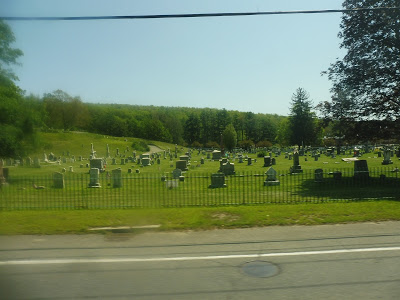 Oh look, it's that graveyard we passed ten minutes ago going the other way!
Before getting to the center proper, though, we turned onto Park Street (no, not that Park Street – if only), which went along the side of a small shopping plaza. Outside of a church and a post office, we turned onto Central Street, taking us back to the decrepit businesses of Palmer Center. We also made the ubiquitous stop at the Palmer Senior Center, because of course the route serves the senior center.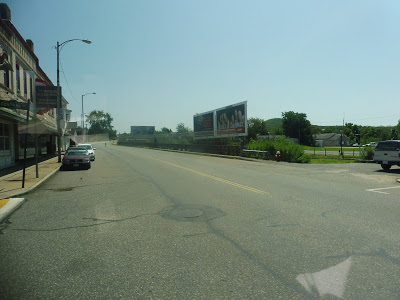 Back here again…
We headed down North Main Street again, going back the way we had come toward our starting point. However, rather than return to civilization, we stayed on Main Street this time, which was lined with suburban houses. We didn't stay on here for long, though, because it was time for a cavalcade of deviations!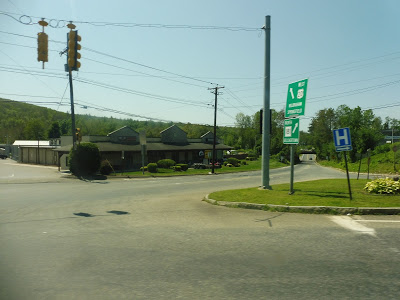 That's the way towards civilization…
We turned onto Wright Street, then the hilly, woodsy Beacon Drive. This led to the Palmer Green Estates, a housing development, and we looped around there and came back down the hill. After that, we turned again onto Wright Street and looped around the front entrance of the Baystate Wing Hospital.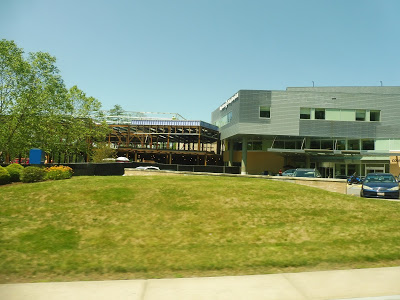 The hospital.
Could we now return to North Main Street? Nope! We had to do one more deviation via Fairview and Fletcher Streets, ostensibly to serve "Laurel Manor," even though that development is easily accessible from North Main. Regardless, we were finally able to turn onto that street, and after going under I-90, we entered the forest.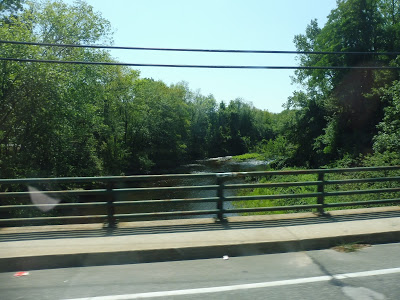 Crossing a river.
We turned onto Palmer Road, going over the Quaboag River and past a mobile home park. The road crossed over a train track next, then we were running alongside it with practically identical houses on the other side. Eventually, we arrived at a place called Three Rivers, a "town center" of sorts featuring a gas station, an old factory, and a post office.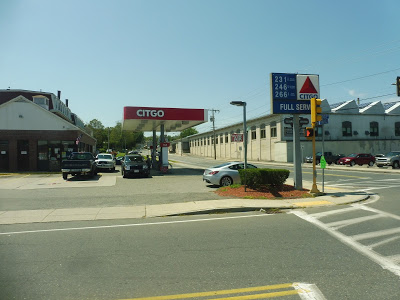 Not much here.
Once we turned onto Main Street and crossed the Quaboag River again, there was a little more town center-y stuff. For a stretch, the street was lined with retail buildings, but like Palmer Center, they were merely shells; many were abandoned. There were dense houses for the most part after that, but we also passed a church and a cemetery.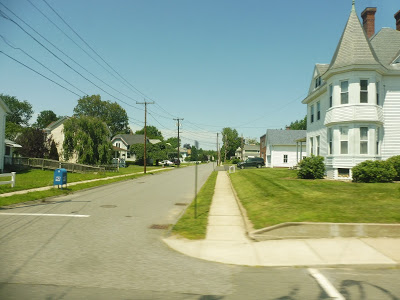 A side street.
We were supposed to make a deviation to "Kirkwood Place," but at least on my trip, we didn't and just turned right onto Sykes Street. We passed some Palmer municipal buildings, then there was a section of forests and fields. After going under some telephone wires, houses showed up along the road, which eventually became Palmer Street.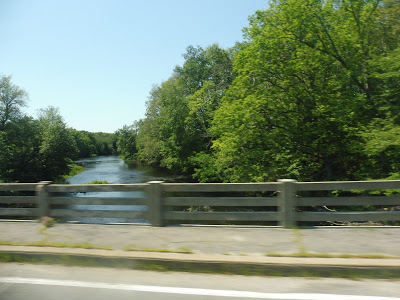 Going over the Ware River.
Next, it became South Main Street, and we passed through a mostly residential neighborhood (aside from two retail buildings and a pond). We turned onto River Street, crossing the Swift River and entering Belchertown, then we headed onto Keyes Street. Outside of a convenience store, we turned onto Depot Street, reentering Palmer after another Swift River crossing.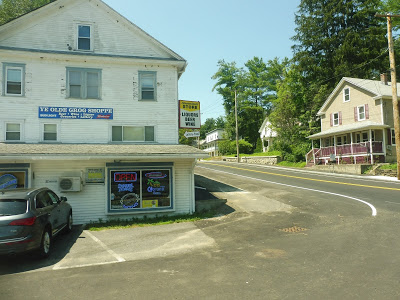 "YE OLDE GROG SHOPPE"
There was a playground on the corner as we turned onto Main Street, paralleling the river for a bit. And now, with that long deviation having been completed, we retraced our steps for a while before merging onto Thorndike Road. As it became Pleasant Street, this was the first time in quite a while that we were getting some decent speed and actually going somewhere – not just doing a deviation.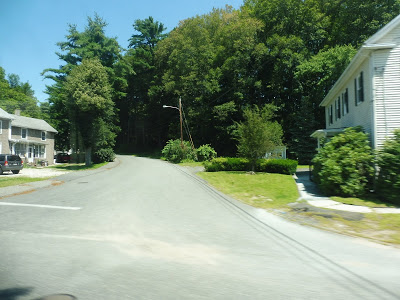 A hilly side street.
The curvy road became Church Street as we entered the Thorndike neighborhood. There were dense houses, a playground, a church, and a post office here. It continued to be residential for a while until we reached an old factory and crossed over a canal, then the Ware River.
The old Palmer Amtrak station!
The road now became High Street, lined with houses and later, a cemetery. Next, we turned onto Ware Street, a lovely straight section of road lined with houses where we could just speed past everything. It became woods eventually, and it was honestly quite scenic! It basically alternated between houses and forest, even once we entered Ware and the street became Palmer Road. We went over one last river (this route has a lot of river crossings), and finally, after 75 minutes of endless looping, we pulled into the Ware Walmart. Thank goodness!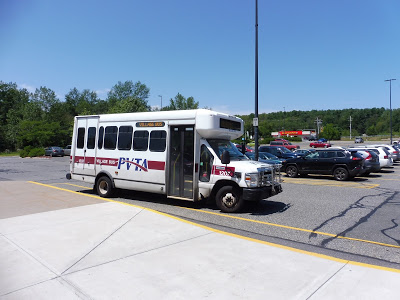 Get outta here!!
PVTA Route: PV (Palmer Village)
Ridership: I can't find any cold hard numbers regarding the PV's ridership, and unfortunately, my ride was so long ago that I can't remember the exact number of people who rode. I think it was around seven, with different people getting on and off locally in different places. That's not bad for a minibus route, honestly.
Pros: 1. It serves Palmer. 2. It gets decent ridership for a route of its ilk. 3. The end!
Cons: I could talk about the horrendously deviatory route that loops all over itself and takes a grotesquely longer amount of time than just driving, but it should be clear from the review that the route is like this. No, instead, let's talk about the schedule, because it makes no sense. The first trip actually starts in Belchertown Center at around 7 AM (maybe the garage is there?), then the route operates about every hour and a half until 12:30 or so. Fine. After that, though, there's a four hour gap until 4:30! From that point, the route runs until 9 PM. Yeah, I'll say it again: THIS SCHEDULE IS NONSENSICAL.
Nearby and Noteworthy: As part of our expedition out here, Sam and I had to wait multiple hours in Palmer Center. We were hoping the Steaming Tender would offer some entertainment…but it's closed on Mondays. Sigh…
Final Verdict: 3/10
It's a pain to get anywhere using this route. It's so crazy and all over the place that a simple jaunt down the street could take an hour because of all the loops and deviations. Also, what kind of minibus route runs only in the morning and the late evening? I feel like the afternoon would be one of the busiest times of ridership for shoppers! Still, at least it can pick up those Palmer partiers at 9 PM. Woo-hoo!!!!
Latest MBTA News: Service Updates