As I continue to work on my big review that I know all of you will like quite a lot, let's take a look at a defunct PVTA route! The R27 was eliminated pretty soon after I left Amherst, so I'm glad I got the opportunity to ride it – and it was hard to find even when it existed! Having been on this elusive bus, I can safely say that…yeah, good thing the PVTA cut this thing.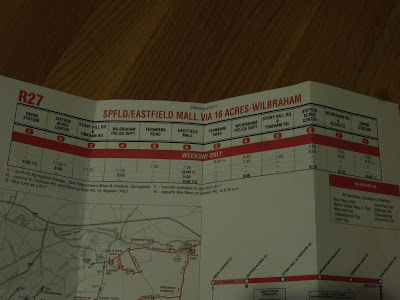 This schedule is Exhibit A!
Oh boy, it's one of these schedules, huh? More dashed lines than actual timepoints? Every single trip has some sort of letter attached to it that makes it different from all the others? Cooooool. I'd also like to point out that only three of the five trips actually operated as R27s; the two evening ones were deviated B17s.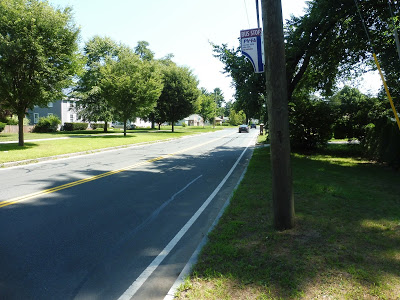 Well, here's the stop…or something…
Sam and I took a B17 to Sixteen Acres Center, and we had half an hour to wait for the R27 (despite the fact that the schedule promised a "transfer to and from the B17"). We literally spent almost all of that time poring through the horrible PVTrack app looking for the right R27 stop – there were so many of them, and they were in seemingly no order at all! We were paranoid about missing the bus (or worse, the bus not coming at all), so we settled for the stop after Sixteen Acres Center, which was pretty desolate.
IT EXISTS!!!!!!
We were already past the suburban businesses of Sixteen Acres Center at this second stop – by this point, it was all residential. We headed down Wilbraham Road past lots of houses; eventually we entered Wilbraham, and the name changed to Springfield Street. It already started to feel more rural, with more trees and larger spaces between houses.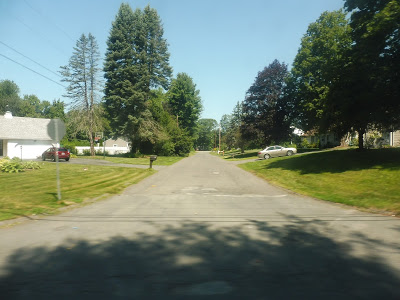 A pleasant side street.
For some reason, the R27 was planned in the most complicated way possible. It had two deviations along the route that certain trips served, and my trip was doing one of them. Thus, we turned onto Stony Hill Road, which was more houses, then it ran straight through a golf course. We turned onto Tinkham Road next, passing more sparse houses.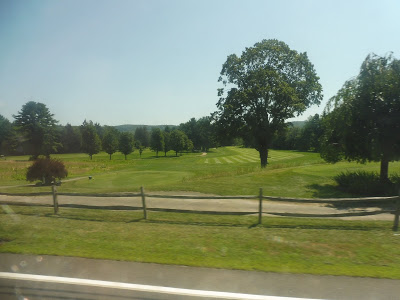 Fore!
We went by the entrance to the Minnechaug High School, then a cemetery, and next, we turned onto Main Street. There was farmland for a bit, then it went back to being residential once more. Eventually, at the intersection with Springfield Street, we reached Wilbraham Center! It was basically a few businesses and a small common…and Main Street dissolved into woods a few seconds after passing through the downtown.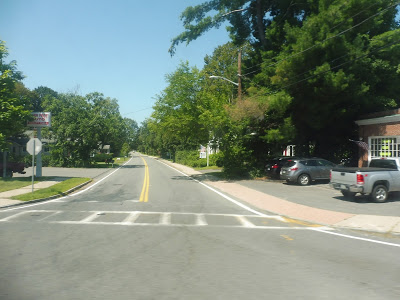 Welcome to Wilbraham Center! YAY!!!!!
Houses came back pretty soon, and they were the only thing along here for a while. Eventually we went by a church, and soon after, we turned onto Boston Road. This was completely different from before: now there were auto shops, suburban businesses with parking lots, and…a few ponds!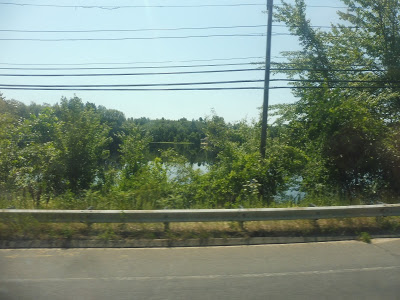 This is me trying to get a picture of one of them…
The suburban sprawl continued for basically our entire run on Boston Road. Now, Sam and I were trying to catch the Palmer Village Shuttle from the Eastfield Mall, where this route terminates. Somehow, though, our bus was late (a rarity for PVTA!) and we had to get off just before the mall in order to catch the PV on its way out. Still, there isn't much to the end of the R27 – all it does is deviate into the mall, and that's the end of the route.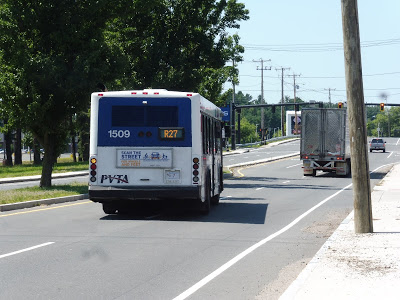 This could very well be the last picture ever taken of an in-service R27!
PVTA Route: R27 (Springfield/Eastfield Mall via 16 Acres-Wilbraham)
Ridership: My ride featured a grand total of one other person! Cool! According to the PVTA, this route got 11 riders per revenue hour, which seems like a lot. I mean, maybe the rush hour trips got busier, but my midday trip was empty.
Pros: The PVTA must have some political obligation to serve Wilbraham, because there can't be any other reason why fixed-route buses are running through such a low-density area. In that sense, I guess this route provided that service?
Cons: The R27 was just a confusing mess – its schedule was completely nonsensical! Also, the ridership was really low, and the route was just way too complicated for its own good, with too many deviations and service variants. The stops were organized really badly on the app, too, and the route itself was insanely hard to find in real life!
Nearby and Noteworthy: Wilbraham Center is not a thriving hub of activity by any means, but…yeah, that's about all you've got on this route.
Final Verdict: 2/10
The only thing keeping this from a 1 is that if the numbers are to be believed, this route got at least a little ridership. Anyway, the way they replaced it was well-done: they just deviate three rush hour B17 trips per day to Wilbraham now. It doesn't affect that route's frequency, and B17 riders aren't impeded at all – the ride takes the same amount of time, with the added bonus of less padding on those trips. That means less waiting at random stops! Yay! This is much simpler and more convenient than what the R27 was like, so I'm really glad they integrated the two routes.
Latest MBTA News: Service Updates