Might as well crank this one out while we're on the topic of Harvard Shuttles. The big review that's coming will be really good, I promise!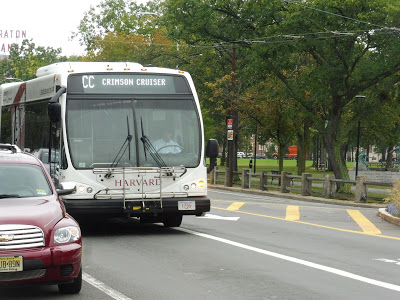 The bus alongside Cambridge Common…and a car that got in the way.
I got on at Garden Street along Cambridge Common, and we looped around the Harvard Bus Tunnel onto Mass Ave. After going by the Harvard Law School, we turned onto Everett Street, then Oxford Street, which took us past the Harvard Natural History Museum, among other buildings. Next, we turned onto Kirkland Street.
We pulled into the Memorial Hall deviation, and…oh, cool, we were early? Great, fun, let's wait around. Luckily, we were only stuck here for about a minute, and we were soon off to make our two-block jog because of one-way streets. Finally coming onto Quincy Street, we ran alongside Harvard Yard and dropped someone off at the Lamont Library.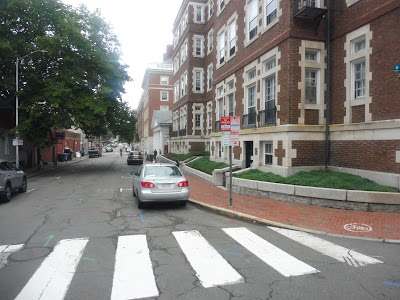 Somewhere on some side streets.
After the library, we cut our way down Bow Street, curving down onto DeWolfe Street. This took us down to Cowperthwaite Street, where we arrived at our Mather House stop…four minutes early. Sigh…alright, more waiting…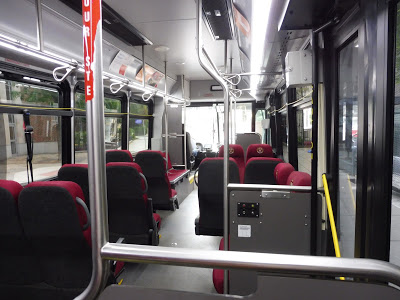 No one's on board. At least we have the nice poofy seats!
Finally, it was time to go, so we went up Banks Street, then looped around to Mass Ave. We ran on this all the way up to Harvard Yard, where we made the stop at Holyoke Gate, then continued around the yard past the Red Line station. After that, we looped around the bus tunnel again in order to get back onto Garden Street, which we took out of the square and back to the Quad…where the bus was early. Again.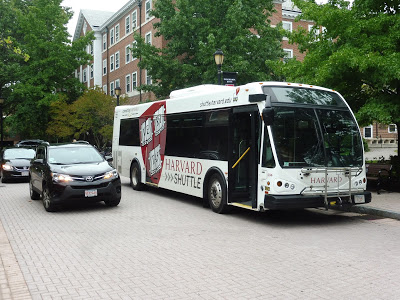 Aw man, the sign is off!
Harvard Shuttle Route: Crimson Cruiser (Quad – Mather House via Memorial Hall)
Ridership: Here's the lowdown for morning ridership: from the Quad to Harvard Square, the bus gets packed. Going around the Memorial Hall loop, you might see one or two people; ditto for Mather House. Then the bus loops empty back to the Quad and gets another huge load of people for the trip back down to Harvard. In the afternoon, I imagine the Quad traffic switches to the other direction, but I'm pretty sure the other ridership camps still stay light.
Pros: This route provides crucial weekend morning service around Harvard, which is clearly well-used by students. There's also service for a few trips weeknights, replacing the former River Houses B. After we establish the fact that this is an important route, though, it all goes downhill…
Cons: Firstly, this route has the same earliness and timing problem that the Extended Overnight has: it has mid-route layovers, and it runs with uneven 35-minute headways. Unlike that route, though, traffic is more variable during the day, and getting rid of layovers to increase frequency may not be the best idea just in case an unexpected jam occurs. Instead, a better solution to run more frequent service would be to cut one of the deviations – either Memorial Hall or Mather House. Neither one gets very high ridership, and getting rid of one would easily allow for half-hourly service. However, I'd also like to point out that the 1636'er, which runs weekend afternoons and replaces this route, gets two buses and runs every 20 minutes. Why does that route get more service? It's basically the same thing as this one (almost), except in the afternoon and evening! Clearly the Crimson Cruiser would benefit from more service – it can get really crowded to the Quad!
Nearby and Noteworthy: Well, you've got all of Harvard Square, I guess! Oh, except for Peabody House – this route unfortunately doesn't perform that "important," "useful" deviation.
Final Verdict: 5/10
The Crimson Cruiser's main function, at least based on ridership, is getting people between Harvard Square and the Quad. The other two deviations, as far as I'm concerned, are pretty unnecessary, although probably political – I doubt Harvard could eliminate them. Still, something has to be done about those crowds, and the solution might have to be an extra bus. After all, the 1636'er gets another one! Why can't the Crimson Cruiser have one too?
Latest MBTA News: Service Updates