While other UMass routes get insanely busy at peak periods, the 33 is always just kinda…there. During UMass's rush hour, packed 60-foot 30 and 31 buses truck students out to off-campus apartments, while the 33 just trundles through with a marginal amount of people on board. Funnily enough, my summer 33 did happen to get packed, but it was an anomaly.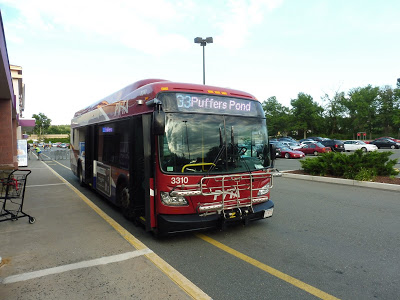 It feels weird to see a UMass bus at a Stop & Shop…
The route starts at this place called "Campus Plaza," but the schedule just calls it Stop & Shop. From there, we made our way onto Northampton Road, passing all of the suburban development horror that that road goes through. Next, we turned onto University Drive, and it was time for another deviation: Big Y.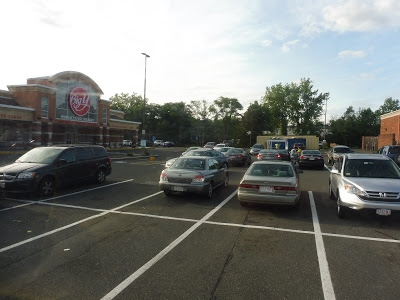 Not even UMass Transit can escape the tantalizing pull of Big Y…
The stop on this deviation was placed in such a way that we had to navigate a real maze of a parking lot to get out. There was a variety of buildings along University Drive, including businesses, offices, and an eye doctor. We turned onto Amity Street and picked up a ridiculous amount of people from another summer program at a small shopping center. It was standing room only!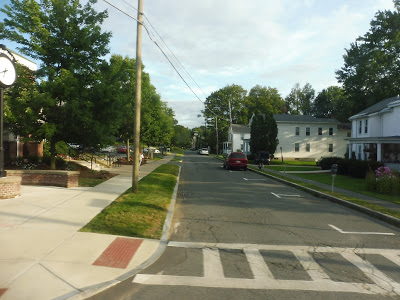 Houses on a side street.
The rest of Amity Street was residential, at least until we got to Amherst Center, where we turned onto Pleasant Street and passed lots of businesses. We headed around Kendrick Park and some satellite UMass buildings began to appear. Finally, we entered the campus itself, making the three university stops along the main drag and dropping off that huge group of summer students.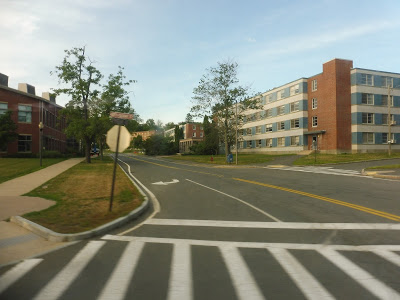 Some campus buildings.
On the other end of the campus, we hit a roundabout and headed right onto Eastman Lane. It went up a hill, going by various dorms, then there was a woodsy section for a bit. Outside of the Amherst fire and police stations, we turned onto East Pleasant Street, which was just lined with suburban houses.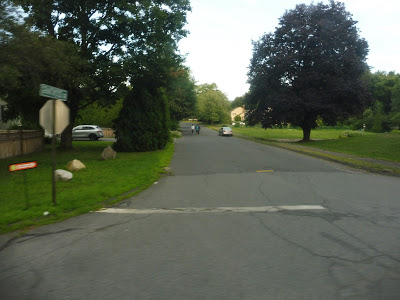 A quiet side street.
We went by a cemetery and a farm, then it was time for a strange deviation. We turned onto Pine Street and passed a common, a market, and a train track. Next, we turned onto Henry Street, arriving at the objective of the deviation: the Cushman Day School. It got no passengers, and we made our way back to Pine Street by means of Bridge Street. That was pointless…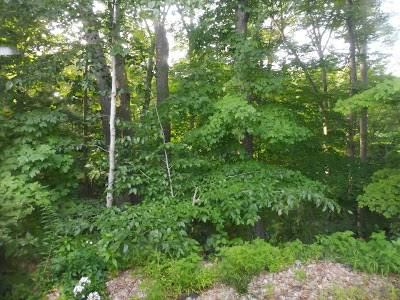 A surprisingly clear shot of some trees.
Pine Street was mostly houses, aside from a farm and an apartment development. Eventually, there was some retail in the form of a small shopping plaza when we turned onto Montague Road in Amherst Center. However, it quickly became houses again, and they continued as we travelled down Summer Street. This took us to our terminus, the Mill Hollow housing development, right next to Puffer's Pond.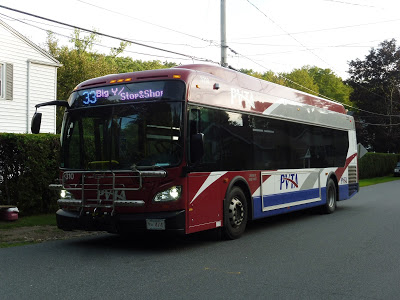 This is such a nice place to lay over!
However, this is a loopy route, and we still had more to go. We turned onto Mill Street, then Pulpit Hill Road, then Montague Road, and finally, Cowls Road. After the houses we had been seeing for a while, Cowls Road had more of an industrial edge to it. We turned onto Sunderland Road next, going by the Amherst Survival Center and coming back into North Amherst Center.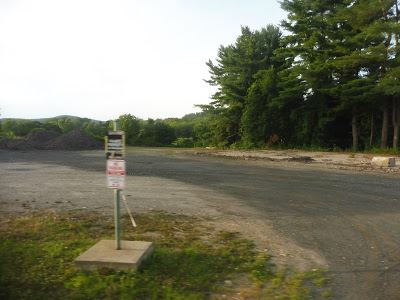 Well, this is a change…
Going back to UMass, the 33 takes the much more straightforward route down North Pleasant Street. It was mostly residential, but in the form of housing developments for UMass students. There were a few normal houses after those, but then it was back on campus, where Sam and I got off and let the bus make its way back to Stop & Shop.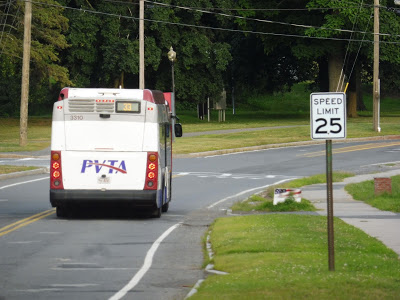 See ya!
PVTA Route: 33 (Puffer's Pond/Shopper Shuttle)
Ridership: The 33 has two distinct tiers of ridership: shoppers on the southern portion, and residents on the northern portion. While the route may not get a gigantic amount of daily ridership (about 754 people per day), it averages out to about 35 passengers per trip, which is great.
Pros: This is almost like UMass's "sweep route," serving the nooks and crannies around campus that other routes don't serve. The fact that it has two ridership classes fanning out from the main campus means that the bus has great ridership turnover within UMass. Still, it's not like that many people use it, and the schedule reflects that well: every 40 minutes on weekdays and every 80 minutes on weekends.
Cons: Some of the route's deviations are a little questionable. The Big Y one is a big pain going inbound, while the Day School one just seems pointless. The loopy nature of the route means that people getting on in one place may have to go for a long ride in order to get to where they're going.
Nearby and Noteworthy: In the summer, Puffer's Pond was a big swimming destination. Otherwise, you may have to suffice with Stop & Shop and Big Y…
Final Verdict: 6/10
The 33 is probably UMass's chillest all-day route. It doesn't get packed like the other ones – it just does its meandering little loops with generally marginal ridership. Yeah, some of the deviations are pointless, and the loops make it a little annoying to ride sometimes, but the 33 is just a nice, pleasant ride that serves a good amount.
Latest MBTA News: Service Updates