Wow, how lucky was I to make it onto the R14's one Saturday trip that deviates to the Heritage Nursing Home? Pretty darn awesome, I gotta say! Of course, there's lots more to the route than that once-a-Saturday deviation…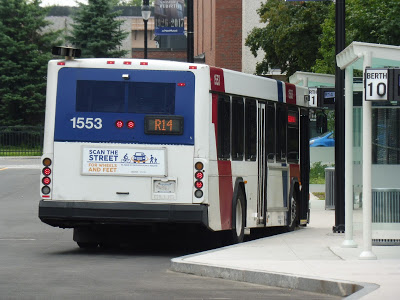 Boarding at Union Station.
We went under the Union Station train tracks on Dwight Street, then there were various offices, parking lots, and apartment buildings everywhere. We turned onto Harrison Ave next, and after a few tall buildings and a crossing of I-91, we went over Memorial Bridge into West Springfield. There was a roundabout, then we headed down Memorial Ave.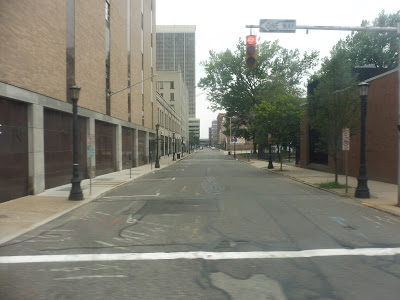 A quiet street in Springfield.
We didn't get too far before having to deviate, though. It was a pretty big plaza with an actual name, Century Center, but the schedule only calls it the "West Side Big Y." Memorial Ave started to get industrial once we came back from the deviation, including a giant freight yard. Eventually it became more retail-oriented, and we also passed the Big E, some sort of exposition center.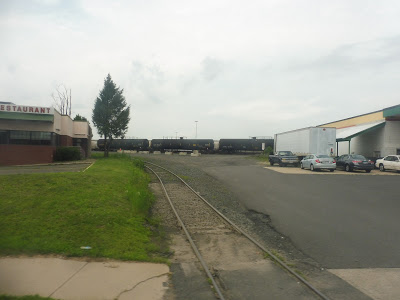 Trains!
Next, we went by a replica 18th century village (pretty cool) and crossed over the Westfield River. This led us into Agawam, and we turned onto Springfield Street alongside some shopping plazas. On Sundays, the route terminates here, but it has a lot further to go on weekdays and Saturdays. Onward!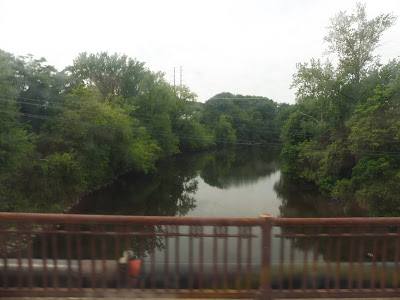 Going over the river.
We turned onto Walnut Street, running along the Westfield River with houses on the other side. The street curved around to become River Street, then we turned onto Bridge Street, going back south the way we came. This continued to be residential, but there were at least a few businesses when we turned onto Maple Street.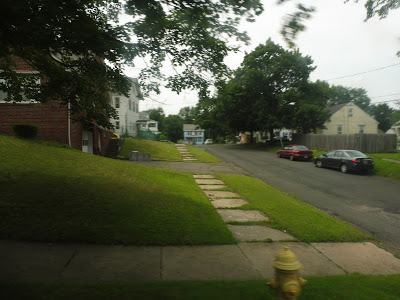 A residential side street.
At this point, we entered the loop section of the R14, where the inbound route splits with the outbound route. We headed down Springfield Street, which was a mixture of houses and some pretty unappealing businesses. It was a weird, ugly road for a while, and it only got weirder when apartment developments and random stretches of farmland entered the mix.
"Feeding Hills."
I'm not sure where exactly the line is for this, but at some point we arrived at Feeding Hills Center. This was a big cluster of suburban businesses with parking lots, and it sure as heck didn't feel like a "center." We went down Southwick Street from there, which was lined with houses and the occasional patch of farmland. Next, we turned onto West Street, then Pheasant Hill Drive, looping around an apartment development of the same name. This was the last stop on the route, and we had a few minutes for layover.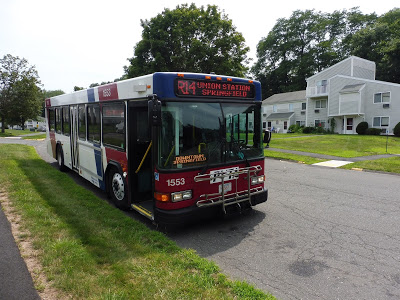 The bus hanging out at the Pheasant Hill Apartments.
We made our way back to Feeding Hills, but this time we took a different route. Instead of continuing onto Springfield Street, we turned onto North Westfield Street, going by houses and a residential development. There were a few businesses when we turned onto North Street, but then it was just houses until we rejoined the outbound route at Springfield Street.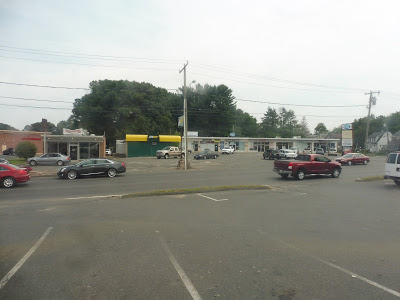 Coming back onto Springfield Street.
I remained vigilant for the rest of the ride looking for where the Heritage Nursing Home deviation would start, but it turned out not to happen for awhile. Instead of turning onto Suffolk Street over the Westfield River back into West Springfield, we continued down Main Street, which was mostly industrial. Next, we turned onto Cooper Street, which led us into the Heritage Nursing Home complex. We looped through it, got back onto Main Street, and went back the way we came.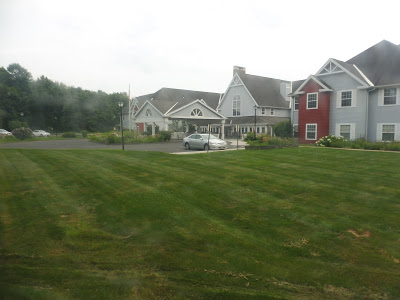 Once a Saturday, once a Saturday!
PVTA Route: R14 (Feeding Hills/Springfield)
Ridership: My Saturday trip was really quiet, with only about six people in each direction. Strangely, the Heritage Nursing Home deviation was the single busiest stop on the whole trip, with a few workers from the Home, which I wasn't expecting since it only happens once a day. Overall, the route gets about 21-22 passengers per revenue hour, comfortably beating the 20 PPRH threshold.
Pros: This is the only PVTA route that serves Agawam, and the loop at the outer end allows it to catch as much as possible. The base R14 schedule is a solid every hour, including on Sundays when it operates a shorter route and interlines with the B4.
Cons: Weekday service to Pheasant Hill Apartments is really inconsistent, including a 3-hour gap from 1:10 to 4:10. However, on Saturdays, the apartments get all day service? That doesn't make much sense! An even more inconsistent part of the R14 is the Saturday Heritage Nursing Home deviation. Clearly people use this to get home from work, but how the heck do they get to work? Finally, the PVTA eliminated the R14E route, which ran express to the Agawam Industrial Park, and shoehorned it in with the regular R14. This means there are awkward buses that go along the route at random times and break the hourly schedule. Why can't it have stayed an express? Why do the R14E buses have to take a longer trip while not really serving anything new?
Nearby and Noteworthy: I'll be honest, Agawam isn't a very pretty town. There are no centers, no walkable retail areas…this route is ugly.
Final Verdict: 6/10
The R14 is a theoretically good route, but it suffers from inconsistencies that drag it down. The Pheasant Hill Apartments service on weekdays is abysmal, the Heritage Nursing Home deviation on Saturdays makes no sense, and the R14E trips are a complete waste of extra time. At least the route is decent outside of those inconsistencies, though.
Latest MBTA News: Service Updates
Thanks to Boston.com for this amazing article about my completion of the MBTA bus system! And welcome if you're coming from there!