Man, I wonder how the residents of Plainfield Street got around "b4" the B4 came around! HA! Ahem…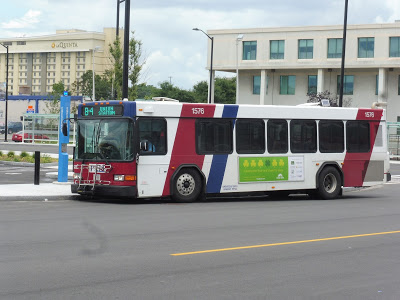 The bus at Union Station.
We left Union Station and headed down the wide Main Street. We were going away from downtown, though, so the scenery was boring – just offices and businesses with parking lots. After going under I-291, we merged onto Plainfield Street outside of two churches. This took us over I-91.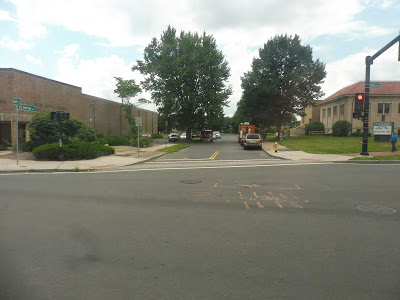 A view before the highway crossing.
Once over the bridge, we took a right onto…Plainfield Street. Okay, I guess the street decided to turn along with us. We were traveling along a field on one side and a housing development on the other, then we turned onto Clyde Street and entered the development. As we curved north, the street became Sanderson Street.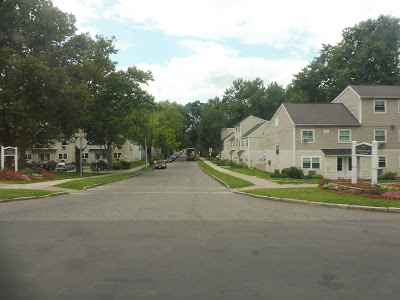 Lotsa identical houses…
We were basically between two different apartment developments now. Meanwhile, the Connecticut River was only a block away, but the view was blocked by a wall. We curved around eastward, and outside of a clinic, we turned again onto Plainfield Street.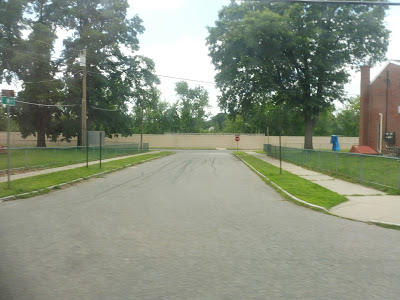 There's the wall!
Along Plainfield Street, it was mostly dense houses, while we also passed a few churches and an elementary school. Eventually, we left the neighborhood and turned onto Wason Ave, which went along an abandoned lot and some trees. Finally, we deviated into the Baystate Medical Offices, ending the very short trip.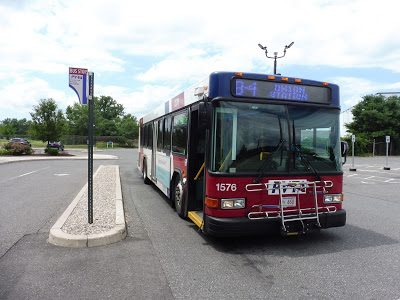 The bus laying over.
PVTA Route: B4 (Union Station/Plainfield Street)
Ridership: Since it's such a short route, the B4 isn't going to do quite as well as something longer, but it still holds its own pretty well. In terms of daily ridership, it got 733 passengers on average in 2012, while it got about 10 people per trip in 2014. Most of the passengers on my ride got off in the apartment developments along Clyde and Sanderson Streets.
Pros: I have a soft spot for super short local routes, and the B4 is just that. It serves a very important, dense, and transit-using neighborhood, and since the route is so short, it can achieve decent frequency with only one bus. On weekdays, it's every 40 minutes, while it runs every 30 on Saturdays and every 60 on Sundays (interlined with the R14).
Cons: This is seemingly a minor thing, but it bothers me so much. Take a look at the schedule: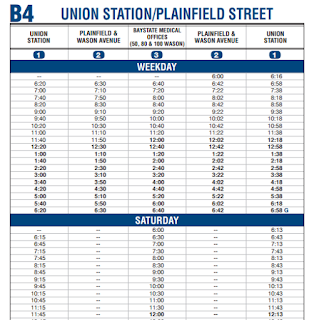 So…does it skip Plainfield and Wason on Saturdays? Looks pretty unavoidable on
the map
. I had to ask supervisors at Union Station just to be sure, and they all had
no idea what it meant
. Turns out it takes the exact same route, yet for some reason they make it look like it doesn't. This is
awful
.
Nearby and Noteworthy: Most of the B4 is residential, so I got nothin'.
Final Verdict: 6/10
Normally, I would give this a 7. You know, it's a short little route with decent ridership that performs adequately. But that schedule…I mean, come on, how stupid is that? Yes, that tiny little omission of a timepoint is worth a point in the score for me. It's confusing for new riders, and it just doesn't make any sense. Why is Plainfield and Wason even a timepoint in the first place? It's literally two minutes away from the terminus. They'd be much better off putting a timepoint at, say, Clyde and Sanderson, where most people are getting on the bus anyway.