On the day this post comes out, August 27th, 2017, the Tiger Trolley is being eliminated. Good freaking riddance.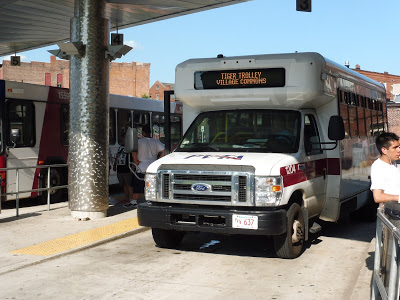 The bus at the Holyoke Transportation Center.
We left the Holyoke Transportation Center and made our way up Maple Street, then we turned onto Lyman Street. As we passed a few housing developments, we descended a hill to "The Flats," the part of Holyoke where there are a bunch of industrial buildings and canals. And…uh…yeah, we basically just went by those.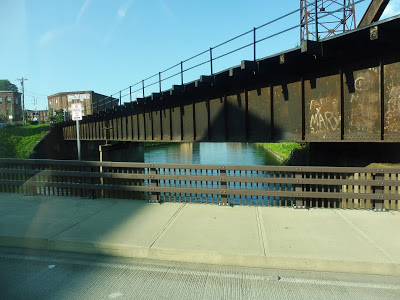 A canal and a railroad bridge.
We turned onto Canal Street, which did indeed parallel a canal, and it was just more industrial buildings. Next, we turned onto Bridge Street, which, yes, did feature a bridge! Two, in fact! The first was over another canal, while the second took us over the Connecticut River into South Hadley.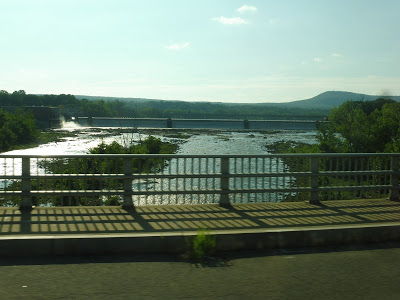 This incredible view never gets old!
On the other side, I was assuming we'd just continue down Bridge Street like the R29, but the Tiger Trolley is never as straightforward as just "continuing down" something. Instead, we turned onto Main Street, going by some industrial buildings and businesses. Those weren't the point of this endeavor, though – no, we had to deviate to the South Hadley Public Library. And, oh boy, we were a few minutes early, so we had to wait for a bit! Fun!!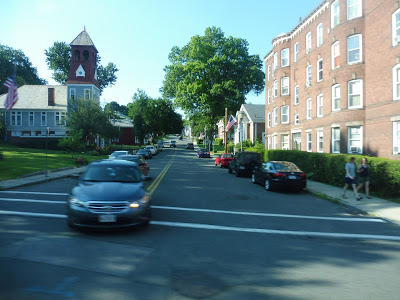 A side street.
We returned back down Main Street, and this time we actually continued down Bridge Street. There was a mixture of houses, businesses, and industrial buildings along here, and it all continued as we turned onto Lamb Street. However, all of a sudden, out of nowhere, we left the R29 again by getting on a highway ramp.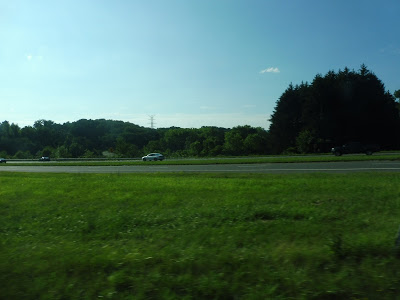 WHAT IS THIS???
Okay, turns out it was the very end of the highway, and it instantly became the residential Granby Road. As we came alongside a cemetery, the road widened and we reached an intersection with a school on one side. You'd better get used to me talking about this place, because this bus comes through here a lot.
The school.
The first thing we did from here was turn onto Willimansett Street, a wide road with a median that curved south past nothing particularly interesting. This led us to the South Hadley Big Y, into whose parking lot we deviated. Oh, and we were a few minutes early again. Sigh…more waiting…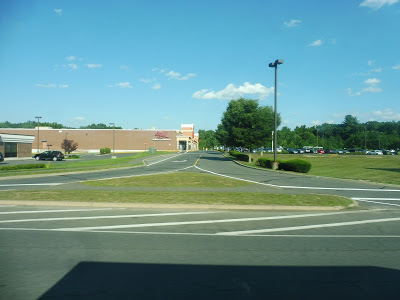 Hi, Big Y.
We returned the way we came, back to that same intersection, and now we turned back onto Granby Road in the same direction we had been going before. It was residential for the most part, but we did start to get some businesses along the road as we came up alongside a reservoir. Right after that, we deviated into…well, gosh it was just an empty commercial building! Turns out there's a medical building right behind it, but still!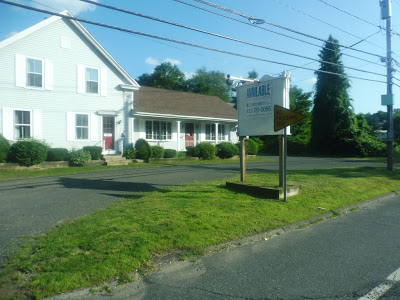 THIS IS NOT DEVIATION-WORTHY!!!!!!
Sigh…we came back to that same intersection for the last time. Now we turned onto Lyman Street, which was lined with houses for a while before it came up alongside a cemetery. After that, we turned onto Newton Street, which had lots of suburban businesses, but we targeted a shopping plaza: Woodlawn Plaza, to be exact. We pulled into its parking lot, stopped at a random place, and…oh my God, are we seriously thirteen minutes early?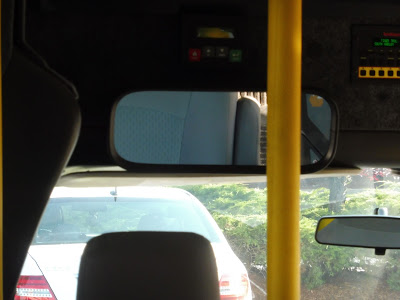 I guess I don't blame him for leaving…
If you were a bus driver, what would you do if your bus showed up at a timepoint thirteen minutes early? How about leave the bus and get some grub? I don't see why not! Yeah, our driver did just that, visiting both Friendly's and Dunkin' Donuts over the course of the layover. Might as well take advantage of the time, right?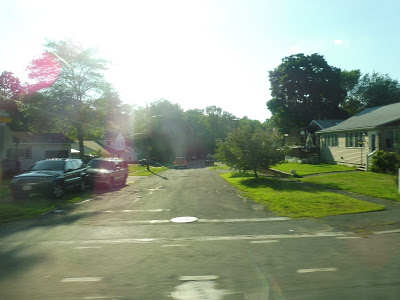 A side street.
We even left the mall early! We headed up Newton Street, which was mostly residential, with a few businesses and industrial buildings thrown in. The street became College Street soon, and it briefly took us alongside a river. Next, we arrived at the street's namesake, Mount Holyoke College. We didn't actually serve the university, though – no, instead the Tiger Trolley terminates at Village Commons, a downtown shopping mall-type thing across the street. Sure…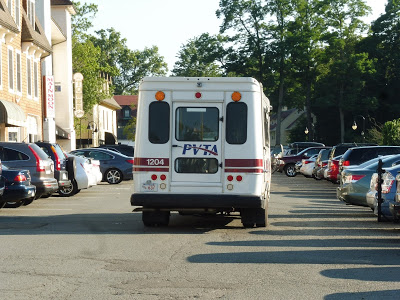 Good riddance!
PVTA Route: TT (Tiger Trolley (Holyoke Transportation Center to South Hadley Commons))
Ridership: This thing's ridership is just abysmally low. The PVTA claims it gets 2.4 passengers per revenue hour, but I dunno – had Sam and I not taken this thing, our trip would've been completely empty.
Pros: The route…uh…serves stuff. And gets hardly any passengers. Oh wait, that's a con.
Cons: Okay, complaining about the fact that this route is a deviatory mess (complete with strange stops called "transit access points" that require a reservation for the bus to serve) that hardly gets anyone is like taking candy from a baby. We all know this thing is just a waste of resources. But even if it was to stick around, why the heck does it run every hour and a half? The schedule is padded so ridiculously much, maybe because of the stupid "TAPs," that it's running far more infrequently than it has to. This thing could easily do its trip in half an hour plus a bit of padding, so it could run every hour with no problems at all.
Nearby and Noteworthy: Woodlawn Plaza and Village Commons are both served by the R29, plus the library is within easy walking distance of that route. Thus, the only real "destination" this thing serves on its own is the South Hadley Big Y. How exciting…
Final Verdict: 1/10
Luckily, the PVTA shares my sentiments with this route. Like I said, it's being eliminated today. HA! WOOOOOOO! LET'S HAVE A TIGER TROLLEY GOING-AWAY PARTY! SEE YA, TIGER TROLLEY! WOULDN'T WANNA BE YA! WEEEEEEEEEEE!!!!!!!
Latest MBTA News: Service Updates