The R29 is a beast. Running from UMass all the way down to the Holyoke Mall, it passes colleges, cities, woods, suburbia, mountains, and everything in between. A one-way trip takes an hour and a half! Let's get right into this!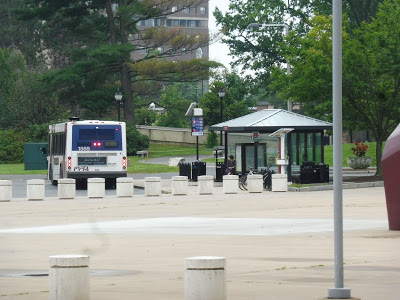 My stalker shot is ruined by the fact that the back sign wasn't working!
We started at UMass Haigis Mall, then travelled down the length of the mall before turning onto Massachusetts Ave. The street had a gigantic median for a bit, but it went away once it curved into North Pleasant Street, taking us past some fringe buildings of UMass. We merged around a park (taking a slight detour because of construction), which took us into Amherst Center, where retail was everywhere.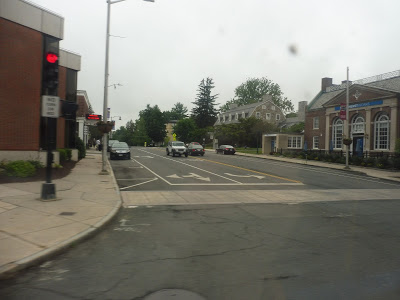 Amherst Center.
The street became South Pleasant Street as we left the center, running past Amherst Common and Amherst College. South of that, we got a marvelous view of open fields and rolling hills, as well as less marvelous views of typical houses. After crossing over the tiny Fort River, the road became West Street, and it continued to be residential.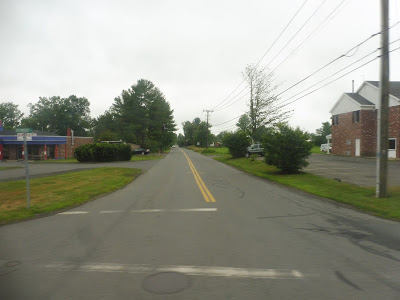 Some businesses in view at an intersection.
There was some boring suburban retail at the intersection with Pomeroy Lane. It was houses once again after that, but eventually we got some scenic fields. It was around this point that we turned into Hampshire College on a windy road with the strange speed limit of 17 miles per hour.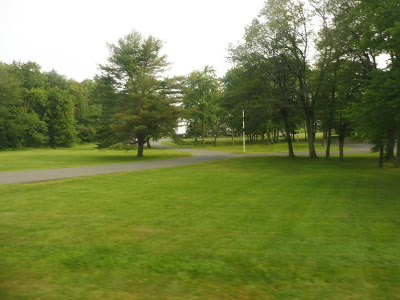 Some paths within the college.
We made our way around to the university library, then headed back around and further into the campus. This was a much smaller campus than UMass, and we got through it pretty quickly. Other points of interest were the Yiddish Book Center and the Eric Carle Museum. After all that, we used Bay Road to get us back down to West Street.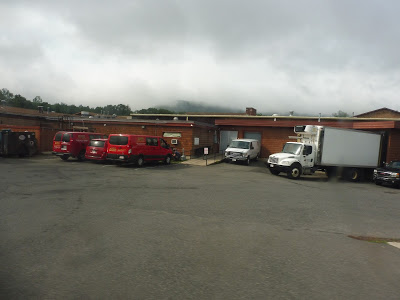 That foggy mountain in the back is beautiful! The industrial building…not so much.
There were a few more houses, then we entered the pure, mountainous woods. The road winded its way past oceans of trees, weaving its way up and down hills, and it was really nice. Eventually, we entered Granby and the road became Amherst Road. After some more forest, we passed an apartment development, then we entered South Hadley and houses lined the street.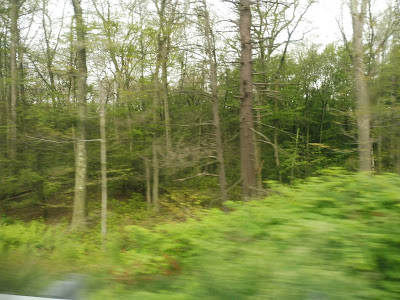 Trees!
It was residential for a little while, then there was a nice break with woods and fields. We got more houses soon enough, though, then the road made a few curves and became Woodbridge Street. This took us to South Hadley Center, which offered a variety of attractions such as a fire station, a post office, two churches, a bunch of businesses, a common, and Mount Holyoke College.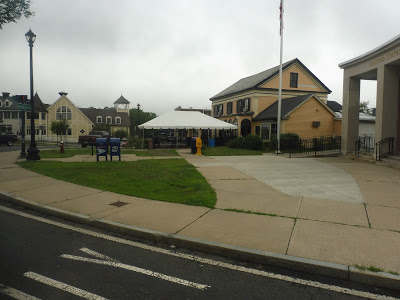 Coming into the center.
The street became College Street, which was a good name, because it went along Mount Holyoke College for quite a while. Eventually, we paralleled the Mill River, then crossed it; there were a few industrial buildings here. We started travelling down Newton Street, which was lined with houses, businesses, and industrial buildings.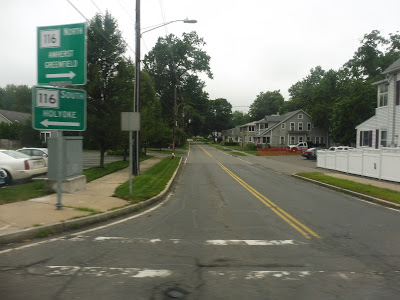 A residential side street.
We went by a large shopping plaza with a Big Y in it (as it turns out, western MA has a lot of Big Y's), then there was once again a mix of houses, businesses, and industrial buildings. We passed Hadley High School and some accompanying fields, after which there were more houses and another fire station. After going through an interchange with Route 202, it was that same triple-threat mix again – residential, retail, industrial.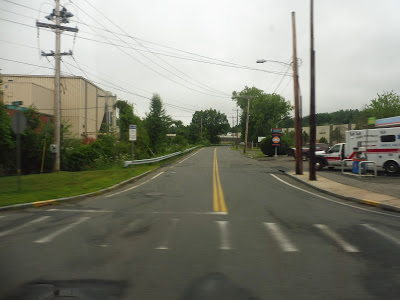 Okay, this is purely industrial.
The road got the interesting name of Lamb Street, but we soon turned off of it onto Bridge Street. This took us past mostly dense houses and some apartments, as well as a police station. There were a few businesses at the intersection with Main Street, then we went onto a magnificent bridge over the Connecticut River with a gigantic dam in view!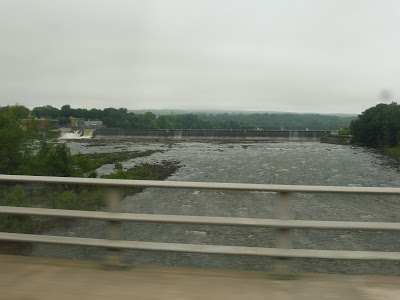 Wow!
On the other side of the bridge, we were now in Holyoke, and there were factories everywhere. We crossed over a canal, then turned onto the aptly-named Canal Street, which curved around until we turned onto Lyman Street. This took us past gritty old factories and dense apartments.
The view across a canal.
Underneath a railroad bridge for freight and Amtrak trains, we turned again onto Canal Street, which merged into Race Street. We were going right along a canal, and the surroundings were still mostly old factories. Next, we turned onto Dwight Street, going over two canals and passing more industrial buildings.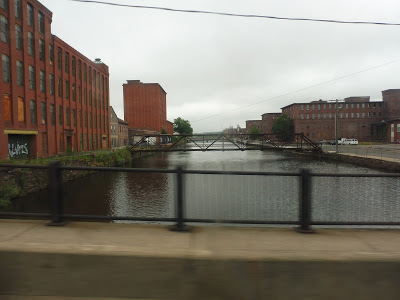 Another canal.
Now on the Holyoke "mainland," we passed the Children's Museum and Volleyball Hall of Fame (housed in the same building) and soon turned onto High Street. This was lined with nondescript brick buildings with businesses ranging from boring to downright sketchy – Holyoke is a strange place. Next, we turned onto Hampden Street, then we pulled into the Holyoke Transportation Center.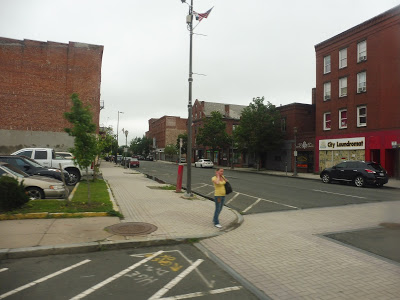 An intersection in Holyoke.
We were about ten minutes early here, and you know what that means: time to wait! Granted, the PVTA's trademark earliness makes at least a little sense here since it's a major terminal, but it was still pretty annoying. The wait was long enough that I took out a book and read for a bit before we finally took off.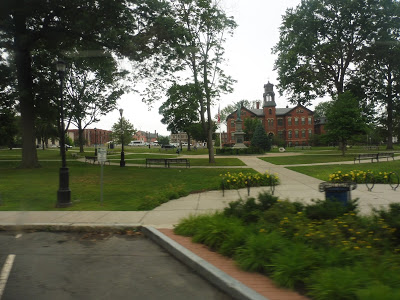 Running along Veterans' Memorial Park.
We made our way back onto Dwight Street and went back the way we came for a bit. After crossing the two canals again, we turned onto Main Street, right outside of Holyoke's Amtrak station. It got industrial to the point of feeling like a wasteland, but eventually we got some businesses in the mix too.
Ew…
Unfortunately, those didn't last long – it was back to just abandoned factories in no time. We went under I-391, and then at least some of the factories seemed to be active. Eventually, we came up alongside a park, while the other side of the street became occupied with dense houses and apartments.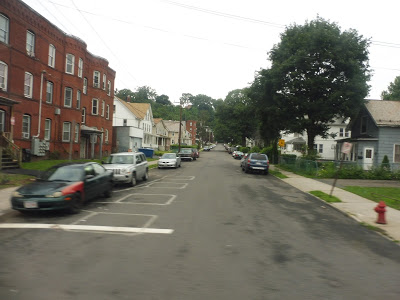 Finally, a somewhat normal street!
Sigh…all good things must come to an end, right? It went back to being industrial after only a short time next to the park. Eventually, we went past (and under) a high school as well as a park, then the houses came back! As we merged with another road, Main Street got a heck of a lot wider and gained a divider.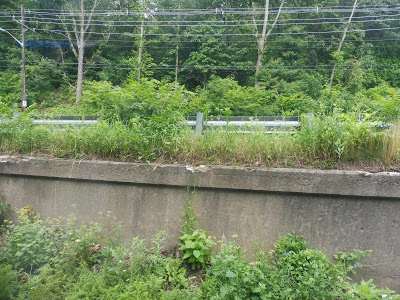 In the midst of the merger.
We deviated up a hill to serve the Providence Hospital, then we came back down to Main Street. It continued to be lined with industrial buildings, and we actually entered West Springfield for a bit. Next, we turned onto the residential Highland Ave, then merged onto Whitney Ave. This took us back into Holyoke and the mall of the same name – after navigating its gigantic parking lot, we reached our terminus.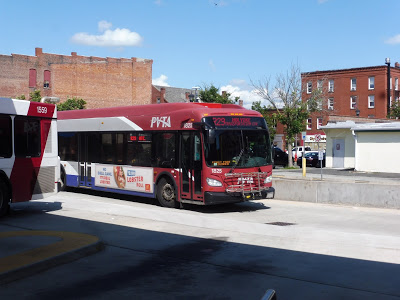 The bus went out of service at the mall, so here's a different R29 at Holyoke later in the day.
PVTA Route: R29 (Amherst/Holyoke Mall via Route 116 and Holyoke Transportation Center)
Ridership: Wow, I had no idea that the R29 is a practically brand-new route – it was created in fall 2014! As such, there isn't as much data for it, but I have found out that it only gets about 16 riders per trip, which is pretty on par for my ride. Considering that it's such a long route, it's unlikely to ever have more than about five people on board at a time.
Pros: Being the monster that it is, the R29 serves a heck of a lot of stuff, and the one-seat ride from UMass to Holyoke (particularly the mall) is really convenient. I'm not gonna say that the schedule (every two hours) is convenient or frequent or anything, but at the very least, it, uh, caters to the ridership, if you know what I'm saying.
Cons: That being said, every two hours is still really bad for a typical rider. Also, what's the deal with the extra night trip on weekends? Normally the last one is 5:30, but on weekends there's another trip at 7:30 that gets back to Holyoke at 10. It just seems kinda weird and pointless! I saw that trip in Amherst Center once and it was completely empty.
Nearby and Noteworthy: For UMass students, the Holyoke Mall has a lot more to offer than the Hampshire Mall, which is closer to the university. This bus is the only convenient way of getting there.
Final Verdict: 6/10
The R29 serves its purpose and speeds up trips for the people who use it. Sure, that number is pretty small, especially considering the route's length, but it's still important to keep it around. The PVTA is actually cutting this thing down to only two trips per day – one in the morning, one in the evening – which seems like a bad move to me. It may not get that much ridership, but it serves an important purpose. Plus, it will prohibit direct mall travel for UMass students. Maybe I should just lower that 6 down to a 3 or 4…
UPDATE: Turns out they meant two trips per day on weekends! It's still inhibiting Holyoke Mall connections for students, but at least weekday service is still intact. Maybe we'll just lower that score to a 5/10…
Latest MBTA News: Service Updates