After the monster review of the R29, it'll be kinda nice to do something and short – and the P20E is perfect for that. This is an express route from the Holyoke Mall to Springfield Union Station, and it's truly an express route. Making literally ONLY those two stops, this is a tiny trip!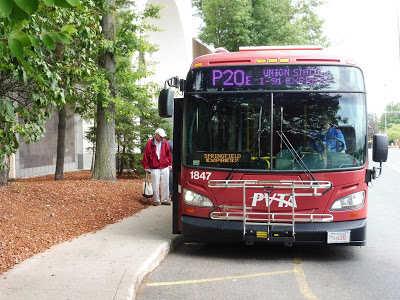 The bus at the mall.
We left the Holyoke Mall after a long trip through its gigantic parking lot. Running up the wide Holyoke Street, the surroundings consisted entirely of suburban businesses with parking lots. Next, we turned onto Lower Westfield Road, got onto I-91, and…wow, that was quick. Time for the express section!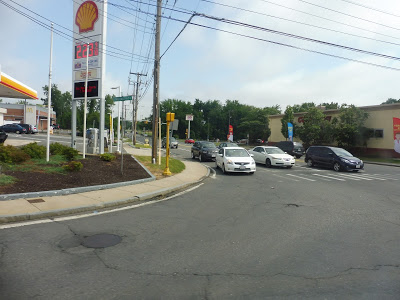 Heading onto Lower Westfield Road.
We went by a few office buildings, while the mall occupied one side of the interstate for a little while (it's a big mall). Next, the scenery was mostly just woods as we entered West Springfield and crossed over I-90. There were some suburban businesses in view as we went over Riverdale Street, then we got a lovely view as we crossed the Connecticut River.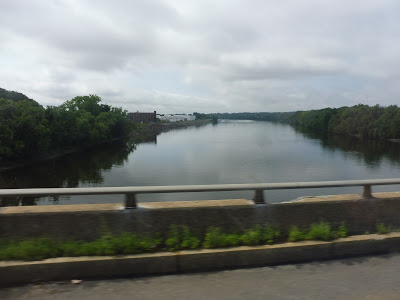 Awesome!
We were now in Chicopee, and we made our way through an interchange with I-391. As we entered Springfield, dense buildings started to show up behind a layer of trees. Just before the highway went up onto an elevated viaduct past downtown Springfield, we took an exit and travelled under the bridge on Columbus Ave. Finally, we turned onto Liberty Ave, which led us to Springfield Union Station.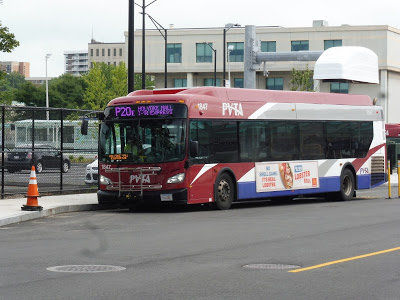 That was quick!
PVTA Route: P20E (Holyoke Mall/Union Station I-91 Express)
Ridership: This route is even newer than the R29, and I can't find any ridership information about it. I guess I'll have to use my ride as an example, then: one other person. No, but that's not fair at all – I was doing an inbound trip right after the mall opened, so of course no one was heading to Springfield. I've seen this bus fairly busy later in the day.
Pros: The P20E is scheduled to take about 18-20 minutes to get to the mall, but it honestly takes more like 12-14. That is ridiculously convenient compared to the normal P20, which takes about half an hour to get to the Holyoke Mall on its local route. That's less than half the time! How can you beat that?
Cons: Every 40 minutes is a bit of a wonky headway, I have to say. Honestly, they could probably finagle this thing to be every half hour if they cut some of the padding, but that might be too frequent.
Nearby and Noteworthy: The Holyoke Mall is kinda the only thing this route serves, so I guess that!
Final Verdict: 8/10
This is a great express alternative to the normal P20. The PVTA is actually cutting weekday service on the route, so it will only run on Saturdays – however, this makes sense, since most shopping would probably be done on Saturdays. It is kinda funny to imagine a Saturday-only express route, but it totally works in the P20E's case.
Latest MBTA News: Service Updates