I let out a groan when this thing showed up and it was a stupid minibus. I mean, with some routes you expect it. The "Tiger Trolley"? Yeah, that's a minibus. The "Palmer Village Shuttle"? Gotta be a minibus. But the X98…gosh, I mean, that sounded like a legitimate route…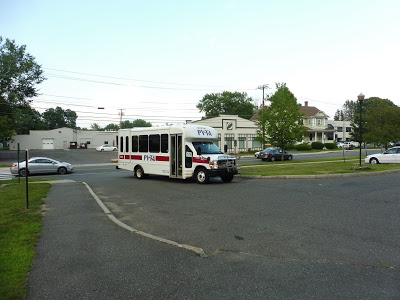 Ugh, it's got the paper sign on the side and everything…
We started off at Salvo House, an apartment building south of downtown Northampton. The bus left that and made its way around the building on Fruit Street, in order to serve…oh come on, a Senior Center deviation already? Alright, so we served the Northampton Senior Center, then we proceeded down the residential Fruit Street.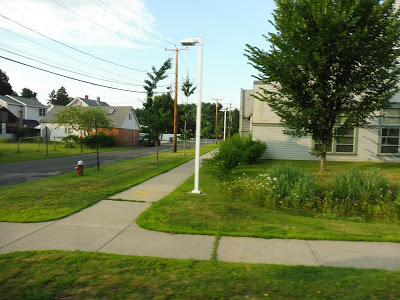 Leaving the Senior Center.
Next, we turned onto Old South Street, which went past some parking lots, then up a steep hill into downtown Northampton. We turned onto Main Street, the main drag, where there were tall buildings with charming businesses on both sides. Just after going by the Academy of Music, we turned onto State Street, which became narrow and residential.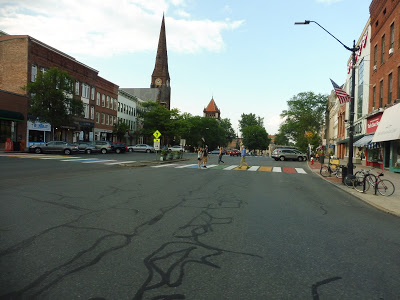 Bustling downtown.
The dense houses continued as we turned onto Finn Street, then Prospect Street. Eventually, we did pass a temple, a YMCA, and the Northampton Survival Center, but it was back to being residential when we turned onto Jackson Street. We passed the Northampton Bikeway, then there was a school, and later on a housing development.
Looking into the development.
We continued onto twisty Cooke Ave, which went down a hill around the back of Hampshire Plaza. Next, we entered the plaza itself, and…oh, we were ten minutes early? Cool, alright, that's totally FINE. So after waiting for what felt like an eternity, we were off again.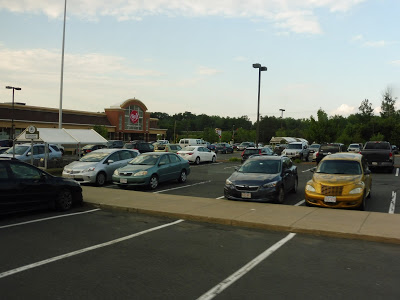 The parking lot.
We made our way out of the mall and headed onto North King Street. We were paralleling I-91, while on the other side (and later on both sides when the highway curved away), there were industrial buildings. North King Street started to go up a hill, then we turned into the River Valley Market, a small grocery store. What a strange place to end…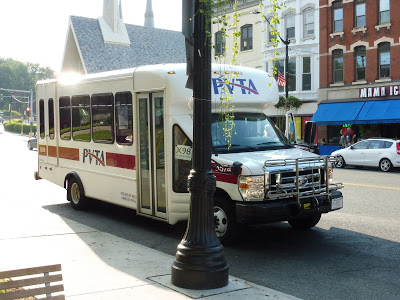 The bus back in Northampton.
PVTA Route: X98 (Crosstown Northampton)
Ridership: The standard for good ridership on the PVTA is 20 passengers per trip. The X98 averages 2. That's exactly what my trip got: a mother and her kid got off at the residential development we passed.
Pros: It serves the Survival Center. That's about it.
Cons: Like, the Survival Center is basically the only thing this route serves. Everything else is about a half mile from the R44, so this route is pretty darn redundant. When I took it, it was running every hour throughout the day, weekdays and Saturdays, which was just far too much service. Not to mention, and this is just the tiniest nitpick on a gigantic cake of awfulness, there was the classic PVTA schedule padding at Holyoke Plaza.
Nearby and Noteworthy: Like I said, all this route really serves is the Survival Center. And a bunch of houses that are a 10 minute walk from the R44.
Final Verdict: 2/10
PVTA's service changes, which will go into effect for this route on September 3rd, make a lot of sense. They're planning on reducing the X98 to just three trips per weekday, only serving the Survival Center during food distribution hours. That's perfect – that's all the route really needs to do. There's also a bit about having the R44 deviate to cover up part of the lost X98, which is…uh…okay, if there's anything the R44 doesn't need, it's another deviation, but oh well. The X98 is being given the right treatment, I think.
Latest MBTA News: Service Updates