Ahhhh, the P21 is like the total opposite of the P20, and from a riding perspective, that makes it way better of a trip. No malls, no deviations, just a nice straight route from Holyoke to Springfield. Yeah, it still takes a while, and it's less frequent, but it's a much better ride!
Heyyy, that destination sign is red, not purple!
We went down Maple Street from the Holyoke Transportation Center. It wasn't at all like the "downtown" High Street a block away, which has lots of businesses – no, Maple Street was mostly parking lots and apartment buildings. There was also a church, an elementary school, and a lovely library in the middle of a park.
Oh, I guess there's a "Micky D's" on the business side of things over there on the right…
Outside of that library, we turned onto Cabot Street, and after some apartment buildings, we passed through the old industrial part of Holyoke. We went over two canals, then it was a mixture of apartments and businesses. We passed over another canal, then it was time for a big bridge over the Connecticut River.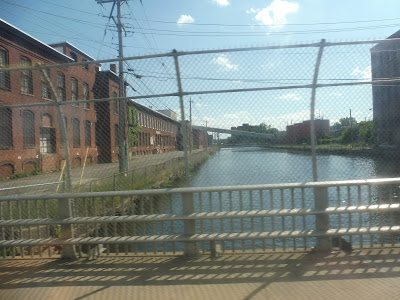 One of the canals.
We were in Chicopee on the other side, and our street was called Chicopee Street. It curved around next to a train track, then there was a mixture of dense houses and businesses. Eventually, we went under I-391, which had a park right next to it – because, you know, a busy elevated highway is the perfect place to put a park!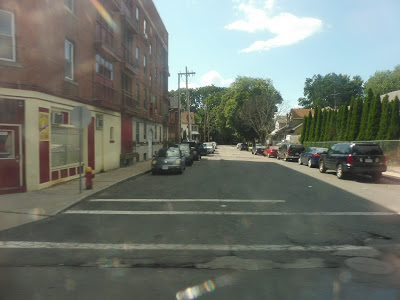 A side street.
It's at this point that the route splits into two possible alignments. Every other trip goes via Chicopee Street, while the others (including mine) merge onto Meadow Street. It was mostly residential at first, with a few businesses thrown in too. However, one side of the road eventually became occupied by a huge office park.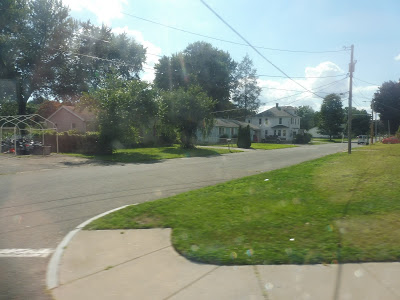 Still houses on the other side, though!
One side of the street was still industrial, but the other side started to see some housing developments, too. There were even more of them when we turned onto Meetinghouse Road, at least on the northern side of the road – the other side was normal houses. We turned back onto Chicopee Street, rejoining the other routing.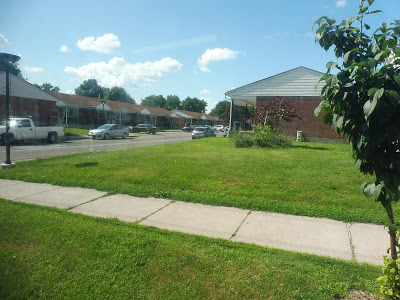 One of the many housing developments.
After passing a golf course, it was entirely residential on Chicopee Street. We finally got a few businesses at the intersection with Meadow Street, then the road got wider and went over a train track, under I-90, and under I-391, all in quick succession. Next, we turned onto Springfield Street, which took us over the Chicopee River.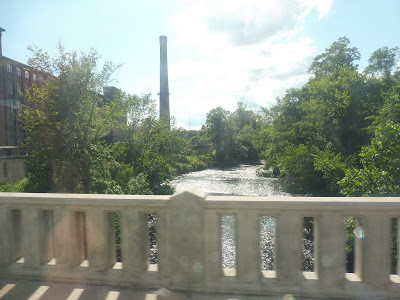 The river.
There were some old factories, and after going over a canal, we turned onto Front Street, then Cabot Street. There was a shopping plaza here, but once we turned onto Exchange Street, there were more traditional retail buildings on either side. This was downtown Chicopee…but I can't say it was a particularly interesting downtown.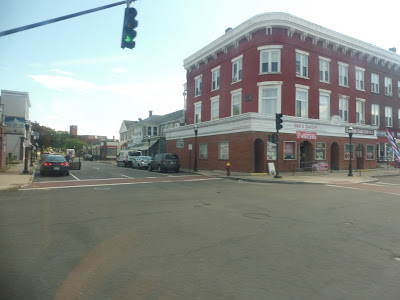 No pedestrians…it's empty.
We continued onto Springfield Street, going by dense houses, a few churches, and a high school. Later on, we went by College of Our Lady of the Elms, then it was just all houses for a little while (aside from some retail at the intersection with Asinof Ave). We entered Springfield soon enough, where there was a little roundabout called Glenwood Circle with a few businesses.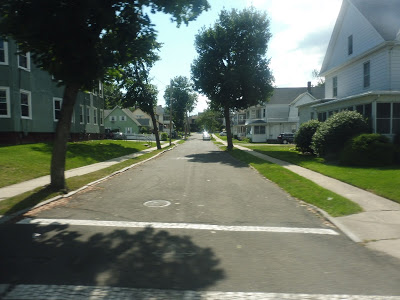 Houses.
Springfield Street continued to be almost entirely residential past there, with really nice houses with big front lawns. After a side street called "Derby Dingle" (I'm really curious where that came from), we passed the gigantic Baystate Medical Center. The street became Chestnut Street, but we weren't on it for much longer, turning onto Jefferson Street, then Dwight Street, going around a park.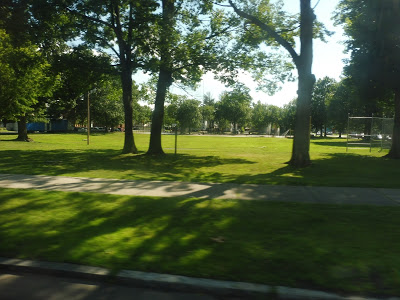 Said park.
It was mostly dense houses and apartments along here. Eventually, we went under I-291 as the street widened, then there were some businesses, offices, and parking lots on the other side. Finally, we arrived into Union Station.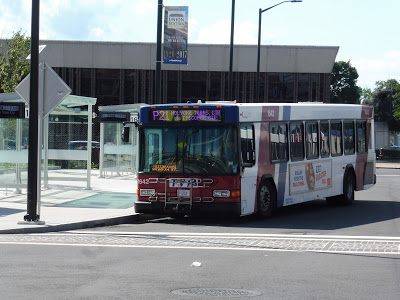 There we go, now it's purple!
PVTA Route: P21 (Holyoke/Springfield via Chicopee)
Ridership: The P21 gets great ridership, and it's ranked 9th overall in the system. It averages about 39 people per trip, which is amazing! Yes, it's a long route with a lot of destinations along the way, but like the P20, you'll generally get pretty busy vehicles along here.
Pros: This is an important route for Chicopee, running straight up through the western end of the city. It's the second-largest city in western MA, and yet it really doesn't have all that much bus service. Granted, it's a small city, but anyway, the P21 is an important route through it. It's also pretty frequent on weekdays and Saturdays, running every half hour.
Cons: Sundays the frequency becomes every 45 minutes, which…okay, yeah, I'm not saying it doesn't make sense from a ridership perspective…it's just kind of an ugly number. But hey, this route didn't really suffer from the PVTA's earliness problem, so yay!
Nearby and Noteworthy: I can't say there was much along here – Chicopee Center was the only true "destination," and it just seemed boring.
Final Verdict: 7/10
I wouldn't call the P21 as good of a route as the P20, just because it's not as frequent and doesn't serve quite as much. In particular, the Sunday schedule is kinda wonky since it's not clockface, but it's not too bad. After all, the P21 is still a lifeline to Chicopee, plus it's the fastest local route between Springfield and Holyoke! At some point later on, though, we'll cover its express variant…that's gonna be FUN.
Latest MBTA News: Service Updates
Long story short, two guys broke the T record and are trying to send it to Guinness. Needless to say, expect a run from me at some point soon…