Why does the most frequent route from Springfield to Holyoke also have to be the looooonnnngggeeeesssstttt? The P20 is a miserable splurge of shopping malls and housing developments connecting the two biggest hubs of the PVTA system. Okay, it's not a useless splurge, but it's definitely a miserable one.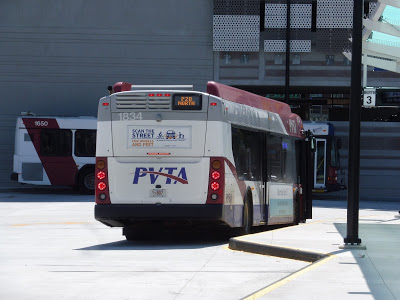 The back of the bus at Union Station.
We didn't even get to serve downtown Springfield – instead we travelled northwest down Main Street, where it gets a lot more suburban already. After going under I-291, we turned onto Plainfield Street at an intersection with a small statue in the middle. This took us over I-91, then the road became West Street and passed some industrial buildings.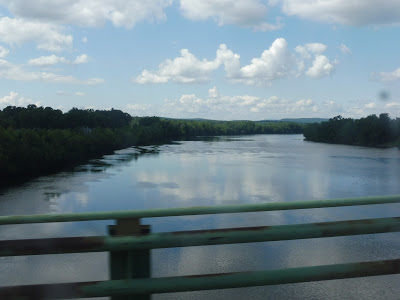 Crossing the Connecticut River!
As you can see, this street went over the Connecticut River, then immediately turned into a rotary on the other side in West Springfield. We merged onto Park Street, which was a good name for it, because the street literally had a park in the middle of it! Next, we turned onto Elm Street, which still had a leafy median.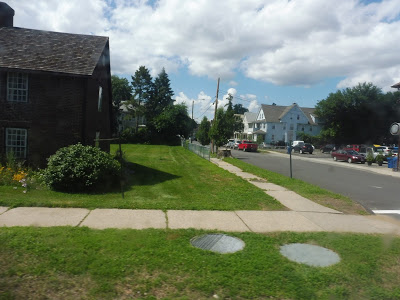 Houses on a side street.
There were a few businesses at first, but as the street lost its median, it became lined with dense houses. Eventually the street curved left and there were a few industrial buildings, then we curved right and it was a strange horrendous mix of houses, housing developments, industrial buildings, car dealerships, and motels. Oh, and a COUNTRY CLUB hidden behind a layer of trees!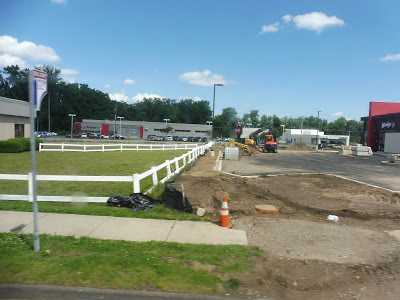 Sigh…a lot of the route's gonna be like this…
There were a few suburban businesses with parking lots, but once we turned onto Riverdale Street, everything got bigger: a bigger road, bigger businesses, and bigger parking lots. It was also time for our first deviation, a long trip through the parking lot of Riverdale Shops. It took a while to actually get back to the road…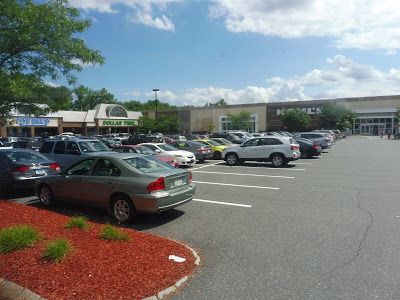 Sigh…there's a good amount of this on the route, too…
We went under I-91, and then it was time for a wholeeeee lot of businesses with parking lots. Like, a lot. They just kept on coming. Yeah, at one point we went under some pylons and came kinda close to the Connecticut River, but it's not like we could see anything. There was kind of a forest break, I guess, when we went under I-90, but that was just for an interchange.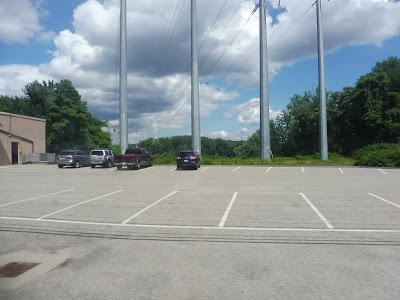 Wow, I can almost see the river…
Finally, we turned onto Highland Ave, a residential street lined with houses. Yay! Something different! Next, we turned onto Whitney Ave, which took us to…the Holyoke Mall. Oh, come on! Not to mention we were ten minutes early! Great, time to sit here for what seemed like forever…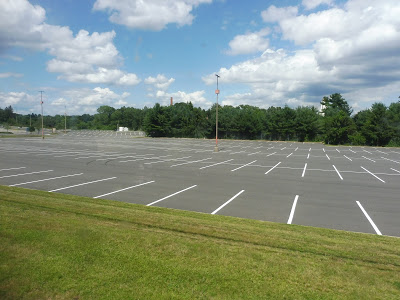 At least there was a big empty parking lot to look at.
After the mall, we went up Holyoke Street, which had more businesses and parking lots along it. Next, we turned onto Lower Westfield Road, then Holy Family Road. This was a deviation to serve a few different housing developments, most notably Holyoke Farms Apartments, which were mostly along Tokeneke Road. We used that to make our way to Whitings Farms Road.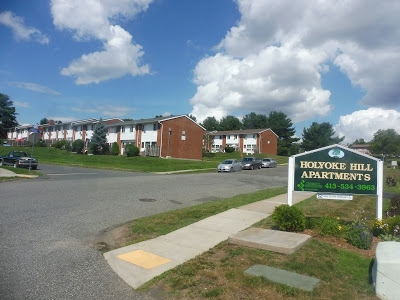 Or…Holyoke Hill Apartments?
There were some houses for a bit, then we passed a few office parks. As the street curved east, we went by a fire station, then we entered for…another mall deviation? Okay, this is getting old. We had to travel down the entire length of the mall, which the PVTA refers to as K-Mart Plaza while Google Maps calls it Holyoke Shopping Center.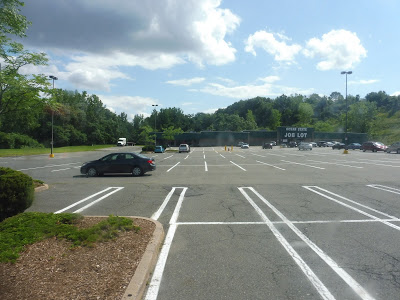 This is getting old!
We made our way up Northampton Street after the deviation, which passed a cemetery and then became residential. Next, we turned onto South Street, which had a mix of dense houses and businesses. We went by another shopping plaza (thank goodness we didn't deviate), then we curved onto the one-way High Street, which was mostly industrial at first.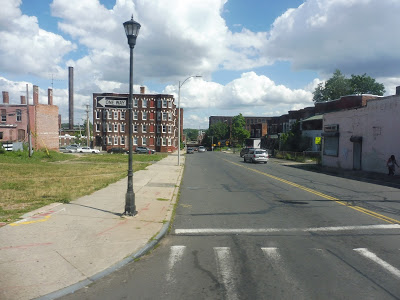 A scene in downtown Holyoke.
As we got further into downtown Holyoke, there started to be more businesses, apartments, and in true Holyoke fashion, abandoned factories. Eventually it turned to brick buildings housing retail on their ground floors, which was at least a little nicer. Finally, we made our way around the block and arrived at the Holyoke Transportation Center.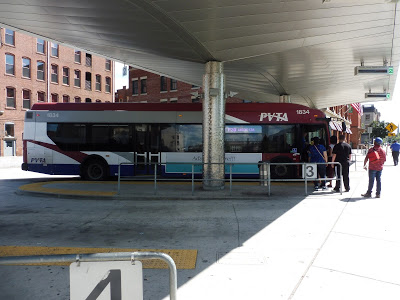 The bus boarding for its journey back.
PVTA Route: P20 (Holyoke/Springfield via Riverdale Street)
Ridership: The P20 is one of the highest-ridership routes on the PVTA, ranked at number 5 in 2016. The route averages 48 passengers per trip, which is huge! Okay, it's kinda long, and there's a lot of ridership turnover along the way, but you'll still get a reasonably busy bus along the whole route.
Pros: The greatest asset of the P20 is its frequency. The route runs every 20 minutes weekdays and Saturdays and every half hour on Sundays, which is really good! Also, for as miserable as the full ride is, the route really does serve a lot of important shopping centers and connects them up to the two biggest hubs on the PVTA. I doubt (and hope) that no one subjects themselves to ride this thing from beginning to end, though – there are much faster ways of getting between Springfield and Holyoke.
Cons: Aside from the route being the longest and most miserable way of getting between Springfield and Holyoke? For as long as I'm reviewing PVTA routes, I will forever be complaining about earliness; the real culprit of the P20 is at the Holyoke Mall. For some reason, it's only on the northbound route where they do this – the southbound trips are only padded at the end! That seems to be extra evidence that the "layover" at the Holyoke Mall has absolutely no point.
Nearby and Noteworthy: This route basically serves any mall in West Springfield or Holyoke, so it's a great one for shopping.
Final Verdict: 8/10
While I personally hated my ride on this route, the P20 is ultimately very useful and well-used. The frequency is great, and the route serves quite a bit of important destinations. I'd rather not wait for 10 minutes at the Holyoke Mall when I'm going north, though, thank you very much!
Latest MBTA News: Service Updates