Anyone familiar with the area must have known this was coming. Yes, of course, how could I have ridden the G5 without taking advantage of its connection at MassMutual: the CTtransit 905, express to Hartford? Time to visit the Insurance Capital of the World!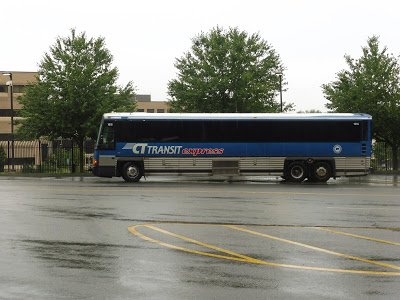 Woah!!
That's right, the 905 uses actual coach buses – and they're nice. Our bus had comfy seats that reclined, as well as lights, AC, and stop request buttons on top. Sure the stop announcements were nothing short of terrible, but the vehicle itself was great.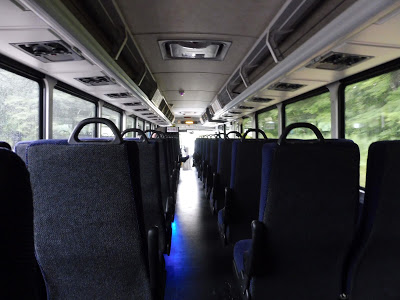 Neat!
We left the MassMutual building in Enfield and headed up Bright Meadow Boulevard, then turned onto Enfield Street and crossed over I-91. We would be returning to that eventually, but first we had the local section to serve. It was industrial at first, as we passed a water filtration plant, then there was a mixture of houses and suburban businesses.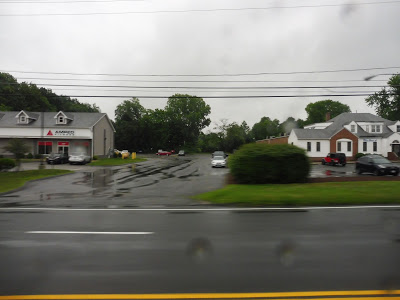 How bland…
Man, there's not a lot to talk about for this section – it was the same boring scenery for a while. Finally, we got some variety as we turned onto North Main Street next to Enfield Town Hall, taking us through a pretty, albeit very fake-looking park. We also passed more businesses and houses.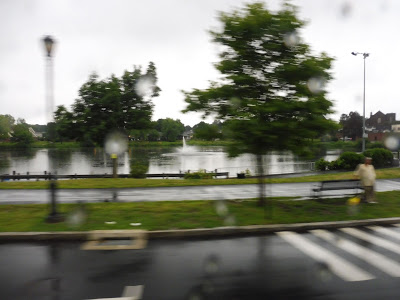 A fountain in the park.
The street became Pearl Street just as we entered what appeared to be downtown Enfield…but man, was it lame. It had some of the most colorless, blandest buildings I've ever seen in a downtown. It was dead. Continuing down Pearl Street, it became pleasant, relatively dense houses, then we crossed over Route 190 and turned onto the residential Frew Terrace.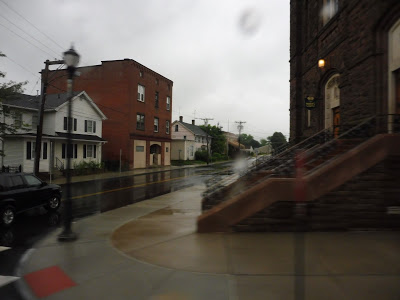 Sigh…welcome to downtown Enfield.
The road became an on-ramp to Route 190, then we turned off again onto I-91…going north? Yes, we had to deviate north one exit, getting off onto Elm Street. Very soon after turning off, we made our way into the Enfield Square Mall parking lot, where a section has been dedicated for a transit park-and-ride. What a great idea, and a great use of space!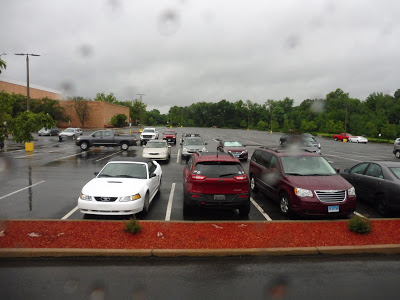 Part of the mall parking lot.
From there, we got back onto I-91 for the true express section. The scenery wasn't much – it was just woods for a really long time – but hey, nothing beats the thrill of zooming down the highway in a coach bus! At one point, we crossed over the Connecticut River, offering a beautiful foggy view that I couldn't capture through the rainy windows…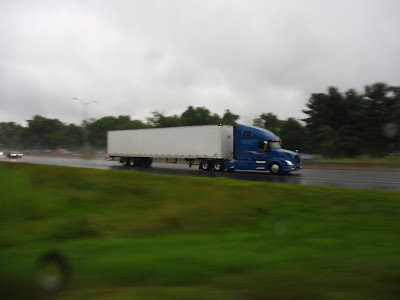 Instead I'll use this kinda cool picture of getting onto the highway.
A little south of the interchange with Route 20, we got to enter an HOV lane, which made the express experience even better! Still, the scenery remained almost exactly the same, with the minor addition of sound barriers as we got a certain distance into Windsor. As we entered Hartford proper, it started to get industrial, but the skyline was in view in the distance.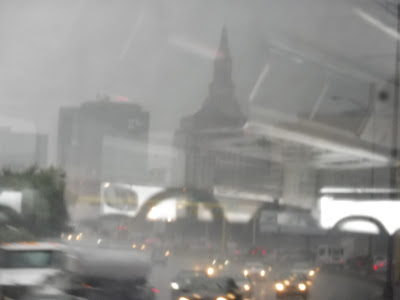 Oh dear…well, I tried…
I think the route is supposed to take an earlier exit to go down Columbus Ave, but we skipped that and went a little further to Exit 31. This took us around onto State Street, where the many office buildings of downtown Hartford were everywhere. The local section was short, though – the bus went out of service outside of Hartford's Old State House.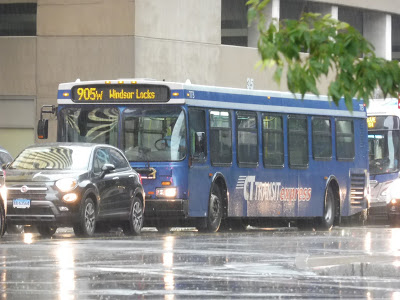 A different 905 with a working sign…although a far worse bus.