The 22 and the 33 are the Logan Airport shuttles that everybody takes. Linking the Blue Line station and the Rental Car Center to the airport, they can often be quite busy – that's why there are two routes to even out the crowds better. We'll be looking at both today.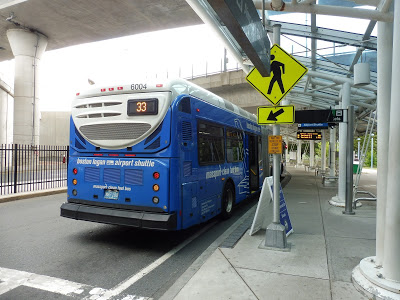 The 33 at Airport Station.
From the Blue Line station on the 33, we headed down Transportation Way, paralleling I-90 with a park on the other side. We rounded a curve, and alongside a huge elevated interchange, we pulled into the Rental Car Center…and waited. And waited and waited and waited. This was where a bunch of people were getting on, carrying huge suitcases, and we just sat there to let more and more people board. By the time we left, the bus was packed.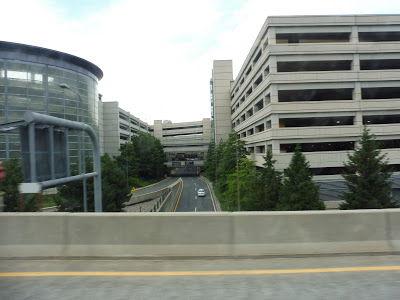 Airport scenery…
From there, we navigated a mess of roads to get up to the departures level. Since it was a 33, we were able to run "express" past Terminals A and B, then we pulled into C. Most of the passengers got off here, so we had to wait for everyone to drag their luggage off the bus. Finally, we left and made our way to Terminal E, the final stop of the route.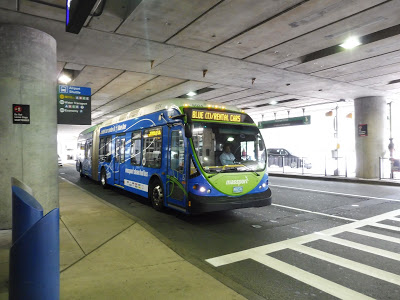 The 22 at Terminal A.
From there, Jordan and I had a race to Terminal A where he used the elevated walkway and I took the 11 – he won, and he wasn't even trying. From here, we got on the 22 and rode it around to Terminal B, stops 1 and 2. We went through an "express" section, skipping Terminals C and E, making our way down Service Road, and arriving back at the Blue Line station. Jordan and I stayed on to the Rental Car Center, but it was basically the same thing as before, except this time we used the upper level instead of the lower.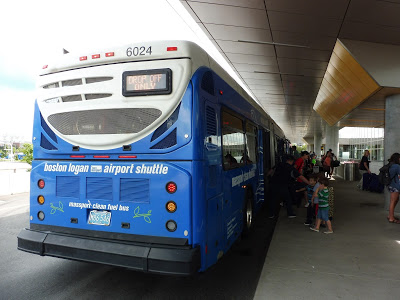 The bus at the Rental Car Center.
Logan Airport Shuttle Routes: 22/33 (Serves Terminals A & B or C & E to subway station and to Rental Car Center)
Ridership: It can be anywhere from completely empty to completely packed – it really depends on the time. From my experience, most people usually get on at the Rental Car Center – probably because the shuttle is the only option from there, whereas the Silver Line is a much faster alternative to the Blue Line, unless there's traffic, when it's a nightmare.
Pros: If you use the Blue Line to get to the airport, you can expect a bus (or two, or three) to be waiting there to take you where you're going. It's also the only way of getting from the Rental Car Center to the terminals, so these routes are definitely important and they should run as frequently as they do. It's good that there are two routes, so that passengers don't have to sit through all four terminals. Plus, the way they run drop off/pick up only speeds things up even more. However…
Cons: These. Buses. Are. So. SLOWWWWWWWWWW. It's like the drivers are contractually obligated to always go 5 MPH or less! I mean, you do not want to cut your flight close with these, because I can assure you, you won't make it. It is absolutely crucial for airport shuttles to be quick, especially these ones that a lot of people use.
Nearby and Noteworthy: The airport. Yeah.
Final Verdict: 6/10
These are definitely important routes, there's no doubt about that. But if you're coming from the Blue Line or the Rental Car Center and you have a flight to catch, it's crucial that the last-mile shuttle bus trip is fast…and it's not. I don't know why they go so slow, but they always do, and it drags them down and ruins their efficiency.
Latest MBTA News: Service Updates