Alright, take the B. Give it a bunch of extra deviations. Make it have a significantly worse schedule and way fewer riders. That's the A!
The bus at Walmart, with an actual sign!
Leaving Walmart, we went down a hill out of the parking lot and turned onto Main Street. There were some houses for a bit, then the street became an isthmus on a pond, and it was beautiful! Next, we made a deviation via Border Street, D Street, and North Main Street in order to serve New Village, a housing development.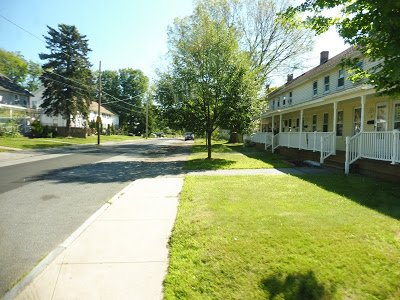 Within the New Village.
Returning to Main Street, we went by a pond and a factory. Past that point, there were a few houses, a fire department, and another huge factory. However, whereas the B goes down Church Street, we stayed on Linwood Ave, which took us past a few churches, some more houses, and a middle school.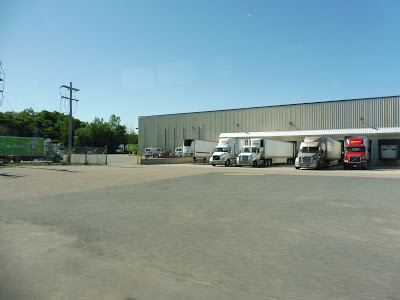 Some industrial building.
Further down the road, there was a great view of a pond, as well as two more schools (a Christian school and a high school). Finally, we deviated to serve Linwood Mill Apartments, a rather small apartment building housed in a mill. And then…we turned around. Yup, that whole little adventure was just a long deviation.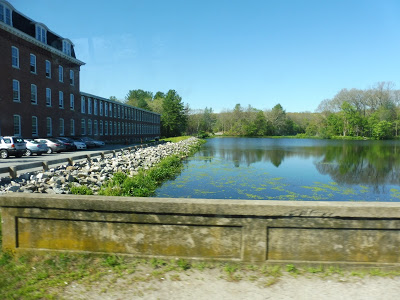 Nice view!
On the way back, we turned onto Cross Street, going by an elementary school and a church. Next, we went back onto Church Street, rejoining the B and passing mostly houses. Unfortunately, it wasn't too long before we arrived at the A's crazy cluster of deviations. It was insane.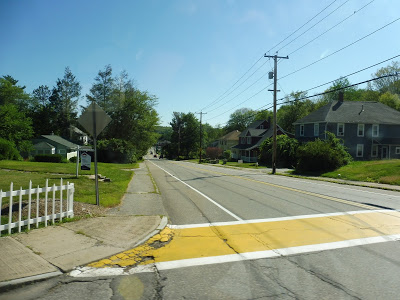 A residential side street.
So first we headed into the Northbridge Senior Center and looped around that, even though the Senior Center already has its own bus. Next, we returned to Church Street, continuing onto Church Street Extension. It took us down a hill, where we turned onto Commerce Ave and served the Tri-County Medical Center. Despite the fancy name, it was really just a little clinic.
Some scenery on the way down to the medical center.
Returning the way we came, it was time for another deviation into Whitinsville Plaza. From there, we headed north on Providence Road, past lots of houses and two cemeteries. There was a short industrial area, then some woods and more residential areas.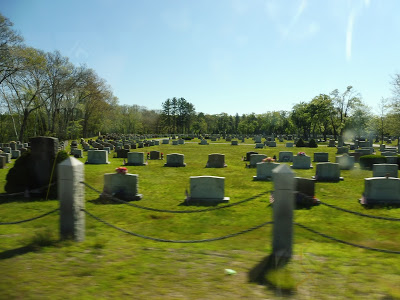 One of the cemeteries.
After going over the Blackstone Canal, we came into Rockdale, which played host to businesses, some triple-decker apartments, and a huge old factory. We paralleled the Canal beyond there, then the road curved inland and we went by some more houses and a few farms and businesses. There were a few more businesses in Fisherville, which is where we finally left the B by turning onto Main Street.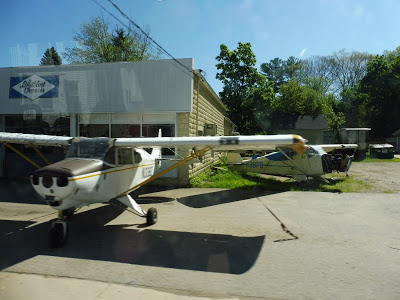 Planes…okay!
There were some dense houses and businesses, then we crossed over the Blackstone Canal again and passed by a nice park. Beyond there, it was mostly residential, with the occasional business, church, or school breaking up the houses. There was a much higher concentration of retail at the intersection with Depot Street…but no one could get off there even if they wanted to, because we were now in Sutton, where the A's "closed-door" section begins.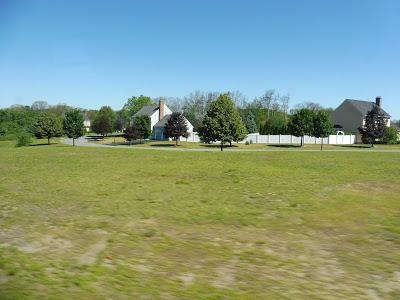 A housing development.
With the street now called Providence Street, it got industrial, with sizeable factories and warehouses persisting until after we crossed over a train track. There was a bit more industry after that, but once we got to Milford Center, there was a healthy dose of retail. We bypassed the center itself, though (the 4 covers that, and we were still on our closed-door section), by means of the residential Canal Street.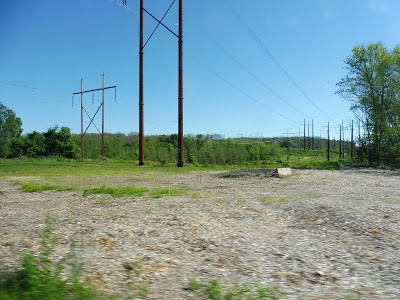 Some monstrous telephone wires.
We headed up North Main Street from Milford Center, (going by Miles Street!!) which was mostly residential with a few businesses here and there. Eventually, the road became very wide as we passed through an interchange with Route 146. On the other side, we went up onto a hill and drove through the gigantic sprawl of the Shoppes at Blackstone Valley. Finally, we arrived at the WRTA stop on the other side of the mall.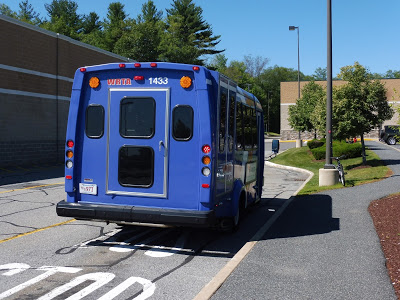 A minibus in Proterra territory!
WRTA Route: A (Northbridge Walmart – Shoppes at Blackstone Valley via Fisherville)
Ridership: Ready for the astronomical number? Ten people per day. Hooooooooooo boy…the route has exactly ten one-way trips, so that means one person per trip. Last I checked, this is, um, awful ridership!
Pros: I guess it connects to the rest of the WRTA at Blackstone Valley…? Not that anyone's making that transfer.
Cons: Like…everything. First of all, the schedule is such that the route is an absolute pain to ride: every hour and 40 minutes. Also, because of all those deviations, the A takes 40 minutes to get to Fisherville – the B goes to the same place in 20. Not to mention that essentially the entire unique section of the A is closed-door, aside from the Shoppes at Blackstone Valley.
Nearby and Noteworthy: Geez…I dunno, nothing more than some small town centers and the Shoppes at Blackstone Valley.
Final Verdict: 1/10
Nope, nope, nope. I see no reason why we should keep this around. It would be one thing if the route was serving a lot of unique areas, but it doesn't – the whole thing is basically just a slower, more deviatory version of the B. So…why not just have the B?? It gets over double the ridership, and I'm sure the majority of the A's riders could use the B almost just as easily.
Latest MBTA News: Service Updates