We're really in the home stretch here! Ironically, despite this being a proper MBTA bus review, the route in question is one of the most suburban ones in the system! That's not to say the ridership isn't there, though – let's talk about the 238.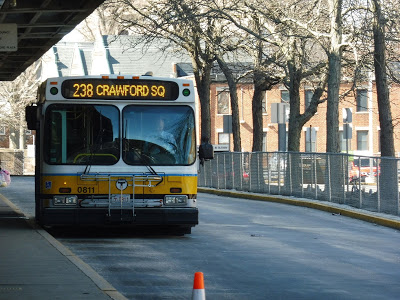 Not the 238 I rode – I had to wait later in the day to get an in-focus picture!
We left the Quincy Center busway and headed down Hancock Street, making a few twists and turns because of Quincy Center's weird new traffic pattern. The street took us right through downtown Quincy, past a few office buildings, but mostly dense businesses on either side. We turned onto School Street next, where the businesses became interspersed with apartment buildings and a church.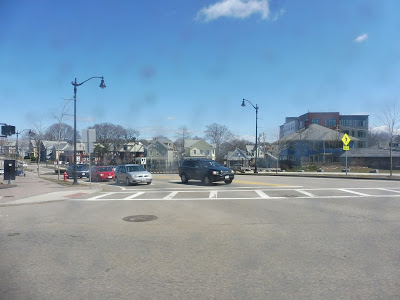 Some houses alongside an intersection.
Next, we made a bunch of turns within a quick period of time: Franklin Street, Water Street, Liberty Street, Quincy Street, and Burgin Parkway. It got industrial by the time we headed onto Burgin Parkway, a wide road that sped us further south alongside the Red Line tracks. The sight of a gigantic parking garage let us know that we were approaching Quincy Adams.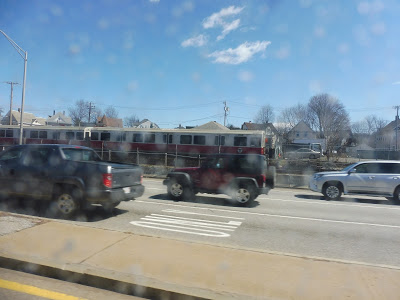 Racing a train!
The 238 only recently started serving Quincy Adams on Sundays – before that, it would just go by without deviating. Thus, our Sunday trip turned into the ridiculously oversized Quincy Adams busway, although it happened to be getting use today because of a bus shuttle. Coming out of the busway, we made our way to Central Street, taking us back in a northwesterly direction.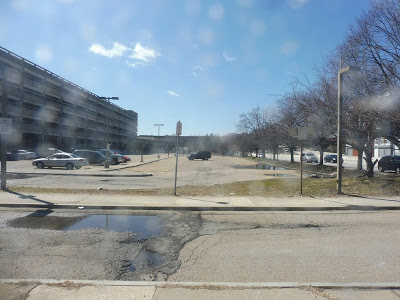 Leaving Quincy Adams.
The road was an odd mix of houses and industrial buildings, but it got more residential as we kept going. Just before a little "town center" served by the 215, we turned onto West Street. The road winded past a bunch of suburban houses after we went under I-93, and the driver was putting the pedal to the metal.
Some houses.
We merged with Willard Street, going by an ice skating rink and an entrance to the Blue Hills Reservation. For a little bit, the reservation occupied one side of the street while houses occupied the other, but then it got…gross. As we entered Braintree and the street became Granite Street, it grew much wider, and we were surrounded by office parks, car dealerships, and parking lots.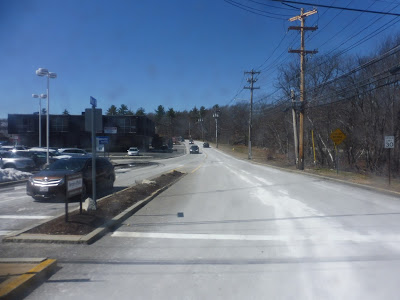 A side street just before the gross section.
We went under I-93 again, then passed multiple entrances for the South Shore Plaza without going into any. No, we had to wait for the very last one, which was a narrow road that ran through the woods and then served some office parks. As we turned onto South Shore Plaza Road, we arrived at the main mall stop, where many people got off, as expected.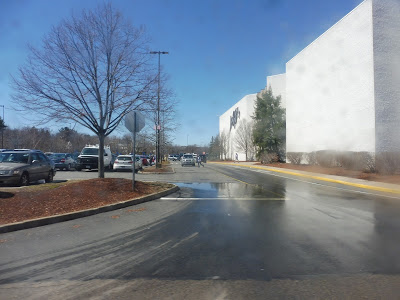 The plaza.
Returning to Granite Street, there were more suburban businesses with parking lots around, especially at "Braintree Five Corners," which was little more than a five-way intersection with some retail around it. As we continued south, there was yet another shopping plaza, albeit a much smaller one, as well as Braintree High School.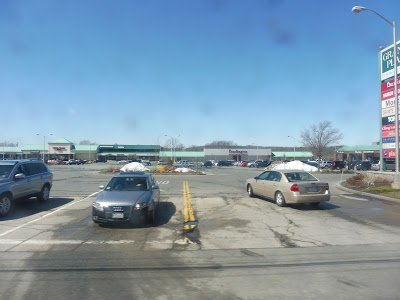 If this was an RTA, we would've deviated to serve this awful plaza!
There were some industrial buildings in view, then the street became Pond Street, with a mix of houses and industry. Soon, though, we entered Randolph and it became North Street – now the driver floored it again as we passed by mostly houses, albeit mixed with a few sparse industrial buildings. The road curved around a lovely park and cemetery…and then another park and another cemetery! Sure, why not?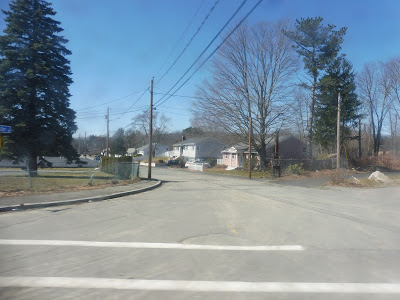 Some more houses.
From there, it was mostly houses up until Crawford Square, where retail was once again dominant. This is also where things get a bit odd for the 238: buses can terminate here at Crawford Square (nights, Saturdays, and some Sunday trips), they can run down Union Street to Holbrook/Randolph Station (weekdays), or they can go down South Main Street to Avon Square (Sundays only). I'll get more into the service pattern later on, but for now, just know that it was a Sunday, so we were headin' to Avon!
JOSEPH'SSSSSSSSS!!!!
South Main Street was mostly residential for a while, with a few businesses interspersed between the houses. We went under some telephone wires right near a school, then after crossing a small brook, we passed some industrial buildings. The road became North Main Street as we entered Avon, and almost immediately after, we looped around a church, marking our arrival at Avon Square.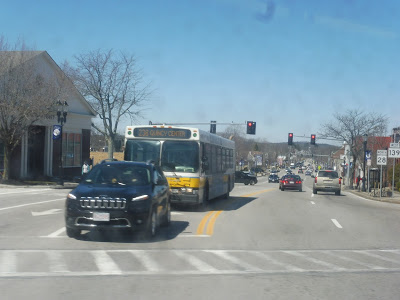 An awful picture of the next inbound 238 at Crawford Square, as seen from the bus.
Route: 238 (Quincy Center Station – Holbrook/Randolph Commuter Rail Station)
Ridership: Considering the amount of trips it gets per day, the 238 gets really good ridership – 2,077 riders per weekday, 1,304 riders per Saturday, and 735 per Sunday. In fact, my Sunday trip got over 40 riders, which seems crazy! Only about half of them got on at Quincy Center, too, so the route has good local ridership.
Pros: Looking at this route, it seems like it serves a whole lotta nothing, but that's apparently not the case! Sure, there are large parts of the route where no one got on or off, but the South Shore Plaza and Crawford Square are both huge ridership hubs! I also like the way this route is interlined with the 240, and they combine on Sundays to provide Avon Square service (Josh and I ended up staying on and just getting a ride back to Ashmont). The 238's schedule is decent, too, with service every half hour during the rush, and every hour weekdays, nights, and Saturdays.
Cons: What about Sundays? Yeah, that becomes every 75 minutes! This is bad both for the 238 and especially the 240 – not only is it really infrequent, but people heavily use these buses on Sundays! If it was more frequent, I'm sure you could get even more riders – at least every hour! Also, the variations of termini depending on the time can be a little confusing.
Nearby and Noteworthy: It's not quite as fast as the 236, but the 238 is still a great way of getting to the South Shore Plaza. Did you know that it's apparently the 16th largest mall in the United States?
Final Verdict: 8/10
Sure, it's a suburban route, but this ain't the GATRA – people actually use the T, even if it's not a city-dwelling line. Although the Sunday schedule leaves a lot to be desired, and the route could probably get away with increased frequencies at other times, too, it still provides an important link through Braintree and Randolph. Wow…only a few more MBTA bus reviews left, guys!
Latest MBTA News: Service Updates