I went to the South Shore Plaza many times when I was younger. My nana would always take me, and I have particularly vivid memories of riding the glass elevator up and down, over and over again. Visiting the Plaza again on the 236 was certainly nostalgic, and it was an interesting ride, too.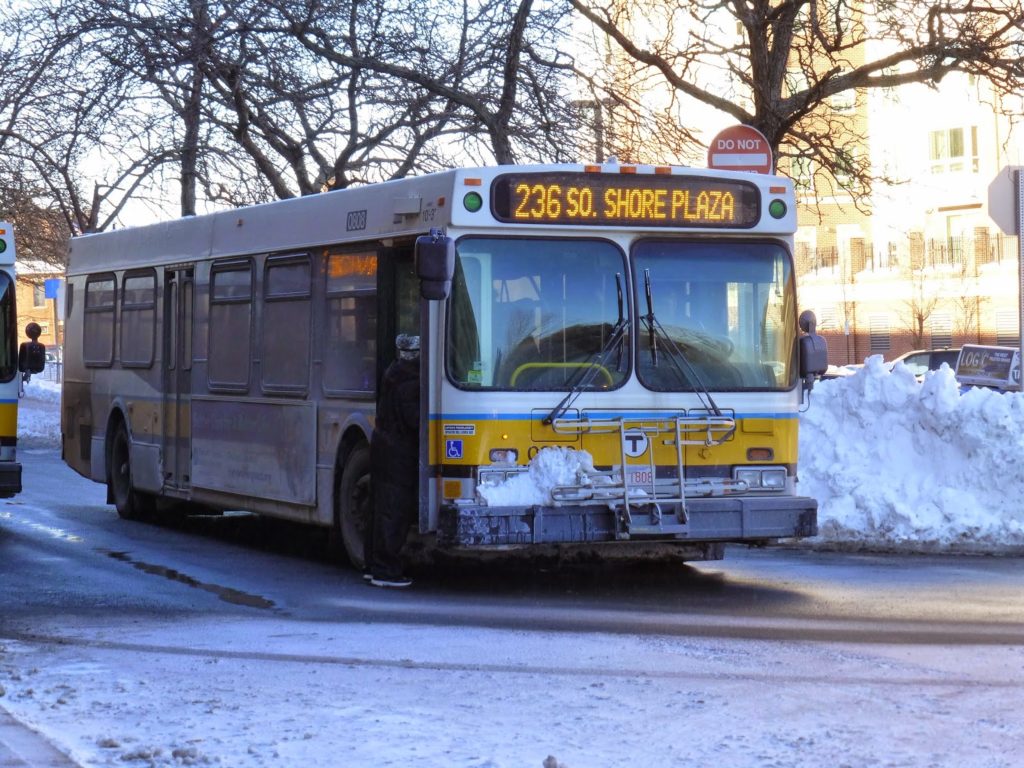 The downside to riding buses in the winter is the salt on the windows. Ugh.
Leaving Quincy Center Station, we headed down Hancock Street, going by lots of businesses. When I say "going by," I mean going by at a snail's pace, because there was so much traffic. The intersection with School Street had a light that just wouldn't change. We were sitting there for at least 10 minutes in traffic waiting to make the turn onto that street.
Come on! Hurry up!
After that, we turned onto Franklin Street, still going by the businesses of Quincy Center. But after the street curved to the left, we became independent from other routes, and it got full-on residential. When it became Commercial Street and we entered Braintree, it started to feel more suburban in character, with large houses and front lawns. Of course, the street was much more narrow than usual due to some heavy snow buildup from the blizzard.
We crossed over a single railroad track, then turned onto Elm Street and crossed the same track again. Elm Street had slightly smaller houses that were closer together. After a small industrial section, we turned onto Middle Street, going over the Greenbush Line tracks and back to more houses. The street made a left turn, and snaked around south again.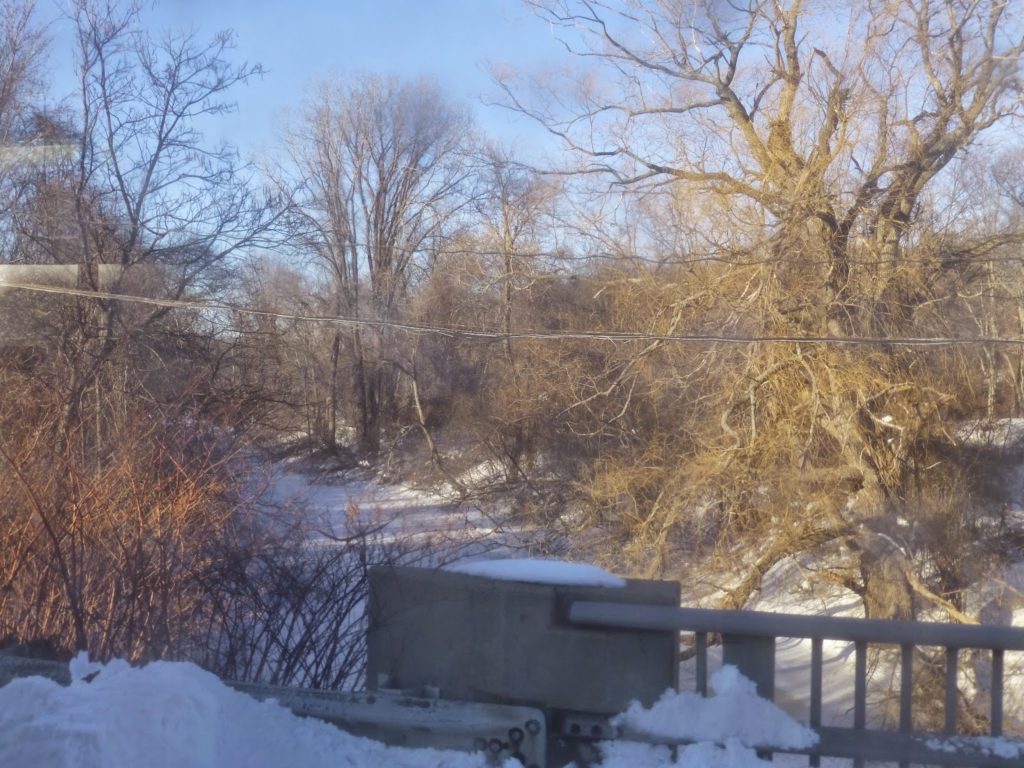 I think there's a river somewhere down there…
We turned onto Union Street, going by a police station and the National Guard, then crossed over a river that was hidden by the snow. There was some traffic on a big rotary going around a Route 3 interchange, but it certainly wasn't as bad as the School Street Red Light of Doom. Right after the rotary we went up onto an elevated road that curved around to the Braintree busway, where lots of people were waiting to get on.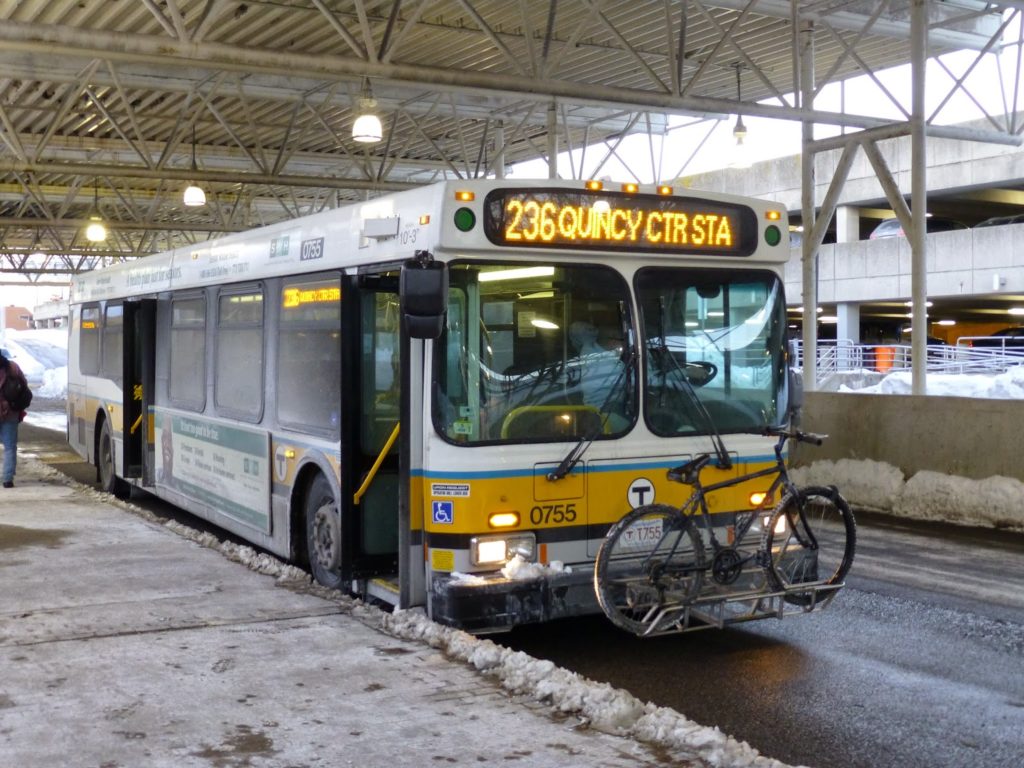 Not the same bus – this is the one I took back, seen at Braintree Station.
We headed down Ivory Street for a bit, then turned onto Pearl Street, going by malls named after both of those. There were a few normal businesses at South Braintree Square, after which we turned onto Franklin Street, which was once again residential. Soon we reached Five Corners, which had some retail, and merged onto Granite Street. We then turned onto a road that led past a small office park, and then ended up at the South Shore Plaza.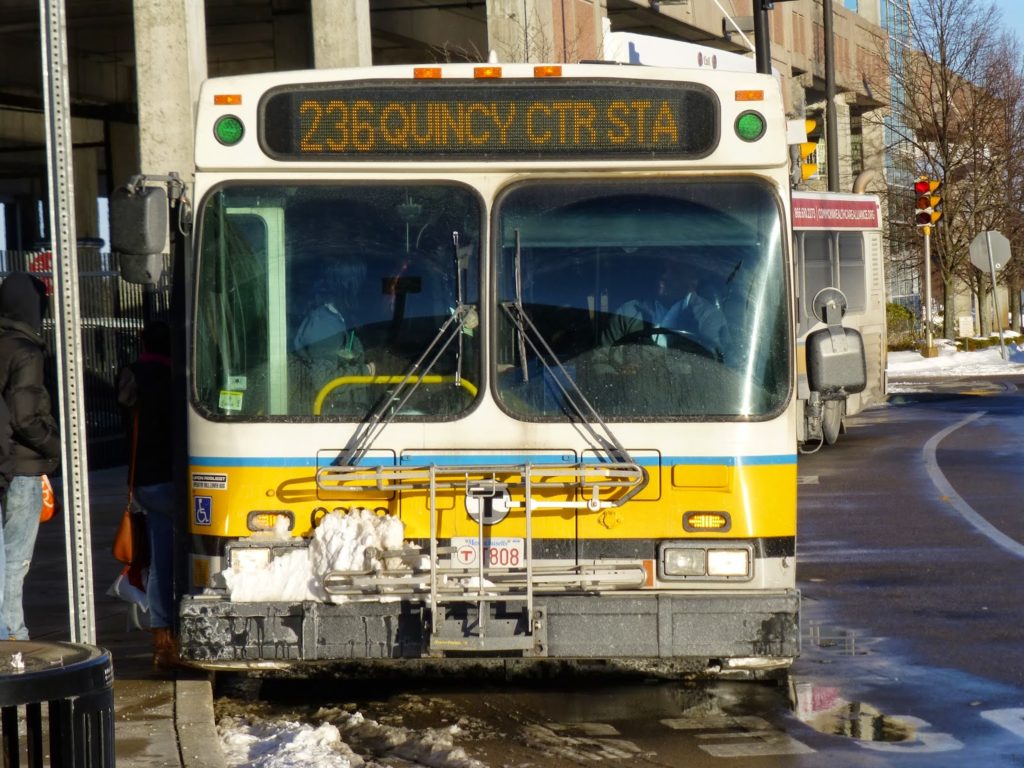 The bus at the Plaza. That one behind was a 240 heading up to Ashmont. Since when does the 240 go to the South Shore Plaza? Was it a faulty destination board?
Route: 236 (Quincy Center Station – South Shore Plaza via East Braintree and Braintree Station)
Ridership: There were about 20 people on my ride there, though a whole bunch of people were waiting at the mall – the bus left it with a pretty full load (this was a Saturday). This route seems to be split up into two: the section from Quincy Center to Braintree, for people going to the residential areas between those points; and the section from Braintree to the South Shore Plaza, which is a considerably shorter section, yet it seems to get more ridership.
Pros: This route is a fast link from Braintree to the Plaza – it's scheduled to take 8 minutes. This is one of only two routes to serve the Plaza, the other being the 238, which isn't nearly as quick. The 236 is also the only route to serve much of Braintree.
Cons: The schedule, for one thing. The route runs every hour weekdays and Sundays, and every 70 minutes on Saturdays. Every hour on weekdays sort of makes sense, since this is mostly a shopping route, but come on – every 70 minutes on Saturdays? Also, this route seems to be late a lot – our bus was at least 15 minutes behind schedule, and the one coming back arrived 10 minutes after it was supposed to. This could've been due to the Red Light of Doom, or perhaps the snow, but it was still annoying. Oh, and for those who work at the South Shore Plaza, sorry, but the 236 doesn't go there in the morning.
Nearby and Noteworthy: The South Shore Plaza is huge, with lots and lots of stores to choose from.
Final Verdict: 4/10
If you need to get from the Red Line to the South Shore Plaza, then this is the bus for you. Just don't miss one, because the schedule's awful. And don't use this if you work at the Plaza, because it doesn't go in the morning, Also, don't expect the bus to be on time, because it's late a lot. But, you know, it's great otherwise.
Latest MBTA News: Service Updates